Although Sicily is the name of the largest island in the Mediterranean, a spectacular part of Italy that was featured on the Fodor's 2016 Go List, it also refers to the region of Sicily, which encompasses many smaller satellite islands in the Ionian, Mediterranean, and Tyrrhenian Seas. Comprising three archipelagos and several standalone formations, these dazzling islands are well known to Sicilians but remain off the radar of many travelers. But whether you're visiting Sicily on an extended vacation or only for a few days, a day trip or a multiday excursion to any of these islands is a worthwhile endeavor. Prehistoric ruins, jaw-dropping beaches, fresh seafood, underwater adventures, delicious wines, and more await you on these 15 spectacular islands. —Michael Alan Connelly
Bepsphoto | Dreamstime.com
Spectacular in every way, Pantelleria is unique for being the largest of Sicily's satellite islands and for sitting a mere 37 miles east of Tunisia, which is visible from the island on clear days. The challenges of Pantelleria's location and weather are reflected both in the architecture and the agriculture. A typical local dwelling called the dammuso is constructed with thick walls to keep interiors cool or warm depending on the season, and the roofs are domed and painted white to collect rainwater and deflect heat; the island's strong winds have led to grapevines being cultivated in circular nests close to the ground, while citrus trees are protected inside circular stone walls called Pantescan gardens. Pantelleria is most famous for its capers, with many experts claiming the Pantescan variety to be the world's best. The island is also famous for its dessert wines moscato and passito, both made from the locally grown Zibibbo grape. (Make a reservation for a tasting at the Donnafugata vineyard to try them.) There are only a few lodging options; we recommend Club Levante, where every guestroom is inside a dammuso and the pool overlooks Pantelleria's iconic Elephant Arch.
PLAN YOUR TRIP: Visit Fodor's Sicily Guide
Ebastard129 | Dreamstime.com
Southwest of Sicily, Lampedusa is the largest of the three Pelagie Islands that, like Pantelleria, are geographically part of the African continent. Its northern coast is characterized by dramatic cliffs and caves, while the southern coast is home to fine, white-sand beaches and turquoise waters that make this island a popular tourism destination. Be sure to visit Spiaggia dei Conigli (Rabbit Beach), widely considered one of the most idyllic beaches in all the Mediterranean. For hikers, there are trails leading to Lampedusa's three highest peaks: Monte Rosso, Monte Nero, and Monte Vulcano.
PLAN YOUR TRIP: Visit Fodor's Sicily Guide
Much smaller than Lampedusa at two square miles, Linosa has a year-round population of fewer than 500. Although it has brightly painted homes and volcanic features like craters and black-sand beaches, the island's biggest attractions are the loggerhead sea turtles that often select the beach at Cala Pozzolana as a nesting site. Nesting season generally lasts from May to August, and egg hatchings followed by baby turtles' first swims continue through October. Lodging here is limited to apartment rentals and B&Bs, the latter of which is a good option, considering the limited number of restaurants on the island.
PLAN YOUR TRIP: Visit Fodor's Sicily Guide
Situated off the western point of Sicily, Favignana is the largest of the three Egadi Islands; unlike many other Sicilian islands, the Egadi are not volcanic but rather dolomitic in origin, giving their cliffs a light pink hue that intensifies at sunset. The island was once largely dependent on tuna fishing, but its focus has since shifted to tourism; every spring, however, the mattanza (traditional tuna slaughter) is performed in town for the sake of tradition. Although there are few beaches here, Favignana is popular for scuba diving and snorkeling, and it makes for an easy day trip from Trapani on the mainland.
PLAN YOUR TRIP: Visit Fodor's Sicily Guide
Maciektrzopek | Dreamstime.com
The smallest island in the Egadi archipelago, Levanzo has no paved roads and a population of a few hundred that lives in a small village fronting a picturesque harbor. Grain cultivation was once a major activity here, but today most agriculture has been abandoned, although some inhabitants raise sheep. The island is most famous for the Grotta del Genovese, where visitors can see Neolithic and Paleolithic cave paintings (note than a guide is required to visit the caves; this can be arranged on short notice). Given its small size, Levanzo can be seen in three or four hours, and it's only a 20-minute hydrofoil ride away from Trapani.
PLAN YOUR TRIP: Visit Fodor's Sicily Guide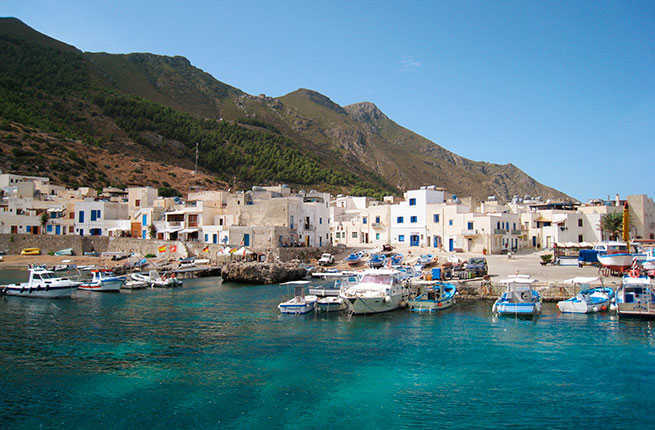 jim, via Wikimedia Commons, [CC BY-SA 2.0 Public Domain]
The most remote of the Egadi Islands, Marettimo is a tranquil place; the main settlement of the same name is little more than a humble fishing village. Northwest of the town is one of the island's most striking sights: Punta Troia, a rocky headland with a dramatic fortress that was the site of a Saracen watchtower and later a Spanish prison. From town, one of the most straightforward hikes on the island is up to the ruins of the Casa Romana; adjacent to that is a small yet well-restored Norman-Byzantine church. The best way to enjoy Marettimo is by boat, which allows for exploration of various otherwise inaccessible grottoes and secluded swimming spots.
PLAN YOUR TRIP: Visit Fodor's Sicily Guide
Oskar Orsag / Shutterstock
The largest and most developed of the Aeolian Islands off Sicily's northern coast, Lipari enchants visitors with its pastel-hued homes, hot springs and mud baths, and, at the island's plateau, a 16th-century castle and a 17th-century cathedral. The island's population of a little more than 11,000 nearly doubles during the May to September tourist season. No matter what time of year, it's worth exploring the Museo Archeologico Eoliano, which showcases prehistoric finds (some dating back to 4000 BC) as well as Greek and Roman artifacts, proof of the island's past conquerors. A popular day trip from Lipari is to the neighboring isle Vulcano, where an ascent to the crater of the long-dormant volcano (1,266 feet) rewards visitors with a stunning view of the Aeolians.
PLAN YOUR TRIP: Visit Fodor's Sicily Guide
(c) Boggy | Dreamstime.com
Despite taking up little more than a square mile, Panarea is arguably the most sought-after of the Aeolian Islands, thanks in part to an influx of celebrity visitors in recent years. The Aeolians' designation as a UNESCO World Heritage Site in 2000 has prevented overdevelopment, however, so this is still a lovely place to visit for its lively social scene, Bronze Age ruins at Capo Milazzese, snorkeling, and scuba diving. Accommodations are limited, though not necessarily expensive, so book well in advance.
PLAN YOUR TRIP: Visit Fodor's Sicily Guide
luigi nifosi / Shutterstock
The lushest and highest of the Aeolians—Mt. Fossa delle Felci tops out at over 3,000 feet—Salina is perhaps best known for its capers, some of the best in the world, and malvasia, a golden dessert wine made from dried grapes and produced only on this island. Tasca d'Almerita produces a very fine version of the wine, and it's possible to sleep surrounded by the vineyards at Capofaro Malvasia & Resort. The western part of the island is home to Pollara, a village that has capitalized on its fame as one of the locations features in the popular 1990s film Il Postino (The Postman).
PLAN YOUR TRIP: Visit Fodor's Sicily Guide
luigi nifosi / Shutterstock
Covering only two square miles, rustic Alicudi is perhaps the least populated of the Aeolian Islands. There are no cars or roads here, only lava-stone paths to traverse on foot or the back of a donkey. The island's inhabitants mostly live off fishing; the menu at Alicudi's sole restaurant depends largely on what local fishermen have caught. Also on the island are a handful of shops and one hotel. Visitors who choose to explore will find heather covering the slopes and perhaps even Roman ceramic fragments along the eastern coast.
PLAN YOUR TRIP: Visit Fodor's Sicily Guide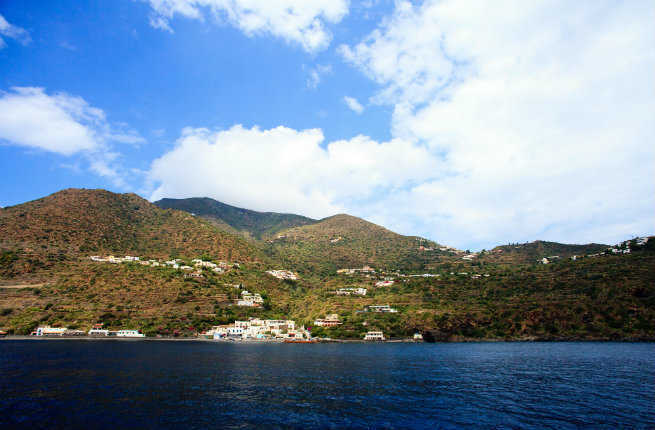 Eugenia Struk / Shutterstock
With an area of less than four square miles, Filicudi may seem like little more than a dot in the sea, but there's plenty to do here. Less popular than some neighboring isles in the Aeolian archipelago, this undiscovered gem is a peaceful respite for archaeology buffs, hikers, and bird watchers. At Capo Graziano, visitors can see the remains of a Bronze Age village dating back to the second millennium BC. Given its size, there are only a handful of hotels here (some families put up guests as well) and car ferries are available only in the summer.
PLAN YOUR TRIP: Visit Fodor's Sicily Guide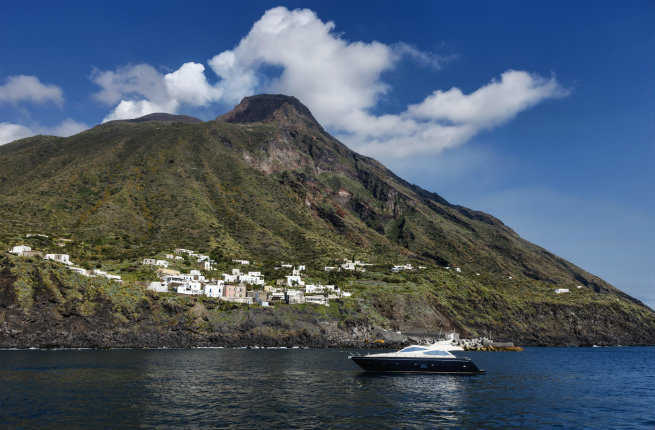 Angelo Giampiccolo / Shutterstock
Home to one of three active volcanoes in Italy, Stromboli is the Aeolian isle to visit for a glimpse of glowing red-hot lava. Mt. Stromboli's activity tends to be moderate but consistent, with small eruptions occurring all the time. Accordingly, authorities require visitors to climb to the summit with a guide; the evening hike takes about six hours round-trip, although some brave souls opt to camp atop the volcano overnight. Though the volcano's activity tends to be explosive, there are times when lava flows to the sea are visible. The main village of San Vincenzo has a small selection of reasonably priced hotels and restaurants, and a few lively clubs and cafés.
PLAN YOUR TRIP: Visit Fodor's Sicily Guide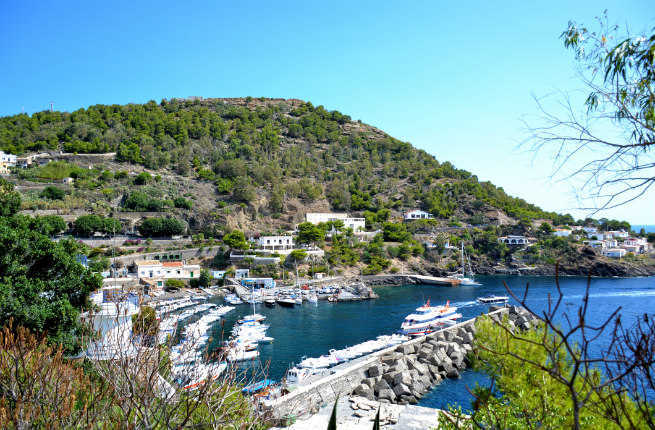 credit: © Letiziag84 | Dreamstime.com.
Situated between the Aeolians and the Egadi, Ustica is a paradise for divers and swimmers, as the area surrounding the island comprises a marine reserve. With crystal-clear water, it's easy to explore the numerous underwater shipwrecks and abundant marine life here. It's possible to rent a boat to go around the island, but walking paths and bus routes that circle the island make it just as easy to get around. The heart of the main town is formed by one long piazza, off of which you'll find numerous markets where you can buy picnic supplies. Above the town is a fortress that's easily reachable; the views of the town and sea from here are marvelous. Given its location, Ustica is easy to get to via ferry or hydrofoil from Palermo.
PLAN YOUR TRIP: Visit Fodor's Sicily Guide
© Bdsklo | Dreamstime.com
Off the coast of Aci Trezza, north of Catania, lie the Cyclops Islands, composed of Lachea Island and a few neighboring rock formations. The entire archipelago is designated as a protected marine area, making it perfect for snorkeling, scuba diving, and riding in glass-bottomed boats. Lachea is home to a center for biological studies at the University of Catania, located here specifically because of the abundance of flora and fauna. At the top of the island sits a natural history museum that details area's native species and also displays archaeological and geological finds.
PLAN YOUR TRIP: Visit Fodor's Sicily Guide
Emicristea | Dreamstime.com
Not to be confused with an island of the same name in Lake Maggiore, Sicily's Isola Bella is a small island off the coast of Taormina. Also known as the Pearl of the Ionian Sea, the island was private property until 1990, when it was purchased by Sicily's government and turned into a nature reserve. Depending on the sea level, there is a narrow path that can be crossed from the mainland to Isola Bella; otherwise, it's a quick swim or boat ride from shore to shore. Isola Bella is home to a small, rocky beach that's popular with sunbathers, making it a nice respite from the crowded shoreline of Taormina.
PLAN YOUR TRIP: Visit Fodor's Sicily Guide