Vincent MacNamara / Shutterstock
Thanks to the Irish diaspora and a love for the pub culture, you can find great Irish bars all over the world. Nothing, however, compares to a properly poured pint of Guinness in a traditional pub in the motherland. From the capital city to the small fishing villages on the west coast, even the tiniest Irish towns boast fantastic drinking holes. Whether you're looking for live music, the best whiskey and beer, or just good craic, there's no such thing as a bad time at an Irish pub. There are more great pubs in Ireland than we could ever feature, but here are some of our favorites. Sláinte.—Abbey Chase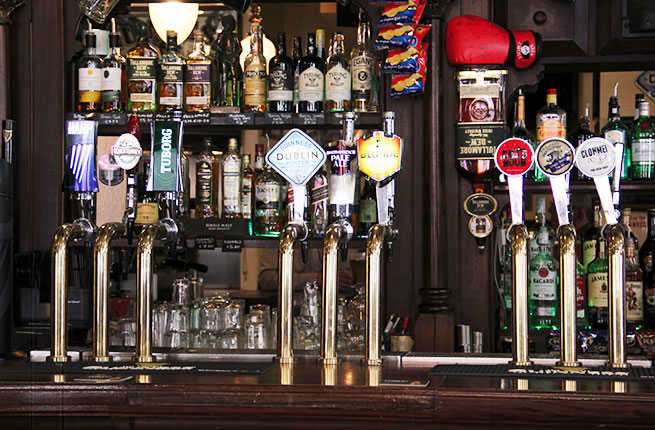 Ciolca | Dreamstime.com
WHERE: Roundstone, Connemara, Co. Galway
A vacation spot well-loved by Irishmen but less visited by foreigners, Roundstone is a postcard-perfect fishing village north of Galway where you can practically see the whole town standing on one corner. O'Dowd's is exactly the kind of pub you'd want to find in such a place. Dark wood paneling adorns the shoebox-sized interior of this harbor-front drinking hole (there is a more spacious restaurant next door), known for its outstanding seafood chowder and fish and chips.
PLAN YOUR TRIP: Visit Fodor's Connemara Travel Guide
The Field
WHERE: Kilkenny
Other pubs in Kilkenny may have more historic flair than The Field–for example, Kytelers Inn has been around since 1324 and was once owned by a notorious townswoman suspected of being a witch. But while you might be tempted to overlook this otherwise unassuming bar, you'd be missing Kilkenny's liveliest scene. Locals gather here en masse, and you'll soon find yourself in the midst of new friends. While the craic is good, the music is even better. Local musicians, from subdued traditional duos to lively bands playing rock 'n' roll covers, make The Field the perfect place to pop in for a pint any day of the week.
PLAN YOUR TRIP: Visit Fodor's Kilkenny City Travel Guide
An Droichead Beag
WHERE: Dingle
You can't miss An Droichead Beag in Dingle thanks to its eye-popping yellow façade and prime corner location on one of the town's main streets. Step inside and the atmosphere is decidedly more subdued. Lit only by candlelight, the dark interior has thick wood tables arranged around an open fireplace with plenty of nooks and crannies tucked in odd places around the bar. An Droichead Beag is often open late and has some of the more unusual live music in town– think an accordion-acoustic guitar duo covering pop hits.
PLAN YOUR TRIP: Visit Fodor's Southwest Ireland Travel Guide
Gus O'Connors
WHERE: Doolin, Co. Clare
In a town known worldwide for live music, in a county many consider the Irish heartland, O'Connor's still manages to stand out. The pub has been in operation since 1832 and its international renown is evident in its décor. Paper money, trinkets, and stickers from every corner of the globe cover the walls and ceiling in O'Connor's, though the atmosphere is still purely Irish. Several different rooms and bars are squished together under one roof, meaning you can either enjoy live music or cozy up by the fireplace in the more quiet annex rooms.
PLAN YOUR TRIP: Visit Fodor's Country Clare Travel Guide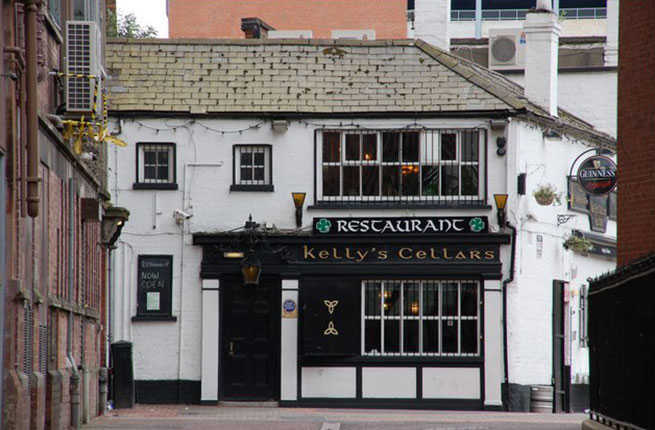 WHERE: Belfast
Ireland is full of historic pubs, but the history at Kelly's Cellars is particularly storied. The United Irishmen convened here to plot a rebellion against English rule in 1798 and, allegedly, the leader of the group hid behind the bar when British authorities came to arrest him. Many of the bar's original features are still there and you'll often hear the bartenders and patrons alike speaking Gaelic. Tucked in one of Belfast's bustling alleyways, Kelly's is the kind of place you'll hear before you see. Most nights showcase live music and the crowd often spills out the street.
PLAN YOUR TRIP: Visit Fodor's Belfast Travel Guide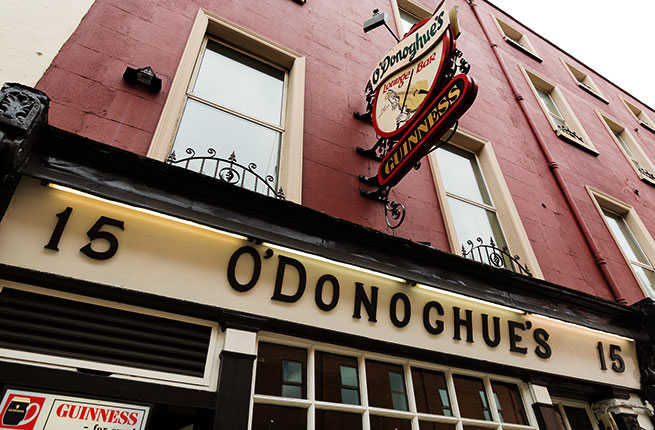 ODonoghues
WHERE: Dublin
If there's one place you should be on the lookout for great old man pubs, it's Ireland. By that measure, O'Donoghue's is an obvious choice. Though this is a popular bar among tourists in Dublin, it's still one of the city's best pubs, where regulars congregate at the well-worn wooden bar to talk and enjoy live music in a setting that's little changed since it opened in 1934. Grab a seat at the old bar in the back, or head to the courtyard and gather round one of the overturned whiskey barrels.
PLAN YOUR TRIP: Visit Fodor's Dublin Travel Guide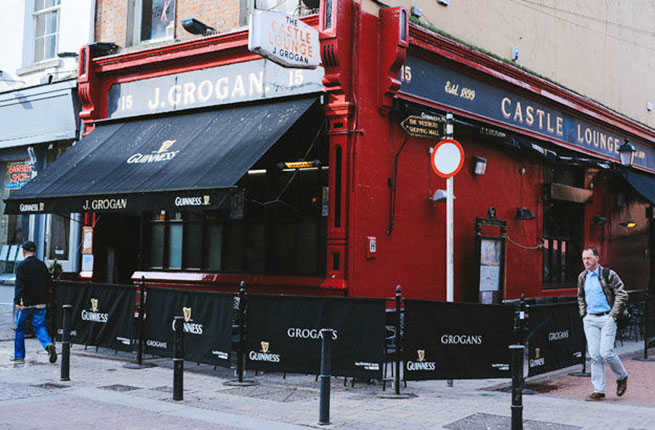 Ireland Tourism
WHERE: Dublin
After the obligatory spin through the tourist-laden Temple Bar, head over to Grogan's for a proper pint and no nonsense. Grogan's, in many ways, lacks the trappings of a traditional Irish pub; there's no music (live or otherwise) and the walls are adorned with unusual original art curated by the owner, Tommy Smith. Even so, the atmosphere and friendly staff are unquestionably Irish in warmth and liveliness. You'll see large groups of young locals on the sprawling patio outside alongside customers quietly reading the paper and enjoying Grogan's famous ham and cheese toasties.
PLAN YOUR TRIP: Visit Fodor's Dublin Travel Guide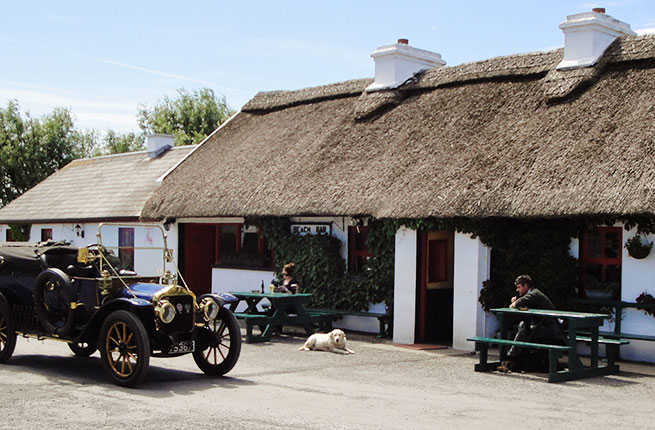 Beach Bar
WHERE: Aughris, Co. Sligo
Driving along the empty narrow roads near Dunmoran Strand, you wouldn't expect to come upon one of the country's best pubs. But that's exactly what you'll find at The Beach Bar. Hidden at the end of an unnamed road along the Sligo coast is this thatched-roof waterfront bar with a 300-year history and a location perfect for enjoying the rare sunny days and ideal for hunkering down in front of the fire the rest of the time. You'll be hard-pressed to find a bar in a more scenic spot in the whole of the Emerald Isle.
PLAN YOUR TRIP: Visit Fodor's Northwest Ireland Travel Guide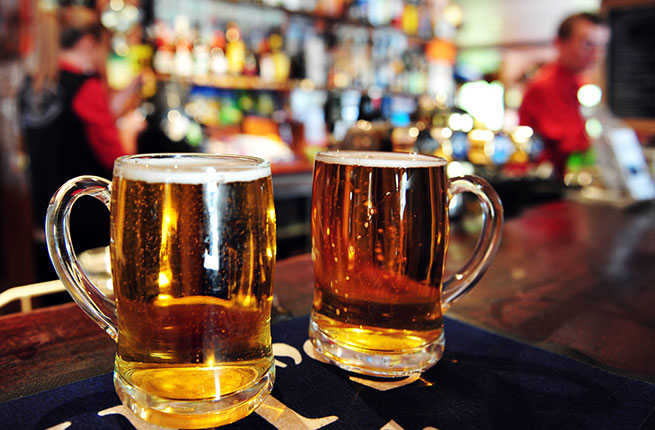 Lucidwaters | Dreamstime.com
WHERE: Galway
While everyone in town will head to the wildly popular Tigh Neachtain or to Roisin Dubh for the live music, steal away to Barr an Chaladh for a more casual atmosphere and a locals-heavy crowd. The walls and low ceilings are jammed full of various tchotchkes and knickknacks, and patrons perch on wooden stools and whiskey barrels scattered around the open bar area. This is a popular football bar, but most nights live musicians entertain the crowd of Galwegians and travelers alike.
PLAN YOUR TRIP: Visit Fodor's Galway Travel Guide
Vincent MacNamara/ Shutterstock
WHERE: Westport, Co. Mayo
Owned by a famous Irish musician that lends the bar its name, Matt Molloy's is a must for travelers in the County Mayo region. The tiny bar feels like someone's living room, with odds and ends stacked on shelves around the room and black-and-white framed photographs lining the walls. Despite its humble appearance, Matt Molloy's shouldn't be overlooked. The legendary live music sessions draw patrons from all over the world, who pack into the back room and cluster around the musicians. One of the bar's recent visitors? Former Vice President Joe Biden.
PLAN YOUR TRIP: Visit Fodor's Country Mayo Travel Guide