Conrad Dublin
In a city known for afternoon tea, how do you stand out? Across Dublin, hotels and restaurants serve much more than traditional scones and dainty sandwiches. These elaborate meals are inspired by art collections or contemporary fashion, focused on chocolate or unexpected ingredients, and often offered with possibilities for upgrades with Champagne or cocktails. Here are our favorite options throughout the Irish capital for today's best afternoon teas (and be sure to book in advance). —Jessica Colley Clarke
The Shelbourne
Located in the heart of Dublin on leafy St. Stephen's Green, The Shelbourne is a favorite gathering place for both locals and visitors. Afternoon tea is served in the Lord Mayor's Lounge, a bright and cozy space where you can watch all of Dublin stroll by through large windows. Afternoon tea classics have some unusual touches, such as mini sandwiches of vine tomato and goat cheese on pumpkin turmeric bread, and strawberry macarons filled with strawberry vanilla cheesecake.
PLAN YOUR TRIP with Fodor's Dublin Guide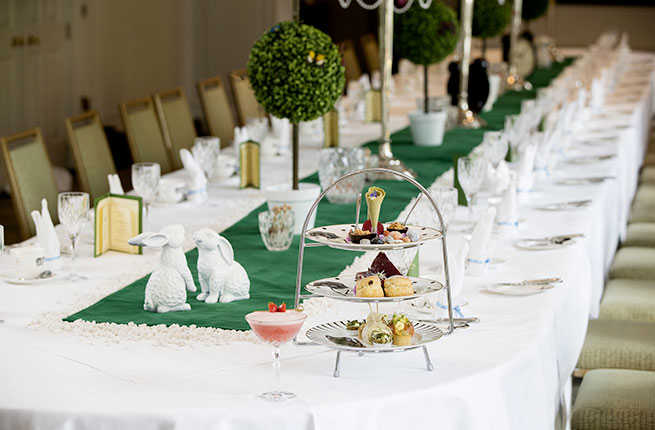 The Westin
Afternoon tea can be customized at the Atrium Lounge in the Westin with different options. For a classic experience, choose the traditional afternoon tea with oak-smoked salmon sandwiches and buttermilk scones. The Most Peculiar Afternoon Tea pushes boundaries with mini sandwiches of pork cheek, Stilton, and honey aioli, and creative sweets such as popcorn panna cotta. The Mad Hatter's Tea is another eclectic option while kids have their very own afternoon tea experience complete with hot chocolate.
PLAN YOUR TRIP with Fodor's Dublin Guide
The Merrion
Take a seat beside a peat-burning fireplace in the drawing rooms of the Merrion for a true experience of Irish hospitality. This sophisticated hotel serves one of Dublin's most popular afternoon teas, called Art Tea, with pastries inspired by the art collection hanging throughout the property (including works by famous Irish artists such as Jack B. Yeats). Don't miss the divine scones with clotted cream, raspberry jam, and lemon curd.
PLAN YOUR TRIP with Fodor's Dublin Guide
House Dublin
A destination for cocktails and dancing by night, House shows off its sophisticated side with afternoon tea service during the day. This multi-room venue stretches throughout two Georgian townhouses on Leeson Street; afternoon tea is served in the cozy parlor or out on the terrace. Cocktails are specially crafted to accompany the afternoon tea menu including smoked salmon on Guinness brown bread and a selection of macaroons.
PLAN YOUR TRIP with Fodor's Dublin Guide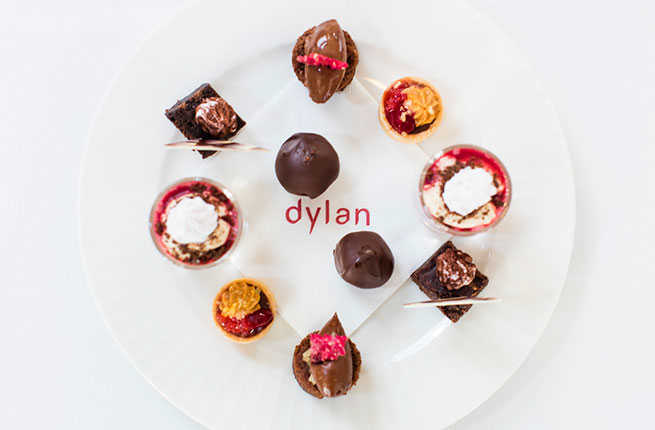 Dylan Hotel
A boutique hotel beyond the city center, the Dylan offers an excuse to explore the picturesque Ballsbridge neighborhood of Dublin. This sleek, stylish property has a particular focus with their afternoon tea: chocolate. The Chocolate Afternoon Tea includes a peanut butter and dark chocolate truffle, white chocolate mousse, and a sticky caramel and milk chocolate tartlet in addition to savory sandwiches from crab to classic egg and cucumber.
PLAN YOUR TRIP with Fodor's Dublin Guide
Intercontinental Dublin
Three-tiered trays at the elegant Intercontinental are full of updated classics. Traditional sandwiches such as ham and Irish cheddar are elevated with contemporary ingredients such as fresh tomato bread. The classic cucumber sandwich gets a makeover with the InterContinental's compressed cucumber sandwich with mint cream served on lemon bread. Chocolate and coffee macaroons will satisfy a sweet tooth.
PLAN YOUR TRIP with Fodor's Dublin Guide
The Westbury
The work of young Irish fashion designers from the National College of Art and Design serves as the inspiration for a luxurious afternoon tea at The Westbury. With views over central Grafton Street and an array of plush couches, the hotel's Gallery is one of Dublin's prime settings for tasting teas from around the world alongside crumbly scones, pastries, and petite sandwiches. A glass of Champagne polishes off the experience.
PLAN YOUR TRIP with Fodor's Dublin Guide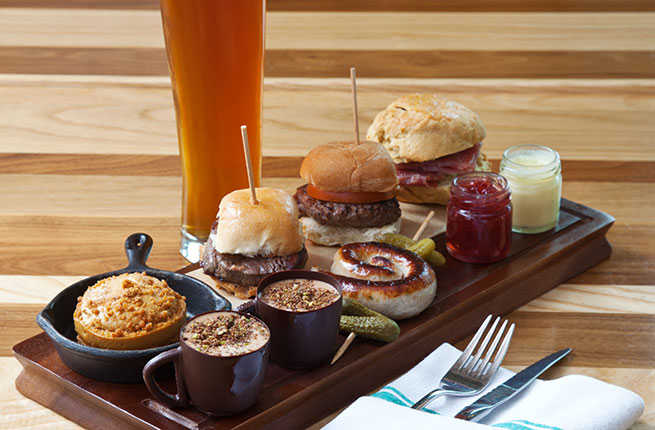 The Morrison
Two takes on afternoon tea are on offer at the Morrison Hotel: traditional afternoon tea with scones, sandwiches, and miniature desserts, or Gentleman's Tea with heartier fare including sliders, steak sandwiches, and whiskey chocolate truffles (plus a beer pairing). Both versions of afternoon tea are served in the sleek hotel restaurant overlooking the River Liffey.
PLAN YOUR TRIP with Fodor's Dublin Guide
Conrad Dublin
The afternoon tea at Conrad Dublin takes three forms: traditional tea, cocktail afternoon tea, or Champagne afternoon tea. Hot chocolate and specialty coffees are available in addition to a wide selection of teas, served with sandwiches such as egg with chive truffle aioli on brioche and sweets such as strawberry sponge cake with white chocolate ganache.
PLAN YOUR TRIP with Fodor's Dublin Guide
Dessert cocktails—such as a Nutella martini with Frangelico—are part of the afternoon tea experience at the Fitzwilliam Hotel. Before the dessert cocktails comes a fun selection of teas, savory bites from caviar blinis to tuna tartare and avocado, and sweets including macaroons, mini chocolate tarts, and opera cake. A glass of Prosecco or Champagne can be added to traditional afternoon tea for those who might not want to wait until dessert to raise a glass.
PLAN YOUR TRIP with Fodor's Dublin Guide