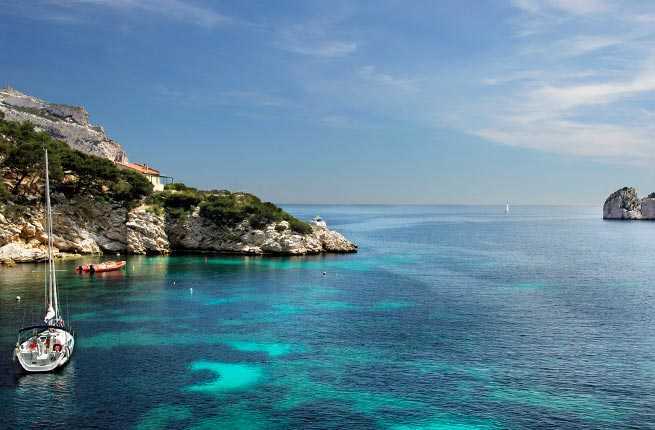 Jennifer Ladonne
A less-visited city nestled along the French Mediterranean coast, Marseille makes a strong case for itself, due its status as European Capital of Culture in 2013—a distinction that carried a €650 million purse for building and renovation—but the excitement hasn't stopped. Never a dull city, Marseille boasts a glorious coastal setting, spectacular weather, great food, and vibrant multicultural population. Tourist-friendly attractions, important new cultural centers, fabulous restaurants, a new luxury hotel, and the city's proximity to Paris (a three-hour, high-speed train ride from the capital) all make France's second largest city a highly appealing destination. Here's are 10 reasons to visit Marseille on your next trip to France.
by Jennifer Ladonne
Architectes Rudy Ricciotti and Roland Carta
Musée des Civilisations de l'Europe et de la Méditerranée
Designed by architect Rudy Ricciotti, the new Musée des Civilisations de l'Europe et de la Méditerranée is one of the jewels in Marseille's cultural crown. Its black filigreed facade stands in stark contrast to the sparkling bay and affords fabulous panoramic views from within, where visitors can take advantage of a well-stocked bookstore, three dining areas, and a revolving series of art exhibitions that combine art, archeology, and history to focus on contemporary perspectives in the Mediterranean.
Insider Tip: Native three-star chef Gérald Passédat oversees MuCEM's La Cuisine brasserie and La Table gastronomic restaurant, both offering panoramic views of the new port and the Cathédrale de la Major to the north. Make sure to book a reservation.
(c) OTCM
Designed by the architect Stefano Boeri, the sleek, white Villa Méditerranée features a 131-foot cantilevered overhang jutting dramatically over a turquoise reflecting pool. Both the MuCEM and the Villa were the focus of a total reconstruction porject of the J4 pier, a long stretch of abandoned harborfront, financed with funds from the European Capital of Culture. A meeting place and cultural center, the Villa's multicultural events program includes concerts, lecture series, and exhibitions designed to create a dialogue around the modern Mediterranean.
Insider Tip: Until August 31, 2014, the marvelous "A Whole World Beneath the Sea" exhibition explores underwater life in the Mediterranean. The show takes an unflinching look at the consequences of global warming, pollution, and invasive species.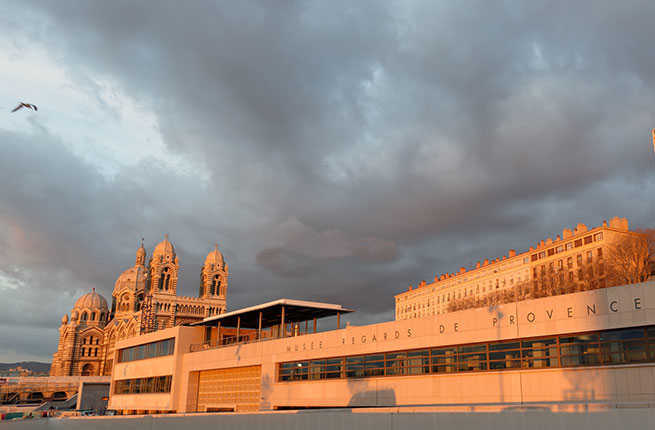 (c) Aleksander Rabczuk
The luminous Regards de Provence once served as Marseille's station sanitaire, where immigrants arriving in France were "disinfected" (sometimes with DDT) and given medical treatment. An hour-long documentary (in English) offers a riveting history of Marseille as a historic gateway to Europe. A superb example of early modernist architecture, the totally refurbished space houses the Fondation Regards de Provence's permanent collection and hosts acclaimed revolving exhibitions of Provence artists.
Insider Tip: Another great reason to stop here is the Regards Café, the place for an impromptu meal or snack on the museum's indoor-outdoor terrace. Or, opt for a sit-down lunch in the sun-drenched dining room, offering unparalleled views of the J4 pier, Cathédrale de la Nouvelle Major, and cruise ships along the harbor (reservations are a must; open from 10 am to 6 pm).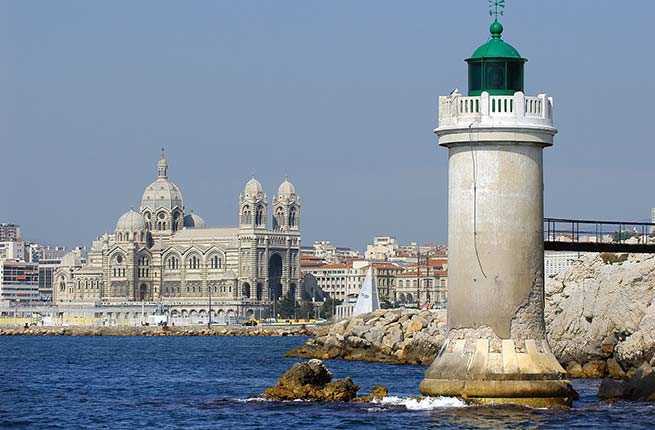 (c) OTCM
Cathedrale de la Nouvelle Major
A few minutes away from Regards de Provence, the colossal, neo-Byzantine Cathédrale de la Nouvelle Major is the more recent of Marseille's two landmark cathedrals. Napoleon III laid the cathedral's foundation stone in 1852, but construction of the uniquely striped edifice, made of green Florentine stone and white Carrara marble, wasn't completed until 1896. Stop in to view the soaring interior's elaborate mosaics and the vestiges of a lovely 12th-century romanesque church that was partly demolished to accommodate the basilica.
Insider Tip: The cathedral is a convenient stop on a walking tour beginning at the Vieux Port and stopping at the Fort Saint-Jean, the J4 pier, MuCEM, Regards de Provence, and ending at the wonderful Panier (old town).
(c) OTCM
An architectural gem built between 1671 and 1749 to serve as the city's poorhouse, this graceful arched building surrounds a domed Baroque chapel. Nowadays, the Charité hosts rotating art exhibitions. Be sure to stop in for a coffee, or linger on the Charité Café's quiet inner terrace before you go.
Insider Tip: After you visit the Charité, explore the glorious Panier—Marseille's (and France's) oldest neighborhood and the site of the ancient city of Massalia, founded in 600 B.C. The neighborhood's narrow, winding streets are lined with sun-washed marigold, pink, and sky-blue facades punctuated with artists' studios, stylish boutiques, vibrant cafés, and memorable views.
(c) OTCM
Hotel Dieu/InterContinental Marseille
At the edge of the Panier, the spectacular 17th-century Hôtel Dieu, a Marseille landmark, was once the city's hospital. A spectacular renovation to make way for the luxury InterContinental Hotel was halted for nearly two years when a 12th-century crypt was uncovered along with ancient Roman mosaics (on display at the hotel). As magnificent as it is, you don't have to stay here to enjoy splendid views over the Panier and old port from the sprawling terrace bar, Or, dine at Alcyone, chef and Marseille native Lional Levy's Michelin-starred restaurant.
Insider Tip: Whether or not you're a hotel guest, take advantage of InterContinental's swanky Le Capian bar. Along with a stylish selection of seasonal cocktails, wines by the glass, and gourmet nibbles, live music and themed party nights draw Marseille's high society.
(c) OTCM
You don't have to be an architecture buff to appreciate Le Corbusier's famous modernist housing development Unité d'Habitation (also known as Cité Radieuse). Easily reachable from the old port by bus, the building's wonderful Le Ventre de l'Architect restaurant and wunderkind designer Ora-Ito's rooftop sculpture garden, with breathtaking views of the city, make it well worth a visit. Also in the neighborhood, the Musée d'Art Contemporain (MAC) is hosting a 20th anniversary exhibition that features highlights from the excellent permanent collection
Insider Tip: While you're in the neighborhood, stop in at the new Musée Borély, housed in the 18th-century Château Borély. Opened in 2013 after a top-to-bottom renovation, the chateau now houses the collections of the former Museum of Decorative Arts, Faience, and Fashion.
Micaleff
One of the most picturesque spots in all of France, Marseille's spruced up Vieux Port is the beating heart of the city. The port's expanded walkways and refurbished wharves make room for pedestrians to easily enjoy regular sculpture exhibitions, street musicians, concerts, and dance performances held throughout the warmer months. For a glimpse of old Marseille, drop by the fish market at the top of the port, where fisherman offer the catch of the day.
Insider Tip: Shoppers take note; just behind the old port, at 28 Grand Rue, you'll find Marseille's best artisanal chocolatier, specializing in local Mediterranean flavors. Try the orange-flower-scented ganache or calissons (a local delicacy). At number 36, the Atelier de Création-La Grand Savonnerie makes their all-natural version of the famous savon de Marseille soap in Provencal scents like lavender, almond, and jasmine.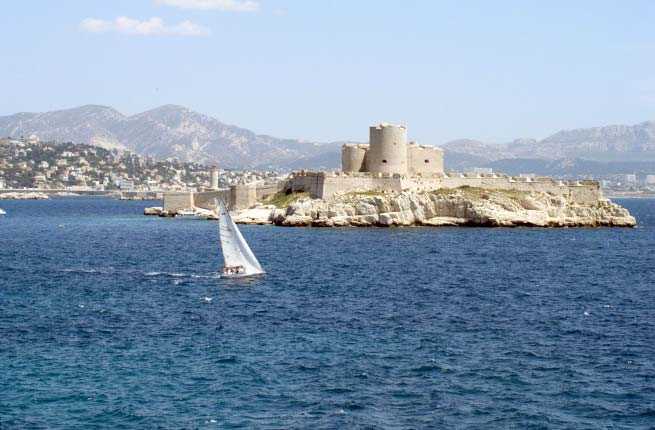 (c) OTCM
A short ferry ride from the Vieux Port, the Chateau d'If was immortalized as a setting in Alexander Dumas's The Count of Monte Cristo. Isolated and surrounded by strong sea currents, the island fortress (built by Francis I in 1524-1531) mostly served as a prison for political captives and Protestants. Picturesque doesn't begin to describe the views from this tiny island of the old port, Notre Dame de la Garde, and the Fort Saint-Jean.
Insider Tip: No trip to Marseille would be complete without a taste of its local specialty, bouillabaisse. Originally a peasants' dish made with whatever was leftover from the day's catch, this celebrated Provencal soup has evolved into an elaborately prepared, gastronomic wonder. One of the best places for traditional bouillabaisse, Chez Michel, is located near the Anse des Catalans beach, easily reachable by bus on your way to or from Chateau d'If. Be sure to make reservations.
(c) OTCM
Marseille's proximity to beautiful, unspoiled land and seascapes is just one more feather in its cap. Covering a 30-mile stretch of steep rocky cliffs rising out of crystal-clear azure waters, the wild coastal inlets of Calanques National Park are dotted with pristine beaches ideal for a long hike and a swim. Wildlife abounds at this nature preserve, where you may be lucky enough to spot a Bonelli's Eagle soaring by while admiring the many wildflower and rare plant species. Hiking access is limited from June through August.
Insider Tip: Sormiou is probably the most famous of Marseille's calanques. More remote than some, it can be reached by car or by an hour's walk from the main road. You can also reach Sormiou on the #23 city bus. See the Tourist Office website for more details