JP Salle
Paris is one of the few cities in the world that is equally famous for its cuisine and its literary tradition. Some of the greatest writers in history have called the city home, and have made themselves at home in its restaurants and cafés, too. Today, it's easy to lament the commercialization of Paris's former bohemian, intellectual neighborhoods, like Saint-Germain-des-Prés. But though you can't travel back in time to the heyday of literary Paris, you can still visit the restaurants, cafés, and bars where many great writers wined and dined, many of which have remained essentially unchanged. From Le Procope, where Voltaire guzzled 40 cups of coffee a day, to Bar Hemingway at the Ritz, named for the man who liberated it from the Nazis, here are 10 great restaurants and bars in Paris with a literary history.
By Laura Itzkowitz
Located in the historic Odéon area on the Left Bank, Le Procope prides itself on being Paris's oldest continually operating restaurant. It was founded in 1686 by the Sicilian Francesco Procopio dei Coltelli, and its proximity to the Ancienne Comédie drew crowds of intellectuals. France's Enlightenment philosophers—namely Rousseau, Voltaire, and Diderot—were regulars. Supposedly, Voltaire would drink 40 cups of coffee here every day. It was also a prominent meeting place during the French Revolution. In the 19th century, French novelists and poets like Balzac, Hugo, Verlaine, and Georges Sand frequented Le Procope.
Le Procope serves traditional French fare and its own special "Revolutionaries' Beef." When it was founded, the sorbets served there were quite exotic, and you can still enjoy them today.
JP Salle
Founded in 1766 by Louis XIV's beverage manufacturer Lefèvre, Lapérouse quickly became known for its excellent cuisine and exquisite wine cellar. The building had been a hôtel particulier, and on the second floor, Lefèvre kept private rooms where his customers could do their books (and some more risqué business, later on). These second-floor rooms became popular with France's most important 19th-century authors, including Gustave Flaubert, Emile Zola, Victor Hugo, Georges Sand and Alfred de Musset.
The gastronomy reached its height when Auguste Escoffier, known as the "king of chefs and the chef of kings" took over the kitchen. A meal at La Pérouse isn't cheap, but if you're ready to splurge, you can dine in one of the private second-floor rooms.
Courtesy of Café de la Paix
The only place more ornate than the Café de la Paix is the Opéra Garnier across the street. It's precisely the café's location near the opera that has kept it so busy, ever since it opened in 1862, as part of the Grand-Hôtel de la Paix (now the InterContinental Paris Le Grand Hotel). Zola, Guy de Maupassant, and Proust dined there when they went to the opera, and Oscar Wilde was a regular.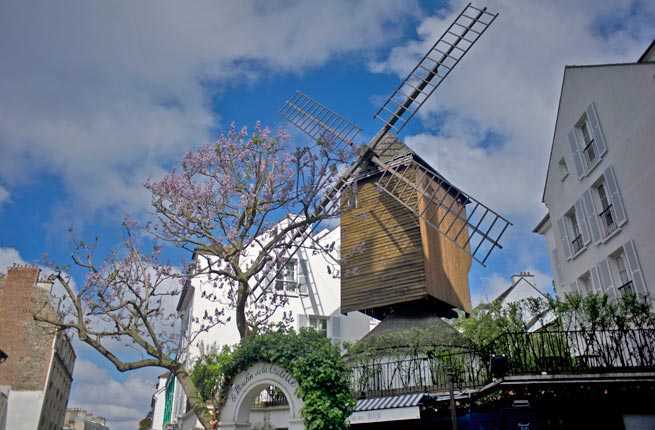 © Zach Nelson / Fodor's Travel
Though the Left Bank is widely recognized as the intellectual part of the city, artists favored Montmartre and flocked there for the cheap rents and the incredible views. There are few restaurants in Montmartre as storied at the Moulin de la Galette. Renoir, Van Gogh, Toulouse-Lautrec, and Picasso immortalized it in their paintings. Lesser-known is its appeal to writers, like Zola, who tired of the demands of Parisian society and longed to be in a simpler place. During his lifetime, Montmartre was still rural. These days, Montmartre sees more tourists than artists, but that shouldn't deter you. At 25€, the prix fixe lunch is a good deal.
© Zach Nelson / Fodor's Travel
In the 1940s and '50s, when Existentialism was in vogue, there were two cafés that ruled Saint-Germain-des-Prés. The Café de Flore, on the northwestern corner of the Boulevard Saint Germain and the rue Saint-Benoit, was a regular hangout for Jean-Paul Sartre and Simone de Beauvoir, who would spend the entire day there, from 9 am until after dinner, when people would come to see them by appointment. The poet Jacques Prévert often came with his friends, who would take up three quarters of the restaurant.
Today you'll see more tourists than intellectuals at the Flore, but it's still a great place to eat, especially when the weather is warm and you can sit on the terrace. Every year, the Flore awards a literary prize.
The historic Les Deux Magots is the other café that ruled Saint-Germain-des-Prés during the '40s and '50s, and it's right across from the Café de Flore. Its name "the two Chinese figurines" comes from the shop that occupied the same space. In addition to Sartre, Simone de Beauvoir, and Camus, who sometimes took a break from the Flore to hang out at Les Deux Magots, the café hosted Surrealists, including André Breton, and painters like Picasso and Léger. Les Deux Magots's literary prize is older than the Flore's. Les Deux Magots has been giving it out since 1933 as an alternative to the Prix Goncourt, which the café's proprietors considered too academic.
Courtesy of Closerie des Lilas
Also on the Left Bank, Montparnasse has its fair share of restaurants with a literary history. La Closerie des Lilas, established in the late 19th century, became a place where the bourgeoisie drank with penniless artists. Baudelaire and Verlaine drank here all the time. The poet Paul Fort would gather his friends, Max Jacob, André Salmon, and Guillaume Apollinaire every Tuesday to read poems and exchange opinions. The Closerie des Lilas became a popular spot for American expats like F. Scott Fitzgerald, Henry Miller, and Ernest Hemingway, who wrote about the bar in A Moveable Feast.
Courtesy of Brasserie LIPP
In A Moveable Feast, Hemingway, who was quite poor at the time, wrote about hunger as "good discipline" and said he learned to appreciate the Cézannes at the Luxembourg Museum when he was hungry. Sometimes, on his way home from the museum, he would stop at Brasserie Lipp for a liter of beer and pommes à l'huile with sausage. Hemingway wasn't the only one to appreciate the restaurant. Gide, Malraux, Proust, Saint-Exupéry, Sartre, and Camus all ate here as well. Today, waiters in black waistcoats, bow ties, and long white aprons still serve classic brasserie fare.
In Midnight in Paris, Woody Allen set the scenes where Gil meets Hemingway and Salvador Dalí at Polidor on the Left Bank. One of the less expensive spots on this list, Polidor was a favorite of Hugo, Verlaine, and Rimbaud before Hemingway. The Surrealist playwright Eugène Ionesco, Antonin Artaud, James Joyce, Henry Miller, and Jack Kerouac all dined at Polidor. Today, it's a hangout for university students, thanks to its location near the Sorbonne and the Collège de France. Its décor and menu have remained virtually unchanged for the last 100 years, so you can enjoy the same escargots and pâtés that these men of letters ate.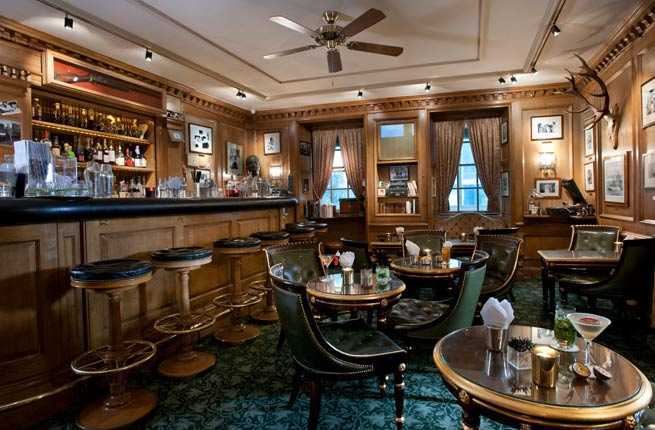 Courtesy of The Ritz Paris
Bar Hemingway at the Ritz Paris
There's no place in Paris more closely associated with Hemingway than the bar that bears his name at the Ritz. "Whenever I dream of afterlife in heaven," Hemingway wrote, "the action always takes place in the Paris Ritz." At the end of WWII, when he was in Paris as a war correspondent, he bounded into Bar Hemingway with a crew of displaced soldiers, declared the bar was liberated from the Nazis, and ordered champagne for everyone. The Ritz appears in The Sun Also Rises and in Fitzgerald's Tender is the Night.
The literary history of the Ritz Paris predated Hemingway, of course, and continued on after him. Founded by Swiss hotelier César Ritz and French chef Auguste Escoffier, the hotel opened on Place Vendôme in 1898 to much fanfare. Proust hosted large dinner parties there and wrote parts of In Search of Lost Time in the garden café. Truman Capote and Orson Welles stayed in the hotel, as well as countless movie stars, fashion designers, and artists.
The Ritz Paris is closed for renovations until early 2015. Bar Hemingway's master of cocktails, Colin Field, is a world-renowned mixologist. While the Ritz is closed, check out our recommendations for alternative places to stay.