Bildagentur Zoonar GmbH / Shutterstock
With its promise of fabulous Pinot Noir and Chardonnay, Burgundy—Bourgogne in French—lures wine lovers to its gentle landscapes and orderly rows of vines. This summer, UNESCO designated areas of Burgundy's Côte de Nuits and Côte de Beaune vineyards, along with Dijon's ancient center, as World Heritage Sites because of their cultural significance in wine production, which began in the Middle Ages. Exquisite cuisine, stone-built towns, medieval abbeys, château hotels, and bike rides past vineyards and canals also await. In Burgundy it's easy to combine a visit to top French wine regions with other pleasant pastimes—all just a short train ride from Paris.
By Linda Cabasin
Tupungato | Dreamstime.com
Visiting Dijon's Historic Heart
Just north of key wine-producing areas, the city of Dijon makes a good starting point for vineyard voyaging and is less than two hours by train from Paris (buy tickets on RailEurope). The city center charms with half-timber and limestone buildings from the fifteenth to nineteenth centuries, and a stroll on the pedestrianized Rue de la Liberté leads past tempting shops and lovely churches.
For insight into regional history, visit the Palais des Ducs, the former palace of the powerful Dukes of Burgundy that now holds an excellent art museum and the dukes' impressive carved tombs. Take a break and feast on updated bistro fare at DZ'envies near the city market. Dijon has many comfortable hotels, but the sleek Vertigo Hôtel is a contemporary alternative.
PLAN YOUR TRIP: Visit Fodor's Burgundy Travel Guide
Florian Garcenot/ Bourgogne Evasion
Touring Vineyards by Bike
Burgundy's more than 600 miles of bike trails cover all kinds of territory, but wine enthusiasts will gravitate to the twenty-two miles through the Côte de Nuits and Côte de Beaune. The guided service provided by Bourgogne Evasion for half-day, full-day, or custom rides in the Côte de Beaune makes it easy to focus on the beauty of the vines and hillsides and explore stone-built wine villages such as Pommard and Meursault. Dedicated bike paths give you a close-up look at ancient vineyards, and tours include tastings and the opportunity to learn more about Burgundy's remarkable terroir. For more information about biking in Burgundy, click here.
PLAN YOUR TRIP: Visit Fodor's Burgundy Travel Guide
Alain Doire / Bourgogne Tourisme
Savoring Fantastic Cuisine
Much of Burgundy is farm country, and its savory products pair brilliantly with its fine wines. Look for Bresse chicken and Charolais beef. Try snails simmered in white wine and choose rich Époisses from the cheese cart.
Burgundy also claims a galaxy of Michelin-star restaurants, and a meal at any of these makes a memorable treat. In Beaune, Loiseau des Vignes is notable for Burgundian specialties and a list of seventy mostly local wines available by the glass. The traditional village of Viré, south of Beaune, is home to chef-owner Frédéric Carrion's Le Relais de Montmartre, a luxurious inn and restaurant that reflect the chef's contemporary flair and love of local produce. The three-Michelin-starred Lameloise, in Chagny, dazzles with creative fare that is like art on a plate, and if you can't bear to leave, there are sixteen elegant bedrooms available.
PLAN YOUR TRIP: Visit Fodor's Burgundy Travel Guide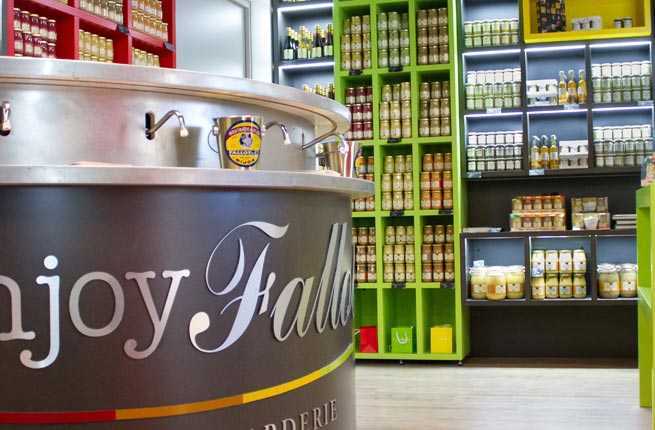 Courtesy of La Moutarderie Fallot
Shopping for Local Specialties
Burgundy is also renowned for its crème de cassis (blackcurrant liqueur). Learn about cassis at the Cassissium in Nuits-St-Georges and buy a bottle to use for Kirs with white or sparkling wine.
Authentic Dijon mustard is delectable, and the shops of artisanal producer Edmond Fallot in Beaune and Dijon have educational displays and mustard tasting bars with flavors including walnut and honey. You can also take a factory tour in Beaune.
Another regional favorite is pain d'épices (gingerbread or spice bread), made into biscuits or flavored loaves. Specialist Mulot & Petitjean stocks excellent selections in Dijon and Beaune.
PLAN YOUR TRIP: Visit Fodor's Burgundy Travel Guide
Exploring the Burgundy Canal
Sometimes taking life in the slow lane creates the deepest memories, and that's true for a bike or boat exploration of the scenic, 150-mile Burgundy Canal and its 189 locks linking the Yonne and Saône Valleys. Lovely sections lie west of Dijon, with gentle woodlands lining the canal. Rent a bike and use the towpaths if you need a faster pace than a slow-moving boat. For a multiday escape, luxurious hotel barges such as Wine & Water offer packages that include excursions to nearby sites, as well as good food and fine wines. All you have to do is sit on the front deck and watch the world go by.
PLAN YOUR TRIP: Visit Fodor's Burgundy Travel Guide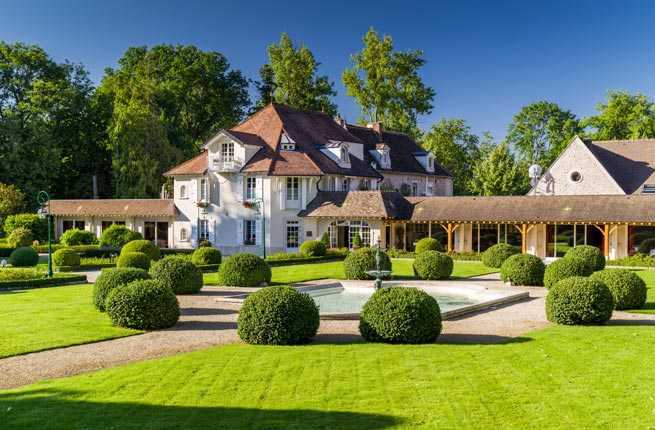 Courtesy of Relais Chateaux Levernois
Spending the Night in a Château or Country Manor
Opening your hotel window and seeing the turret of a château or a colorful garden creates wonderful memories. Château hotels, many family-owned, provide Gallic charm with amenities for all tastes.
In Clessé, near Cluny, Château de Besseuil's modern lodgings and sleek swimming pool sit among vineyards, while the intimate Domaine du château de Chassagne-Montrachet has wine tastings, stylishly decorated rooms, and eleventh-century wine cellars. Near Beaune, the delightful Hostellerie de Levernois offers a country inn's seclusion and excellent food. The seventeenth-century Château de Fleurville is notable for its cozy, personal ambience in traditionally furnished rooms. And the sprawling Abbaye de la Bussière, a thirty-minute drive west of Dijon, has converted a thirteenth-century abbey into a sumptuous hotel and superb restaurant surrounded by restored monastic buildings and outstanding grounds.
PLAN YOUR TRIP: Visit Fodor's Burgundy Travel Guide
Philippehalle | Dreamstime.com
With the Côte de Nuits to its north and the Côte de Beaune to the south, Beaune is Burgundy's wine capital, but this town of 22,000 entices with more than wine businesses and tasting rooms. The fifteenth-century Hospices de Beaune (Hôtel-Dieu), built as a free hospital and now a fascinating museum about medieval medicine, astonishes with its colorful tiled roof, and Rogier van der Weyden's masterpiece The Last Judgment, commissioned for the hospital, is on view.
Stop by the Romanesque Collégiale Notre-Dame to view impressive medieval tapestries or shop the Athenaeum de la Vigne et du Vin for the perfect wine book or gift. On the town's calendar are July's International Festival of Baroque Opera and the three-day wine-themed Les Trois Glorieuses in November, with its for-charity auction of wines from Hospices de Beaune's vineyards.
PLAN YOUR TRIP: Visit Fodor's Burgundy Travel Guide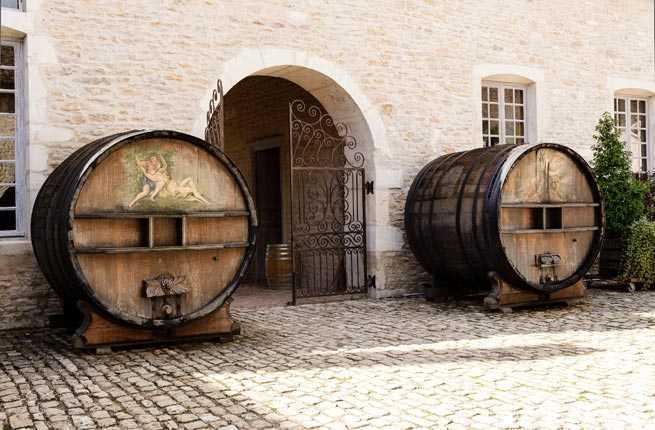 Edonalds | Dreamstime.com
Tasting Great Wine and Touring Wineries
The land in Burgundy's most famous vineyards, running south from Dijon through Beaune to Mâcon, has been studied and classified since medieval Benedictine and Cistercian monks created the distinctive vineyard enclosures, or clos. Beaune's tasting rooms and cellars are perfect for learning about Pinot Noirs and Chardonnays from village appellations up to grands crus.
Choose a seven- or eleven-wine sampling at the cellars of the Marché aux Vins. A visit to the elegant Château de Meursault includes a look at ancient cellars and a choice of tastings at different prices. The brilliant tiled castle and sprawling vineyards of the Château de Santenay provide a striking setting for a tasting. Although wine tastings aren't offered at Château du Clos de Vougeot in the noted Côte de Nuits town of Clos du Vougeot, it gives an excellent tour of the ancient grape presses and cellars.
PLAN YOUR TRIP: Visit Fodor's Burgundy Travel Guide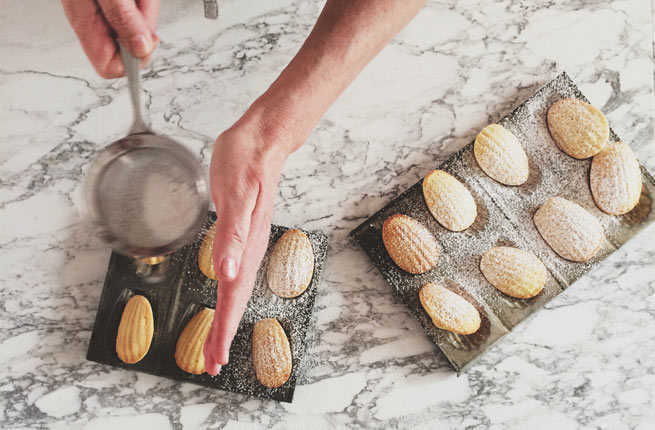 Courtesy of The Cook's Atelier
Cooking Market-Fresh Fare
Food matters in Burgundy, where markets proudly display the region's celebrated produce. Don a white apron and pick up a glass of wine at a cooking class in the Cook's Atelier, a romantic eighteenth-century building in Beaune. Two days a week, the mother-daughter team of Marjorie Taylor and Kendall Smith Franchini leads a six-hour session with an educational market tour, a hands-on cooking class featuring classic techniques, and a leisurely five-course lunch with abundant conversation about French ingredients and techniques. Specialized classes are also offered, or you can simply browse the shop for specialty foods or cooking tools that make inspirational, practical souvenirs.
PLAN YOUR TRIP: Visit Fodor's Burgundy Travel Guide
Uncovering the Past at Ancient Abbeys
Visits to historic sites recall the immense power of monastic orders in medieval France. About ten miles from Dijon, at the Abbaye de Cȋteaux, Robert de Molesmes founded the austere Cistercian order in 1098—tour buildings from different centuries to learn about the monks' beliefs.
Near Montbard, the well-preserved church and buildings of the twelfth-century Abbaye de Fontenay, a UNESCO World Heritage Site, provide insight into daily life. Lovely gardens are an extra delight here. The limited remains of the enormous Ancienne Abbaye in Cluny are celebrated for their link to early Gothic style, and the 140 surviving Romanesque houses also give a sense of pretty town's importance.
PLAN YOUR TRIP: Visit Fodor's Burgundy Travel Guide