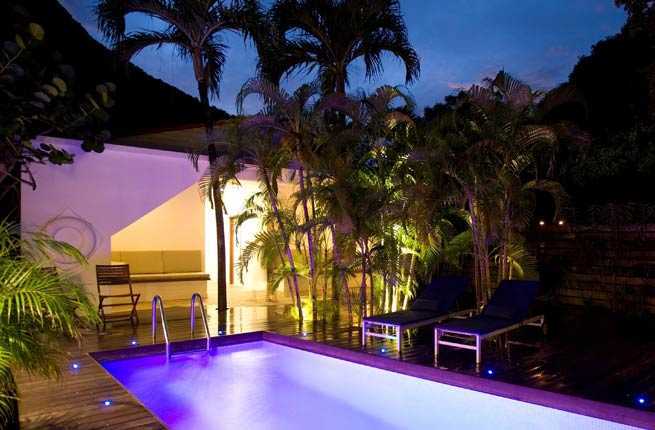 Courtesy of Normandie Hotel, St. Barth
True or false: Peak season in the sunny Caribbean, with its wonderfully warm waters and frangipani-scented breezes, always means a hefty price tag. Despite what you may have heard, the truth is there are dozens of reasonably priced hotels (those $350 or under in peak season); we've vetted them all and then narrowed the list to our favorites. The best of the bunch earned big points for going the extra mile (complimentary surfboards or free breakfast by the pool, for example) and for designing interiors that reflect the island's personality. Regardless, each hotel on the Cheap and Chic list is so comfortable and welcoming that you may find yourself unable to leave your cabana's hammock. All the better, because at these prices, you can afford to stay a couple extra nights.
By Christine Ciarmello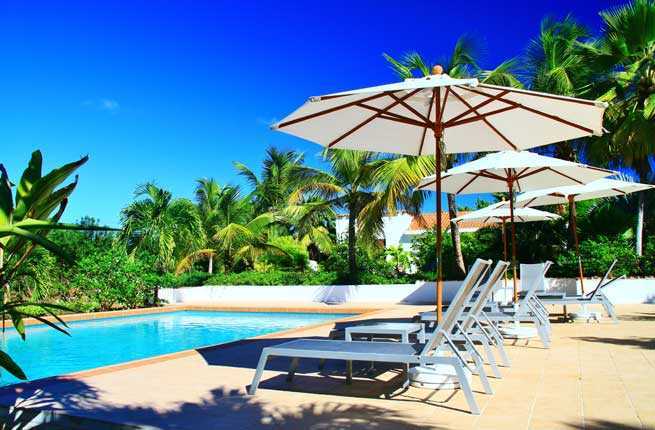 Courtesy of Anacaona Boutique Hotel
WHERE: Meads Bay, Anguilla
Anguilla typically isn't an island that is shortlisted by the budget-conscious. Esteemed resorts set on pearly sands, like Cap Juluca ($1,000 per night), attract an A-list clientele. Yet, the owners of that aforementioned resort also opened the more affordable 27-room Anacaona. Fluffed up in Med-bbean style, the hotel has white stucco, pink roof tiles, and casual breeziness. With Meads Bay a 5-minute walk away, the two pools may go ignored. Peak-season rooms are $310.
PLAN YOUR TRIP: Visit Fodor's Anguilla Guide
Courtesy of Admiral's Inn
WHERE: English Harbour, Antigua
For European ambiance with tropical weather, the blue-shuttered Admiral's Inn is your ticket to paradise. A 1788 brick, timber, and stone structure, it was from here that Admiral Horatio Nelson readied ships for battle. Hundreds of years later, it remains an active hub for sailors who drop anchor in English Harbour. The boatless enjoy the vibe, too, enticed by new suites, an infinity pool, and a spa (set to open in January)—all while peak-season starting rates are kept at an attractive $210.
Insider Tip: The inn will boat you to nearby beaches that are great for swimming, like Pigeon Beach.
PLAN YOUR TRIP: Visit Fodor's Antigua Guide
Courtesy of Staniel Cay Yacht Club
WHERE: The Exuma Cays, Bahamas
If Don Draper went AWOL in the Caribbean, we'd look for him lounging on the patio of one of the pastel bungalows on Staniel Cay with a rum punch in hand. After all, Staniel Cay Yacht Club, which opened in 1956, has hosted many mid-century icons, including Sean Connery and Sammy Davis, Jr. The club was also the backdrop for two James Bond movies. Most days here are filled with boating, beach bumming, and pirating: Johnny Depp has been seen loitering in the screened-in bar.
Insider Tip: All-inclusive rates of $390 per room are a better bargain than $215 for a room-only stay. You not only get three meals but also a 13-foot skiff to enjoy.
PLAN YOUR TRIP: Visit Fodor's Exumas Guide
Courtesy of Sea-U Guest House
WHERE: Tent Bay, Barbados
Barbados' Platinum Coast is allegedly named for the silvery glints of sands that dust its shores. But the West Coast's moniker could also come from the high-tiered price tags of the resorts. On the much quieter East side, though, time slows, crowds thin, and prices roll back. The clapboard studios at Sea-U Guest House, hidden in a forest of palms, are decorated with mahogany furniture and have decks with comfy hammocks. Expect solitude with only the sound of breaking waves to disrupt you. Even more enticing than the privacy? Rooms starting at just $160.
Insider Tip: Stick to beach walks or surfing here. Should you want a swim, Crane Beach, a 20-minute taxi ride away, is world class.
PLAN YOUR TRIP: Visit Fodor's Barbados Guide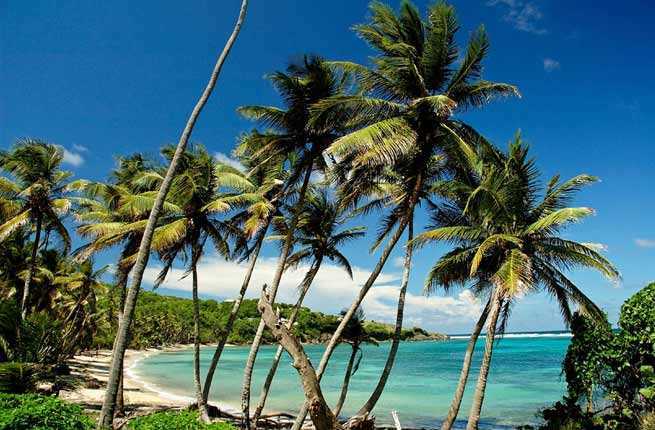 Courtesy of Sugar Reef Bequia
WHERE: Bequia, St. Vincent and the Grenadines
Vacationing on Bequia is like entering a time warp: no big chain stores, no stoplights, and transportation is often by water taxi. Hotels here are charming, but until last year, none were so stylish and sweetly priced (rooms from $300) as Sugar Reef Bequia. Located on the grounds of a former coconut plantation, the resort's stone building houses three airy beachside rooms as well as the lobby/restaurant, with its driftwood chandelier, eclectic textiles, and a fabulous shell buffet. There are also five hillside rooms in a Great House with a pool.
Insider Tip: The roti here, presented more upscale than usual, is not to be missed.
PLAN YOUR TRIP: Visit Fodor's Bequia Guide
Courtesy of kathrynrapier.net
WHERE: Manchioneel Bay, Cooper Island, British Virgin Islands
Snorkelers, divers, and wannabe Richard Bransons, welcome to your private island for $280 per night. A short ferry ride from Tortola, Cooper Island Beach Club has 10 tropical-breeze-catching cottages scattered along Manchioneel Bay, a water playground with shipwrecks and corals for those who mask up. They also speak eco here, from the solar panels, biodegradable bath products, and chairs made from old boats, right down to the bamboo iPod dock.
Insider Tip: Book any sailing charters off the British Virgin Islands before you arrive. They fill quickly.
PLAN YOUR TRIP: Visit Fodor's Cooper Island Guide
Courtesy of Susan Gouinlock
WHERE: Marigot, Dominica
Each of the six cabanas at Pagua Bay House resembles a banana processing plant, paying homage to Dominca's mainstay. These galvanized aluminum structures, though, are for kicking back, with walnut-framed beds and patios facing the breezy Atlantic. While many set up at Pagua Bay to explore the untrodden wilderness of the island, other features to celebrate at the inn are the food, free kayaks, and the jump-in-ready Pagua River, all with rooms starting at just $230.
Insider Tip: A 45-minute hike near Pagua, the Charles Warner, kicks off with a swim across a river and ends at a waterfall.
PLAN YOUR TRIP: Visit Fodor's Dominica Guide
Courtesy of Casa Bonita
Casa Bonita Tropical Lodge
WHERE: Bahoruco, Barahona, Dominican Republic
Escape the Dominican Republic's increasingly pricey and all-inclusive north coast by heading south toward the Haitian border (technically West coming from the Santo Domingo airport). The 12 thatched roof cabanas of Casa Bonita Tropical Lodge hug a hillside that the Barahona River cuts through. Each has views of the Caribbean Sea and the jungle-filled Sierra Barahuco Mountains, and two beautiful beaches are just 10 minutes away. The lodge earns its tropical moniker as it neighbors the Jaragua-Bahoruco-Enriquillo Biosphere Reserve, where there are bats, flamingoes, American crocodiles, and rare orchids that live in caves, cloud forests, and a salt lake. Rates start at $250.
Insider Tip: The riverside spa will set up a massage bed in the Barahona River for ultimate relaxation.
PLAN YOUR TRIP: Visit Fodor's Barahona Guide
Courtesy of La Sagesse
WHERE: La Sagesse, Grenada
Back in the '60s, the Caribbean was a playground for British royalty. While it often costs a king's ransom to stay in one of their former posh digs, that's not the case with Grenada's beachside La Sagesse Hotel. The coral-colored manor house, which once belonged to a cousin of Queen Elizabeth, offers many rates below $200. Forget the manicured lawns. This is an edible jungle of nutmeg, banana, and guava trees.
Insider Tip: The staff says La Sagesse is "the perfect spot to soothe the most frazzled of souls." They do that with no TVs, radios, or clocks—and hiking trails on the property.
PLAN YOUR TRIP: Visit Fodor's Grenada Guide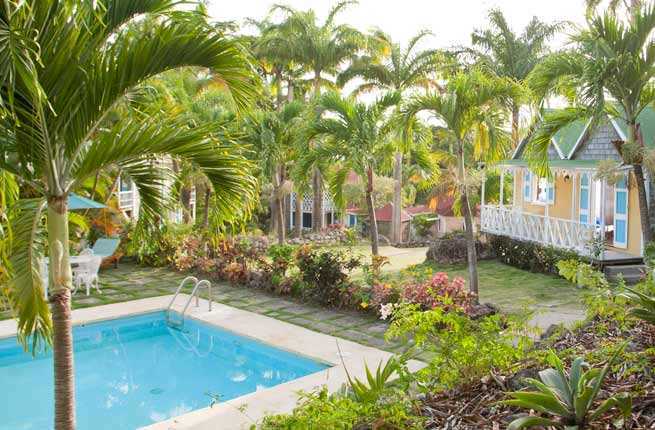 Courtesy of Hermitage Nevis
The Hermitage Plantation Inn
WHERE: Gingerland, Nevis
While many of the surviving plantation homes of Nevis have been turned into inns, it's evident why so many people choose The Hermitage Plantation Inn. The setting, at the base of the rainforest, is like a retreat to another time period, with traditional architecture and eclectic antiques. Approaching the circa-1700's Great House lit up at dusk is transporting. The 15 cottages are West Indian romantic, with gingerbread fretwork and four-poster canopy beds. Rates start at $255.
Insider Tip: Saddle up: The hotel has horses available for riding in the jungle.
PLAN YOUR TRIP: Visit Fodor's Nevis Guide
Courtesy of www.peterdyerphotos.com
WHERE: Laborie, St. Lucia
It's not uncommon for guests of this St. Lucia hotel to return from an island excursion and say, "That was fun. But most of what we saw today is right here." That's life at Balenbouche Estate, a micro-St. Lucia contained within 75 tropical acres. In addition to an organic farm with cows, there are lily ponds, historic ruins, two private beaches, a late 1700s' sugar mill, and four cottages with stylish fabrics and artwork. A fifth cottage is coming at the end of 2014. With all the attractions it's amazing you can get a room starting at $110.
Insider Tip: If you want to cook your own meals, the Banyan or Almond cottages have kitchens (and natural stone showers). Go even cheaper by camping on their acres (camping sites, $25, with WiFi)
PLAN YOUR TRIP: Visit Fodor's St. Lucia Guide
Courtesy of Normandie Hotel, St. Barth
WHERE: Lorient, St. Barthelemy
Talk about pulling a rabbit out of a hat: Try finding a place on St. Barth on less than $250 per night. Then we happened upon Le Normandie, lovingly restored by Dennis and Wendy Carlton to feel like a cruise ship from the Golden Age—art deco lines in the furnishings and silver portholes in doors. Breakfast can be taken by the pool, and Le Normandie hosts a free wine hour every evening. It's even shouting distance from the Atlantic's popular Lorient Beach.
Insider Tip: The hotel is a short walk from stellar bakery La Petite Colombe. Did someone say French pastries for breakfast?
PLAN YOUR TRIP: Visit Fodor's St. Barthelemy Guide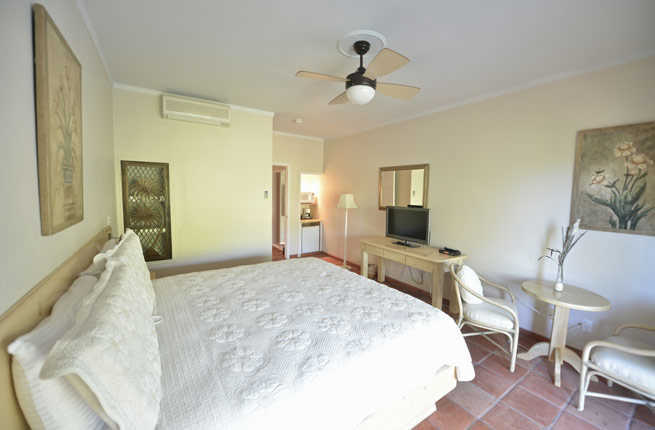 Courtesy of Caribbean Paradise Hotel
WHERE: Grace Bay, Providenciales, Turks & Caicos
If you're looking for a spot close to the sand on one of the world's best beaches, Grace Bay in Providenciales on the Turks & Caicos, expect to pay a premium—unless, of course, you know about the owner-operated (very rare!) Caribbean Paradise Inn. Here, at the pink Bahamian-style inn, rooms start at $195 in high season. Take a five-minute walk to Grace Bay and soak up the sun. Beach towels are provided.
Insider Tip: While all rooms have verandahs, the second-level rooms feel more private.
PLAN YOUR TRIP: Visit Fodor's Providenciales Guide
Courtesy of The Spa Retreat Boutique Hotel
The Spa Retreat Boutique Hotel
Where: Negril, Jamaica
Spoiling the body and soul—massages, body wraps, yoga—always seems to work better in the Caribbean, where the vibe is chill and all is "one love." That's the spirit at The Spa Retreat in Negril, which opened in November 2011 on two acres of prime real-estate, atop the famed cliffs of Negril, at a bargain price for the high-end offerings (rooms from $250). Snorkelers and swimmers use ladders to plunge into Caribbean. Eighteen thatched-roof stone cottages with super comfy furnishings are where to retreat after a sunset yoga class and dinner at The Blue Mahoe, with local favorites like jerk, callaloo, and escovitch.
Insider Tip: In the free Patois class taught by Dwayne, you'll learn that "wagwan" literally means "what's going on." But the phrase is also used to say both hello and good-bye.
PLAN YOUR TRIP: Visit Fodor's Jamaica Guide