Courtesy of Belize Tourism Board
Take a break from the palm trees and hammocks on your next trip to the Caribbean and venture into the depths of the ocean, where remarkable treasures await. The Caribbean sports a world-renowned scuba diving culture and hundreds of diving sites known for their colorful beauty and vast marine life. Whether you're diving through the majestic wreck of a former ocean liner or dropping by a bay swarming with stingrays, paradise extends beyond the shores with these ten scuba dives in the Caribbean.
By Zachary Laks
Courtesy of Tourism Corporation Bonaire
WHERE: Bonaire
The renowned Hilma Hooker is a sunken and condemned 240-foot cargo ship that was detained by Bonaire authorities for marijuana smuggling, towed to its demise in the Caribbean Sea in 1984, and now lies 100 feet below the surface. More than 30 years in the making, an artificial reef has formed, attracting a vast cross-section of marine life and coral. While little of the site allows for penetration diving (entering in enclosed rooms with no direct access to the surface), divers delight at finds such as the ship's large masts and remnants of its steering wheel.
PLAN YOUR TRIP: Visit Fodor's Bonaire Travel Guide
Courtesy of Belize Tourism Board
WHERE: Belize
The crystal-clear waters about 60 miles off the coast of Belize harbor one of the Caribbean's greatest underwater wonders, The Blue Hole. This massive sinkhole is the largest of its kind, measuring 1,000 feet wide and more than 400 feet deep. Part of the sprawling Barrier Reef Reserve System, a UNESCO World Heritage Site, The Blue Hole is sought out for its great depth and the opportunity to explore stalactite formations in caves formed thousands of years ago when ocean levels were 100 feet lower. Expect to see plenty of midnight parrotfish, angelfish, and Caribbean reef sharks, with the occasional visit from a hammerhead shark.
PLAN YOUR TRIP: Visit Fodor's Belize Travel Guide
Kellyvandellen | Dreamstime.com
The Cathedral at Eagle Shoals
WHERE: St. John, U.S. Virgin Islands
St. John's coast stands out as a scuba destination with its accessible adventures and colorful underwater worlds. Eagle Shoals is a lesser-known favorite among the island's diving sites, just off the east end of the island. The reef extends through the ocean floor with expansive arches, tunnels, and caves that give way to aquatic discovery. The main wonder to behold at Eagle Shoals is The Cathedral, a large underwater chamber filled with vibrant coral. It is a popular hangout for black triggerfish, porkfish, and silversides, and rays of sunlight filter in through the formation, providing picture-perfect moments of underwater brightness.
PLAN YOUR TRIP: Visit Fodor's St. John Travel Guide
Courtesy of British Virgin Islands Tourist Board
WHERE: Virgin Gorda, British Virgin Islands
Virgin Gorda's warm waters (averaging 84 degrees F in the winter and 77 degrees F in the summer), robust reefs, and variety of tropical aquatic life make the island a scuba-diving hotspot. For the best dive spot for beginners on the island, take a guided exploration with local dive experts Dive BVI to the western coast of Spanish Town. The site is shallow (30 feet), providing an aquarium-like viewing of the marine life taking shelter in rocks and granite boulders. Expect to find iridescent blue tangs, Moorish idols, and parrotfish, with chance encounters with stingrays and nurse sharks.
PLAN YOUR TRIP: Visit Fodor's Virgin Gorda Travel Guide
Courtesy of Scuba Tech; Photo by Gordon Brown
WHERE: Grenada
An escape to the tropics of Grenada guarantees days filled with underwater thrills and expeditions for divers of all levels. Start with one of the most noteworthy wrecks of the Caribbean, the Bianca C. Experience the rush of a stern-to-bow exploration of this 600-foot cruise liner, the Caribbean's largest wreck. Sunk in 1961 from an engine fire that miraculously killed only one person, the "Titanic of the Caribbean" remains in tattered pieces and provides exciting opportunities for penetration dives. Head to the mid-ship swimming pool first and be on the lookout for the wreck's many spotted eagle rays, reef sharks, and great barracuda.
PLAN YOUR TRIP: Visit Fodor's Grenada Travel Guide
Durdenimages | Dreamstime.com
WHERE: Grand Cayman, Cayman Islands
Grand Cayman is situated in the northern Caribbean Sea on the underwater mountain range called the Cayman Ridge. A hotspot for underwater exploration, the waters that surround the island are sprawling with remarkable natural splendor. With a staggering 162 dive sites, Grand Cayman has made a name for itself as a scuba diver's playground. Of the many sites on tap, don't miss out on a dip in Stingray City, a shallow dive off the island where stingrays gather and glide alongside you.
PLAN YOUR TRIP: Visit Fodor's Cayman Islands Travel Guide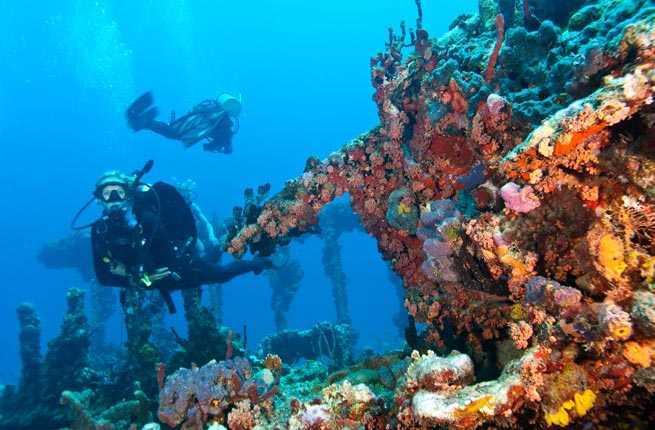 Courtesy of Dive BVI; Photo by Daylon Walton
WHERE: Salt Island, British Virgin Islands
Taking on a second life as an artificial reef for sea creatures where it sunk in 1867, the RMS Rhone is a prized attraction on the ocean floor off the British Virgin Islands. Originally a UK Royal Mail Ship, the "unsinkable" ship got caught in two bouts of hurricane weather before its demise. Opt for the scuba trips provided by Dive BVI for a day of two dives with guides who share a wealth of knowledge about the ship and its many parts still visible and intact, including the rigging, steam engine, and propeller.
PLAN YOUR TRIP: Visit Fodor's British Virgin Islands Travel Guide
WHERE: Key Largo, Florida
One of the most popular wreck dives in the states, The Duane is a 327-foot Coast Guard Cutter just off the coast of Key Largo. Deliberately sunk in 1987 to create an artificial reef, the old ship has gained national acclaim for the marine species that call the ship home, including barracuda, bull sharks, and depending on the time of year, whale sharks.
The brave and adventurous are welcome to enter the ship and explore the cabins and deserted decks of U.S. Navy history on this more advanced dive. The Upper Keys Reef Foundation was formed to help promote the area's prime scuba opportunities, which include six other shipwrecks and the first undersea park in the U.S., the John Pennekamp Coral Reef State Park.
PLAN YOUR TRIP: Visit Fodor's The Florida Keys Travel Guide
Conchasdiver | Dreamstime.com
WHERE: Cozumel, Mexico
Just off Mexico's Yucatán Peninsula, Cozumel stands out as a vacation destination for its unique blend of ancient Mayan history fused with modern Mexican culture with a Caribbean flare. Cozumel is home to a rich ocean floor with more than thirty dive sites along its coast. For the best of the island, hop on a charter trip with Mexico Blue Dream to Santa Rosa Wall, where a kaleidoscope of coral lines the colorful formation with a tunnel around 50 feet deep that welcomes divers into its depths. Expect to come across parrotfish, wrasse, barracuda, and even the occasional reef shark.
PLAN YOUR TRIP: Visit Fodor's Cozumel Travel Guide
Ethanadaniels | Dreamstime.com
WHERE: Turks and Caicos
Turks and Caicos welcomes divers around the world with its expansive oasis of colorful reefs, deep diving walls, and meeting place for some of the ocean's largest creatures. Prime diving season runs January through early April as Caribbean humpback whales descend on the island, passing through the Turks Head Passage in a migration pattern that continues on to the Dominican Republic. With a bit of patience and persistence, divers can expend a full tank seeking out a chance encounter with the giant mammals to hear the serene reverberation of pods of whales vocalizing.
PLAN YOUR TRIP: Visit Fodor's Turks and Caicos Islands Travel Guide