With a homegrown cuisine marked by intensity and balance, a hotbed of international flavors, high-quality local products, and a population that's absolutely fanatical about food, Bangkok has always been high on the hit list for food lovers. Currently home to the San Pellegrino 50 Best top restaurant in Asia (the Indian-inspired Gaggan), "the Big Mango," as Bangkok is known, offers everything from incredibly tasty street food to the cuisine of Michelin-starred chefs from around the world. Here's everything you need to know about where to indulge in the Thai capital.
By Kathleen Squires
Hernan F. Rodriguez
The variety of Thai cuisine is staggering. But if you're just passing through and have to pick a few quintessential bites, here's what not to miss. What tacos are to Mexico and paella is to Spain, pad Thai is to Thailand. Many say the noodle, bean sprout, egg, shrimp, tofu, and green onion wok-fry, seasoned with fish sauce, chili, sugar, and peanuts, is the country's national dish. Try it at Thip Samai (313 Mahachai Road, Phra Nakorn; +66 2 221 6280).
One of the best ways to experience the potency of Thai spicing is digging into a soupy green curry. It's a palate-provoking blend of coconut milk, fish sauce, bamboo shoots, meat (usually chicken or beef), eggplant, coriander, cumin, ginger, Thai basil, lemongrass, lime leaves, and chili. Poisien (Soi Ratchawithi 6, Boonme Building, Phaya Thai) is a reliable stop for any curry.
A refreshing counterpoint to any main dish is the spicy, crisp, and surprisingly powerful green papaya salad known as som tum. Shredded raw papaya is tossed with green beans, garlic, chili, lime juice, fish sauce, cherry tomatoes, and palm sugar for a sweet and sour flavor explosion. Somtum Der is Bangkok's famous go-to for the signature.
Not everything in Thai cuisine has to shock the palate, however. And the stemmy vegetable, morning glory, is the perfect choice for a healthful, soothing dish. The greens are similar to spinach, but not as bitter, especially when sautéed with garlic, oyster sauce, and peppers. Find it at Pa-Aou (Phahon Yothin Soi 1, 826 Soi Rucha, Phaya Thai; +66 (0) 89 201 0798). And don't forget about dessert. The local favorite, hands down, is the alluring combination of mango and coconut sticky rice. It's a sweet, light, guilty pleasure available at the mango shop Mae Varee.
PLAN YOUR TRIP: Visit Fodor's Bangkok Travel Guide
Leesniderphotoimages | Dreamstime.com
Nothing decorates the streets quite as artfully as the fruit stands, with their rows and rows of sweetness in all colors, shapes, and sizes. Thailand's tropical climate and nutrient-rich soil yields some of the world's best exotic fruits. Ever try a Marian plum? Dragon fruit? Durian? Bangkok is the place to do it.
The favorite in the Big Mango is, of course, the mango. The Thai variety is distinctive for its pale yellow skin; smooth, non-fibrous flesh; and deep, juicy sweetness. Locals love to sprinkle it with salt, sugar, and chili. Marian plums look like mini mangos. Their flavor: sweet and sour with the texture of a peach. Durian gets a bad rap for its disagreeable aroma (or as some would call it, stench). While it is an acquired taste, its creamy texture lends the spiny fruit to a lush ice cream. Pomelo is like a grapefruit without that bitter aftertaste. It pairs well with savory flavors like fish. Dragon fruit's shard-like skin and bright pink color surrounds a lovely white flesh with tiny black seeds that many liken to the kiwi. A local obsession from March to June is the rose apple, a red, pear-shaped beauty with a crisp and delicate flavor that particularly comes alive when sprinkled with that Thai seasoning trifecta: salt, sugar, and chili.
PLAN YOUR TRIP: Visit Fodor's Bangkok Travel Guide
Hernan F. Rodriguez
Scour the Sois for Street Food
Food is everywhere. Step outside your hotel, and someone, somewhere will be selling food on the street. The sois (side streets) of Bangkok are full of ready-to-eat pleasures. Take a look at the stall, and if it looks hygienic, it likely is. And the busier, the better, as the ingredients are less likely to have sat in the sun all day.
For beginners, Sukhumvit Soi 38 is a popular destination. It's crammed with vendors proffering noodles, rice bowls with pork or chicken, and skewered meats, and now there are even food trucks in the fray. There's an outcropping of vendors just off of Lumpini Park, many of which have English menus. This area gets good marks for its seafood and grilled fish—if you see crab, go for it. Chinatown is street food central, with woks sizzling with cashew chicken, stir-fried taro, and kuay jab. There are so many vendors in the maze-like streets that they are known to be highly competitive, something that solidifies the neighborhood as one of the best street food bets.
At night, the Victory Monument area is a popular snacking scene for the stylish, young crowd, who will be downing overstuffed, Thai-style omelets. And right in the center of town, the sois stretching out from the iconic, gold-domed State Tower are crammed with vendors. Curries and congee (rice porridge) are a favorite here. Don't be surprised if you run into a few live chickens, or even turkeys, among the chaos.
PLAN YOUR TRIP: Visit Fodor's Bangkok Travel Guide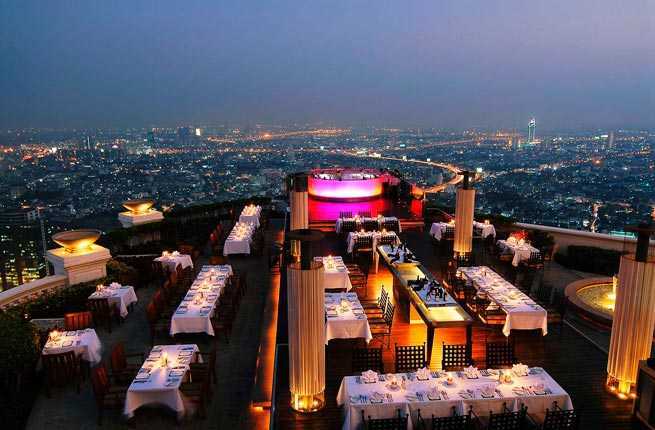 Courtesy of Lebua Hotels and Resorts
There's something so very Asian about al fresco, skyscraper dining. And nobody does it better than Bangkok. One of the city's most renowned spots for elevated eating is the Dome at the lebua hotel. Known for its cameo in The Hangover 2, the sixty-third floor is also the setting for Mediterranean restaurant Sirocco and the gravity defying Sky Bar, where a jazz band entertains diners and drinkers. The haute Chinese restaurant Breeze, on the fifty-second floor also has outdoor dining. Other spots for high-society are the Banyan Tree hotel's rooftop Vertigo and its adjoining Moon Bar. The panoramic views can't be beat.
PLAN YOUR TRIP: Visit Fodor's Bangkok Travel Guide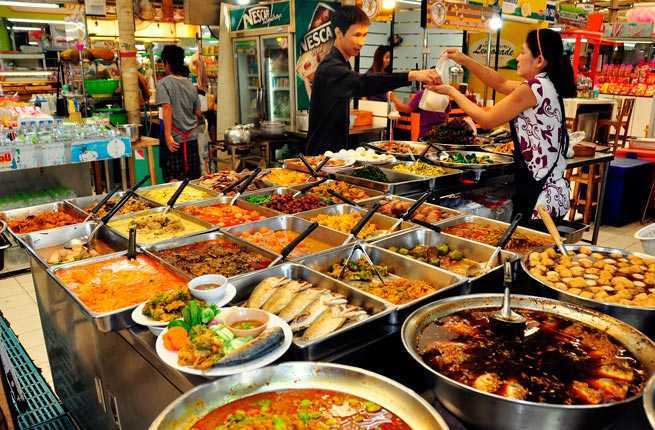 Leesniderphotoimages | Dreamstime.com
Make a Meal at the Market
Sometimes the city can seem like a series of markets strung together, or even one giant bazaar. The options for shoppers are dizzying, but we'll narrow it down to the essential few for food. The market of choice for chefs is Or Tor Kor. Comfortable, clean, and much less offensive on the olfactory glands than the "wet" markets, this one is a mecca for chefs from all over Asia buying sought-after goods, like countless varieties of rice, shrimp and curry pastes, spices, canned goods, fresh fruit, meat, and veggies. There are also plenty of stalls serving food cooked to order, of course.
Just across the street lies one of Bangkok's biggest attractions, the world-famous Chatuchak Weekend Market, a city unto itself with 15,000 vendors sprawling over thirty-five acres. Of those vendors, 400 are selling food and food products. Stopping for fresh coconut ice cream or mango sticky rice is practically mandatory. Khlong Toey isn't the prettiest of markets, but if you have a strong stomach for animal guts, then a trip here should be no bother. It's crammed full of meat, fish, fruit, vegetables, and a few vendors ready to cook. Its biggest claim to fame is its dirt-cheap prices.
PLAN YOUR TRIP: Visit Fodor's Bangkok Travel Guide
The parts of Bangkok that don't seem to be made up of markets definitely seem to be made up of shopping malls. Thais are crazy for them—they are currently working on building the largest in Southeast Asia. Combine the Thai love of food and shopping, and it's a no brainer that the food courts are a cut above the rest of the world. It's a great way to eat "street food" in air conditioning, and it's also a great way to meet locals, who flock to the food courts at lunchtime.
How it works: Diners pay for "coupons" at a booth, then cash them in at the various food stations. Food Loft, a concept found at several different malls, is based on the idea of a theater kitchen, where patrons watch chefs prepare regional meals on eight different cooking islands. MBK, the city's most trafficked mall, has one of the city's largest food courts on its sixth floor, full of Thai, Chinese, Japanese, and Indian stalls.
PLAN YOUR TRIP: Visit Fodor's Bangkok Travel Guide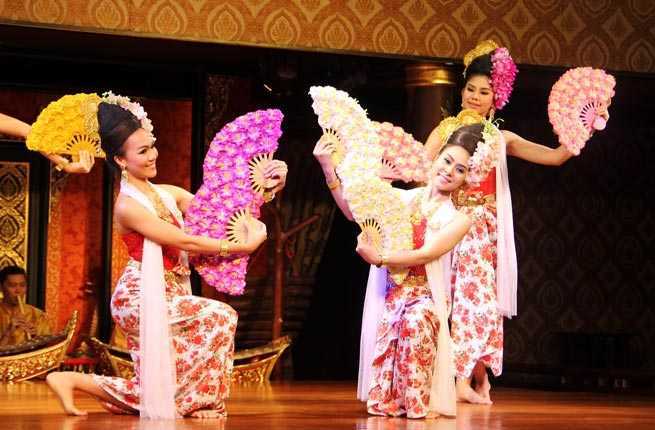 Hernan F. Rodriguez
Sure, it's touristy, but it's a worthy diversion. If you're going to experience a Thai dance show, you might as well experience the city's best. Sala Rim Naam at the Mandarin Oriental pulls out all the stops. A set menu includes traditional dishes such as Thai style sausage, fried fish with sweet and sour tamarind chili sauce, and green curry with beef, eggplant, basil, and chili. The spectacle includes folk dancing, music, and mock fighting, and guests take a wooden boat from the Mandarin's pier to get to the show, which is performed in an ornate Thai pavilion.
PLAN YOUR TRIP: Visit Fodor's Bangkok Travel Guide
Once you learn the basics of Thai cooking, you may not want to cook any other cuisine again. And if you're going to learn about one of the world's most exciting cuisines, it should be from some local superstars. Duangporn "Bo" Songvisava was voted The Veuve Clicquot Asia's Best Female Chef 2013. She and her husband, Dylan "Lan" Jones, love to share their knowledge during their intimate cooking classes known as the Bo.lan Experience. As the most sought after cooking class in town, the Bo.lan Experience offers both "novice" and "turn pro" classes, with a mission to spread the gospel of sustainable cooking. (Bo.lan strives to have no carbon footprint by 2018.) Other classes include "taste education" and rice cooking.
PLAN YOUR TRIP: Visit Fodor's Bangkok Travel Guide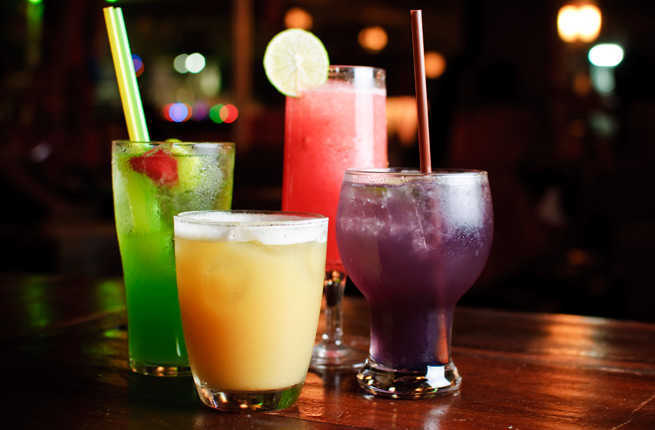 Fingeronthetrigger | Dreamstime.com
Vesper is the coolest cocktail bar of the moment, and it hosted the crew of NYC's Employees Only for a couple of sold-out evenings. The cocktails come from famed London mixology collective The Fluid Movement. Drinks include "the most potent libation of them all," Hemingway's Sazerac, and "sharing cocktails" for groups, such as the High Tea (gin, apricot, ginger syrup, tonic, citrus). The most popular non-alcoholic drink in the city is the ultra-sweet, creamy Thai iced tea. It combines black tea, condensed milk, and an extra lacing of sugar, just in case it's not sweet enough. This refresher can be found in any café or coffee shop and many of the street stalls. Just ask for cha nom yen. The fruit juice of choice, likely in front of you on any sidewalk, is ruby-red fresh-squeezed pomegranate juice.
PLAN YOUR TRIP: Visit Fodor's Bangkok Travel Guide
Courtesy of L'Atelier
Reach for the (Michelin) Stars
Though there is no Michelin Guide (yet) for Bangkok, there are plenty of star holders with outposts in the Thai capital, putting it on the international map for world-class cuisine. A partial list of the stellar roll-call includes: Jean-Michel Lorain of J'aime, who made headlines in 1986 as the youngest chef to win three etoiles; three-starrer Vincent Thierry of Vogue Lounge; Dutchman Henk Savelberg of Savelberg, who has earned a star each in four different restaurants; David Thompson, who gathered his accolades in London for his original nahm; and the chef of the century himself, Joel Robuchon, who kicked off 2015 by gracing Bangkok with a branch of his L'Atelier.
PLAN YOUR TRIP: Visit Fodor's Bangkok Travel Guide