fotoVoyager/iStockphoto
The Chinese mainland's most cosmopolitan city is a foodie paradise, whether you're looking for get-your-hands-dirty street treats or dinner prepared by a three-Michelin-star chef. Shanghai is also the best city to experience the nuances of regional Chinese cuisine by sampling everything from the spicy flavors in Sichuanese dishes to the lighter fare from Guangdong province. With a pleasing mix of traditional and modern, you can enjoy Shanghai street food and handcrafted cocktails in the same evening. Here's our guide for exploring the city's best bites. —Abbey Chase
Jennifer Arnow
The dumpling is the king of Shanghai street food, which comes in multiple delicious forms. Xiao long bao, dumplings with a piping-hot liquid center, are one of the most common, along with sheng jian bao, pork dumplings that are fried on the bottom. You'll also find guo tie, Chinese pot stickers, as well as the steamed dumplings served at dim sum restaurants. There are countless, lengthy debates about where to find the best dumplings in Shanghai, but Yang's Fried Dumpling (2/F, 269 Wujiang Lu) is widely considered to have the best sheng jian bao in town, while Jia Jia Tang Bao is one of Shanghai's best spots for xiao long bao. Crystal Jade (2/F Xintiandi South Block, 123 Xingye Rd.) and Fu Lin Xuan (Super Brand Mall, 168 Lujiazui Xi Lu) are two good options for dim sum.
PLAN YOUR TRIP: Visit Fodor's Shanghai Travel Guide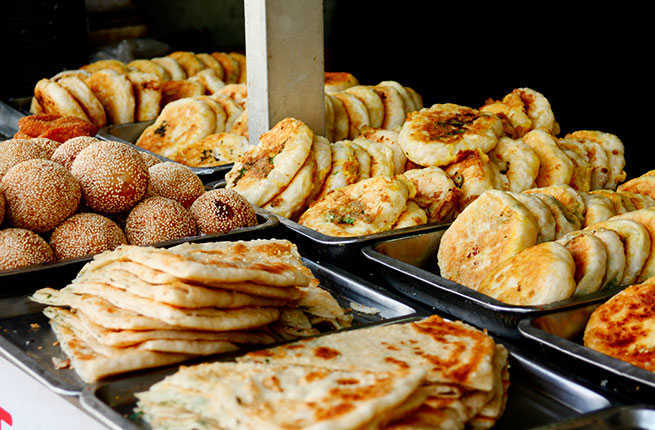 UnTour Shanghai
East-Meets-West Breakfasts
Breakfast in Shanghai can take two forms, depending on if you're looking for an authentic, locals' street breakfast or a decadent brunch buffet at one of the city's top restaurants. For the former, scallion pancakes are the perfect way to start your day, fried to crispy, chewy perfection by street vendors. Look for the stalls with long lines in the morning. Sesame pastries, sweet and savory steamed buns, Chinese-style savory crepes, and fried dough sticks are other breakfast staples, all of which can be found in many parts of the city, though Xiangyang Nan Lu is known for its breakfast offerings. When its comes to extravagant brunches, Shanghai goes all out, from champagne brunches at Jing'An at The PuLi Hotel and Yi Cafe, to more laidback late-morning grub at The Grumpy Pig and Mr. Pancake House (877 Wuding Lu).
PLAN YOUR TRIP: Visit Fodor's Shanghai Travel Guide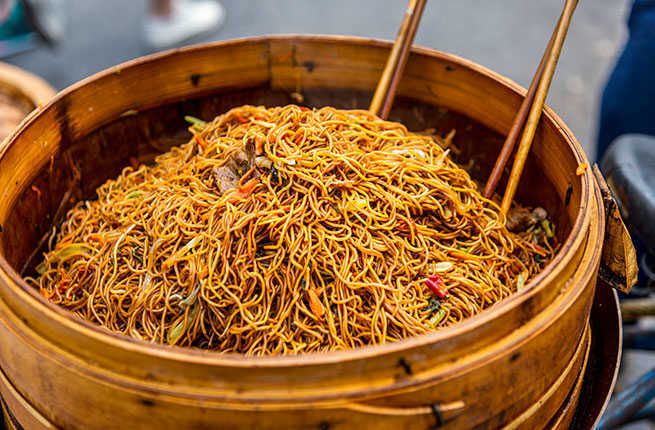 pidjoe/iStockphoto
Fried, drowned in soup, hand-sliced, topped with everything from scallion oil to eel: there are a lot of ways to enjoy noodles in Shanghai. Shanghai's halal restaurants are known for their handmade, Lanzhou–style noodles, hand-pulled to delicate perfection and submerged in a light soup, or hand-sliced for a slightly chewier texture and served with meat. You can find these shops all over the city, though Fangbang Lu is a good place to start. Shanghai fried noodles are another street food signature, served with a hearty mix of vegetables and meat, found at any street food vendor at any hour of the day. Also look for scallion oil noodles, a popular item at Shanghai's more upscale eateries, for a perfect blend of salty and sweet.
PLAN YOUR TRIP: Visit Fodor's Shanghai Travel Guide
The Peninsula Shanghai
Drawing from traditional Chinese tea culture and the British custom, afternoon tea in Shanghai can be a surprising cultural mélange at every price point. Tea at The Lobby at the Peninsula is the city's ultimate luxury, including classic finger sandwiches, delicate sweets, and the white-tablecloth experience one expects at one of the world's top hotels. The Mandarin Oriental, The Langham Xiantiandi, and Waldorf Astoria Shanghai on The Bund all offer a similar experience, but for something different, try Ginger by the Park for tea with an Asian-Mediterranean twist or visit Song Fang Maison De The for traditional Chinese tea in a minimalist, French-inspired setting.
PLAN YOUR TRIP: Visit Fodor's Shanghai Travel Guide
Jacus | Dreamstime.com
Though the restaurants in this area are not known for traditional Chinese cuisine, the views of the Pudong skyline across the Huangpu River and menus from world-famous chefs make dinner at one of these restaurants a must for a nice night out in Shanghai. Three on the Bund is the hub of activity along The Bund and where you'll find three restaurants from Jean-Georges Vongerichten, Whampoa Club, the ultra-exclusive The Cupola, and POP Bar, offering spectacular views from the seventh floor. Mr. and Mrs. Bund, a Shanghai institution down the street, is a popular French restaurant on the sixth floor, and Char and Bar Rouge are some of the area's best bar nightclubs with top-floor views of the city. When making a reservation at any of the restaurants, be sure to ask for a table near the window.
PLAN YOUR TRIP: Visit Fodor's Shanghai Travel Guide
Cocktail bars and Craft Breweries
When you're ready for a change of pace from the vibrant street food scene, turn to Shanghai's selection of swanky cocktail bars and craft distilleries, many of which can be found in the French Concession. Hidden up a blink-and-you'll-miss-it stairway next to a popular Spanish restaurant, el Coctel epitomizes an upscale Shanghai bar, with dim lighting, tufted banquette seating, and a sprawling dark-wood bar with a drink list of perfectly executed classics and innovative house originals. Similarly sleek and tucked behind an unmarked door, Senator Saloon is an expat favorite with an American speakeasy-meets-Old-Shanghai vibe. For a cheeky brewery with a great cocktail list and delicious bar grub, try Liquid Laundry, or head over to Boxing Cat Brewery for locally brewed suds and American fare. For a selection of Belgian beers, grab a seat at Kaiba Tap House in the chic-minimalist space with a garden at Taikang Terraces.
PLAN YOUR TRIP: Visit Fodor's Shanghai Travel Guide
fotoVoyager/iStockphoto
Particularly when it comes to street food, Shanghai can be a difficult place to navigate even if you speak Mandarin, so it helps to have someone show you the ropes first. The outstanding guides at UnTour Shanghai are a mix of expats and locals, all of whom have a wealth of knowledge about Chinese food traditions and the nuances of Shanghai cuisine, as well as great historical anecdotes about the city and the ability to make a food tour feel like a night out with good friends. Take the Street Eats Night Markets tour to see Shanghai after dark, or opt for the early bird Street Eats Breakfast tour in the French Concession. At the end of the tour, you'll get a list of 50 must-try foods in Shanghai and where to find them, so you'll be prepared to continue sampling Shanghai's best on your own.
PLAN YOUR TRIP: Visit Fodor's Shanghai Travel Guide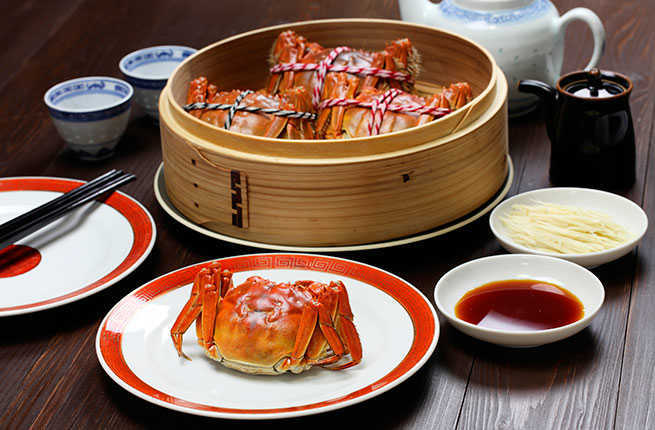 Ppy2010ha | Dreamstime.com
Its position along the coast makes Shanghai the ideal place to sample fresh seafood dishes not found in other kinds of Chinese cuisine. Shouning Lu is famous for its crawfish, served whole and tossed lightly with chili. This street is also a great place to try fresh oysters, mussels, scallops, and other kinds of shellfish garnished with garlic and scallions and served on the half shell. Though its peak season is relatively short during the late fall, hairy crab is the Shanghai signature, harvested from nearby Yangcheng Lake and served steamed with rice vinegar and ginger for dipping. Luxury-seeking gourmands should try the prix fixe hairy crab menu at Whampoa Club or head to Jesse (41 Tianping Lu), one of the city's most famous traditional restaurants. Shouning Lu is also the go-to spot for this specialty item.
PLAN YOUR TRIP: Visit Fodor's Shanghai Travel Guide
Paul Brighton/iStockphoto
Carnivores will be spoiled for choice when it comes to indulging in meat dishes, ranging from the traditional to the highly unusual. Rou jia mo is Shanghai's take on a burger, with either chicken or beef served with veggies in a steamed bun (check out the stalls along Caoxi Bei Lu). Roasted duck, a staple of Chinese cuisine, is readily available at any market in town, often served over rice or with noodles. Lion's head meatballs, a local specialty, are large and tender and can be served in broth or over noodles and rice (try the meatball with rice at Hai Jin Si, 240 Jinxian Lu). Chicken, stir-fried or marinated in hard liquor for several hours, forms the base for other Shanghaiese favorites, found at Tang Yun Qing Feng (580 Tianyaoqiao Lu) and Chun (124 Jinxian Lu). If you're feeling adventurous, dig into a plate of frog meat at San Gu Bullfrog (882 Zhaojiabang Lu) or for the ultimate local experience, try the decidedly pungent stinky tofu from one of the carts along Yunnan Nan Lu. Kebabs, particularly lamb, are another Shanghai street food essential and easily found all over the city.
PLAN YOUR TRIP: Visit Fodor's Shanghai Travel Guide
Achy0701 | Dreamstime.com
When you've had your fill of Shanghai's best savory dishes, turn to some of the city's equally delicious desserts. Portuguese egg tarts are a popular sweet item in Shanghai, a slight variation on the Hong Kong favorite with a flakier crust (look for Lillian Cake Shop, multiple locations). Glutinous rice cakes, candy floss, Chinese-style toffee crabapples, and sweet, egg cream buns are ubiquitous among the city's street vendors. Durian, famous for being one of the most unpleasant smelling foods in all of Asia, is often served lightly fried for dessert, or can be found at any fresh food market. For Western desserts, the offerings are equally mouth-watering. Farine is one of many excellent French-style patisseries in the city, and the orange chocolate mud cake at hoF is the ultimate indulgence.
PLAN YOUR TRIP: Visit Fodor's Shanghai Travel Guide