Courtesy of Naibor lodge
Long gone are the days of a big adventure trip to colonial Africa for game-hunting safaris. In the past, the debonair safari suits and sun helmets of Hemingway's Hollywood era dominated; nowadays, it's normal to escape on a long weekend safari with little more than casual clothes thrown in a rucksack. Meanwhile, though Kenya and Tanzania remain popular options, Africa's previously political no-go zones are rapidly emerging as new safari destinations, now that more national parks are being designated and protected while tourism is increasingly welcomed. And there are exciting new safari options, from private helicopters to sailboats in pristine marine reserves to nighttime game drives through voluptuous volcanic lands. Here are our picks for the 10 best sarafi destinations in Africa.
By Anisha Shah
Anisha Shah is a luxury and emerging destinations travel journalist. Her background as BBC TV & radio news reporter combined with long-standing love affair for travel, sees her first on the scene of new and exciting travel hotspots. Her work has appeared in Huffington Post, Fodor's and Billionaire. Follow Anisha on Twitter: @anishahbbc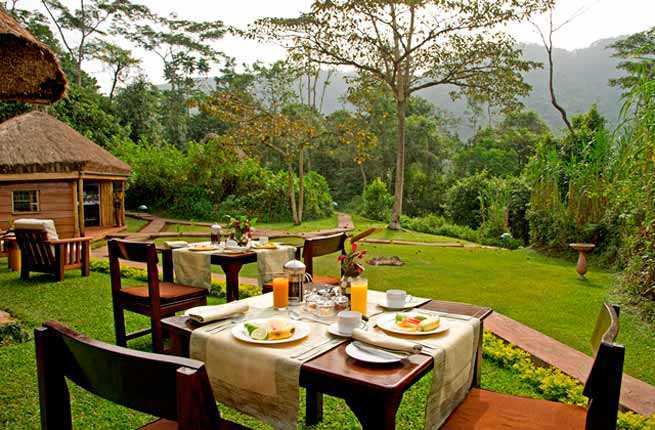 Courtesy of the Sanctuary Gorilla Forest Camp
Bwindi Impenetrable Forest Reserve
WHERE: Uganda
Guides ask you not to stare at the mountain gorillas, but it's tough. The gentle giants have deep mysterious eyes that lull you into a sense of serenity. Home to roughly half the world's mountain gorillas, tracking is a highlight of Bwindi Impenetrable Forest Reserve.
Gifted with theatrical landscape, volcanoes intersperse jagged valleys and waterfalls shrouded in altitude mist. The principal birding destination bears no fewer than 23 of Uganda's 24 Albertine Rift endemics, including the spectacularly endangered African Green Broadbill.
Insider Tip: Gorillas often enter Sanctuary Gorilla Forest Camp. Nestled deep inside Bwindi UNESCO World Heritage Site, this camp is remote and atmospheric.
PLAN YOUR TRIP: Visit Fodor's Africa and Middle East Guide
Courtesy of The Ogunda Tree Top Camp
WHERE: Namibia
Namibia is rousing serious safari attention with its stark beauty, rugged coastlines, and evolving landscapes. Etosha National Park is home to Africa's tallest elephants, the endangered black rhino, cheetah, and perennial springs luring the big cats. Unique scenes across a shimmering saltpan of mirages are seen via self-drive safaris. Upmarket lodges and camps fringe park boundaries, where guided safaris are inclusive.
Don't Miss: A stay with a difference, Onguma Treetop Camp is built on stilts amongst treetops, with panoramic views over Onguma Game reserve. The sense of remoteness is unparalleled. Four very intimate thatched rooms feature canvas walls and outdoor showers.
PLAN YOUR TRIP: Visit Fodor's Etosha National Park Guide
Courtesy of the Sanctuary Chobe Chilwero Lodge
WHERE: Botswana
Africa's densest game concentrations lie along a brilliant peacock-blue river, making Chobe National Park a prime game destination. Situated within the Okavango Delta, we recommend Savute marsh: teeming with wildlife year-round, easily accessible and with a wide range of lodgings for all budgets. Chobe is a stronghold of endangered species such as wild dog, cheetah, and brown hyena.
Insider Tip: Take a water safari to watch wildlife huddled around papyrus-clad curves in the river. Meet the original inhabitants, the San Bushmen, to learn their extraordinary culture. Indulgence is paramount at the Sanctuary Chobe Chilwero lodge, with spa, gourmet food, and undisturbed views.
PLAN YOUR TRIP: Visit Fodor's Chobe National Park Guide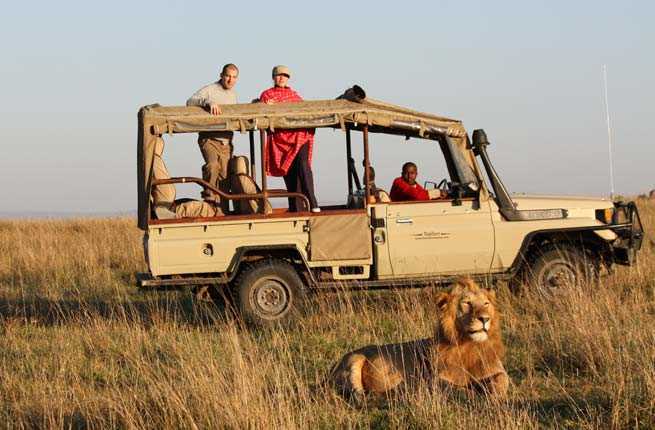 Courtesy of Naibor lodge
Masai Mara National Reserve
WHERE: Kenya
Africa's most popular safari destination boasts effortless vistas and dramatic game viewing. Masai Mara remains most visited, with rolling grasslands and scattered acacia woodland home to the Big Five. July through October is a Mara highlight—annual migration, where a stampede of millions of wildebeest makes the ground vibrate. Naibor Camp is a luxury-tented camp of contemporary comforts, tucked away within riverine woodland on Talek River.
Insider Tip: Spectacular safaris are specialty of Enasoit. Dhow sailing on the serene Lamu archipelago, soaring over deserted beaches and visiting nomadic tribes by helicopter, or traditional Jeep through foothills of Mount Kenya; Enasoit redefines luxury safari.
PLAN YOUR TRIP: Visit Fodor's Masai Mara Guide
Courtesy of African Bush Camps
WHERE: Zimbabwe
Unrivaled guides and unique backdrops are Zimbabwe's assets, amidst low-lying semi-desert to lush highlands strewn with lakes and forests. Hwange National Park in the Northwest is the largest. The elephants are world-famed and, here, you'll find one of the world's largest populations. The mighty Zambezi River, from Victoria Falls, creates waterholes for thirsty wildlife. Emerging from recent troubles, tourists are flocking in.
Insider Tip: View game from an underground hide at The Hide, which also offers night game drives. Somalisa is an elegant bush camp with six solar powered highly luxurious tents. The pool overlooks the entire pan of wildlife below.
PLAN YOUR TRIP: Visit Fodor's Zimbabwe Guide
Courtesy of the Londolzi Private Game Reserve
WHERE: South Africa
Kruger is a classic. One of Africa's oldest and best-maintained parks typifies the highest variety of wildlife. It's renowned as the easiest spot to see the Big Five, aided by its unfenced borders with Africa's finest game reserves. Sophisticated lodges offer the ultimate in lavish luxury and intimate bush hideaways.
Insider Tip: Set in private Sabi Sands Game Reserve, sustained by the Sabi and Sand rivers, Dulini's six suites ooze elegance. Romance is heightened by a symphony of birdlife and passage of wildlife. The original eco private game reserve, Londolozi, is unashamedly family-run and winning awards for its quality of food, service, accommodation, and ecotourism.
PLAN YOUR TRIP: Visit Fodor's Kruger National Park Guide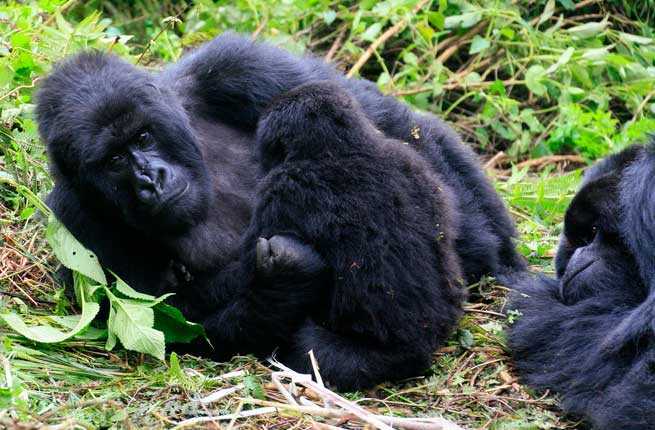 Courtesy of the Sabyinyo Silverback Lodge
WHERE: Rwanda
The landlocked beauty of Rwanda stuns visitors. Misty moody rainforest, forested volcanoes, undulating grasslands, and tranquil lakes are ideal for trekking and dugout canoeing. The upper slopes of Virunga volcanoes conservation area comprise three national parks, encapsulating Rwanda, Uganda, and DR Congo—the most famous residents being 350-strong mountain gorillas.
Insider Tip: On the fringes of Parc National des Volcans, Sabyinyo Silverback Lodge is minutes from walking treks. In the dramatic foothills of the Virungas, this residence is beautifully appointed and atmospheric. After a hard day's trek, luxuriate in a massage to ease aches, or adventure-seekers can head out on mountain bikes.
PLAN YOUR TRIP: Visit Fodor's Rwanda Guide
Courtesy of Royal Zambezi Lodge
WHERE: Zambia
Gloriously wild amidst raw nature and with decadent wildlife viewing—southern Zambia's Lower Zambezi National Park is a haven of hippo, elephant, and birdlife. Less frequented than its neighbor, Tanzania, Zambia's national parks are the essence of wilderness. South Luangwa spawns symmetry of exotica and expanse.
Don't Miss: Camps are drizzled along the immense valley's tranquil riverbank.
The Royal Zambezi Lodge Bush Spa is enveloped within nature's embrace. Try post-safari canoeing or fishing. A quick dip in the pool before a sunset massage at Royal Bush Spa completes a perfect day. Lilayi in Lusaka is a haven for horseback and bush walk safaris.
PLAN YOUR TRIP: Visit Fodor's Zambia Guide
Courtesy of www.nomad-tanzania.com
WHERE: Tanzania
Arguably the most magnificent park in Africa, the Serengeti basks in prolific amounts of game and is invigorating in its sheer vastness and dramatic staging. Annually, 1.5 million wildebeest and some 250,000 zebra migrate through. Prides of lion thrive here, upwards of 3,000, spotted lazing on 'kopje' outcrops. Grumeti River houses some of the largest Nile crocodiles in the world.
Insider Tip: Even non-campers can tent overnight without omitting creature comforts. The Lamai Serengeti nestles among rocks of a kopje with expansive views. The elemental theme ensures a back-to-nature feel. Kirawira Serena Camp makes it a glamorous affair with Persian rugs and carved rocking chairs.
PLAN YOUR TRIP: Visit Fodor's Serengeti National Park Guide
Courtesy of the Girassol Gorongosa Lodge and Safari
WHERE: Mozambique
With more than fifty coral islands and abundant marine life, the Quirimbas Archipelago has recently been designated a national park. The islands remain an unexplored underwater safari sanctuary.
Gorongosa is the country's flagship reserve. It once attracted more visitors than South Africa and Zimbabwe combined, but the harshness of war left resources depleted. Hippos, lions, and elephants have recovered following restocking, helping Mozambique regain its reputation as a game-viewing destination.
Insider Tip: Explore Gorongosa leads expeditions on foot or by car. Girassol Gorongosa Lodge & Safari ensures uninterrupted experiences between you and wilderness. The Azura at Quilalea, a private island luxury resort, boasts world-class diving and snorkeling straight off the beach.
PLAN YOUR TRIP: Visit Fodor's Mozambique Guide