Baba Nest
There's something magical about beach bars. With a cocktail in hand and toes in the sand, you've officially left your worries behind for a laidback and carefree life—even if just for a few days. So we rounded up the 16 best beach bars from Greece to Thailand perfect for listening to crashing waves, taking in stunning sunsets, and sipping on that sherbet-colored cocktail, complete with the requisite mini-umbrella.
Baba Nest
WHERE: Phuket, Thailand
This bar in Phuket is a hit for trendsetting jetsetters. Baba Nest is essentially a flat-deck platform in an infinity pool with unbeatable views of the Andaman Sea and outlying islands. The sunsets here are unforgettable, and most guests order an Asian-inspired cocktail (like a lychee martini or sake-based concoction) while socializing on the stylish rooftop venue.
PLAN YOUR TRIP: Visit Fodor's Phuket Guide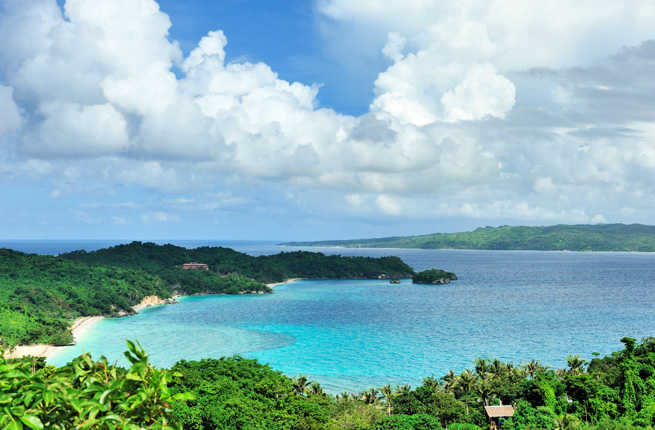 CHILL OUT LOUNGE
WHERE: Boracay, Philippines
The little infrastructure on Boracay in the Philippines makes it an off-the-radar, authentic adventure. The white-sand beaches here are arguably the best in the country. The most visited beach bar, Chill Out Lounge, is exactly that: chilled out. Kick back in a bean bag on the edge of the sea while live music drifts out from the bar.
PLAN YOUR TRIP: Visit Fodor's Boracay Guide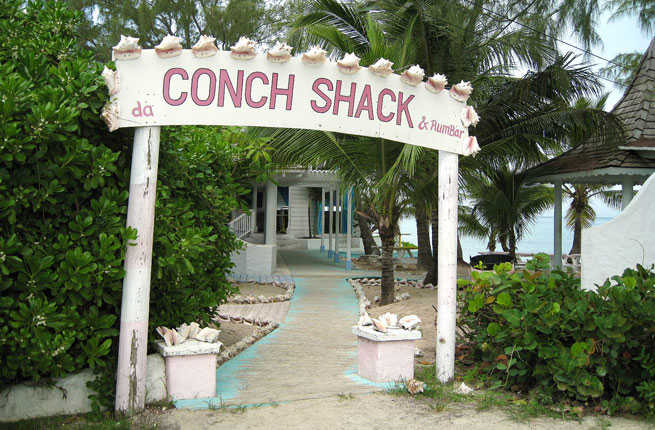 DA CONCH SHACK AND RUMBAR
DA CONCH SHACK AND RUMBAR
WHERE: Turks & Caicos
Turks & Caicos' Da Conch Shack and Rumbar is inarguably the most popular beach bar on the island. It's a fantastic daytime activity, thanks to the prime views of the sea just steps away, and the live DJ starting at 1 pm on Sundays. Try the ConchKnocker, the signature drink with lots of rum, and walk off your buzz with a stroll on the beach.
PLAN YOUR TRIP: Visit Fodor's Turks and Caicos Guide
DOYLES ON THE BEACH
WHERE: Watsons Bay, Australia
Allegedly the world's oldest beach bar, Doyles on the Beach in Sydney's Watsons Bay opened in 1885 and travelers have been flocking to this beachfront paradise ever since. Arrive by boat, catch terrific views of Sydney Harbour, and chill with locals and tourists, likely over a Fosters. Don't forget the fish n' chips.
PLAN YOUR TRIP: Visit Fodor's Sydney Guide
DUNE PRESERVE BEACH BAR
WHERE: Anguilla
Paradise might be the perfect word to describe Dune Preserve Beach Bar in Anguilla. The bar—just steps from the sea—is constructed entirely out of driftwood, sea shells, and wrecked boats. Visitors laze away beachside for a no-frills affair, and everyone from ex-presidents to former pirates have knocked back rum punch here. The owner, a reggae singer, often makes appearances.
PLAN YOUR TRIP: Visit Fodor's Anguilla Guide
HULA HULA BEACH BAR
WHERE: Hvar, Croatia
Looking for a wild beach party in Eastern Europe? Hula Hula Beach Bar in Hvar, Croatia, is your perfect spot. Sunbeds and deck chairs crowd the shore of the Adriatic Sea, where young 20-somethings chill out for a sublime sunset. The beach bar cranks out a crazy dance party with live DJs as soon as the sun starts to fade.
PLAN YOUR TRIP: Visit Fodor's Hvar Guide
LAGOON BAR
WHERE: Bora Bora, French Polynesia
It's hard to leave your over-water bungalow at the St. Regis Bora Bora, but guests make the effort to lounge at the over-water Lagoon Bar. Like the guest rooms, the bar is suspended on stilts over the sublime waters of Bora Bora, so it's very common to look down to find an array of marine life. The sunset over Mount Otemanu is breathtaking.
PLAN YOUR TRIP: Visit Fodor's Bora Bora Guide
LAVA LAVA BEACH CLUB
WHERE: Big Island, Hawaii
Lava Lava Beach Club is right on Anaeho-omalu Bay and has quickly become a favorite for both tourists and locals alike on the Big Island. The al fresco bar/restaurant has outdoor seating, while live music keeps the atmosphere energetic. There's an extensive cocktail menu (and they're consistent with healthy pours) to accompany the dramatic sunset.
PLAN YOUR TRIP: Visit Fodor's Big Island Guide
MOONSHADOWS
WHERE: Malibu, California
Right off the scenic Pacific Coast Highway, Moonshadows in Malibu has been around for almost half a century. It's perfectly perched on the rocks (the sound of crashing surf is dramatic) and locals and tourists alike stop for a cocktail after a long day of beach activities. After hours, the bar/restaurant turns into a lively night scene, and it's a hot stop for a Malibu bar crawl. Celeb spotting is common here.
PLAN YOUR TRIP: Visit Fodor's Malibu Guide
NIKKI BEACH
WHERE: Miami, Florida
If all the beautiful people in Florida are in Miami, you can bet you'll find them at Nikki Beach. The large, oceanfront complex comprises a beach club, restaurant, and nightclub, and the day parties are filled to the brim with models, high rollers, and members of the jet set. Expect DJs, cabanas, and wild shenanigans.
PLAN YOUR TRIP: Visit Fodor's Miami Guide
PONTA DOS GANCHOS
WHERE: Santa Catarina Coast, Brazil
A romantic island hideaway, Ponta Dos Ganchos is an exclusive resort on Brazil's Santa Catarina coast. It gets high marks for remoteness, terrific service, and it's beach bar with lounge beds and cachaca cocktails. It's not cheap, and it's a trek to get to, which is why celebrities like Beyonce have made it their home away from home.
PLAN YOUR TRIP: Visit Fodor's Santa Catarina Coast Guide
THE ROCK BAR
WHERE: Bali, Indonesia
Like your drink on the rocks? You've come to the right place. The Rock Bar at Ayana Resort & Spa in Jimbaran Bay is literally built on a cliff where crashing waves, 360-degree views, and happy hour sunsets create an atmosphere you'll be hard pressed to find anywhere else in Bali. Thanks to the low lights, stargazing here is unreal.
PLAN YOUR TRIP: Visit Fodor's Bali Guide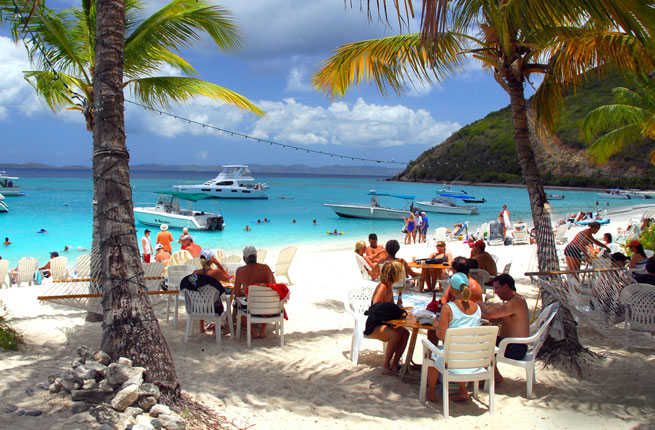 Soggy Dollar Bar
WHERE: Jost Van Dyke, British Virgin Islands
Perhaps the most iconic beach bar in all of the Caribbean is the Soggy Dollar Bar in Jost Van Dyke in the British Virgin Islands. There's no dock on this sliver of an island in West Bay, so visitors need to wade ashore to get buzzed on the iconic Painkiller, which was allegedly created here.
PLAN YOUR TRIP: Visit Fodor's Jost Van Dyke Guide
TROPICANA BEACH BAR
WHERE: Mykonos, Greece
When exploring the beautiful Greek isles, a stop at Tropicana Beach Bar is a must in Mykonos. In fact, many visitors come for lunch and don't leave until after midnight. Sun beds are right on the beach, where guests sunbathe the day away. After a few cocktails, and when the DJ takes to the booth, the bar becomes a wild scene. It's also one of the gay-friendliest beach bars on the island.
PLAN YOUR TRIP: Visit Fodor's Greece Guide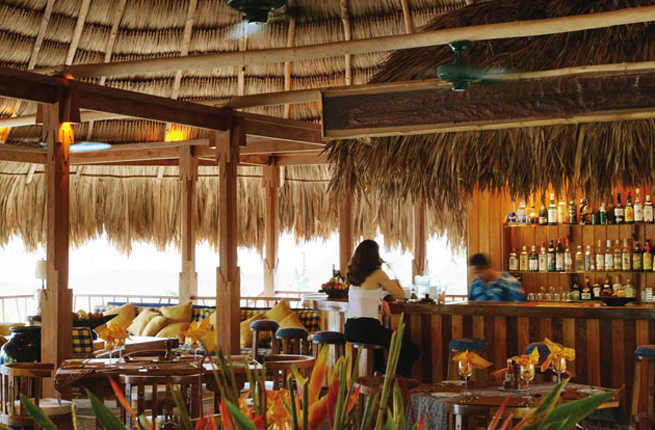 TURTLE INN
WHERE: Placencia, Belize
Placencia in Belize is one of those places where time seems to have paused, and Francis Ford Coppola's Turtle Inn is a must when visiting. The thatch-roof beach bar serves up Caribbean-themed cocktails and, of course, wines from his vineyard in Sonoma. The friendly bartenders have worked here for years and make for great company at this al fresco watering hole.
PLAN YOUR TRIP: Visit Fodor's Belize Guide
Z-PLAGE
WHERE: Cannes, France
Along the famous Croisette is the glitzy and glammy Z-Plage pier bar in Cannes. It's a neck-craning, people-watching experience at this highbrow watering hole, where champers under white, colonial-style umbrellas is de rigueur. It's certainly not cheap, but you're in the French Riviera, after all, home to the rich and famous (and very tan).
PLAN YOUR TRIP: Visit Fodor's Cannes Guide