Amdizdarevic | Dreamstime.com
Autumn in the Midwest means the tiniest of towns are filled to the brim with apple, wine, and pumpkin harvests; farmers' markets; antique shops and art fairs; outdoor theater; wine tastings; and pastoral settings on both land and water. Pack your hiking boots—you'll want to explore well beyond the urban core.—Kristine Hansen
14ktgold | Dreamstime.com
While it might seem far-fetched to compare this town with the Dutch country, they have at least two things in common: tulips (a major festival is held every May), and Delft pottery (De Klomp Wooden Shoe & Delft Factory, North America's only production facility). After a day of touring, retire to CityFlats Hotel, the Midwest's first hotel to earn LEED gold certification.
PLAN YOUR TRIP: Visit Fodor's Guide to Michigan
Snug on the Mississippi River with one of the most scenic views along the river, Clarksville is a town of 500 or so residents and a 90-minute drive north of St. Louis. The town's artisans stock their wares in local galleries, such as Great River Road Pottery, The Windsor Chair Shop, and Simpatico, an artists' co-op. Bunk at The Beehive Inn, located above the bath-and-body shop Bee Naturals in downtown Clarksville.
PLAN YOUR TRIP: Visit Fodor's Guide to Missouri
Amdizdarevic | Dreamstime.com
You might recognize the name Pella for its window treatments: this is the company town. Founded by Dutch immigrants, it boasts the tallest working windmill in the United States, a historic opera house, and the state's largest reservoir at Lake Red Rock. Don't leave without trying a Dutch letter, an S-shaped pastry filled with almond paste and dusted with sugar.
PLAN YOUR TRIP: Visit Fodor's Pella Guide.
Stevengaertner | Dreamstime.com
Ranked a top destination for bed-and-breakfasts and antiquing, Lanesboro is also a romantic sojourn from the Twin Cities (two hours away) near the Iowa border. Cycle on the 60-mile Root River Bike Trail, then unwind back at Habberstad House Bed and Breakfast (a gorgeous Queen Anne) before walking six blocks downtown for dinner at Intermission.
PLAN YOUR TRIP: Visit Fodor's Guide to Minnesota
Tucked into Kane County and along the Metra commuter rail line from Chicago, Geneva hosts 150 shops in its historic downtown alone: drop by All Chocolate Kitchen for Chef Alain Roby's sweet treats. Experience a farmers' market with a French twist each Sunday May through November in the Metra station's parking lot, and for art and nature in one visit, check out Fabyan Forest Preserve (with a Japanese-style garden) and Fabyan Villa Museum.
PLAN YOUR TRIP: Visit Fodor's Guide to Illinois
Pure Michigan
A tiny lake community seven miles from Detroit—why, yes! The town's 12,000 residents enjoy fishing and sailing along Lake Saint Clair, with its own yacht club and a marina. Riff on the water setting by browsing for Lilly Pulitzer clothes at Village Palm and sit down to Rum Runners and lobster tails at Brownie's on the Lake. Two years ago a farmers' market debuted on Saturdays.
PLAN YOUR TRIP: Visit Fodor's Guide to Michigan
The City of Lake Forest
This suburb—home to many Chicago-area celebrities and sports stars—welcomed a major hotel revamp this year (Deer Path Inn), with afternoon tea and a lively pub. Kick off your shoes at Lake Forest's public beach or stroll downtown shops for handmade chocolates and retro candies at Sweet Pete's, or score designer-consignment duds at Kelsey Resale.
PLAN YOUR TRIP: Visit Fodor's Guide to Illinois
The house-dreaming quotient here—30 miles east of the Twin Cities—is huge, with painstakingly restored Victorians lining streets near the downtown, home to quite a few art galleries and eclectic clothing stores like Matt & Nate and Urban Violet. After a little retail therapy, rent a canoe or kayak through 45 Degrees, or try stand-up paddle boarding on nearby Square Lake with Brown Dog Paddleboard Company.
PLAN YOUR TRIP: Visit Fodor's Stillwater Guide
Home to Oberlin College, this town of 8,400 residents packs in lots of culture. After checking into the region's newest boutique hotel (the Platinum LEED-certified Hotel at Oberlin), hit the nearby streets for a farm-to-table or ethnic meal (The Feve and Tree Huggers Cafe are two local favorites). Catch a Hollywood blockbuster or cult classic at the Apollo Theatre in a gorgeous 1913 Art Deco building.
PLAN YOUR TRIP: Visit Fodor's Guide to Ohio
Among the fun outdoor activities in this northeast Iowa town are wandering the demonstration gardens at Seed Savers Exchange's Heritage Farm, hiking the 11-mile Trout Run Trail, and paddling the Upper Iowa River in a rental canoe or kayak from Off the Driftless. Check into the historic Hotel Winneshiek in downtown Decorah and everything is within reach, including a taproom and restaurant at the hotel.
PLAN YOUR TRIP: Visit Fodor's Guide to Iowa
Papabear | Dreamstime.com
A favorite weekend getaway for Chicagoans (the Windy City is only a three-hour drive), this artsy town along Lake Michigan boasts beaches and adorable spots to drink tea or beer (from Saugatuck Tea Company to Saugatuck Brewing Company). Browse the town's 20 art galleries, including Affordably French (all work by French artists)—not bad for a population of 925.
PLAN YOUR TRIP: Visit Fodor's Saugatuck Guide
Lokistock820 | Dreamstime.com
The 1,340 residents in this far northern town along Lake Superior live near one of the United States' most remote treasures: Boundary Waters Canoe Area Wilderness. Not into portaging a canoe? The Grand Marais Art Colony taps into your inner Picasso with mini classes, and tours are every Saturday at 11 am at Voyageur Brewing Company's (the taproom's innovative bites include pho and a beer-bacon toffee sundae).
PLAN YOUR TRIP: Visit Fodor's Guide to Minnesota
Vincent Noble
Often dubbed a "hippie enclave," this town 90 minutes northeast of Cincinnati is home to recently reopened Antioch College. The perfect Saturday in downtown Yellow Springs might mean the farmers' market behind Ye Olde Trail Tavern, followed by lunch at Ellie's Restaurant & Bakery, then a stop into eclectic stores such as Asanda Imports for fair-trade jewelry and Darkstar Books for comics.
PLAN YOUR TRIP: Visit Fodor's Guide to Ohio
Visit French Lick West Baden
Hovering at just under 2,000 people, this Southern Indiana town—basketball legend Larry Bird's hometown—has an incredible spa scene at French Lick Resort and West Baden Springs Hotel, two adjacent resorts from the same owner. Each is around 28,000 square feet. After some pampering, book a table at 1875: The Steakhouse (one of the resorts' 14 dining options) or at French Lick Winery, serving Neapolitan pizzas.
PLAN YOUR TRIP: Visit Fodor's Guide to Indiana
Door County is the Midwest's version of Cape Cod, and this tiny town of just under 1,000 is among the region's cutest. Hugging the Green Bay shoreline, a fish boil with theatrics can be found at Pelletier's, and in Peninsula State Park (boasting an eight-mile beach plus lighthouse tours), campers and theater lovers convene at Peninsula Players Theater, the country's oldest professional resident summer theater.
PLAN YOUR TRIP: Visit Fodor's Door County Guide
Shrirampatki | Dreamstime.com
If you're a wine geek, then the quality of local wineries here will delight you. Mawby's sparkling wine is on lists at Chicago and Detroit restaurants; visit the tasting room in nearby Suttons Bay. Back in Traverse City, where cherry crops flourish in summer, eat dinner at Georgina's Fusion Café—a taqueria with an Asian twist continually ranked among of the Midwest's best eateries.
PLAN YOUR TRIP: Visit Fodor's Traverse City Guide
This sleepy town of about 40,000 people two hours south of St. Louis experienced a surge of tourism after it was used as a filming location for Gone Girl in 2013. (The town even launched a self-guided tour.) Drop by The Bar for lunch and troll neighboring shops for antiques.
PLAN YOUR TRIP: Visit Fodor's Guide to Missouri
Dustin88 | Dreamstime.com
The Amana Colonies—seven villages 40 minutes northwest of Iowa City—are all about using traditional methods to produce food. Step back into history at the 1858 Amana General Store and try pastries baked in a hearth oven at Hahn's Hearth Oven Bakery, on the National Register of Historic Places and in operation since 1864. Two theater groups are in town, too: Old Creamery Theatre and Iowa Theatre Artists Company.
PLAN YOUR TRIP: Visit Fodor's Guide to Iowa
Dustin88 | Dreamstime.com
There are a lot of things you wouldn't expect in this idyllic bluff town along the Galena River, including craft-beverage tasting (at three area wineries, a brewery, and a distillery) and haunted walking tours with All About a Ghost Tour. Get your bearings with a ride on the trolley cars and learn culinary secrets from Food Network star Susan Steffan at Breakfast Diva Cooking School.
PLAN YOUR TRIP: Visit Fodor's Galena Guide
Lokinthru | Dreamstime.com
Seafaring roots run deep in Port Washington, a 40-minute drive north of Milwaukee. Book a table at Twisted Willow (also the name of the owners' farm) or shop for the latest books at Craft (both are on Main Street). The gorgeous harbor has a long pier that's popular for strolling; for a more strenuous hike, hop on (or bicycle along) the Ozaukee County Interurban Trail. During fall, it's not uncommon to see surfers from South Beach.
PLAN YOUR TRIP: Visit Fodor's Guide to Wisconsin
ArtisticAbode via Wikimedia Commons, [CC BY-SA 3.0]
Anchored by Cornell College, this town of about 5,000 is straight out of a Norman Rockwell painting. Lincoln Wine Bar bakes pizzas in an oven imported from Italy paired with live music, and Fuel sells antiques and coffee. Other nearby shops feature artisan-made gifts and antiques (Alice's Wonderland is a must-stop). For a cozy stay, book a room at Engelbrecht Inn Bed and Breakfast.
PLAN YOUR TRIP: Visit Fodor's Guide to Iowa
Boscophotos1 | Dreamstime.com
If the name of this suburban Chicago town sounds familiar, you might recognize it as a Groundhog Day filming site. Experience the square via the Tuesday and Saturday farmers' market or peruse the stacks at Read Between the Lynes, then sip local craft beer at Public House of Woodstock. Antiquing in nearby Richmond is among Illinois' best and worth the half-hour drive.
PLAN YOUR TRIP: Visit Fodor's Guide to Illinois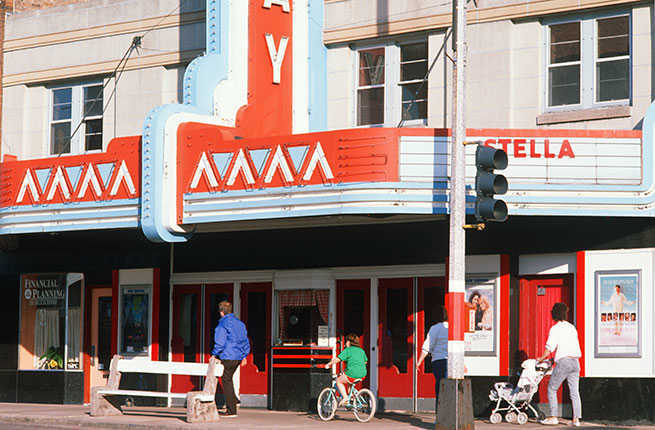 Americanspirit | Dreamstime.com
At the gateway to the Apostle Islands National Lakeshore and along Lake Superior, it's easy to visit Madeline Island via this ferry line. Check into Old Rittenhouse Inn, a darling hillside bed-and-breakfast with water views and food so good the owners have published a cookbook. For a taste of farm life, visit Erickson Orchard and don't leave without trying the apple cider and doughnuts.
PLAN YOUR TRIP: Visit Fodor's Guide to Wisconsin
This forested lake community two hours north of the Twin Cities is a favorite urbanite's escape for long weekends: 460 lakes within 25 miles. Along Gull Lake is a rustic resort called Madden's, with a golf course, water sports, spa, and dining. The Paul Bunyan State Trail is the country's longest continuously paved trail—120 miles connecting Brainerd and Bemidji—and perfect for cycling.
PLAN YOUR TRIP: Visit Fodor's Guide to Minnesota
Historic mansions linked to Chicago's moneyed families such as the Wrigleys and the Sears line the lake. Book the Black Point Estate boat tour through Lake Geneva Cruise Line (including a guided tour of one estate), or walk a portion of the 21-mile paved lakefront path. Drop by Studio Winery's tasting room (check out the Saturday live-music series).
PLAN YOUR TRIP: Visit Fodor's Lake Geneva Guide