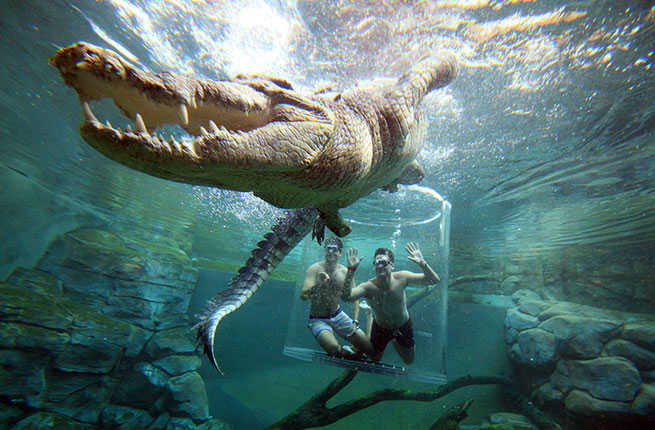 Whether you like Donald Duck or Asterix, scary roller coasters or teacup rides, chances are there's a theme park for you. But what about Buddhist heaven, encounters with deadly predators, or the display of bodily functions? Still interested? Then forget magic castles and movie studio tours. Our roundup of the 10 weirdest theme parks offers insights into bizarre, strange, and outrageous cultures around the world.—Wibke Carter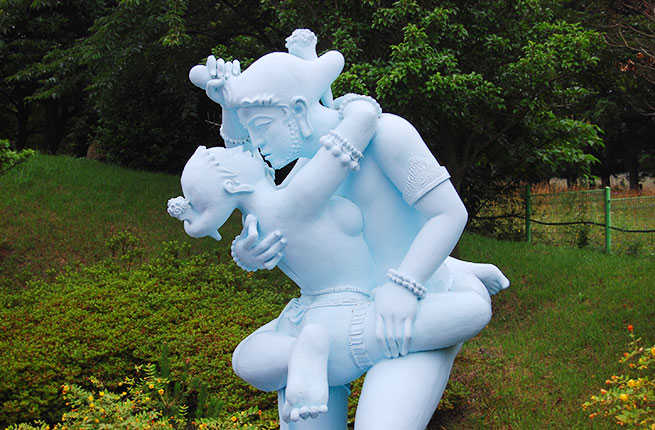 Love Land
WHERE: South Korea
Opened in 2004 on the island of Jeju, a popular destination for honeymooners, Love Land is an outdoor erotic sculpture park. Around 140 artworks depict humans and animals in various graphic sexual positions. In a conservative country where many children live with their parents until (sometimes arranged) marriage, Love Land was created to teach newlyweds about marital love in a relaxed way. The park is centered around a lake and is about the size of two soccer fields. It takes around an hour to look at all the statues (including various large phalli) and try hands-on exhibits like the self-pleasuring bicycle.
PLAN YOUR TRIP: Visit Fodor's South Korea Travel Guide

Shijingshan Amusement Park
WHERE: China
There are copyright infringements galore at Shijingshan Amusement Park, where Mickey Mouse, Shrek, Bugs Bunny, Betty Boop, Hello Kitty, and others all get along. The park near Beijing opened in 1986, but it was not until 2007 that anyone noticed the unauthorized use of Japanese and American cartoon characters. Park officials claimed all figures were based on Grimm's Fairy Tales, however, the slogan formerly displayed in a red banner above the entrance read "Disney Is Too Far, Please Come to Beijing Shijingshan Amusement Park." The park is way past its prime: rides are closed, water features drained, and video games broken. If you're a Westerner, be prepared to have your picture taken. After all, you might be the biggest attraction around!
PLAN YOUR TRIP: Visit Fodor's Travel Guide to China
Dubai Parks and Resorts Media
Bollywood Parks
WHERE: Dubai
The world's first theme park dedicated to all things Bollywood opened last year in Dubai. In five different zones inspired by Bollywood blockbusters, Mumbai's famous movie industry is celebrated with 20 daily live shows and 16 rides and cinematic attractions on some 1.7 million square feet. A 3-D ride called "Sholay: The Hunt for Gabbar Singh" arms you with laser guns, while the "Dabangg: Stunt Spectacular Show" recreates a police chase in an spectacle complete with bullets and explosions. In the Royal Plaza Zone, the Rajmahal Theatre is home to Broadway-style Bollywood musical Jaan-e-Jigar. The park also has several restaurants offering the best of Indian food including fine dining at Mughal-E-Azam, which offers royal Awadhi cuisine.
PLAN YOUR TRIP: Visit Fodor's Dubai Travel Guide

Japan National Tourism Organiation
Harmony Land
WHERE: Japan
At this theme park in Kyushu, Oita prefecture, it's all about popular Japanese children's characters such as Hello Kitty, Cinnamon, and My Melody. You can inspect the "Kitty Castle," the cute house where Kitty lives, which is full of surprises (check out the wall portrait with a secret behind it). Take a boat ride (with various Sanrio characters onboard!) past features like the Cinnamon Café, which has a sweet smell to it. A parade (with floats) and live half-hour shows are held every day, including the "Time Machine of Dreams." If you happen to visit Harmony Land on your birthday, the characters will sing a song for you and invite you on stage. Harmony Land also has go-karts, a sky jet ride, a carousel, a Ferris wheel, and a ninja trial (an athletics obstacle course), plus you can make your own kitty robot.
PLAN YOUR TRIP: Visit Fodor's Japan Travel Guide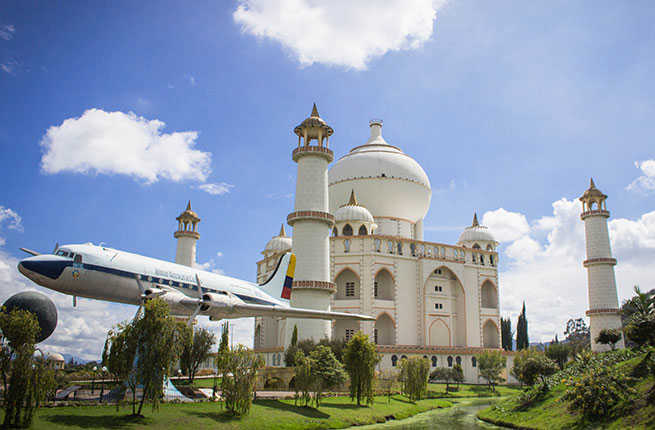 Parque Jaime Duque
Parque Jaime Duque
WHERE: Colombia
Around the world in 80 minutes?! Parque Jaime Duque, an amusement park and zoo just north of Bogota, features replicas of cultural attractions from around the world, but there's a twist. Some of these reproductions are quite bizarre and don't have much in common with the original—such as the male, nude, and torchless Statue of Liberty. The park, opened in 1983, was a gift of aviation pioneer Jaime Duque Grisales to the people of Colombia with the aim of passing profits on to families in need. In addition to the zoo and rides, the park features an aviary, a bio-park, and a sculpture garden with 700 peculiar statues including the popular Hand of God and a boat ride named Dante's Inferno. A mural depicting Colombia's fight for freedom is, oddly, displayed inside a replica of the Taj Mahal.
PLAN YOUR TRIP: Visit Fodor's Colombia Travel Guide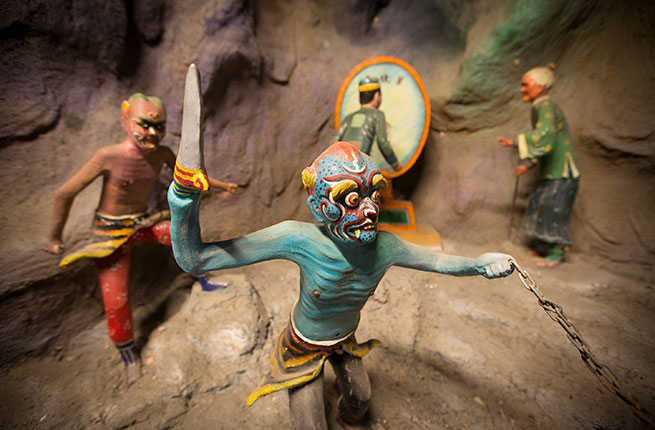 Singapore Tourism Board
Haw Par Villa
WHERE: Singapore
The Haw Par Villa theme park aims to educate its visitors in morality (and maybe scare them a little). Where else can you see a tax evader crushed by a stone mallet, or an executioner disemboweling a student caught cheating on an exam? Built in 1937 and free to the public since 2001, the theme park contains more than 1,000 statues and dioramas depicting a gruesome and bizarre re-creation of the afterlife. Visitors might feel a mixture of curiosity, humor, and disgust while walking through depictions of Buddhist, Taoist, and Confucian folklore. The highlight of Haw Par Villa is the Ten Courts of Hell in which severe graphic punishments are shown with explanations defending their warrant. After years of neglect, the park is currently undergoing refurbishment and is due to reopen in April 2017.
PLAN YOUR TRIP: Visit Fodor's Singapore Travel Guide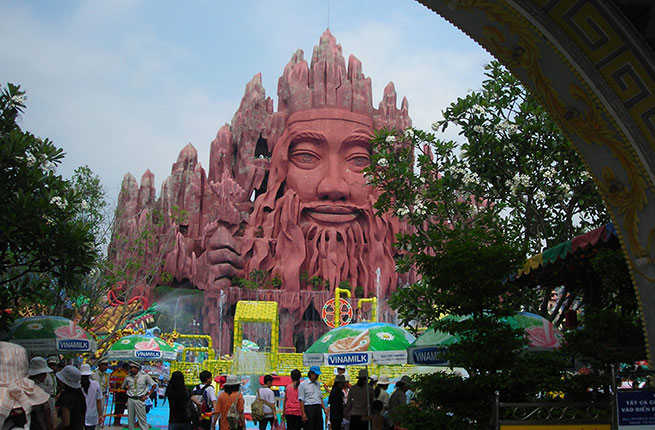 Genghiskhanviet via WIkimedia Commons, [public domain]
Suối Tiên Theme Park
WHERE: Vietnam
Welcome to heaven! Located on a sacred site on the outskirts of Ho Chi Minh City, this water-filled fantasy land is bursting with godlike statues focusing on Vietnam's history, culture, and the Buddha. A giant frog surrounded by elephant tusks guards the entrance to Suối Tiên while inside, larger-than-life Buddha statues and sacred animals like dragons, tortoises, unicorns, and phoenixes stand next to regular attractions like water slides, roller coasters, waterfalls, and a Ferris wheel. There is also a paintball area, laser tag, a crocodile farm with about 1,500 crocodiles (which you can feed), and a dolphin and sea lion show. One of Suối Tiên's top attractions is the ride through 18 Gates of Hell (also known as Unicorn Palace), a cold, gory house of horrors with blood-curdling screams and repentant sinners.
PLAN YOUR TRIP: Visit Fodor's Vietnam Travel Guide
Sovietbunker.com
Išgyvenimo Drama
WHERE: Lithuania
If you ever felt the need to find out what life was really like under the Communist regime, then Išgyvenimo Drama, translated as Survival Drama, will take you back into a disused Soviet bunker from 1984. This historical, interactive experience takes place 16 feet below ground and participants become temporary USSR citizens for two and half hours. They are herded through the bunker without personal belongings and in prisoners' uniforms under the watchful eye of former KGB officers and real dogs. Participants have to sign a waiver, as "disobedience" may result in "psychological or physical punishments." Activities include wearing gas masks, learning the Soviet anthem under duress, doing manual labor, and even undergoing medical checks. This place is not for everyone, but if you're prepared to be blindfolded, ambushed, and interrogated, then this is an unforgettable experience.
PLAN YOUR TRIP: Visit Fodor's Lithuania Travel Guide
BonBon-Land
WHERE: Denmark
Located about 65 miles from Copenhagen, BonBon-Land might be the world's largest Candyland. In the 1980s, a candy factory in Holme-Olstrup began creating wacky confections with names such as seagull droppings, ear wax, and dog fart. Naturally, children were rather fascinated by the outrageous candies and as the factory could not stay open after hours, BonBon-Land was founded in 1992. The amusement park, which features over 60 rides, is rife with depictions of bodily functions including sculptures of vomiting rodents, defecating dogs, and urinating ants. Try the Dog Farting Rollercoaster which takes you through massive mounds of poo, accompanied by a matching soundtrack. The park is hugely popular in Denmark, counting some 500,000 visitors annually, and let's be honest, there's nothing wrong with a bit of bathroom humor.
PLAN YOUR TRIP: Visit Fodor's Denmark Travel Guide
Crocosaurus Cove
Crocosaurus Cove
WHERE: Australia
Crocosaurus Cove in Darwin, Australia, is not strictly a theme park, but more like an urban wildlife experience. However, its "Cage of Death" can rival the scariest rollercoasters. If you're an adrenaline junkie, submerge yourself inthe 9-foot acrylic tank and come face-to-face with a 16-foot-long deadly crocodile which is only too happy to try to make you its dinner. Crocosaurus Cove has the world's largest display of Australian reptiles and a 44,000-gallon freshwater aquarium home to barramundi, archer fish, turtles, and whip rays. Other activities include a photo-op with a baby crocodile, the Big Croc Feed Show, and fishing for crocs, where visitors dangle snacks in front of juvenile crocodiles from a platform.
PLAN YOUR TRIP: Visit Fodor's Australia Travel Guide