Jay Beiler/Dreamstime.com
San Francisco is a popular destination in its own right—except during the winter months. The city's chilly winds and rainy days often deter tourists and inspire locals to travel south. Luckily, the city provides quick flights to islands and cities far away from the fog and cold. Travelers can lounge on Puerto Vallarta's golden sand beaches, or swim in Kona's sparkling blue waters. Here are our picks for best non-stop flights from San Francisco to the beach.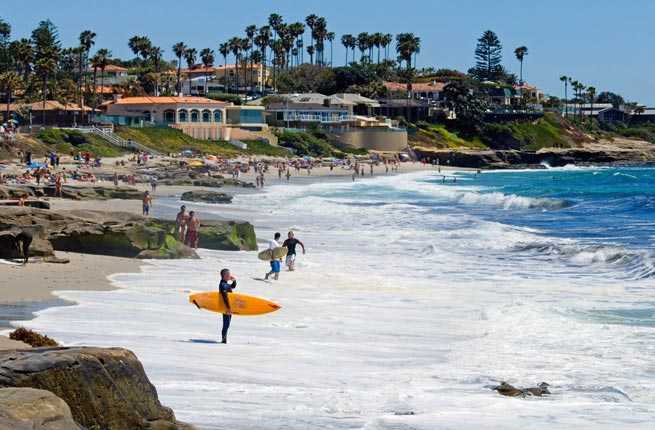 Sebastien Burel/Shutterstock
Flight Duration: 1 hour and 10 minutes
Why Go: San Diego has it all: moderate year-round temperatures, 70 miles of coastline, and attractions for all interests and ages. Visitors can get their feet wet on the city's white sand beaches or take a trip inland to explore historic sites and parks. For picturesque ocean views and people-watching, visit Coronado Beach. Water sports enthusiasts will enjoy La Jolla Cove, a small inlet with tidal pools and cliff caves. A trip to San Diego is not complete without visiting the city's world-renowned zoo: The 100-acre property features nearly 4,000 animals and an aerial tram with panoramic views.
Insider Tip: For all-day entertainment, stop by Balboa Park. Visitors can explore a variety of museums, gardens, and performing arts venues, or explorers can take a hike along one of the park's scenic trails.
Where to Stay: Hotels vary by location, with luxury properties concentrated in the downtown area and more laid-back resorts near the beach. 1906 Lodge at Coronado Beach is two blocks away from the ocean and offers warm hospitality at an affordable price.
PLAN YOUR TRIP: Visit Fodor's San Diego Guide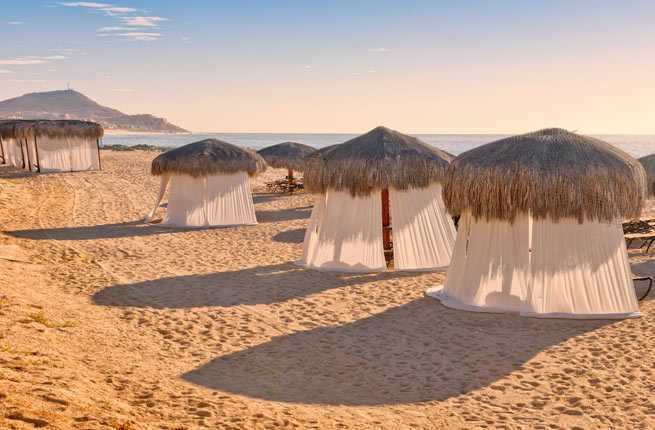 Ruth Peterkin/Shutterstock
Flight Duration: 3 hours
Why Go: Cabo San Lucas is one of Mexico's fastest growing tourist destinations, and for good reason: The coastal town features lively beaches, a variety of water sports, and a bustling nightlife scene. Take a glass-bottomed boat to Playa del Amor (Lover's Beach) for an authentic Cabo experience. The small beach neighbors "El Arco," the town's famed arched landmark, and visitors can swim or snorkel in clear, sparkling water. Stop by Cabo's marina to rent a boat and spend the day fishing on the Sea of Cortez. Dance the night away at Passion Club, one of Cabo's most popular nightlife destinations. The club features world renowned DJs and a number of VIP events.
Insider Tip: From December to April, thousands of giant gray whales arrive in Cabo's lagoons to mate and give birth. A number of whale-watching tours offer an up-close look at the whales and their new babies.
Where to Stay: For stunning views of El Arco and world-class service, book a room at Esperanza. The resort is home to one of the best spas in the region, and the villas come equipped with private pools and butler service.
PLAN YOUR TRIP: Visit Fodor's Los Cabos Guide
Elena Elisseeva/Shutterstock
Flight Duration: 3 hours and 38 minutes
Why Go: Lush tropical forests and golden sand beaches make Puerto Vallarta a desirable year-round destination. Located on the sparkling Bahia of Banderas, the town offers gourmet restaurants, land and sea adventures, and a colorful nightlife scene. Visit Playa los Muertos for stunning bay views and beach activities like parasailing and jet skiing. Get the star treatment at Terra Noble, one of the city's most elegant day spas. The property overlooks Banderas Bay and offers treatments like chardonnay-grape-seed therapy and temazcal sweat-lodge rituals. Nature lovers will enjoy the Puerto Vallarta Botanical Gardens. Set in a tropical dry forest, the park features more than 3,000 species of plants, swimming streams, and lush palm gardens.
Insider Tip: In February, the city hosts the four-day Festival de Musica San Pancho in nearby San Pancho. The festival attracts the area's best musicians and offers free admission.
Where to Stay: Puerto Vallarta offers a variety of accommodations ranging from small, boutique properties to all-inclusive resorts. Located on Banderas Bay, Dreams Puerto Vallarta Resort & Spa features unparalleled beach views, six a la carte eateries, and activities such as salsa dancing classes and reggae nights.
PLAN YOUR TRIP: Visit Fodor's Puerto Vallarta Guide
Jeff Stein/Dreamstime.com
Flight Duration: 5 hours and 4 minutes
Why Go: Lihue is home to Kauai's only airport and offers direct access to the island's verdant beaches and mountains. Take in the surroundings at Hanalei Bay Beach Park, one of the island's most popular beach destinations. The 2-mile beach attracts world-class surfers, and offers spectacular views of inland mountains and waterfalls. More adventurous travelers can explore Kalalau, a remote wilderness beach located at the end of rolling sea cliffs.
Insider Tip: Kauai was once a sacred island. Today visitors can explore ancient archaeological remains on a riverboat tour.
Where to Stay: If you're visiting during the winter, consider staying on the island's South Shore. Waters are calmer than on the North Shore or East side, allowing guests to enjoy water sports and swimming year round. The Sheraton Kauai Resort features beachfront accommodations, a recently renovated pool bar, and a restaurant with panoramic ocean views.
PLAN YOUR TRIP: Visit Fodor's Kauai Guide
Fotoluminate LLC/Shutterstock
Flight Duration: 4 hours and 55 minutes
Why Go: When it comes to nightlife and entertainment, few cities top Miami. From South Beach to the Design District, visitors can find cultural attractions, restaurants, and beaches to please their every whim. For people-watching and designer shopping, stop by Lincoln Road Mall. The mall features owner-operated boutiques, upscale chain stores, and an eclectic clientele. South Beach—the city's most popular stretch of sand—is the perfect place to catch some sun and join a game of beach volleyball. Experience Miami's colorful nightlife at the National Hotel, an art deco bar housed in one of the city's most iconic buildings.
Insider Tip: Food lovers will enjoy the South Beach Wine and Food Festival, hosted over a four-day weekend in February. Visitors can attend talks by celebrity chefs and feast at gourmet lunches and dinners.
Where to Stay: Room rates in Miami vary, and winter months often mean a higher price tag. But many properties offer special deals, and visitors can find reasonably priced hotels farther from the beach. For the best of both worlds, book a room at Cadet Hotel: the privately owned property is two blocks from the water and offers comfortable amenities at a fraction of the cost.
PLAN YOUR TRIP: Visit Fodor's Miami Guide
John Copland/Shutterstock
Flight Duration: 5 hours and 19 minutes
Why Go: Visitors flock to Cancún for year-round sunshine, five-star resorts, and nearby ancient ruins. Step back in time at Ruinas el Rey. The archeological site features Mayan ruins dating back to the 2nd or 3rd century BC and includes stucco paintings and skeletons. Playa Langosta—one of the city's most popular beaches—offers family-friendly amenities and calm swimming waters. For a taste of Cancún's colorful nightlife, stop by Mambo Café. The dance club features performances from live bands and DJs, and visitors can practice their salsa or meringue at the club, too.
Insider Tip: Hotel prices are at their highest during the holiday season. If you plan to visit Cancún during Christmas, Spring Break, or Easter, plan on booking at least three months in advance.
Where to Stay: Hotels in Cancún vary by location, with luxury resorts near the beach and more basic properties in the city's center. Live Aqua Cancún offers huge suites with oceanfront views and provides a quiet oasis from rowdy spring breakers.
PLAN YOUR TRIP: Visit Fodor's Cancun Guide
Jay Beiler/Dreamstime.com
Flight Duration: 4 hours and 51 minutes
Why Go: Maui's lush forests, pristine beaches and luxurious resorts draw an international crowd. Whether you're catching a wave, hiking through nature trails, or enjoying a spa treatment, the island offers something for everyone. Explore a dormant volcano at Haleakala National Park. Trails lead down to a massive volcanic bowl, and visitors can also catch a glimpse of rare plants and birds. For untouched stretches of sand, stop by Makena Beach State Park. Beach-goers can watch stunning sunsets over the water, and surfers will enjoy boarding on the beach's large waves. A trip to Maui isn't complete without a luau. At Old Lahaina Luau, guests can enjoy fresh fish while watching hula performances and fire dancers.
Insider Tip: Even though North Shore Maui gets the most rain, it also boasts some of the island's best waves. Visit the beaches during winter months when waves reach their peak height.
Where to Stay: Maui hotels range from small B&Bs to luxurious beachfront resorts. For attentive service and understated elegance, book a room at the Four Seasons Resort Maui at Wailea. The hotel offers amenities for large groups and families and has a world-class spa with adult-only facilities.
PLAN YOUR TRIP: Visit Fodor's Maui Guide
Jeff Whyte/Shutterstock
Flight Duration: 4 hours and 54 minutes
Why Go: Fly into Honolulu and explore Oahu, the melting pot of the Hawaiian Islands. Honolulu offers a variety of historic and cultural attractions, while outer reaches of the island feature waterfalls, parks, and white-sand beaches. For the ultimate beach excursion, visit Kailua Beach Park. Visitors can rent kayaks and sailboards or lounge along the beach's calm shores. Pearl Harbor National Memorial Museum and Visitor Center pays homage to fallen soldiers and offers tours of historic battleships. To experience Oahu's art scene, visit Chinatown. The neighborhood includes chic art galleries, hip restaurants, and a historic theatre.
Insider Tip: Lunch wagons are a culinary mainstay in Oahu. Flag down a truck in Honolulu's downtown area for a cheap and delicious meal.
Where to Stay: Most tourists who come to Oahu stay in Waikiki, but the island's North Shore and Windward regions offer low-key accommodations away from the city's hustle and bustle. Located in a residential neighborhood, The Kahala Hotel & Resort offers oceanfront views, spa amenities, and dolphin interactions in a 26,00-sq-ft lagoon.
PLAN YOUR TRIP: Visit Fodor's Honolulu and Oahu Guide
Ocean Image Photography/Shutterstock
Flight Duration: 4 hours and 54 minutes
Why Go: The Big Island epitomizes Hawaiian culture. Visitors can explore nature trails, and historic sites, or lounge on one of the island's pristine beaches. Sail or surf in sparkling turquoise waters at Hapuna Beach State Recreation Area. For a tour of the island's volcanoes, visit Hawaii Volcanoes National Park. Guests can watch lava flow down slopes, or hike through craters around the volcano's rim. Snorkelers will enjoy Kaunaoa Beach, which features miles of pure white sand and crystal clear waters perfect for observing marine life.
Insider Tip: Consider staying at the beach after hours when visitors can enjoy evening stargazing from Kohala Coast Beach, which offers telescopes for nightly viewing.
Where to Stay: The east and west coasts of the Big Island offer different accommodations. The east coast is known for its smaller B&Bs, condos, and vacation homes, while the west coast is home to some of the island's most luxurious resorts. For warm Hawaiian hospitality and oceanfront amenities, book a room at The Fairmont Orchid Hawaii.
PLAN YOUR TRIP: Visit Fodor's Big Island Guide
San Salvador, El Salvador
Flight Duration: 5 hours and 45 minutes
Why Go: San Salvador is gaining popularity as a surfing destination. Travelers from around the world come to hang ten and enjoy the city's popular beaches. La Libertad, a coastal town located 30 minutes away from San Salvador, offers authentic Central American culture and lively beaches. Bare feet and reggae music are the norm, and visitors can lounge in hammocks or take beginning surfing lessons.
Insider Tip: Visitors don't have to worry about exchanging currency before their trip. In 2001, San Salvador legally adopted the U.S. dollar.
Where to Stay: For a peaceful beach vacation away from the city, consider booking a room in nearby La Libertad. SABAS Beach Resort offers friendly service, beachfront amenities, and a highly regarded onsite restaurant.
PLAN YOUR TRIP: Visit Fodor's El Salvador Guide