David Meardon Photography – www.sanibelphoto.com
Have you visited any of America's barrier islands? These skinny island chains run parallel to the mainland are most are well worth exploring year-round. The island dunes are often beautifully rugged places that protect our mainland coastline from battering storms and everyday erosion. Since these islands get the brunt of ocean waves and storm systems, they evolve constantly—sometimes even being split in two by particularly devastating hurricanes. Barrier islands protect only 13 percent of the world's coastlines, and many of those islands are located right here in the United States. If you want to visit some of the globe's most stunning beaches, head to one of these recommended barrier islands and leave your passport at home. —Andrea M. Rotondo
Courtesy of Amelia Island CVB
WHERE: Florida
Amelia Island on Florida's northeast coast is more than just a tourist destination, it's a down-to-earth seaport community where everyday people live and work. This jewel in the Sea Island chain has a long history including Timucuan Indians; Spanish, French, and British explorers; swashbuckling pirates; late 19th-century millionaires; and today's shrimpers and fishermen. Travelers like the island for its 13 miles of generally crowd-free beaches, Fort Clinch State Park and Amelia Island State Park, and Egan's Creek Greenway, which consists of a hiking/biking trail through 300 acres of protected land encompassing freshwater swamp, salt marsh, and forest. Stately oak trees draped with Spanish moss are a hallmark of this community and the historic downtown neighborhood offers mom-and-pop restaurants, an old-fashioned candy shop, boutique shops, and art galleries. Several bars offer nightly entertainment and events like the Isle of Eight Flags Shrimp Festival draws crowds every year.
Insider Tip: The destination is called Amelia Island but the town itself has another name. Search for resorts like the Ritz-Carlton, value-oriented hotels and motels, inns, and B&Bs in Fernandina Beach.
PLAN YOUR TRIP: Visit Fodor's Northeast Coast Travel Guide
Courtesy of the Hilton Head Island Visitor & Convention Bureau
WHERE: South Carolina
Part of Beaufort County's Lowcountry, Hilton Head has been a popular beach destination for decades. In the winter, you're equally likely to meet daytrippers from nearby Savannah, Georgia, as well as snowbirds from all points north. Because there is a large population of year-round residents, the island is broken up into "plantations," gated communities restricting access to visitors. Other areas of the island—like resorts, rental condos, and golf courses—are open to visitors. There are plenty of public access points to the beaches and it's easy to rent bikes and personal watercraft on the island.
Insider Tip: Don't miss the Island Winery, which specializes in crafting artisan wine in small batches. Stop by for complimentary tastings, or order wine by the glass and cheese platters.
PLAN YOUR TRIP: Visit Fodor's Hilton Head and The Low Country Travel Guide
Aaron Tuell photos | courtesy Outer Banks Visitors Bureau
WHERE: North Carolina
If you've ever watched the Weather Channel during Atlantic hurricane season, you're no doubt familiar with Cape Hatteras: a destination that's been pummeled by many storms over the years. Hatteras Island is southwest of the Cape and is absolutely worth a visit—especially when the sun is shining. If you fish, you owe it to yourself to get out on the water here. Watersports of all kinds are also popular: visitors flock to Hatteras sound for swimming, kayaking, kiteboarding, and windsurfing while there's fishing and surfing on the ocean side.
Insider Tip: Hatteras is on the radar of every serious surfer. That's because something called the Labrador Current pushes cold water into the warm Gulf Stream and the result are some of the most powerful waves on the East Coast.
PLAN YOUR TRIP: Visit Fodor's North Carolina Coast Travel Guide
Keifer | Dreamstime.com
WHERE: North Carolina
North Carolinians call Ocracoke the "Pearl of the Outer Banks." It's a unique little enclave with 16 miles of undeveloped beaches (some stretches allow off-road vehicles), a herd of wild ponies, a lighthouse that's purported to be the oldest on the East Coast, and Ocracoke Village that dates back to the 1880s and is on the National Register of Historic Places. Pirates like Blackbeard once visited these shores that are now home to just shy of a thousand residents. Despite its small size, the island offers accommodations from camping sites to motels and hotels to quaint cottages. Visitors also enjoy a variety of locally owned restaurants and shops.
Insider Tip: Getting to Ocracoke Island takes a bit of planning. You can take the North Carolina Ferry System to the island from Hatteras (60 minutes), Cedar Island (2 hours and 15 minutes), or Swan Quarter (2 hours and 40 minutes).
PLAN YOUR TRIP: Visit Fodor's North Carolina Coast Travel Guide
David Meardon Photography – www.sanibelphoto.com
WHERE: Florida
Sanibel epitomizes Old Florida. You won't find a single traffic light on the island and its dark sky ordinances—meant to safeguard the turtles that nest here from May 1 through October 31—means that there are minimal streetlights. With its unique east to west orientation (most barrier islands are situated in a north/south pattern), the island is able to maintain beautiful sandy beaches that are prime spots for shelling. In fact, you can scoop up 250 different types of seashells on Sanibel's shores. J.N. "Ding" Darling National Wildlife Refuge is the place to go to spy roseate spoonbills, snowy egrets, cormorants, and other birds as well as alligators, bobcats, river otters, and manatees. Vacations here are all about swimming, walking, biking, kayaking, fishing, and boating.
Insider Tip: Beachfront cottages, vintage motels, and inns are mainstays here. The Island Inn is the oldest such establishment on Sanibel, dating back to 1895.
PLAN YOUR TRIP: Visit Fodor's Lower Gulf Coast Travel Guide
Nick Adams Photography – www.nickadamsphotography.com
WHERE: Florida
Captiva is connected to Sanibel's West End by a bridge over Blind Pass at Turner Beach, a terrific spot for shelling and fishing. Despite its proximity to Sanibel, Captiva's vibe is decidedly more artsy with a variety of quirky restaurants, shops, and art galleries lining its few streets. Unlike Sanibel, which only allows monthly house rentals, you can rent a home for a week on Captiva and that's made it a haven for family reunions and destination weddings. For the quintessential sunset experience, visit Captiva Beach at South Seas Island Resort or at the end of Andy Rosse Lane, Whitman Lane, or Laika Lane. It's common for dolphins to put on quite a show offshore as the sun goes down.
Insider Tip: Captiva Cruises offers a nice mix of dolphin and wildlife cruises, sunset voyages, and beach and shelling excursions to secluded Cayo Costa State Park and out islands like Cabbage Key, Useppa, and Boca Grande.
PLAN YOUR TRIP: Visit Fodor's Lower Gulf Coast Travel Guide
Courtesy of discoverlongisland.com
WHERE: New York
Fire Island—32 miles long and less than a mile wide—is at the center of the outer barrier islands that hug Long Island, New York. While there are less than 300 permanent island residents, thousands descend on the island each summer. Those visitors enjoy the beaches along the Fire Island National Seashore as well as Robert Moses State Park. There are no paved roads on the island so it won't come as a shock to find out that cars aren't allowed here. You'll arrive by ferry from Patchogue, Sayville, or Bay Shore and while visiting the island you'll rely on foot power to get you to your destination. Fire Island has long been LBGT-friendly, especially its Cherry Grove and Fire Island Pines communities.
Insider Tip: While most tourists visit from Memorial Day through Labor Day, savvy travelers visit in the fall for leaf peeking and in April and early May for springtime blossoms.
PLAN YOUR TRIP: Visit Fodor's Long Island Travel Guide
Bill Crabtree, Jr. Virginia Tourism Corporation
WHERE: Maryland and Virginia
Just off the eastern shore of Maryland and Virginia is Assateague Island, half of which is under the domain of the National Park Service. You'll find Assateague State Park and the Assateague Island National Seashore in Maryland and Chincoteague National Wildlife Refuge in Virginia. While the beaches here are stunning and the Assateague Lighthouse is famous in its own right, it's the island's herds of feral horses that surprise visitors. Camping is extremely popular here and offers access to some of the most pristine seashore, marsh, and maritime forest on the East Coast.
Insider Tip: Birders can spy more than 300 species of resident and migratory birds on Assateague, from the American white pelican and great cormorant to the Eastern bluebird and wood thrush to Arctic terns and laughing gulls.
PLAN YOUR TRIP: Visit Fodor's Virginia's Eastern Shore Travel Guide
Courtesy of Georgia Department of Economic Development
WHERE: Georgia
Jekyll Island has a lot in common with other barrier islands on this list of favorites: it too offers miles of beaches, marsh, and maritime forest. What's unique about Jekyll Island is how well it accommodates families. Throughout the year, fun kid-friendly activities are planned like the U.S. Kids Golf tournament in March, a fun Easter Egg Stroll in the Historic District, a Turtle Crawl Triathlon in May, a spectacular Fourth of July celebration, and a festive Christmas Tree Lighting Festival that begins at the end of November. People of all ages enjoy a visit to the Georgia Sea Turtle Center on the island and there is no shortage of hiking and biking trails, places to kayak or paddle board, and you can even take a Segway tour of the forest.
Insider Tip: The Jekyll Island Shrimp & Grits Festival, held each September, is one of the most popular shrimp festivals in the American South.
PLAN YOUR TRIP: Visit Fodor's Coast Isles and Okefenokee Travel Guide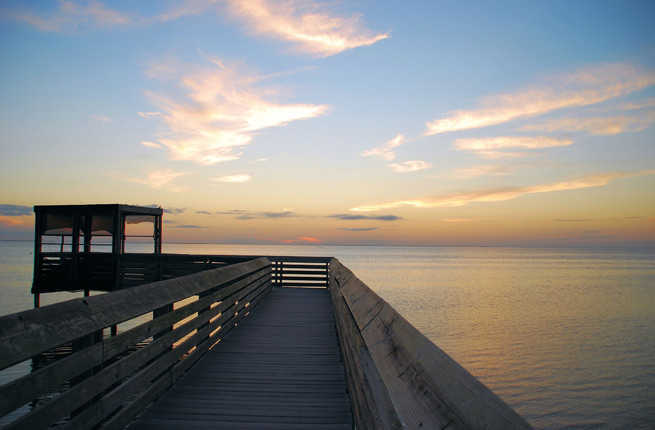 Amyemilia | Dreamstime.com
WHERE: Texas
South Padre Island, located in Cameron County on the southernmost tip of Texas on the Gulf Coast, is the place to go if you're looking for a resort area with beautiful beaches (there's 34 miles of them here); multistory hotels and condos; watersports like parasailing, kiteboarding, and jet skiing; the Schlitterbahn Beach Waterpark; horseback riding; and bars and nightclubs that welcome the Spring Break crowd. Unlike some of the smaller and sleepier barrier islands, South Padre is home to more than 50 restaurants and bars. It's the kind of place where you'll find fun nightclubs that offer both crab races and Karaoke.
Insider Tip: South Padre Island is known as the "Fireworks Capital of Texas." You can enjoy a nighttime fireworks display on major holidays as well as every Thursday and Friday night from Easter to Halloween.
PLAN YOUR TRIP: Visit Fodor's Corpus Christi Travel Guide