Courtesy of Lavengood Photography
Every May since 1956, communities from coast to coast celebrate National Bike Month. It's the perfect excuse to hang up your car keys or ditch the subway and see the world from a fresh, wind-in-your-hair perspective. And while cycling can be a great way to commune with nature, cities all across the United States—from Sacramento to Indianapolis and down to St. Petersburg—are developing more cyclist-friendly environments with designated bike paths. Luckily for travelers, these urban trails double as roadmaps to the very best of art, dining, and adventure in each destination, no matter what time of year.
By Katarina Kovacevic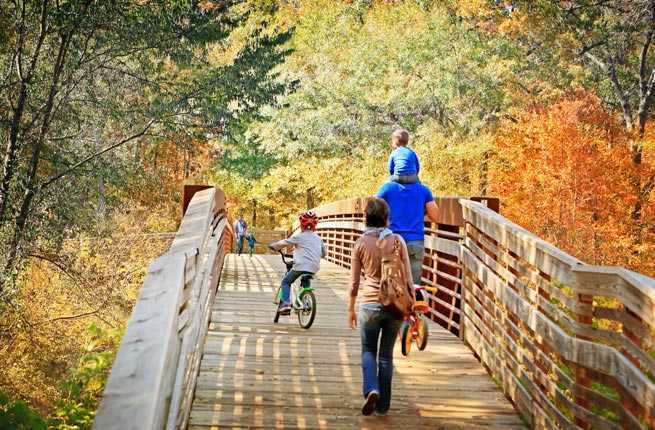 Courtesy of Greenville Health System Swamp Rabbit Trail
Greenville Health System Swamp Rabbit Trail
Where: Greenville, South Carolina
Tracing the tree-lined banks of the Reedy River, the 18-mile Greenville Health System Swamp Rabbit Trail runs right through downtown. Stop at Falls Park on the Reedy for a photo op in front of its rushing waterfall and manicured gardens, or cut up to Soby's on Main Street for chef Shaun Garcia's contemporary take on Southern specialties. On weekends, locals pedal west to Swamp Rabbit Café & Grocery. Follow their lead to fresh, gourmet coffee and cheesy Turkish pogacha puff pastries.
Insider Tip: Reedy Rides has full-day rentals available for $30 and is located just one block north from the start of the trail.
PLAN YOUR TRIP: Visit Fodor's Greenville Travel Guide
Courtesy of Lavengood Photography
Indianapolis Cultural Trail
Where: Indianapolis, Indiana
Indianapolis removed sections of driving lanes to make way for its Cultural Trail, replacing asphalt with five acres of greenscape. Now the eight-mile trail connects downtown's hotspots to some of Indy's equally charming outlier neighborhoods like Carmel and Broad Ripple Village. Can't-miss highlights along the main drag include farm-fresh, broken-yolk egg sandwiches at Café Patachou; old-timey duckpin bowling at the Theatre Building; and the Glick Peace Walk, a memorial to Susan B. Anthony, Benjamin Franklin, and other American luminaries.
Insider Tip: You can rent an all-day ride from Indy Bike Hub from $30 to $60 depending on the bike, but guests staying at The Alexander or Conrad Indianapolis get free wheels.
PLAN YOUR TRIP: Visit Fodor's Indianapolis Travel Guide
Courtesy of Sioux Falls Parks & Recreation
Sioux Falls Bike Trail
Where: Sioux Falls, South Dakota
Exploring any one of the city's 70 public parks is a cinch when you're gliding along the Sioux Falls Bike Trail. Pack a picnic of essentials—artisan cheese and charcuterie boards with expertly-paired wines—from The Market on Phillips, then chart a course to 123-acre Falls Park to admire the 100-foot waterfall from its five-story observation tower. Art aficionados should cycle to Washington Pavilion for local galleries, interactive exhibits, and live entertainment.
Insider Tip: You'll find full-day rentals from $27.25 at Spoke-N-Sport near the Pasley to Big Sioux River Bridge trail segment.
PLAN YOUR TRIP: Visit Fodor's South Dakota Travel Guide
RJ & Linda Miller / Travel Wisconsin
Capital City State Trail
Where: Madison, Wisconsin
With more bikes on the road than cars, it's no wonder Madison is the cycling capital of the Midwest. Its Capital City Trail offers 17 scenic miles ripe for exploration, but an easy, two-hour jaunt along Lake Monona will take you to B.B. Clarke Park and Olbrich Botanical Gardens. On summer Saturdays, the best place to rest is the Dane County Farmers' Market. Stock up on Wisconsin meats and cheeses, then kick back on the State Capital lawn for some snack-fueled people watching.
Insider Tip: Downtown Madison is home to 39 B-Cycle bike stations with full-day rentals for just $5.
PLAN YOUR TRIP: Visit Fodor's Madison Travel Guide
Atlanta BeltLine
Where: Atlanta, Georgia
Turning 22 miles of abandoned railway into a network of parks and multi-use trails, the Atlanta BeltLine will provide eco-friendly transit for 45 communities once it's complete. Your best bet for a tour of the city is the Eastside Trail, which meanders through the city's treasured Historic Fourth Ward Park and allows for pit stops at Krog Street Market or Ponce City Market, a pair of foodie-forward culinary bazaars where some of the top local chefs, including James Beard Award-winner Anne Quatrano, have set up shop.
Insider Tip: Rentals at Atlanta BeltLine Bicycle are first come, first serve and run $20 for a full day.
PLAN YOUR TRIP: Visit Fodor's Atlanta Travel Guide
Tom Saunders, VDOT
Virginia Capital Trail
Where: Richmond, Virginia
The Virginia Capital Trail is actually a multi-city track that spans 54 miles, connecting Richmond to the first settlement in Jamestown as well as the Colonial Capital in Williamsburg. In downtown Richmond, skirt the James River Waterfront and easily navigate to and from major American landmarks like Old City Hall—one of the country's greatest examples of Gothic architecture—and the Thomas Jefferson-designed State Capitol. Work up an appetite and then head to no-frills Comfort restaurant for down-home, Appalachian-style dishes that will surely fill the hunger void.
Insider Tip: Riverside Outpost on Brown's Island in the heart of downtown has bike rentals for $10 per hour.
PLAN YOUR TRIP: Visit Fodor's Richmond, Fredericksburg and the Northern Neck Travel Guide
R. Kennedy for Visit Philadelphia
Schuylkill River Trail
Where: Philadelphia, Pennsylvania
There are 200 miles of bike lanes in the city of Philadelphia, but the locals' favorite stretch is along the Schuylkill River Trail that cuts through Center City. This 26.5-mile loop will take you by many of Philly's most iconic attractions: the Philadelphia Museum of Art for your own "Rocky" steps moment; Boathouse Row with its line of charming, 19th-century peak-roof structures; and the newest addition, Schuylkill Banks Boardwalk, where you can take in city and waterfront sights from one of four overlooks.
Insider Tip: Philly's new Indego bike-share program features more than 60 stations and daily rentals starting at $4.
PLAN YOUR TRIP: Visit Fodor's Philadelphia Travel Guide
Jedediah Smith Memorial Trail
Where: Sacramento, California
You can ride Jedediah Smith Memorial Trail all the way from the Old Sacramento Historic Area to Folsom Lake, hitting other popular districts like arts-and-entertainment-focused Midtown en route. Take time to admire the restored Gold Rush-era architecture in Old Sacramento and pop into Crocker Art Museum, the oldest of its kind in the West, then head to Midtown to satisfy any cravings for bites or brews. Order up wood-fired pizzas and Sacramento beer and wine at Federalist Public House.
Insider Tip: Practical Cycle in Old Sacramento lends comfortable cruisers for $25 per day, hybrids for $50, and electric bikes for $75.
PLAN YOUR TRIP: Visit Fodor's Sacramento and the Gold Country Travel Guide
Courtesy of City and County of Honolulu, Department of Transportation Services
King Street Protected Bike Lane
Where: Honolulu, Hawaii
Honolulu's new King Street Trail is the definition of short and sweet. It's only two miles long but hits all of downtown's major historic sites—Iolani Palace, Hawaii State Capitol, Honolulu Museum of Art—and takes you right into Chinatown. In fact, King Street Trail is a delicious romp through the region's Asian food culture: To-go kimchi and bibimbap from Mr. Kim Chee Lee (1497 S. King St.; 808-947-2131), Taiwanese hot pot at Sweet Home Café (2334 S. King St.; 808-947-3707), and an omakase tasting menu at Sushi Sasabune (1417 S. King St.; 808-947-3800).
Insider Tip: Pedal Bike Tours has four-hour rentals for $24 and an expert-led Hidden Honolulu tour for $69 per person.
PLAN YOUR TRIP: Visit Fodor's Honolulu Travel Guide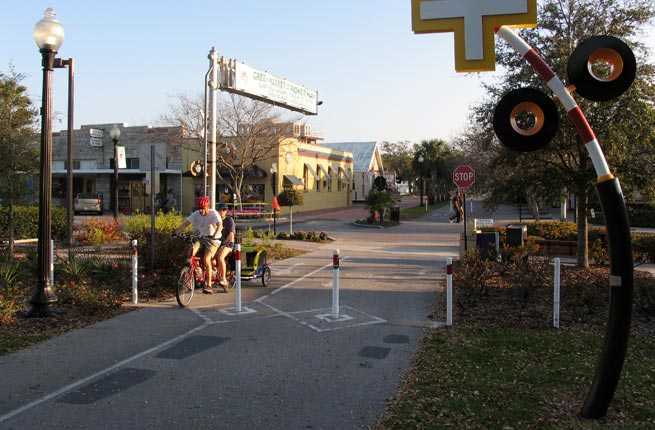 Courtesy of St. Petersburg/Clearwater Area Convention & Visitors Bureau
Fred Marquis Pinellas Trail
Where: St. Petersburg, Florida
Lining Western Florida's St. Joseph Sound, the Fred Marquis Pinellas Trail flows through 38 miles of the most diverse districts and neighborhoods in the St. Petersburg area. Ride the greenway, which is built atop repurposed railroad tracks, to the Salvador Dali Museum, where more than 2,000 of the Spanish painter's original works of art are on display. Or, lead your own gastronomical expedition to Tarpon Springs for authentic Greek noshes, but definitely save room for a trip to the Michael Mina-backed Locale Market culinary outpost.
Insider Tip: St. Pete Bicycle & Fitness in downtown is just blocks from the trailhead with full-day cruiser rentals for $37.
PLAN YOUR TRIP: Visit Fodor's The Tampa Bay Area Travel Guide