Courtesy of La Quinta Resort
You know you've arrived at a great tennis resort when you're greeted with the inquisitive, "How's your backhand?" In a sport that's as much about strategy as it is physical agility, there's always the opportunity to improve your game. Take some time to train, condition, and enjoy the sport at one of the country's best luxury tennis resorts, where advancements such as subsurface watering systems, high-tech video feedback, and grass courts enhance the game. Your perfectly manicured court awaits. —Zachary Laks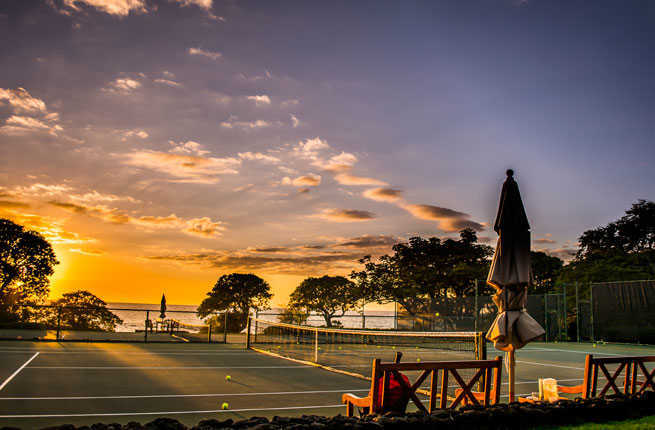 Courtesy of Mauna Kea Resort
WHERE: Kohala Coast, Hawaii
Just off of the natural white sands of Kaunaoa Beach, Mauna Kea Beach Hotel has given prime real estate to its 11-tennis-court club, bringing players closer than ever to the fresh breeze of the ocean. With lessons, daily clinics, round robin tournaments, and video instruction available, Mauna Kea hits high marks for its amenities, facilities, and service. The tennis staff's passion for the sport is palpable as they happily offer to help set up a match, as is their attentive service on the court with fresh towels and water throughout your game.
PLAN YOUR TRIP: Visit Fodor's Hawaii Guide
Courtesy of La Quinta Resort & Club, A Waldorf Astoria Resort
La Quinta Resort & Club, A Waldorf Astoria Resort
WHERE: La Quinta, California
A playing ground for the likes of international superstars Novak Djokovic and Maria Sharapova, La Quinta Resort & Club delivers a staggering 23 tennis courts (18 hard and five Har-Tru) in its desert terrain. Tennis icon Tom Gorman oversees the tennis program that offers lessons and coaching to all levels, as well as singles and doubles matching and strategy clinics. It's hard to fathom, but the resort boasts forty-one pools throughout its 45-acre compound, averaging out to almost one pool per acre!
PLAN YOUR TRIP: Visit Fodor's Palm Springs and the Desert Resorts Guide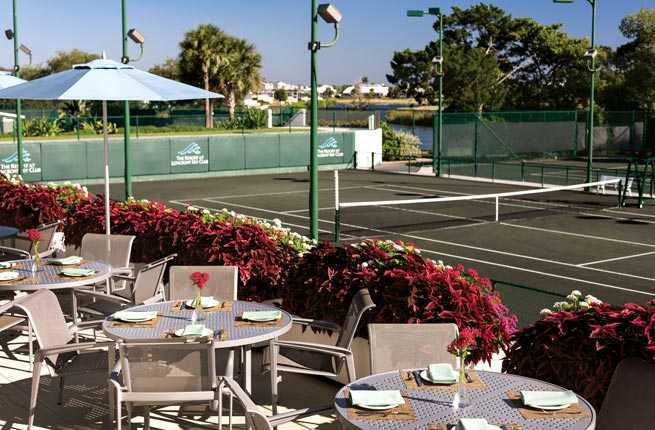 Courtesy The Resort at Longboat Key Club
The Resort at Longboat Key Club
WHERE: Longboat Key, Florida
A mainstay on Florida's gulf coast, The Resort at Longboat Key Club, just across the bay from Sarasota, attracts tennis fans from around the world with its twenty Har-Tru courts, including a 500-seat stadium for tournaments. Serving as the tennis director since 1976, John Woods oversees a bustling operation that fuses local tennis players with the hotel's guests. The courts are free for guests of the resort and are well appointed with viewing decks, a café, and bar. After a grueling morning spent on the courts, head over to the resort's beachfront swimming pool, where tropical cocktails make for the perfect afternoon toast.
PLAN YOUR TRIP: Visit Fodor's Sarasota Guide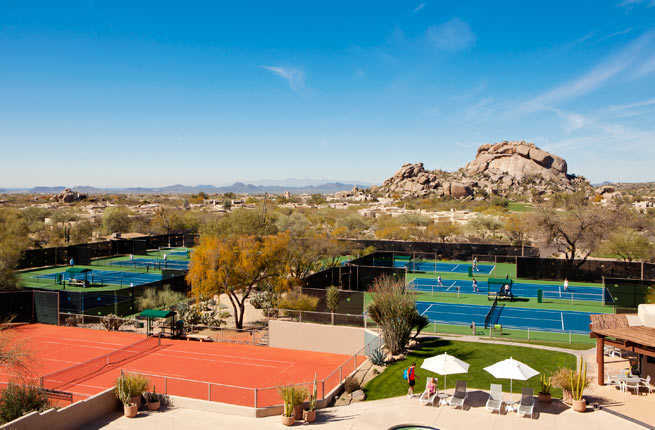 Courtesy of The Boulders, A Waldorf Astoria Resort
The Boulders, A Waldorf Astoria Resort
WHERE: Carefree, Arizona
The emerging tennis program at The Boulders, a Waldorf Astoria Resort, has undergone some new improvements, elevating its tennis services to match its two world-class golf courses. The resort has four premiere hard courts, three premiere cushion courts, and a classic clay court. Tennis Director Dale Light imparts Eastern-influenced philosophy in his tennis practice, encouraging balance and alignment that encompasses health and diet. All players on The Boulders' courts are logged in the tennis club's database, so personal preferences for courts, skill levels, and more are saved for easy access, providing a seamless path to your first serve.
PLAN YOUR TRIP: Visit Fodor's Arizona Guide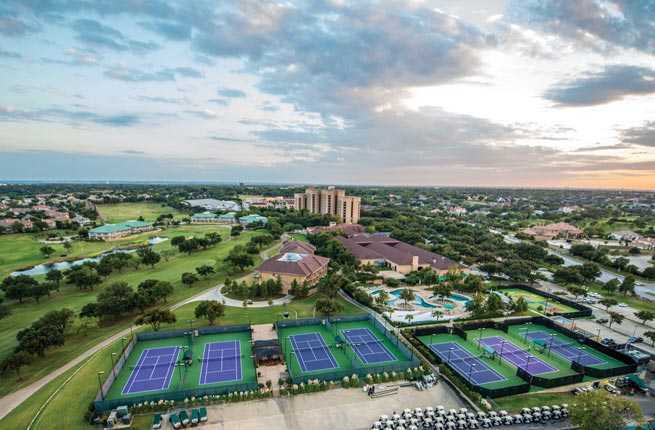 Courtesy of Four Seasons Hotels and Resorts
Four Seasons Resort and Club Dallas at Las Colinas
WHERE: Irving, Texas
On the outskirts of Dallas and Fort Worth, Four Seasons Resort and Club Dallas at Las Colinas has positioned itself as a go-to destination for tennis and golf enthusiasts, anchored by its first-class accommodations. With a Texas-sized 176,000-square-foot sports club, the resort has four indoor and eight outdoor tennis courts, in addition to the club's saltwater lap pool, running track, and squash and racquetball courts. Let onsite tennis masters Robin Scott and John Mullman perfect your game with a host of clinics and workouts, including a rare early bird workout that starts swinging at 6 am and the popular "Play With The Pro" where guests are challenged by the resort's best.
PLAN YOUR TRIP: Visit Fodor's Dallas-Fort Worth Guide
Ben Blankenburg
WHERE: Wintergreen, Virginia
Come rain or shine, the ball is always in play at Wintergreen Resort in Virginia's Blue Ridge Mountains. With nineteen clay courts and three indoor deco-turf courts, the year-round operation has two camps: Devils Knob in the mountains (3,800 feet above sea level) and Stoney Creek in the valley. Devils Knob is a favorite among tennis players as its elevation provides a 10- to 15-degree temperature decrease come summer. In addition to the standard coaching, the tennis program offers a spin on some of the standard tennis classes such as their Advanced Workout, a 90-minute college-style workout on the court with competitive drills, and Matchplay Madness, a 90-minute clinic that focuses on strategy and the mental side of the sport.
PLAN YOUR TRIP: Visit Fodor's Virginia Guide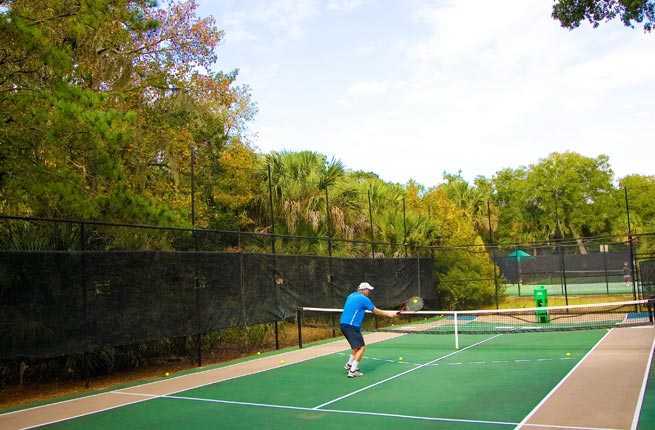 Courtesy of Kiawah Island Golf Resort
Kiawah Island Golf Resort
WHERE: Kiawah Island, South Carolina
The seaside's salty air and seemingly endless sun set the scene for South Carolina's Kiawah Island Golf Resort, a widely acclaimed destination dedicated to golf and tennis. Founded in 1976 with a professional tennis exhibition, the resort has expanded throughout the years, currently featuring nineteen Har-Tru ("American") clay courts (one lighted), five hard courts (three lighted), and a practice court with a ball machine and an automated retrieval system. Tennis and golf are not the only draws to Kiawah Island, as the resort's hotel and spa, The Sanctuary, has perfected the luxury beachfront experience. After a day on the courts, take a dip in one of the resort's outdoor pools with ocean views, consult with the beach concierge for shoreline activities, and go for a spin with one of the hotel's Mercedes-Benzs available for up to four hours, complimentary.
PLAN YOUR TRIP: Visit Fodor's South Carolina Guide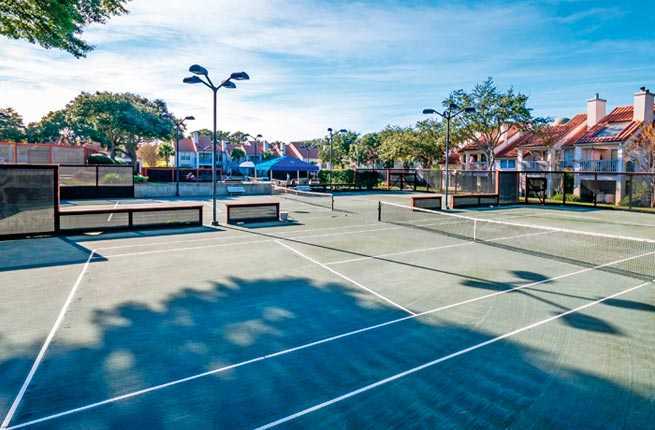 Courtesy of ResortQuest by Wyndham Vacation Rentals
TOPS'L Beach & Racquet Resort
WHERE: Miramar Beach, Florida
For the tennis player seeking a subdued, low-key weekend away on the beach, TOPS'L Beach & Racquet Resort is home to a community of tennis lovers. The Gulf of Mexico provides the backdrop for the resort's 12 newly resurfaced Rubico® clay tennis courts (10 lighted). TOPS'L offers thirteen different tennis packages for individuals and groups that can be customized to fit your needs. Among the offerings are a popular round robin and social, ball machine rentals, and myriad clinics. As an afternoon break beckons, head over to the resort's beachside pool and deck, where cabanas, whirlpools, and refreshments add to the scene.
PLAN YOUR TRIP: Visit Fodor's Florida Guide
Courtesy of
The Boca Raton
t
WHERE: Boca Raton, Florida
It's easy to become immersed in the tennis program at The Boca Raton, southern Florida's grand 1,047-room resort just off of Lake Boca Raton. Among its tennis highlights, the resort prides itself on its 16 Hydro-Grid courts that use a subsurface watering system to maintain a court that gives and optimizes play. A dedicated tennis concierge helps reserve court times, assists in starting up matches, and goes the extra mile in personalizing a tennis program for each guest, cherry-picking from the daily clinic, the club's tennis aerobics, and exhibition games.
PLAN YOUR TRIP: Visit Fodor's Boca Raton Guide
Courtesy of Topnotch Resort and Spa
WHERE: Stowe, Vermont
A luxury spa resort known for its ample winter skiing on Mt. Mansfield, Topnotch Resort and Spa spans 120 wooded acres anchored by its signature 68-room estate. When it comes to year-round tennis operations, the Tennis Academy on site boasts the largest indoor complex of any resort in the Northeast with four indoor clay tennis courts and six clay courts outside. One of the most popular fixtures in the tennis program is the Topnotch Tennis Academy, a three or five-hour-a-day summer camp that focuses on form, footwork, and strategy where there are never more than four students per instructor. The Tennis Academy has stepped up its game with the acquisition of Dartfish, high-tech video software that analyzes and perfects tennis strokes and technique.
PLAN YOUR TRIP: Visit Fodor's Vermont Guide