Filedimage | Dreamstime.com
Few things in life are more liberating than a road trip. Whether you're racing the sea breezes along a coast, following the tempting aroma of barbecue, or enjoying the beauty of verdant landscapes, hitting the open road is one of summer's greatest pleasures. Pack the car, prep your playlist, and hit the gas—America awaits. Here are 20 multi-day journeys and simple day trips that will inspire you.—Jess Moss & Kathleen Squires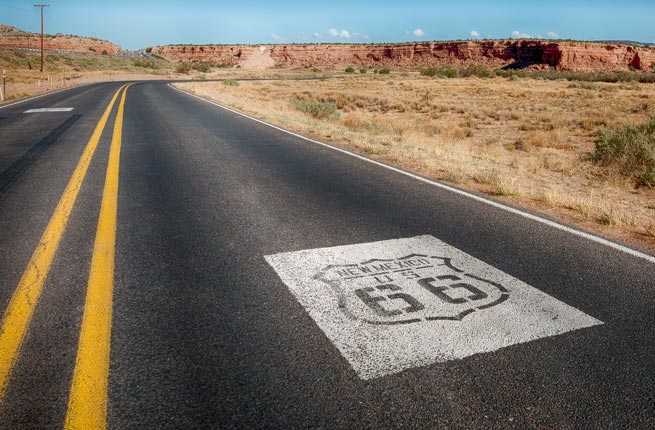 Swtrekker | Dreamstime.com
Drive Route 66's Singing Road
Start: Albuquerque, New Mexico
End: Moriarty, New Mexico
Distance: 38 miles
A drive on the Mother Road (now known as I-40) is often at the top of a road trippers' bucket list, but the iconic route has a twist. A strip of "musical road" was installed near the village of Tijears, east of Albuquerque. A series of rumble strips on the highway is calibrated so if you drive the speed limit (45 mph), the vibrations in your car buzz to the tune of "America the Beautiful."
Start your drive in Albuquerque, where you can still spot neon Route 66 signs downtown, then cruise east through the Cibola National Forest until you reach Tijeras and the singing road. Continue on to Moriarty, where you'll see some Route 66 relics, such as the Sunset Motel and some old bars. The road only plays music if you're driving east, so be sure to start in Albuquerque and not the other direction.
PLAN YOUR TRIP: Visit Fodor's New Mexico Travel Guide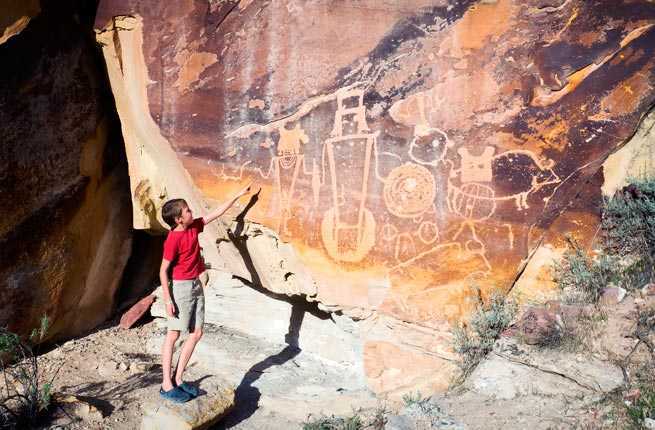 IrinaK / Shutterstock
Hunt for Fossils on the Dinosaur Diamond Scenic Byway
Start: Grand Junction, Colorado
End: Moab, Utah
Distance: 424 miles
Channel Jurassic Park on thisis route that loops through Utah and Colorado, taking in some of the west's top dinosaur sites—plus some killer scenery. Start your trip on the Colorado side, in Grand Junction, and drive northwest to the aptly named town of Dinosaur. Spend a few hours at Dinosaur National Monument, where you can see live digs and a paleontology lab.
Continue west into Utah, where you can visit the Utah Field House of Natural History State Park Museum. Kids love the museum's garden of life-size dinosaurs. As the route turns south in Utah, you can stop at more dig sites, including the Cleveland-Lloyd Dinosaur Quarry south of Price, Utah. Finish your trip in Moab, where the Museum of Moab has more dino displays.
PLAN YOUR TRIP: Visit Fodor's Colorado Travel Guide and Utah Travel Guide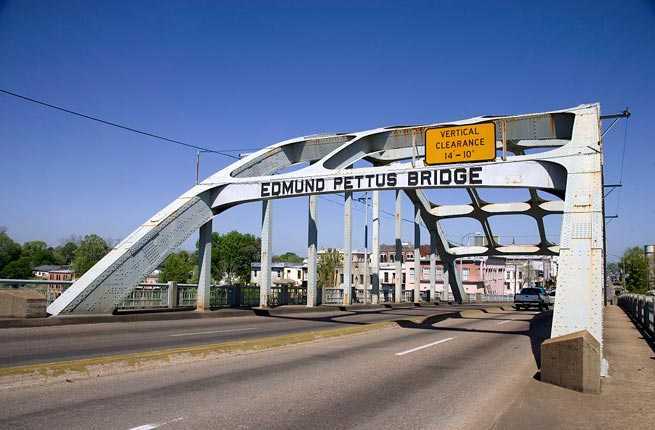 Carol M. Highsmith via Wikimedia Commons [Public Domain]
Honor Civil Rights History on the Selma to Montgomery National Historic Trail
Start: Selma, Alabama
End: Montgomery, Alabama
Distance: 54 miles
This National Scenic Byway traces the 54-mile route followed by civil rights demonstrators in the 1965 Selma to Montgomery Voting Rights March. Start in Selma, spending a few hours exploring the small Alabama town that took center stage in the fight for voting rights. Then follow U.S. 80, crossing the arched Edmund Pettus Bridge, site of the violent clash between marchers and law enforcement known as Bloody Sunday.
The drive to Montgomery continues east through rural countryside, passing farms and churches that served as campsites for the marchers, and an interpretive center at the site of Tent City in Lowndes County. The final five miles of the route follow busy streets through Montgomery to the Alabama State Capitol. Be sure to leave time to see other civil rights monuments around the city, including the Rosa Parks Library and Museum and the Civil Rights Memorial. To commemorate the anniversary this year, the state will be hosting reenactments, plays, and special events along the route.
PLAN YOUR TRIP: Visit Fodor's Alabama Travel Guide
Larrymetayer | Dreamstime.com
Follow the South's last stand in Virginia
Start: Petersburg, Virginia
End: Appomattox, Virginia
Distance: 94 miles
Seven score and ten (so, 150) years ago, Confederate General Robert E. Lee fled from Petersburg, Virginia, with Union troops in hot pursuit. His journey, which ended in surrender at Appomattox and prompted the end of the Civil War, is now a well-marked driving route.
Start at the Petersburg National Battlefield Park Visitor Center to pick up a map of the route. Here you can learn about the 9.5-month siege that caused 70,000 casualties. The town's Siege Museum also has a permanent exhibit about the civilian experience during the war. The route then meanders west through farmland, past more historic sites such as Pamplin Historical Park and the National Museum of the Civil War Soldier and Sailor's Creek Battlefield Historic State Park. The drive, like Lee's campaign, ends in Appomattox, where you can visit the famous courthouse where the general surrendered 150 years ago.
PLAN YOUR TRIP: Visit Fodor's Virginia Travel Guide
Blueice69caddy | Dreamstime.com
Drive Coast to Coast on I-90
Start: Boston, Massachusetts
End: Seattle, Washington
Distance: 3,024 miles (without detours)
If you're going to drive across the country, you might as well take the long route: I-90, which connects Boston to Seattle along the longest interstate in the U.S.
You'll pass through thirteen states, dropping down around the Great Lakes, then up across the Great Plains and the Continental Divide. You could do the drive in about six days, but it's best to take your time and make detours to some of the nation's top sites along the way, including Niagara Falls, Mount Rushmore, and Yellowstone National Park.
PLAN YOUR TRIP: Visit Fodor's USA Travel Guide
Herman63m | Dreamstime.com
Join the Party in Sturgis
Start: Rapid City, South Dakota
End: Sturgis, South Dakota
Distance: 28.5 miles direct; 102 miles with stops
The Sturgis Motorcycle Rally transforms a small South Dakota town into a biker mega meet-up. If you've got a bike, the ride to Sturgis is an epic road trip in itself—you can follow routes past the Badlands and Devil's Tower.
But you don't have to be a rider to check out the events. Plan a South Dakota road trip from Rapid City through the Black Hills to Sturgis, with stops at Custer State Park, where you can spot buffalo and other wildlife; Crazy Horse Memorial, where you can watch the construction of one of the world's largest monuments; and Deadwood, an old-timey Wild West town that's getting a luxe new look with boutique hotel and spa offerings like The Hotel by Gold Dust.
PLAN YOUR TRIP: Visit Fodor's South Dakota Travel Guide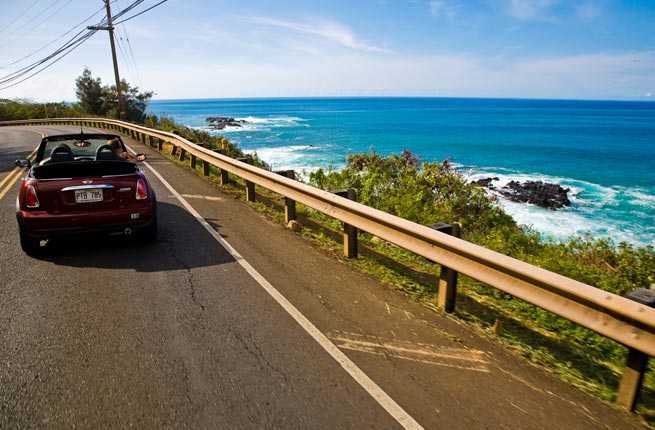 Hawaii Tourism Authority (HTA) / Tor Johnson
Catch the Aloha Spirit on Oahu
Start: Honolulu, Oahu
End: Honolulu, Oahu
Distance: 126 miles
If you're itching for an Oahu escape, be sure to spend some time outside of Waikiki and Honolulu. Set off on a road trip around the eastern half of the island, which takes you away from urban sprawl and into a more authentic Hawaiian setting, where local communities, shrimp shacks, and surf spots dot the road.
Leave the city and drive east around Diamond Head and Koko Head. The road then turns north and hugs the island's windward coast, where you'll see spectacular beaches and some scenic offshore islands to your right and green pali (cliffs) to your left. As you round up to the North Shore, stop at some of the world-famous surf breaks—Pipeline, Sunset Beach, and Waimea Bay. The road doesn't circle the whole island, so cut inland at hippie town Haleiwa and head back to Honolulu across the island's central plains. If you're hungry, stop for some of the tastiest pineapple dishes you'll ever eat at the Dole Plantation.
PLAN YOUR TRIP: Visit Fodor's Honolulu and Oahu Travel Guide
Maisna | Dreamstime.com
Campaign Your Way Down Florida's Presidential Trail
Start: Pensacola, Florida
Finish: Key West, Florida
Distance: 1,045 miles
Florida's Presidential Trail strings together an impressive lineup of historic sites relating to former presidents. Start in Pensacola, where Andrew Jackson served as Florida's first governor after accepting the land from Spain. Cruise across northern Florida over to Daytona Beach, where you can dine at The Cellar, a restaurant that used to be Warren G. Harding's home.
Onward in Central Florida, you'll find some tributes to America's leaders at Walt Disney World's Hall of Presidents and Clermont's The Presidents Hall of Fame. Over on the Gulf Side, check out where presidential hopefuls gathered in Tampa for the 2012 Republican National Convention. Finally, swing down into the Keys for a peek at Harry Truman's Little White House, his winter home on Key West. This route covers almost the entire state, from the Panhandle to Key West, so if time is tight, you might want to focus on one section.
PLAN YOUR TRIP: Visit Fodor's Florida Travel Guide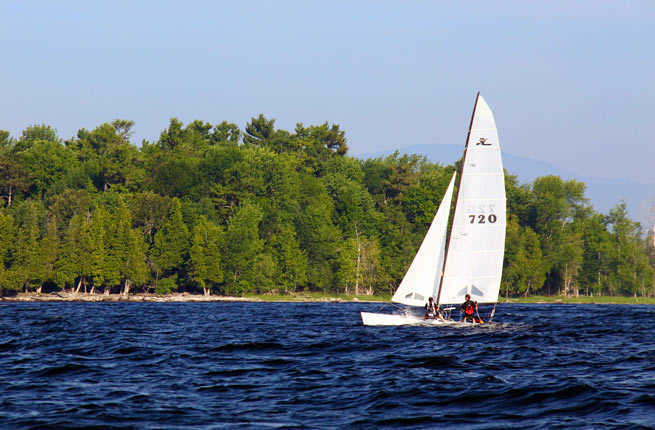 Walleyelj | Dreamstime.com
Escape on the Lake Champlain Byway
Start: Middlebury, Vermont
End: Alburgh, Vermont
Distance: 134 miles
A fresh, green summer escape from muggy East Coast cities, this route skirts the eastern shore of Lake Champlain in northwest Vermont. Driving south to north, the landscape rolls through scenes of farmland, mountains (both the Green Mountains and the Adirondacks are visible), small towns, and, of course, big, blue Lake Champlain.
Hiking and swimming options abound—the Champlain Islands at the north end of the byway are a prime spot for water. Stop in Burlington to fuel up on the region's local food at Farmhouse Tap & Grill and be sure to try some local beer.
PLAN YOUR TRIP: Visit Fodor's Vermont Travel Guide
Lowthian | Dreamstime.com
Watch for Wildlife on Alaska's Parks Highway
Start: Anchorage, Alaska
End: Fairbanks, Alaska
Distance: 387 miles
While trains and planes shuttle many travelers from Anchorage to Fairbanks, the best way to see wild Alaska is on a road trip along the George Parks Highway. Drive north through the now politically famous town of Wasilla and spend the night in Talkeetna, a quirky climbing outpost where the mayor is a cat and the locals host an annual moose dropping festival.
Next on the highway is Denali National Park—an expanse of wilderness, mountains, and wildlife so large it will top anything you've seen in the lower forty-eight. You can't drive all the way into the park; buses shuttle you on wildlife and scenery tours. From Denali, continue north to Fairbanks, where you can enjoy the region's gold mining history and catch a glimpse of the midnight sun. Keep your eyes peeled for moose, bears, birds, and other wildlife along the road throughout the drive.
PLAN YOUR TRIP: Visit Fodor's Alaska Travel Guide
Brett Critchley | Dreamstime.com
Circle Puerto Rico's Best Beaches
Start:San Juan, PR
End: Dorado, PR
Distance: 290 miles
Start in cosmopolitan San Juan, where you can explore the ancient fortifications of historic Old San Juan by foot. Once on the road, head east to the marinas of Fajardo to spend the day sailing. Or, if it's a clear evening, set out in kayaks in the bioluminescent bay, where the waters glow in the dark. Continuing south, explore the fishing village of Naguabo, then head southwest to the historic city of Ponce before hitting the beach again in Guanica, home of the island's dry forest reserve. On the western coast of the island lies some of the best surfing zones, including Cabo Rojo and Rincon. Looping around the island's northwest end, trade the car for a horseback ride along the beach in lovely Isabela. Finish in placid Dorado Beach, a favorite with families, and gourmands for celebrity chef Jose Andres' Mi Casa restaurant at the Dorado Beach Ritz Carlton Reserve.
PLAN YOUR TRIP: Visit Fodor's Puerto Rico Guide
Seaway Trail
Explore the Empire State's Great Lakes
Start:Dunkirk, NY
End: Cape Vincent, NY
Distance: 315 miles
Begin at Dunkirk Historical Lighthouse on Lake Erie, where you can take a harbor cruise from the Dunkirk Pier to learn about local shipwrecks. Continue northward on Route 190 around the lake and take a breather at majestic Niagara Falls. Enjoy Fort Niagara State Park to experience living history programs and the stunning views, before traveling north and continuing along Lake Ontario on Route 18. A historic detour worth taking is Murphy Orchards and Underground Railroad in Burt, New York. Continue on Route 104 to Oswego to stop at the Fort Ontario State Site, the Safe Haven Museum, and the Oswego Lighthouse. Finish at the mouth of the St. Lawrence River at Cape Vincent.
PLAN YOUR TRIP: Visit Fodor's Niagara and Western New York Guide
Lightscribe | Dreamstime.com
Roam the Wilderness of the Blue Ridge Parkway
Start:Charlottesville, VA
End: Asheville, NC
Distance: 383 miles
Dense with aromatic forests, the Blue Ridge Parkway connects Shenandoah National Park in North Carolina and Virginia's Skyline Drive. The Poor's Farmer's Market at mile 178 is a great spot to pick up a quilt and the Blue Ridge Music Center (mile 213) is a must to experience and appreciate Appalachian music. Take in the best views at Waterrock Knob at mile 451 and be sure to explore towns such as Blowing Rock (mile 291) and Little Switzerland (mile 334). The bookend cities of Charlottesville and Asheville are worth a day or two each.
PLAN YOUR TRIP: Visit Fodor's Virginia and North Carolina Guides
Filedimage | Dreamstime.com
Wend along the Pacific Coast Highway
Start:Monterey, CA
End: Morro Bay, CA
Distance: 144 miles
One of the country's most iconic drives, PCH always makes for a great trip. Start in Monterey, once the capital of California, to uncover the state's Spanish and Mexican past, and do not miss the famous Monterey Bay Aquarium. The noted artist community of Carmel is next; pull over to observe the kingfishers and pelicans at Carmel River State Beach. Due south, Point Lobos Reserve covers 550 acres and includes the U.S.'s first undersea ecological reserve. Continue on to stunning cliffs of Big Sur and further south, where sea otters await at Soberanes Point. The drive ends in Morro Bay State Park Museum of Natural History, a draw for Morro Rock and its panoramic views.
PLAN YOUR TRIP: Visit Fodor's California Guide
Hel080808 | Dreamstime.com
Discover Coastal New England
Start:Mystic, CT
End: Bar Harbor, ME
Distance: 400 miles
While some may prefer the fall foliage, summer is also prime time for exploring New England. Mystic's famous Seaport doubles as The Museum of America and the Sea. The galleries, historic wooden ships, and recreation of a 19th-century maritime village are a great way to steady your sea legs. Detour off I-95 North to Newport, RI to tour the opulent Gilded-Age mansions and tackle the 3.5-mile Cliff Walk nearby. Don't forget to grab some fresh lobster right on the harbor at the Aquidneck Lobster Bar, Newport's newest seafood spot. Head to Boston next via 95 N. Stretch your legs along the city's Freedom Trail, a 2.5-mile walk through famous sites from the American Revolution. Boston is also a prime stop for foodies; chef Barbara Lynch, known for No. 9 Park and B & G Oysters, was recently named Restaurateur of the Year by the James Beard Foundation. Pushing northward, stop in Portland, Maine, for its picturesque downtown before jumping a ferry to hop the chain of outlaying islands, full of beaches and artist havens. Wrap up the journey in Acadia National Park, 47,000 acres of woods, mountains, coastline, and lakes.
PLAN YOUR TRIP: Visit Fodor's Connecticut, Rhode Island, Boston, and Maine Guides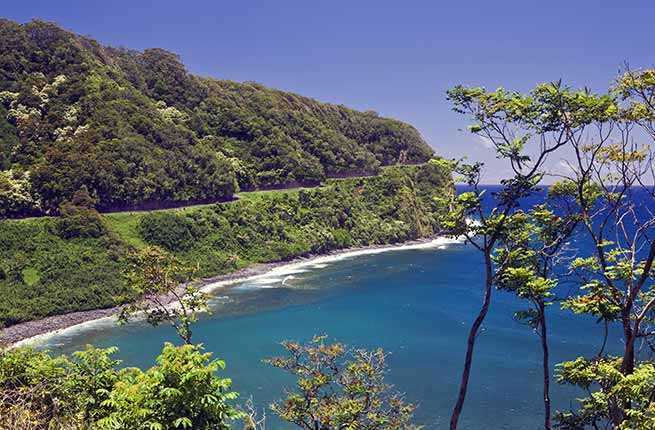 Bart Everett / Shutterstock
Start:Kahului, HI
End: Hana, HI
Distance: 51.1 miles
Be sure to pack your bathing suit for Maui's most scenic drive. Sprawled along highways 36 and 360, picturesque coastlines and verdant jungles await at every twist and turn, along with black sand beaches, waterfalls, and roadside fruit stands. Plan on a full day in order to enjoy the various stops, such as the surfing stop Jaws and the chilly cascades of Twin Falls. A great detour for hungry travelers is in Paia at the Mama's Fish House or at the Paia Fish Market. Once you reach Hana, the gorgeous black sand Waianapanapa Beach is perfect for relaxing after the day's drive. Take a final dip in the Seven Sacred Pools at the Waianapanapa State Wayside Park.
PLAN YOUR TRIP: Visit Fodor's Mau Guide
Monkey Business Images / Shutterstock
Follow a Southern BBQ Trail
Start:Holly Hill, SC
End: Austin, TX
Distance: 1,224 miles
Work up an appetite and pace yourself for the best BBQ the south has to offer. Starting in South Carolina, the "dark" and "light" pork of Sweatman's makes for the perfect starter. Be sure to order a side of the house mustard sauce. Then, hit the road and follow I-20 due west until Birmingham, Alabama, where Miss Myra's Pit Bar BQ's (3278 Cahaba Heights Road) vinegary, mayo-based white sauce will win you over. Next, it's deeper south and west to Ocean Springs, Mississippi, to the iconic The Shed, just outside of Biloxi. Here, take in live blues with your pork ribs before continuing on to New Orleans, where you can digest several days of history, music, food, and fun. Don't forget to hit The Joint, where the ribs are said to be the best in the city. Your last stop is Austin for two barbecue landmarks. The Salt Lick is known for its beef brisket, smoked over an open pit. Finally, you won't regret braving the lines at Franklin BBQ, hailed by many as the best BBQ the U.S. has to offer.
PLAN YOUR TRIP: Visit Fodor's South Carolina, Alabama, Mississippi, New Orleans, and Austin Guides
Jon Bilous / Shutterstock
Hug the Eastern Shoreline
Start:Asbury Park, NJ
End: Outer Banks, NC
Distance: 385 Miles
Begin along the Garden State Parkway at the New Jersey shore in Asbury Park, which is recovering well post-Hurricane Sandy with a brand-new boardwalk. Farther south, Atlantic City unveils several new non-gaming hotels this summer, including the refurbished The Claridge Hotel. At the bottom tip of the state, hit Cape May for its quiet beaches, quaint charm, and historic lighthouse before moving on to Delaware. Fenwick Island to the south is the spot for watersports and the home of the DiscoverSea Shipwreck Museum. Onward, US 13 S leads you into Virginia, where you'll find the Virginia Aquarium and Marine Science Center, one of the best in the country. Next stop: the Outer Banks in North Carolina, a collection of barrier islands with great beaches, pleasant fishing villages, and historic sites such as Kitty Hawk, where the Wright Brothers first took flight.
PLAN YOUR TRIP: Visit Fodor's New Jersey Shore, Delaware, Virginia, and North Carolina Guides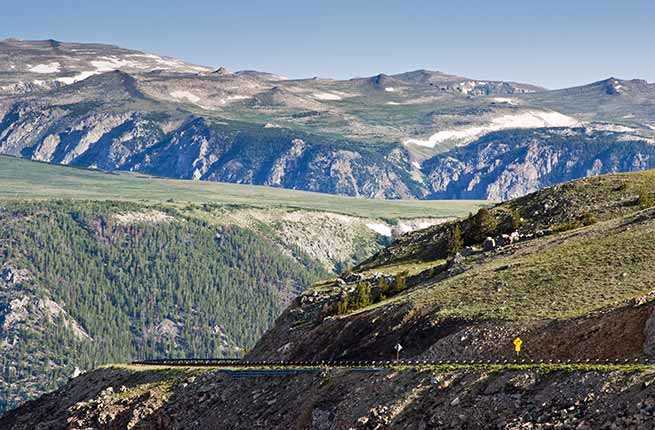 Jim Parkin | Dreamstime.com
Cruise Under Montana's Big Sky
Start:Red Lodge, MT
Finish: Cooke City, MT
Distance: 64 miles
Famed "On the Road" television host Charles Kuralt called the Beartooth All-American Highway, aka US 212, the "most beautiful drive in America." Though only 64 miles, this scenic drive, which winds through Montana and Wyoming, is meant to be leisurely, so expect it to take at least three hours and be prepared for weather changes. Keep your eyes open for wildlife while enjoying breathtaking scenery—20 mountain peaks and 10,000 stunning lakes. This is mining country, and outdoor activities are available along the way, from rafting to hiking, especially at the Cooke City terminus, which borders Yellowstone National Park.
PLAN YOUR TRIP: Visit Fodor's Montana Guide
FloridaStock / Shutterstock
Savor the Pacific Northwest's Wine Country
Start:Salem, OR
End: Walla Walla, WA
Distance: 288 miles
Start in Salem, where over 200 vineyards await just outside the city limits in the Willamette Valley. Be sure to put the biodynamic winery Montinore Estate on the agenda—their pinot noirs are a stand-out and their 210 acres are lovely to behold. Then, get a taste of the big city in Portland, the culinary boomtown of the Northwest. Be sure to grab an award-winning meal at Le Pigeon or Beast, or opt for a more casual bite at one of the city's may food cart "pods." If passing through on a weekend, visit the riverside Saturday Market (it runs on Sundays, too, despite the name), the area's largest outdoor arts and crafts market. Head east via route 84, once part of the Oregon Trail, to the Columbia River Gorge to view the gushing waterfalls. Cross into Washington State to explore some of their great wineries, such as Chateau Ste. Michelle Estate in Paterson and K Vintners in Walla Walla.
PLAN YOUR TRIP: Visit Fodor's Oregon and Washington Guides