Swisshippo | Dreamstime.com
Even in a country filled with delights, Lake Como sits at the top of many wish lists for travelers visiting Italy. A popular retreat for aristocrats and the wealthy going back to Roman times, this Y-shaped lake continues to exert a powerful pull on imaginations thanks to the historic villas, stunning gardens, sleepy villages, and Belle Époque–era resorts lining its shores, not to mention the jaw-dropping views of the Alps. But not every visit here is identical, as there are numerous lakeside towns to choose from, each offering its own splendors. Accordingly, we've handpicked the 15 best towns on Lake Como, whether you want to mingle with the summer crowds or escape them altogether. —Michael Alan Connelly
Bigpressphoto | Dreamstime.com
Located at the northern tip of the triangular landmass that divides the lake's southern half into two branches, Bellagio is widely considered to be among the most beautiful towns in Europe. With its unbeatable panoramic views and flower-lined streets, Bellagio is undoubtedly the most famous town on Lake Como, which of course means it's also the most visited. Whether or not you want to stay in such a popular (and pricey) spot depends entirely on your tastes, but it's worth visiting for indulging in Old World elegance, shopping in the arcades facing the water, and having an aperitivo at one of the hotels or eateries near the ferry dock. Don't miss the gardens at Villa Melzi or the Villa Serbelloni Garden, a property owned by the Rockefeller Foundation that sits of the former site of Pliny the Elder's villa.
PLAN YOUR TRIP: Visit Fodor's Lake Como Guide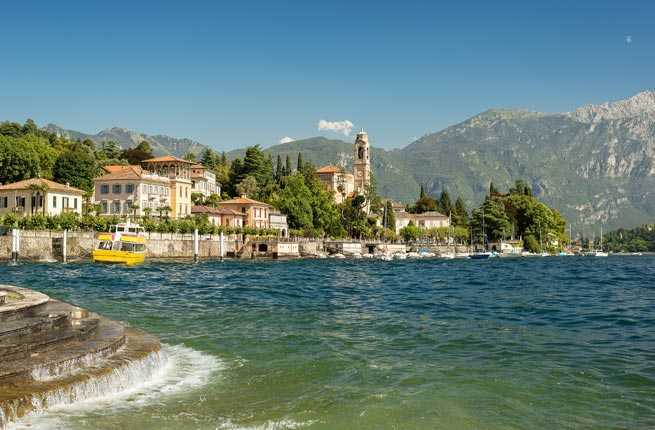 Renehart | Dreamstime.com
Directly across the lake from Bellagio, Tremezzo is a dreamy town that practically demands to be visited for its two major attractions. The first is Villa Carlotta, whose gardens feature azaleas, rhododendrons, Japanese maples, palm trees, cacti, bamboo, orchids, and other plants—more than 500 species in total. The grounds span more than 14 acres, and it's worth stepping inside the villa to see its small collection of paintings, sculptures, and tapestries. The town's second main attraction is one of Lake Como's top properties, the Grand Hotel Tremezzo, where you can splurge on a room that looks out at the lake and Bellagio, or one of eight rooftop suites with private terraces and outdoor jacuzzis. The property also features a lush park, three heated swimming pools (one of which floats on pontoons on the lake), and a small private beach.
PLAN YOUR TRIP: Visit Fodor's Lake Como Guide
Elifranssens | Dreamstime.com
Given that it's one of the few towns accessible from Milan via train, Varenna is an ideal choice for travelers who aren't planning to drive to the lake. Traditionally a fishing village, Varenna features brightly colored homes and villas that sit close to each other on the waterfront, lined by a charming pasarella (boardwalk). Rustic and quaint, Varenna is both romantic and peaceful; in truth, there's not much to do here, and that's why people visit. Of course, there are the spellbinding gardens of the Villa Monastero to see, and you can hike up to Vezio Castle for beautiful views and to see the permanent exhibition on the Lariosaurus and the aviary housing birds of prey. From Varenna, it's easy to access other towns such as Bellagio, Menaggio, and Cadenabbia.
PLAN YOUR TRIP: Visit Fodor's Lake Como Guide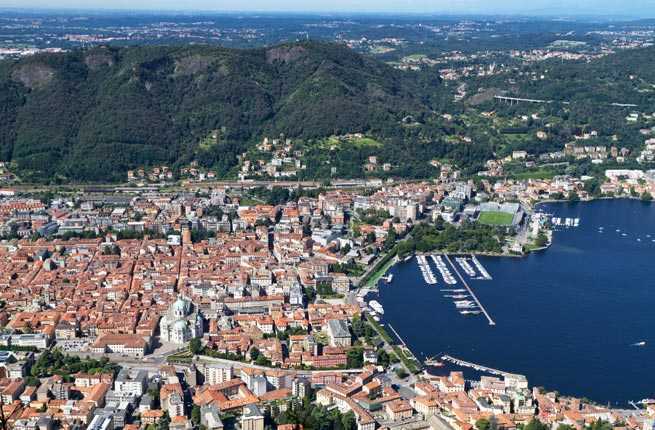 Haraldmuc | Dreamstime.com
Overlooked and underrated by travelers arriving on trains from Milan, the town of Como is typically considered nothing more than a gateway to other towns, since this is where you catch ferries to various parts of the lake. Those who do spend time here find it to be worthwhile: there's a splendid 15th-century cathedral, the Silk Museum, the Romanesque Sant'Abbondio, historic San Fedele, a lovely lakeside promenade, the medieval city center, and more to explore. It may have more of a city feel than the charmingly sleepy villages surrounding the lake, but that's not necessarily a bad quality—it's simply a matter of what appeals to you. If you do spend time here, be sure to take the funicular up to Brunate, where you'll enjoy fabulous views of Como and surrounding towns.
PLAN YOUR TRIP: Visit Fodor's Lake Como Guide
Pizia1966 | Dreamstime.com
Tucked away at the southeastern corner of the lake, Lecco remains off the radar of most travelers, making a great place to live like a local among its nearly 50,000 inhabitants. The town is situated at the very end of the lake, where the water narrows to form the Adda River, which flows into relatively small Lake Garlate, and it sits in the shadow of scenic Mount San Martino. Given its rail access to Milan, Lecco makes a perfect final stop for any visitor looking to explore all three branches of Lake Como.
PLAN YOUR TRIP: Visit Fodor's Lake Como Guide
Godrick | Dreamstime.com
Sitting on the eastern side of Lake Como's northern branch, Bellano is less visited than nearby Varenna, but no less charming. Fronted by the typically quaint lakeside homes, tall trees, and a pristine beach, Bellano makes for a pleasantly quiet escape from the crowds. Its most famous attraction is the naturally formed Orrido di Torrente Pioverna, a plunging, 15-million-year-old ravine formed by erosion. You can get a great look at the gorge thanks to viewing bridges that allow you to take great photos of the caves and the sparkling blue water inside the ravine. Due to its relative lack of popularity, Bellano is where you might find a lakefront room with a balcony for more reasonable rates than in Bellagio or Varenna.
PLAN YOUR TRIP: Visit Fodor's Lake Como Guide
Astra490 | Dreamstime.com
Directly across the lake from Varenna, and equally close to Bellagio, Menaggio makes a fine base from which to explore the northern and southern sections of the lake. Popular with British visitors and home to some residents who commute 8 miles to Lugano, Switzerland, this aesthetically pleasing, extremely laid-back town is similar to Bellagio, though it is somewhat less popular. Once a walled city in medieval times, today it's a bustling resort filled with hotels, restaurants, live entertainment, arcades, shops, and even a mini-golf course. It's quite possible to spend an entire day lazing about the lovely lakefront promenade, with its flower beds and palm trees, but it's worth climbing the steep stairs to explore the older part of town, where you can see remnants of the former wall. If you'd like to escape for a bit, nearby Breglia is a good starting point for hiking trails ranging from easy to difficult.
PLAN YOUR TRIP: Visit Fodor's Lake Como Guide
Mervas | Dreamstime.com
With fewer than 1,000 full-time residents, Argegno is very much a quiet hidden gem on the lake. Nonetheless, the town is heavily reliant on tourism and thus has a surprisingly nice selection of hotels, including Hotel Villa Belvedere, and restaurants such as Lido di Argegno. Backed by a tall, majestic mountain, Argegno is picturesque, with a couple of historic churches worth visiting. The Sanctuary of Sant'Anna was built in the 17th century, and if you take a cable car up to the village of Pigra, you can see the 15th-century Oratory of San Rocco.
PLAN YOUR TRIP: Visit Fodor's Lake Como Guide
Swisshippo | Dreamstime.com
One mile northwest of Como sits Cernobbio, home to the world-famous Villa d'Este, one of the grandest hotels not just on the lake but in all of Italy. Originally built in 1568 as the summer residence of a cardinal, it became a luxury hotel in 1873 and has catered to Europe's rich and famous ever since. Aside from the hotel, Cernobbio has a peaceful yet cosmopolitan vibe, and it feels more spacious than many other lakeside towns given its relatively flat topography. Aside from one of the largest piazzi found in any town on the lake, Cernobbio is also home to the handsome Villa Erba and Villa Bernasconi. For hardcore hikers, the town is near the start of the Monti Lariani Trail, which extends 80 miles to the northernmost point of the lake.
PLAN YOUR TRIP: Visit Fodor's Lake Como Guide
Astra490 | Dreamstime.com
Near the northern end of Lake Como is Gravedona, which retains its original medieval town plan and feels unlike any other place you might visit on the lake. Popular with German visitors who like to camp here in summer, the town's biggest attraction is the 13th-century Church of Santa Maria del Tiglio, where the mosaic floor dates to the 5th century. Nearby is the Church of San Vincenzo, where you'll find a crypt containing markings from the 6th century. In addition, Gravedona has one of the best waterfront promenades of any town on Lake Como, with bike paths, sandy beaches, and public tennis courts.
PLAN YOUR TRIP: Visit Fodor's Lake Como Guide
Anatols | Dreamstime.com
Part of the municipality of Griante in the central portion of Lake Como, Cadenabbia is home to opulent villas, grand hotels, stunning gardens, historic churches, and hiking trails. In other words, this town has it all. Built in the early 1700s, Villa Carlotta is one of the lake's most famous (and most visited) estates thanks to its magnificent landscaping and art collection. Due to an influx of English residents in the 1800s, Italy's first Anglican church is located here, as is the Sanctuary of Madonna delle Grazie di San Martino, the oldest section of which dates back to Roman times. From here, you can walk the entire length of the Lake Como Greenway, which stretches 6½ miles from Cadenabbia to Colonnio.
PLAN YOUR TRIP: Visit Fodor's Lake Como Guide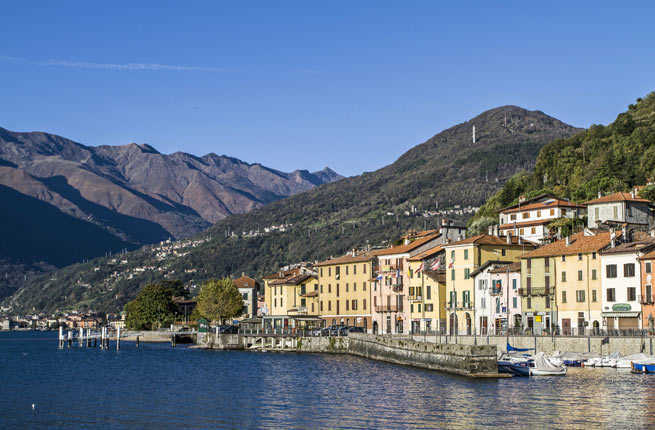 Tinieder | Dreamstime.com
Just northeast of Gravedona sits Domaso, the windsurfing capital of Lake Como, making it popular with young travelers who also come here for fishing, swimming, and sailing as well as a variety of nightclubs, bars, and restaurants. Given its popularity with budget travelers, the town doesn't have the kind of ritzy hotels found elsewhere on the lake; it does have some decent accommodations, but you may be better off renting an apartment for your stay. Aside from water sports and nightlife, it's worth checking out the fantastic frescoes in the town hall (formerly known as Villa Camilla) and the 16th-century Church of San Bartolomeo. If you like camping, do it in Domaso, which has the greatest selection of campsites on the lake.
PLAN YOUR TRIP: Visit Fodor's Lake Como Guide
Travelpeter | Dreamstime.com
Southwest of Tremezzo lies Lenno, close to the spectacular Villa Balbianello, which is one of Italy's most picture-perfect estates. Composed of loggias, terraces, and pallazzini, the villa, featured in several films, sits on its own little promontory and now functions as a museum. Lenno is also famous for its handmade olive oil, considered the best made on the lake, so be sure to try it and buy a bottle. Although Lenno has a reputation for being pretty quiet, the one exception is Lido di Lenno, a manmade stretch of sand where you can spend the day lounging in the sun, eating snacks, and sipping on cocktails. If you stay until night, you can dine in the restaurant before joining the dance party that breaks out on the beach and goes until 4 am on Fridays and Saturdays.
PLAN YOUR TRIP: Visit Fodor's Lake Como Guide
Elifranssens | Dreamstime.com
Even someone who's visited Lake Como before is unlikely to have heard of Nesso, a small town located 8 miles northeast of Como. With roughly 1,300 inhabitants, Nesso appeals to those travelers looking to experience the local way of living. There are only a few hotels and restaurants here, all reasonably priced, and the town is home to a beautiful little gorge with a series of waterfalls that feed into the lake.
PLAN YOUR TRIP: Visit Fodor's Lake Como Guide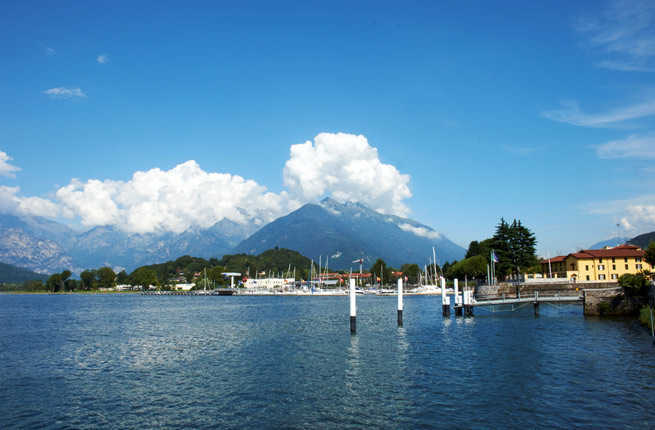 Gioegian1 | Dreamstime.com
Across the lake from Domaso is an off-the-beaten-path town that's dwarfed by Mount Legnone (8,560 feet). Low key and laid back, this is an ideal place for history lovers to explore. It's possible to visit Fort Fuentes, a hilltop fortress constructed under the orders of the Spanish governor of Milan in the early 17th century; Napoleon ordered it to be demolished in 1796, but you can still see some ruins today. Also in Colico is Fort Montecchio-Lusardi, the only Italian fort from World War I that has been preserved with its original weapons intact. Other local highlights include the Abbazia di Piona, a Romanesque abbey with a beautiful view of the lake; the 12th-century Church of San Nicolao, featuring Romantic and Gothic elements; and the small Church of San Rocco, also in the Romanesque style.
PLAN YOUR TRIP: Visit Fodor's Lake Como Guide