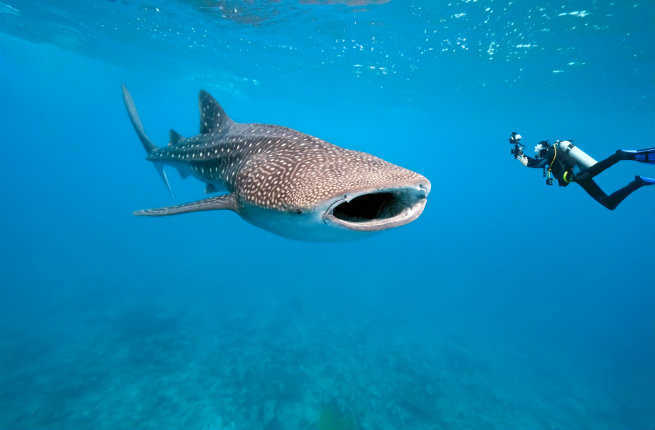 Krzysztof Odziomek/Shutterstock
Life on land offers plenty of tantalizing options for adventure travelers, but there's a whole other world of excitement waiting under the sea. You don't have to be a daredevil to take on these deep-sea adventures, but a visit to any one of these amazing spots will require some guts. While some of these destinations are perfect for snorkelers, others will require a bit more know-how in the water. Either way, the stunning scenery and abundance of underwater life are sure to make your dive or swim a memorable experience.
by Abbey Chase
© Andy Chia | Dreamstime.com
WHERE: Sipadan, Malaysia
The name of this diving destination off the coast of Sipadan is hardly subtle, but even with a giveaway moniker, diving at Barracuda Point is something you have to see to believe. Divers will spot thousands of the ray-finned fish in an almost overwhelming display, while hammerhead sharks, sea turtles, and stingrays can also be spotted here, in addition to more unusual fish and coral species. It's risky to say you are guaranteed anything in diving, but at Barracuda Point, you are sure to see swarms of the fish, while lucky divers might witness a "barracuda tornado."
PLAN YOUR TRIP: Visit Fodor's Malaysia Guide
R Gombarik/Shutterstock
See the Molinere Underwater Sculpture Park
WHERE: Grenada
A truly eerie spectacle, the Molinere Underwater Sculpture Park is comprised of 65 concrete sculptures create by British artist Jaon de Caires Taylor. The statues are made from a special kind of concrete that is designed to promote coral growth, of particular importance in this part of the Caribbean that suffered significant damage from hurricanes in 2004 and 2005. Installed in increments in 2006 and 2007, the sculptures depict human forms and "unstill life"—a table with a bowl of fruit and a vase. At depths ranging from 6-25 feet, the sculptures can easily be viewed by snorkelers or in a glass-bottomed boat.
PLAN YOUR TRIP: Visit Fodor's Grenada Guide
Krzysztof Odziomek/Shutterstock
WHERE: Gladden Spit, Belize
Whale sharks are the largest fish in the world and despite the intimidating name, are very docile. These gentle giants can be found at the Gladden Spit, near Placencia and Hopkins between March and June, and don't be surprised to find one of these dauntingly large creatures swimming toward you. Whale sharks are a notoriously curious species and are known to swim very close to divers. The appearance of whale sharks is timed with full moons, so be sure to consult a lunar calendar when planning your trip.
PLAN YOUR TRIP: Visit Fodor's Belize Guide
Vilainecrevette/Shutterstock
Follow the Underwater Reef Trail at Buck Island Reef National Monument
WHERE: Buck Island, U.S. Virgin Islands
Just north of Buck Island snorkelers will find the National Park Underwater trail, guiding visitors around the reef with underwater marker signs. After indulging in the white-sand beaches, head out for a dip in the crystal-clear Caribbean water for a unique diving experience. Along the way you'll see elkhorn coral, coral grottos, reef sharks, endangered Leatherback turtles, spotted eagle rays, and more than 250 species of tropical fish, including Parrotfish, angelfish, and blue tangs. Confusingly, there are two Buck Islands in the Virgin Islands; head to the one just north of St. Croix. The gentle currents and easy access make this a great spot for families.
PLAN YOUR TRIP: Visit Fodor's U.S. Virgin Islands Guide
Ethan Daniels/Shutterstock
Scale the Blue Corner Wall
WHERE: Palau, Micronesia
A spot for the experienced set only, the Blue Corner Wall is arguably the most famous dive site in the world, drawing intrepid divers to this underwater promontory that gives way to a thousand-foot drop. Those who make the trip will be rewarded with views of hard and soft coral, several kinds of sharks, turtles, manta rays, tuna, barracuda, and the highly territorial King Triggers. While strong currents make diving more difficult, the truly brave should head out during this less-than-pleasant conditions for the best shark-viewing.
PLAN YOUR TRIP: Visit Palau Visitors Authority
Discover the SS Yongala Shipwreck
WHERE: Queensland, Australia
Just before 7 p.m. on March 23, 1911, a lighthouse keeper off the coast of Queensland watched the Yongala sail into the Whitsunday Passage, and the ship was never seen again. Sunk during a tropical cyclone the following day, the Yongala was found by two divers in 1958 in the central section of the Great Barrier Reef Marine Park, 50 nautical miles southeast of Townsville in Queensland. Roughly 100 feet below the surface, the 361-foot wreck is one of the largest intact historic shipwrecks. Of course, the diving and snorkeling in the Great Barrier Reef are world-famous and with pollution and climate control threatening the wildlife in this area, now is the time to visit.
PLAN YOUR TRIP: Visit Fodor's Queensland Guide
alan dyer/Shutterstock
Go Deep with Atlantis Submarine Tours
WHERE: Hawaii
Those looking to head deep beneath the ocean's surface while staying dry should book one of the many tours with Atlantis Submarines. The premium submarine tour in Waikiki takes 64 passengers 100 feet underwater to see Hawaiian sea life up close. Atlantis also offers a standard submarine tour from Waikiki, Maui, and Kona, and from various Caribbean islands. Looking to stay above the surface? Check out one of the whale watching cruises.
PLAN YOUR TRIP: Visit Fodor's Hawaii Guide
© Patrick Barry | Dreamstime.com
Traverse Sistema Dos Ojos
WHERE: Playa del Carmen, Mexico
These limestone caves off the coast of the Yucatan Peninsula are still being discovered, and with more than 50 miles already surveyed, Dos Ojos is one of the longest underwater cave systems in the world. As the cavern network can be difficult to navigate, it's wise to hire a guide to take you through the bizarrely named passages—you'll pass through "Wakulla Room," "Jill's Room," and "The Next Generation Passage," among others. Named for its two sinkhole entrances, Dos Ojos is home to a variety of small fish and two types of freshwater shrimp. Divers are afforded excellent visibility in the caves, thanks to rain water filtered through the limestone.
PLAN YOUR TRIP: Visit Fodor's Playa del Carmen Guide
© Ruth Lawton | Dreamstime.com
WHERE: Costa Rica
Though there are many places in the Caribbean where you can swim with dolphins in the wild, Costa Rica is home to several different species and a large dolphin population. Drake Bay, on the Osa Peninsula off the Pacific Coast, is a great place for spotting pantropical spotted and bottlenose dolphins, and while the water isn't quite as warm as on the Caribbean side, you still won't need a wetsuit to dive in. The Divine Dolphin offers dolphin boating tours and whale-watching cruises. Of course, because you're in the wild, there are no guarantees that you'll see any dolphins when you head out, but the experience will trump anything at a marine enclosure.
PLAN YOUR TRIP: Visit Fodor's Osa Peninsula Guide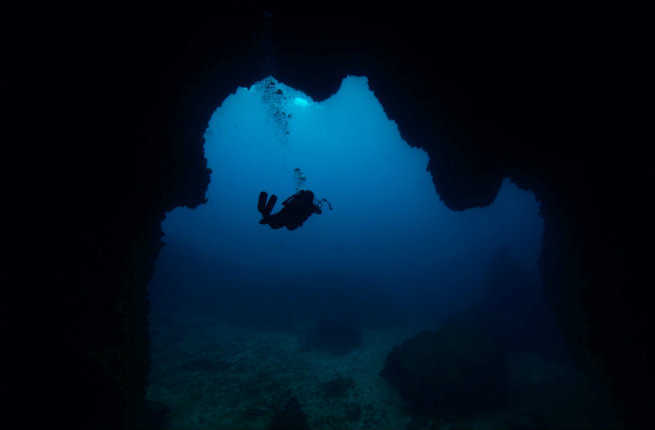 © Kampee Patisena | Dreamstime.com
Descend into The Cathedral
WHERE: Flic-en-Flac, Mauritius
A 32-foot crevice greets divers at this popular spot off the western coast of Mauritius in the Indian Ocean, where dolphin sightings are common as you enter the underwater cave. As you make your way down, cracks in the coral reveal gropers, angelfish, clownfish, banded ghost shrimp, lobster, lionsfish, and a host of other marine life. Below lies the enormous cathedral-like cavern, just barely lit through the tangled seaweed. However, be wary of the giant moray eels that live down at this level, nearly 100 feet below the surface.
PLAN YOUR TRIP: Visit Fodor's Mauritius Guide