© 2013 Little Details LLC
From flight confirmation numbers to meeting locations, there's a lot to keep track of while you're traveling. Having all that information in one place will make your trip that much easier, and what better place to store everything than on your phone? For seasoned and novice travelers alike, these 10 apps will make your next trip a breeze, whether you're having to reroute and find last-minute hotel bookings, or you're simply looking for the best restaurant near your gate.
by Zach Honig
Zach Honig is Deputy Managing Editor at Engadget. He's based in New York, but spends more than half of his time on the road, traveling to trade shows and product launches around the world. He's also the Miles & Points expert at About.com. Follow Zach on Twitter @zachhonig.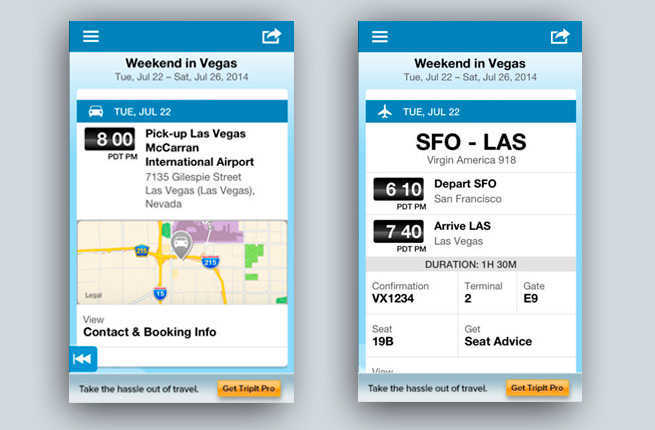 © 2013 Concur Technologies, Inc.
Whether you travel once a year or you're in the air several days a week, TripIt is a must-have tool for tracking your flights, hotel bookings, and other travel confirmations, such as car rentals and restaurant reservations. The tool combs your Gmail inbox for confirmation emails and automatically adds relevant bookings to your account. Once you're all set up, you can use the mobile app to pull up your commitments on the fly, including key info like addresses and flight confirmation numbers. You'll also have access to weather info and one-click maps to get you from the airport to your hotel, and everywhere in between.
Price: Free ($0.99 for the ad-free version)
© 2013 GateGuru, Inc.
If you often refer to the airport as your "second home," this is the app for you. GateGuru keeps tabs on departure and arrival times, terminals, and your boarding gate, but serves as a resource for the rest of the airport, too. You get terminal maps, airport restaurant listings (with reviews), last-minute rental car bookings, and even wait estimates for TSA checkpoints, so you know whether to allow for extra time. You can even opt to get notifications pushed directly to your phone, should the airline make any last-minute changes as you wait to board.
Price: Free
© 2014 Mobiata LLC.
Ever wonder where that plane is headed that just barreled down the runway? Or which other carriers can get you where you're going at the same time as your scheduled flight? FlightBoard is like an airport departures/arrivals board for your pocket, giving you real-time readouts of flight numbers, destinations, gates, and departure times for more than 3,000 airports around the world. A single tap on a flight in the list will give you detailed info, such as aircraft type and operator. It's a fun (and practical) resource for delayed travelers and aviation enthusiasts alike.
Price: $3.99
© 2008-2014 Mobiata LLC
Once you're on your way (or a friend or loved one takes off), FlightTrack is where you'll want to turn for real-time positioning, including an aircraft's altitude, speed, and key info like arrival time and baggage carousel. Each flight page includes an aircraft indicator over a satellite photo view that's more or less identical to what you'll see out the window at 30,000 feet. You can also track upcoming trips for yourself and groups of people, making it easy to keep tabs on family members coming together for a holiday reunion, or colleagues traveling on a business trip.
Price: $4.99
© 2014 LoungeBuddy, Inc
Nearly every major airport around the world has a private lounge of some sort. Some in Asian hubs are like lavish retreats, with full buffet spreads and personalized service, while those in the U.S. are typically a bit more barebones. Either way, nearly any lounge beats waiting for your flight in a crowded airport terminal. LoungeBuddy helps you sort out the best from the rest. Once you add your airline status and memberships to the app, you'll be directed to lounges that you're eligible to visit. You can view hours, photos, and a list of amenities, so you can find out if the lounge will have a shower or a fully stocked bar long before you arrive.
Price: Free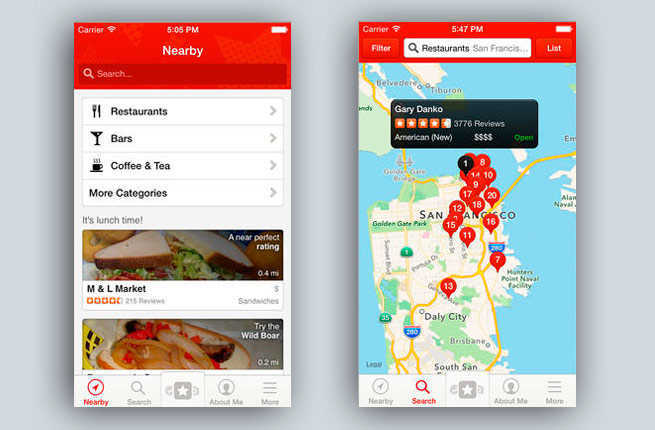 © Yelp, Inc 2008-2014
Web-savvy travelers are all too familiar with online reviews. While not always entirely accurate, Yelp is an indispensable first step when it comes time to find the perfect place to dine. The app is most useful when exploring major U.S. cities, but many airport establishments are listed as well, helping you find a decent restaurant whenever you have some downtime in the terminal. You'll find key info like menus and operating hours, and the app even uses your smartphone's GPS to find your location within the airport, presenting nearby options that won't require an inter-terminal trek.
Price: Free
© 2014 TripAdvisor LLC
If your travels bring you overseas (or throughout North America), TripAdvisor is where you'll want to head for airport tips, including immigration procedures, cheapest routes into the city center, and so on. You'll also be able to find detailed reviews of layover hotels near the airport. Like the Yelp app, TripAdvisor can use your phone's GPS to pull up restaurants and other facilities nearby, making it a solid resource (although not quite as comprehensive as Yelp) during your layover.
Price: Free
© 2013 Hotel Tonight, Inc.
Thousands of flights are canceled every week, and if you were booked at the end of the day, you may end up stranded at your origin or connecting city. Hotel Tonight to the rescue! This booking app lets you find last-minute hotel rooms, typically with huge discounts to boot. Unlike some of the other tools above, which have browser-based versions available as well, you can only use HT on an Android, iOS, or Windows phone. You can book a stay for up to five nights in many cities in the U.S., Canada, Mexico, and Europe. Hotel Tonight isn't available in Asia just yet, but an expansion is in the works.
Price: Free
© 2013 Little Details LLC
Having a friend or family member pick you up at the airport? You'll want to tell them about Just Landed. The app provides basic flight tracking, but even more valuable is a tool that lets them know exactly when to head to the terminal, based on their current location, traffic conditions, and your flight's estimated arrival. They'll get a countdown even before departure, making it easy to plan ahead. It also keeps a log of upcoming trips—once you search for a particular flight, it'll land in your queue, with the app springing into action as soon as the plane's en-route.
Price: $1.99
Available on iOS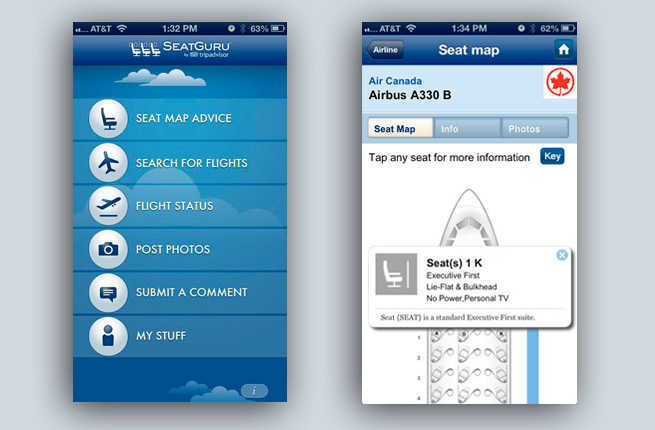 © 2013 TripAdvisor LLC
Generally, all airplane seats follow the same basic design, but unexpected cabin factors can make one far more comfortable than another. SeatGuru lets you identify the best seat in the cabin, and on a long cross-country or international flight, your seating location can make a tremendous difference. Sure, it's easy enough to avoid a noisy galley or a smelly bathroom, but SeatGuru can also point out misaligned (or missing) windows, restricted legroom or recline, and areas without under-seat storage, so you can make the best choice long before you board the plane.
Price: Free