Madrabothair | Dreamstime.com
Fashion Week may be over in Paris and Milan, but there are still plenty of opportunities to find style inspiration in both cities and beyond. Inside Europe's historic department stores and gallerias, amazing architecture blends with today's hottest fashions. The French use the expression lèche vitrine (literally, "window-licking") to refer to window-shopping, and a visit to these stunning spaces will make you understand why. Here are Europe's most magnificent places to shop.
By Laura Itzkowitz
Dudau | Dreamstime.com
Galeries Lafayette
WHERE: Paris
As the most famous of Paris' grands magasins (department stores), the Galeries Lafayette is a stunning Art Nouveau temple to fashion. Originally opened as a small haberdashery boutique in 1893 by cousins Théophile Bader and Alphonse Kahn, the store quickly gained popularity thanks to its ideal location near the Gare Saint Lazare and the Palais Garnier opera house. By 1912, the boutique had swallowed up several adjacent properties and unveiled a fabulous renovation, complete with a grand staircase (no longer there) and the iconic glass dome, visible from the beauty department. Many of France's greatest designers have debuted collections here, from Sonia Rykiel to Yves Saint Laurent.
PLAN YOUR TRIP: Visit Fodor's Paris Travel Guide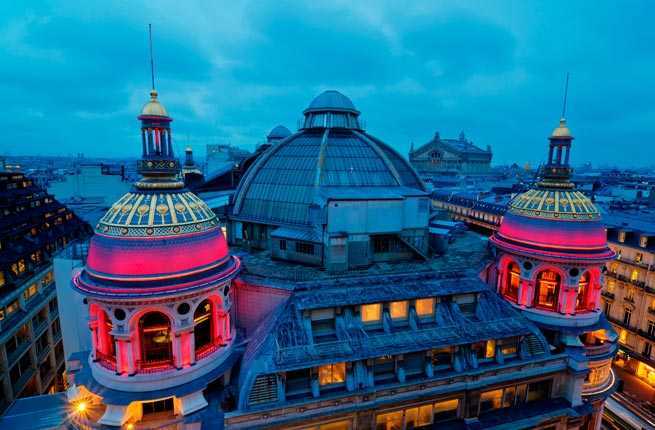 Madrabothair | Dreamstime.com
Printemps
WHERE: Paris
Just up the street from the Galeries Lafayette, Printemps stands proud with its gold-tipped domes and floral mosaics. Founded in 1865 on the boulevard Haussmann, it actually predates its neighbor. It was the first department store in Paris to have electricity and one of the early adopters of set prices. Printemps was also the first store to introduce sales, discounting the previous season's items and revolutionizing the way people shopped. Despite suffering two major fires, the store is now celebrating its 150th anniversary. If you visit, go up to the Brasserie Printemps on the sixth floor to admire the green-and-gold dome over a très chic lunch.
PLAN YOUR TRIP: Visit Fodor's Paris Travel Guide
Spongecake | Dreamstime.com
Galleria Vittorio Emanuele II
WHERE: Milan
Located in the center of the city, between the Duomo and La Scala, the Galleria Vittorio Emanuele II is the beating heart of Milan's fashion culture. Glass and cast iron vaulted arcades unite around a central dome, allowing light to filter into the octagonal space. Full of high-end designer boutiques, including Louis Vuitton, Gucci, and Prada, as well as bars and restaurants, like the historic Savini and Caffè Biffi, the galleria is commonly known as Milan's parlor. The incredible mosaic floors are well worth admiring, and tradition holds that spinning around three times on the bull's private parts will bring good luck.
PLAN YOUR TRIP: Visit Fodor's Milan, Lombardy, and the Lakes Travel Guide
Frank Gaertner / Shutterstock
Harrods
WHERE: London
A true London institution, Harrods occupies five acres in Knightsbridge. It comprises more than 300 departments, from perfume to technology, spread out over a million square feet. The enterprise dates back to 1849, when Charles Henry Harrod expanded his East End grocery and tea business. Harrods introduced England's first "moving staircase," an early escalator prototype, which made customers so nervous they were offered brandy when they reached the top. Among the illustrious shoppers to admire the store's architecture and goods are Oscar Wilde, Charlie Chaplin, Vivien Leigh, Sigmund Freud, and multiple members of the royal family.
PLAN YOUR TRIP: Visit Fodor's London Travel Guide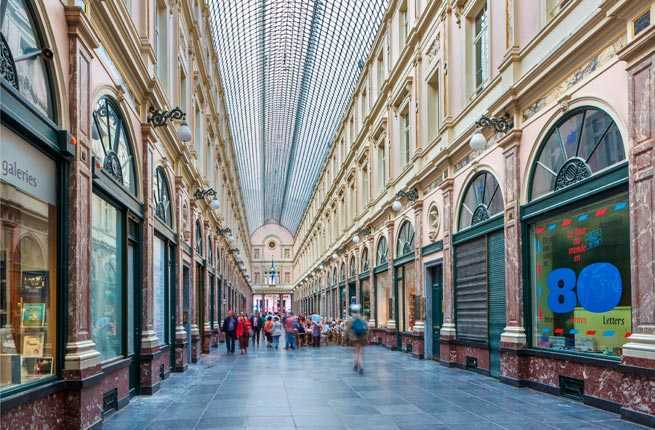 Renata Sedmakova / Shutterstock
Galeries Royales Saint-Hubert
WHERE: Brussels
Sometimes called "the umbrella of Brussels," the Galeries Royales Saint-Hubert provides a lovely place to stroll and escape from rainy days. The building features a vaulted glass ceiling, allowing light to filter in on the stately marble interiors. King Leopold I himself inaugurated the building in 1847. You could easily spend an afternoon wandering through the boutiques, including a gorgeous bookstore, Pierre Marcolini's chocolate shop, and Le Tanneur's leather goods. Be sure to check out the Vaudeville Theater, where Josephine Baker performed.
PLAN YOUR TRIP: Visit Fodor's Brussels Travel Guide
Noppasin / Shutterstock
KaDeWe
WHERE: Berlin
Known as KaDeWe, the Kaufhaus des Westerns in Berlin is continental Europe's largest department store. Though it almost burned to the ground when an American airplane crashed into it in 1943, the store became a symbol of the city's renewal after the war, and once again after the fall of the Berlin wall. Though the architecture is less opulent than the department stores in Paris and other cities, it features an impressive Art Deco atrium café on the top floor.
PLAN YOUR TRIP: Visit Fodor's Berlin Travel Guide
Courtesy of Paris Tourist Office, Photo by Marc Bertrand
Le Bon Marché
WHERE: Paris
The epitome of the Parisian art de vivre, Le Bon Marché is the most luxurious place to shop on the Left Bank. It was opened in 1852, making it the oldest department store in Paris. Today it has a very contemporary feel, with a sleek white palette and crisscrossing escalators leading up to the balconied mezzanines under an Art Deco skylight. All of the major labels are represented here, including urbane designers like Phillip Lim, Isabel Marant, and Helmut Lang, so don't be surprised to see celebrities browsing the racks. Also worth a visit: La Grande Épicerie, a culinary paradise of artisanal and specialty goods, from olive oil to foie gras.
PLAN YOUR TRIP: Visit Fodor's Paris Travel Guide
Nessluop / Shutterstock
De Bijenkorf
WHERE: Amsterdam
The Netherlands' largest department store, De Bijenkorf's Amsterdam flagship is a wonderful example of Beaux-Arts architecture. It opened in 1870 on Dam Square near the National Monument and the Royal Palace. In addition to luxury fashion brands, there's an excellent selection of housewares and stationery, and around the holidays, the store mounts a series of elaborately decorated window displays. Head up to the restaurant on the fifth floor any time of the year for spectacular views of Amsterdam.
PLAN YOUR TRIP: Visit Fodor's Amsterdam Travel Guide
Leonid Andronov / Shutterstock
Galleria Alberto Sordi
WHERE: Rome
On land once owned by the Dukes of Piombino, the Galleria Alberto Sordi opened in 1922 as a modern innovation near the city's most historic sites, including Piazza Colonna and the Trevi Fountain. Inspired by Milan's Galleria Vittorio Emanuele II, the building features stained glass skylights set over carved stone passages and mosaic floors connecting the various stores. Inside, there are boutiques like La Rinascente (Italy's main department store), Massimo Dutti, and Feltrinelli books and music shop. You can stop for a quick coffee at the kiosk or have a more relaxed meal at the Galleria restaurant.
PLAN YOUR TRIP: Visit Fodor's Rome Travel Guide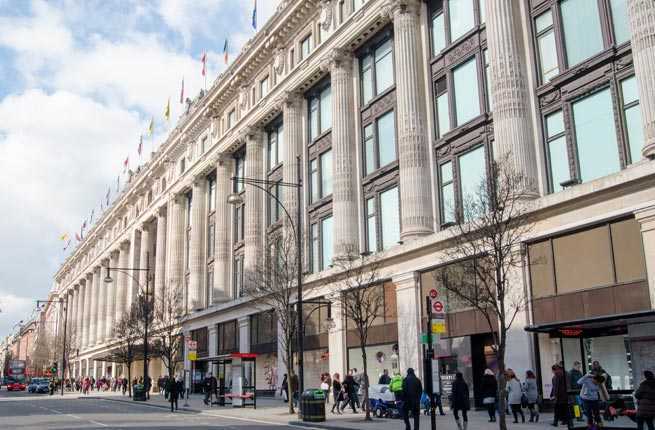 BasPhoto / Shutterstock
Selfridges
WHERE: London
Opened by the American-born Harry Gordon Selfridge in 1909, the massive Oxford Street department store experienced such a rush of customers on opening day that it took thirty police officers to tame the swarm. Unlike many of the luxury stores of the era, Selfridges billed itself as egalitarian, offering products at a wide range of prices. Selfridge turned his store into a theater of retail, showcasing spectacles and celebrity appearances to draw crowds. This merchandise giant continues to surprise and delight with pop-up shops, art installations, and a concept store.
PLAN YOUR TRIP: Visit Fodor's London Travel Guide