Pierre Monetta
There's a lot that goes into crafting the perfect dining experience, from a unique setting, to impeccable service, to innovative, world-class food. While some of these restaurants employ theatrical flourishes to make your meal unforgettable, others take a more subdued, simple approach to presenting amazing flavors. Either way, these restaurants (all but one of which have earned three Michelin stars) are among the best in the world, with prices to match. Foodies looking to check a few items off their bucket list should start with these extravagant restaurants around the world.
By Abbey Chase
Courtesy of Schloss Schauenstein
WHERE: Fürstenau, Switzerland
Housed in an 18th-century castle in the Domleschg valley with sweeping views of the surrounding mountains, Schloss Schauenstein forgoes New Age opulence for a classic, romantic atmosphere. Chef Andreas Caminada's menu follows a similarly uncomplicated approach, combining familiar ingredients with a focus on the five senses. Caminada and Schloss Schauenstein earned a third Michelin star in 2010 when Caminada was just 33, capping an impressive culinary career. Langoustine and foie gras are the two standouts of Caminada's menu, which masterfully combines a variety of flavors and textures.
Prix-fixe menus from $214/person (excluding beverages)
PLAN YOUR TRIP: Visit Fodor's Switzerland Travel Guide
Courtesy of Kitcho Arashiyama
WHERE: Kyoto, Japan
Succeeded only by Paris and Tokyo in terms of restaurants with three Michelin stars, Kyoto is home to an astonishing seven establishments with the illustrious distinction, but Kitcho Arashiyama has stood the ultimate test of time—owner-chef Kunio Tokuoka is the third generation to take a turn at the helm. Calling on traditional Japanese cuisine, Tokuoka deftly modernizes classic flavors and lets fresh fish take center stage in many of his dishes. Guests are served in private tearooms in the restaurant's 100-year-old building, which is surrounded by a traditional Japanese garden along the Katsura River.
Prix-fixe menus from $367/person (excluding alcohol)
PLAN YOUR TRIP: Visit Fodor's Kyoto Travel Guide
Francesco Tonelli
WHERE: New York City, New York
For a restaurant that always makes the short-list for best in the world, Eleven Madison Park doesn't take itself too seriously. The meal begins with a reinvented black-and-white cookie and continues with a distinct New York theme, bringing a sense of whimsy to its cathedral-like setting inside the Credit Suisse building. Swiss chef Daniel Humm and restaurateur Will Guidara purchased Eleven Madison Park in 2011 and gave it the Big Apple-inspired menu overhaul diners enjoy today, introducing more theatrics to the experience without overshadowing the food.
$225/person (excluding alcohol)
PLAN YOUR TRIP: Visit Fodor's New York City Travel Guide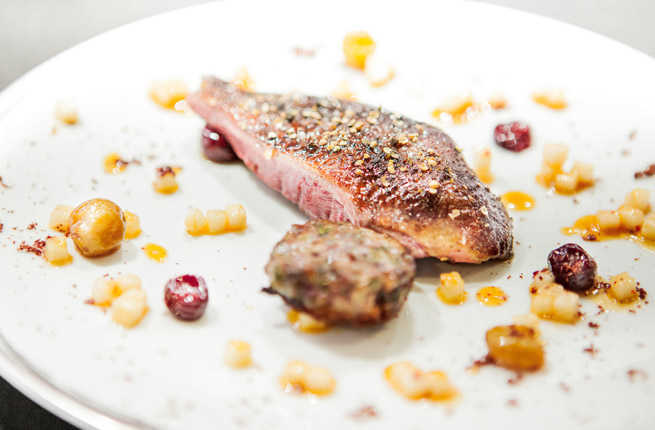 Pierre Monetta
WHERE: Paris, France
No one knows fine dining like Alain Ducasse, who owns three, three-Michelin-starred restaurants in Paris, London, and Monte Carlo. Ducasse took over Le Meurice, housed at the eponymous hotel opposite the Tuileries Garden, in 2013. Chef Christophe Saintagne, who honed his skills in two of Ducasse's other Parisian restaurants, oversees the distinctly French menu. Guests looking for a more intimate experience can reserve the Chef's Table (for up to 8 people) and enjoy a private dinner from a kitchen-side table. However, the main dining room is not to be missed; Philippe Starck redesigned the restaurant in 2007, modeling the space after the Salon de la Paix at Versailles.
$436/person (excluding alcohol; a la carte menu also available)
PLAN YOUR TRIP: Visit Fodor's Paris Travel Guide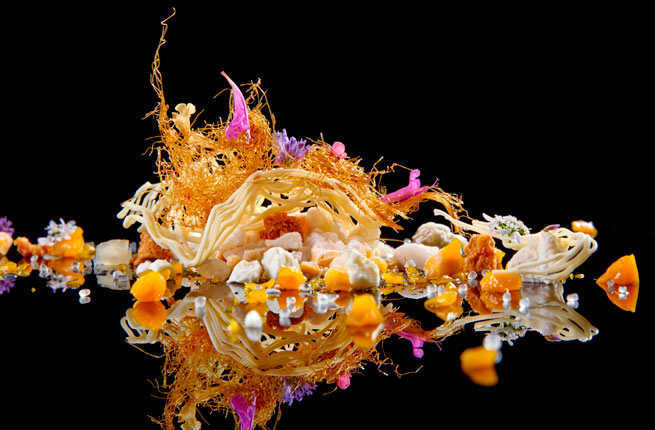 Christian Seel
WHERE: Chicago, Illinois
Diners should bring their sense of adventure along with their appetite when visiting Alinea, the Windy City's most illustrious and experimental restaurant. Chef Grant Achatz is the king of culinary deconstruction and has become known for his avant-garde approach to plating and presentation. Schatz's resume is a compilation of restaurant all-stars, taking turns at Charlie Trotter's, The French Laundry, and El Bulli before opening Alinea in 2005. From a table-top camp-fire, to a green apple balloon, to lily bulbs, Alinea delivers the drama along with its world-class cuisine. (Note: Alinea will be closed for six weeks over the summer for renovations)
$265/person (excluding alcohol)
PLAN YOUR TRIP: Visit Fodor's Chicago Travel Guide
Courtesy of Rome Cavalieri, Waldorf Astoria Hotels & Resorts
WHERE: Rome, Italy
A rooftop perch above the Rome Cavalieri Hotel, a luxe dining room decked out in Italian antiques, and an unencumbered view of the Dome of St. Peter's makes for a breathtaking setting at La Pergola. German chef Heinz Beck oversees the kitchen at the only three-Michelin-starred restaurant in the Eternal City. Housemade Italian bread, scampi tartare, decadent pasta dishes, osso bucco, and an all-Italian cheese selection, in addition to the 60,000-bottle wine cellar, make dining at La Pergola the perfect way to experience the best of Italian cuisine handled by one of the country's most skilled chefs.
$250/person (excluding alcohol; a la carte menu also available)
PLAN YOUR TRIP: Visit Fodor's Rome Travel Guide
Courtesy of Sublimotion
WHERE: Ibiza, Spain
The world's most expensive restaurant is the only one on our list without three Michelin stars, but when it comes to over-the-top dining, Sublimotion is second to none. The recently opened restaurant is the latest from decorated Chef Paco Roncero, who trained at El Bulli and holds two Michelin stars for La Terraza Del Casino in Madrid. At Sublimotion, a highly coordinated light show accompanies the 20-course meal in a 12-person dining room "space and time travel capsule" that makes for an entirely unique experience. Sublimotion is unconventional, to say the least, but foodies with deep pockets and a willingness to partake in Roncero's high-concept masterpiece will not be disappointed.
$1800/person (excluding alcohol)
PLAN YOUR TRIP: Visit Fodor's Ibiza Travel Guide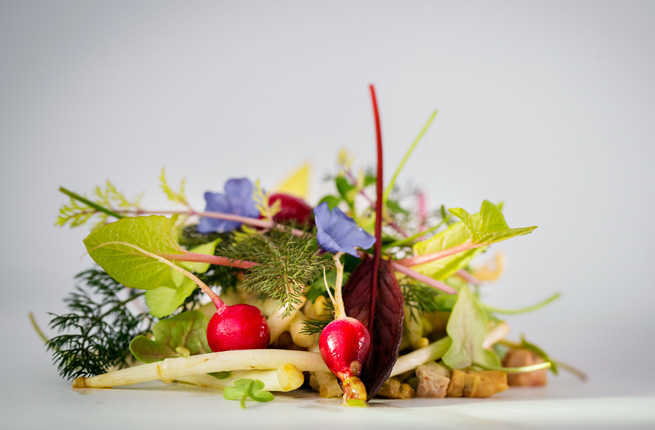 Kristof Vrancken
WHERE: Zedelgem, Belgium
Elegant and understated are apt descriptors for Gert De Mangeleer and Joachim Boudens' Hertog Jan, which just moved to its new building in a 180-year-old barn just outside Brugge. Boudens, the sommelier, begins the meal with a single sip of "homemade water" followed by champagne, wine, and beer pairings to complement Mangeleer's local-inspired cuisine. Mangeleer, named European Chef of the Year 2014, draws heavily from the on-site farm and his relaxed, refined approach to cooking ensures diners will see familiar favorites such as potato "crips," barbecued bacon, and black olive tapenade mixed in with more unusual flavor combinations.
Prix fixe menus from $130/person (excluding alcohol; a la carte menu also available)
PLAN YOUR TRIP: Visit Fodor's Brugge Travel Guide
Courtesy of Bo Innovation
WHERE: Hong Kong, China
There's nothing staid about chef Alvin Leung and his three-Michelin-starred Bo Innovation. Nicknamed the "Demon Chef," Leung has pioneered his own cuisine that he calls "X-treme Chinese," but despite its flashy name, Leung's cooking relies more on subtle culinary expertise than showmanship and theatrics. As a trained engineer, Leung is highly precise in his plating and cooking techniques, and he successfully balances molecular gastronomy with classic cuisine. Guests will find dishes simply called "Air" and "Molecular," followed by the more traditional giant grouper and lobster.
Prix fixe menus from $216/person (excluding wine pairings)
PLAN YOUR TRIP: Visit Fodor's Hong Kong Travel Guide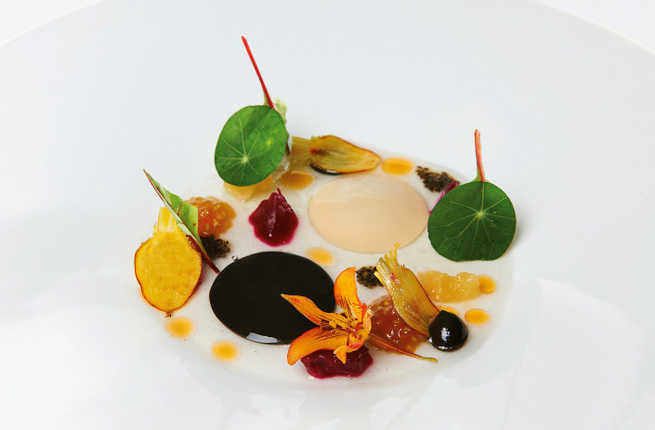 Courtesy of De Librije
WHERE: Zwolle, Netherlands
Having grown up in the surrounding area, chef Jonnie Boer is an expert at manipulating and coaxing out the best flavors from his locally sourced ingredients. Diners can have a hand in constructing their experience, with the option to choose from a selection of ingredients to be incorporated into the meal. A trip to De Librije is not without some theater; one dish is plated directly onto the diner's hand and the restaurant itself is sufficiently dramatic, housed in a 15th century Dominican abbey. Boer's wife, Thérèse, curates the extensive wine list, and guests looking to linger a little longer can check into one of De Librije's nine guestrooms in the adjoining hotel.
Prix fixe menus from $155/person (excluding alcohol; a la carte menu also available)
PLAN YOUR TRIP: Visit Fodor's Netherlands Travel Guide