Kmiragaya | Dreamstime.com
Skip the hot dogs and forget about peanuts and Cracker Jack—these days, America's best ballparks serve tacos, Korean fried chicken, Dungeness crab sandwiches, and so much more. Now more than ever, a day in the bleachers is a great way to sample a city's favorite flavors: cans of Budweiser have been replaced with local craft brews, while star chefs and local restaurants have opened up shop to serve fans looking to catch the next home run. Here's the scouting report on what to eat and drink this season at Major League Baseball stadiums across the nation, from Queens to San Diego. — Jess Moss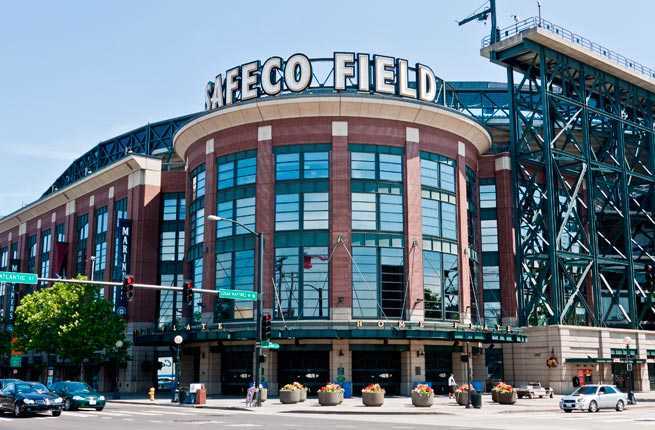 Afagundes | Dreamstime.com
Safeco Field
WHERE: Seattle, Washington
Safeco is considered by many to be the pinnacle of baseball stadium gastronomy. Park yourself in The 'Pen, a dining hub dominated by local star chef and Mariners fan Ethan Stowell. Try the Dungeness crab sandwich ($16) from Way Back Crab Shack, which comes on sourdough bread with Old Bay and lemon aioli. Other options around the park include fresh sushi, pasta, and a bevy of vegetarian, vegan, and gluten-free dishes at The Natural.
What to Drink: Local microbrews and craft cocktails are plentiful, but for something different, try the cask ales at the Short Stop stand.
PLAN YOUR TRIP: Visit Fodor's Seattle Travel Guide
Ffooter | Dreamstime.com
Citi Field
WHERE: Queens, New York
When it comes to food, Citi Field easily defeats its subway series rival, Yankee Stadium. Chef Danny Meyer has had a heavy hand in the ballpark's food program, with a Blue Smoke serving BBQ, a Shake Shack dishing Shackburgers, and an El Verano Taqueria stand serving, well, tacos. Meyer isn't the only big name feeding Mets fans—there are meatballs from Pat LaFrieda, seafood from Dave Pasternack, and Pressed, a grilled cheese restaurant helmed by Josh Capon.
What to Drink: Put down the Budweiser and try a local New York brew. The Empire State Craft beer stand has a huge selection of beer from Brooklyn Brewery to Upstate Brewing Company.
PLAN YOUR TRIP: Visit Fodor's Queens Guide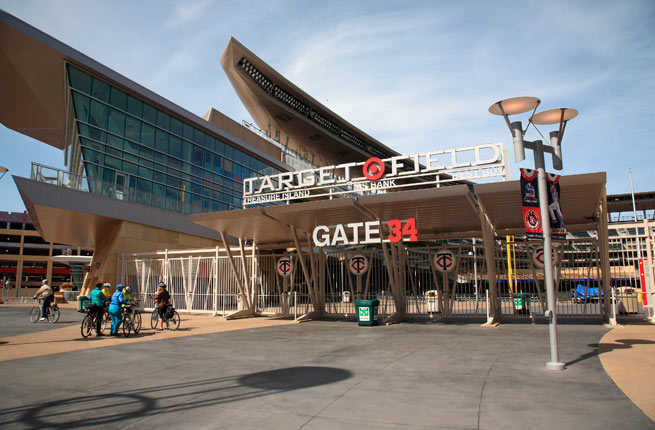 Ffooter | Dreamstime.com
Target Field
WHERE: Minneapolis, Minnesota
Another stadium that benefits from star chefs, Target Field is the hometown ballpark of Andrew Zimmern, so you know the eating's good. The food celeb's AZ Canteen crafts unexpected ballpark fare, such as the Korean fried chicken sandwich, served on a potato bun with a pineapple ring. Other vendors include James Beard–recognized Butcher and the Boar and Kramarczuk's, plus, a state-fair-inspired booth celebrating all things fried on a stick.
What to Drink: AZ Canteen gets raves for its non-alcoholic mint and cucumber–infused lemonade, but if you need something a little stronger try a Summit Extra Pale Ale, brewed in the other Twin City, St. Paul.
PLAN YOUR TRIP: Visit Fodor's Minneapolis-St. Paul Travel Guide
Actionsports | Dreamstime.com
Petco Park
WHERE: San Diego, California
Steps from the restaurant-rich Gaslamp Quarter, Petco Park puts on a strong show when it comes to SoCal flavors. There are tacos, of course, some of the best coming out from local obsessions Lucha Libre Taco Shop and Rubio's. There's also an outpost of the city's seafood master, Anthony's Fish Grotto, and a tasty tri-tip steak sandwich from Seaside Market.
What to Drink: Craft beer rules here, including drafts from local brewpubs Ballast Point, Stone Brewing Co., and Pizza Port. If that's not enough, visit the Craft Beers of San Diego stands, which only pour local suds.
PLAN YOUR TRIP: Visit Fodor's San Diego Travel Guide
Brodogg1313 | Dreamstime.com
AT&T Park
WHERE: San Francisco, California
While the Giants' stadium food lineup is as winning as their World Series record, it's the French fries that have everyone talking. You'll find garlic fries at many ballparks, but AT&T Park is home to the granddaddy of seasoned frites—Gilroy Garlic Fries. They're flavored with parsley and minced garlic from nearby Gilroy, California, which is known as "the garlic capital of the world." You also have a choice of steamed mussels, sushi, Caribbean-style bibimbap, and more.
What to Drink: Sure it's a ballgame, but when you're this close to wine country, there's no reason not to indulge. Local wines are available throughout the park at spots like Vintage 58 Wine Bar and the Farmer's Market vendor.
PLAN YOUR TRIP: Visit Fodor's San Francisco Travel Guide
Kmiragaya | Dreamstime.com
Marlins Park
WHERE: Miami, Florida
Ceviche at a baseball game? Welcome to Miami. The Taste of Miami concession hub at Marlins Park shows off the city's vibrant flavors, with seafood, Cuban sandwiches, and South Beach-body-friendly fare from well-known local eateries like Don Camaron and Papo Llega y Pon (2928 NW 17th Ave; 305-635-0137).
What to Drink: The beer selection isn't as robust as other ballparks, but in Miami there's a substitute: Bacardi. For a real scene, get a drink at the Clevelander, where DJs pump beats for bikini-clad fans who seem more excited about the swimming pool than the game.
PLAN YOUR TRIP: Visit Fodor's Miami Travel Guide
Bdingman | Dreamstime.com
Coors Field
WHERE: Denver, Colorado
The air may be thinner, but when it comes to food, Coors Field is all about the meat. CHUBurger and Helton Burger Shack both raise the gourmet beef stakes. There are Rocky Mountain oysters on hand, and this year the Taco Dog, a chorizo sausage with lettuce, cheese, pico de gallo, and sour cream, has fans abuzz.
What to Drink: You'll find plenty of local craft brews, but your best bet here is one you already know: Blue Moon. The beer was invented right here, at the stadium's brewery.
PLAN YOUR TRIP: Visit Fodor's Denver Travel Guide
Wickedgood | Dreamstime.com
Nationals Park
WHERE: Washington, D.C.
Representing not only D.C., but nearby Maryland and Virginia, Nationals Park's menu has a wide array of local treats. Crabs, chicken biscuit sandwiches, falafel, and shawarma are all on hand, as are outposts from top chefs Mike Isabella and Danny Meyer. Don't leave without trying the half smoke from Ben's Chili Bowl, a large, spicy sausage topped with similarly spicy chili. It's the District's signature dish and a delicious alternative to the standard stadium dog.
What to Drink: There's a respectable microbrew scene in D.C. and the surrounding area; District Drafts carts around the stadium carry a handful of popular local labels.
PLAN YOUR TRIP: Visit Fodor's Washington, D.C. Travel Guide
Wellesenterprises | Dreamstime.com
Globe Life Park
WHERE: Arlington, Texas
In Texas, it's go big or go home, at least when it comes to your caloric intake at the ballpark. Globe Life Park's State Fare stand features fried everything-you-can-imagine, from the Sm'Oreo, a deep-fried graham cracker/Oreo concoction, to chicken-fried corn on the cob. There are also two-foot-long hot dogs and beef teriyaki sandwiches. If that's not enough, a stand serves all things bacon—even bacon cotton candy.
What to Drink: Beat the Texas heat with a frozen beer, a slushy 16-ounce mixture of Kirin Ichiban.
PLAN YOUR TRIP: Visit Fodor's Texas Travel Guide
Sepavo | Dreamstime.com
PNC Park
WHERE: Pittsburgh, Pennsylvania
Food takes center stage at PNC Park, though not always on your plate. A crew of pierogi mascots race around the outfield in the middle of the game, celebrating the city's popular dish. You'll also get a solid taste of Pennsylvania here, from Rita's Italian Ice to Chickie's and Pete's crab fries to Pittsburgh's famous Primanti Bros. sandwiches. Local burger chain BRGR elevates the park's gourmet burger scene, and former Pirates catcher Manny Sanguillen serves up sandwiches at Manny's BBQ.
What to Drink: Craft beers have a strong presence at the stadium, with stands like Beers of the Burgh and Pub 475 pouring local labels, and two stadium bars that opened last season.
PLAN YOUR TRIP: Visit Fodor's Pittsburgh Travel Guide