Debby Wolvos
Is there any sweet treat more deliciously satisfying than ice cream? No matter what age, Americans love their scoops, whether in a cone or a cup, plain or loaded with toppings. Fortunately, the country is filled with top-tier ice cream shops, where inventive flavors dominate the menus. From an all-organic scoop parlor in San Francisco to a dairy-farm-based operation in the fields of rural Michigan, these shops serve up delicious treats made with only the finest seasonal ingredients. Here are our picks for America's best ice cream shops.
by Emily Wasserman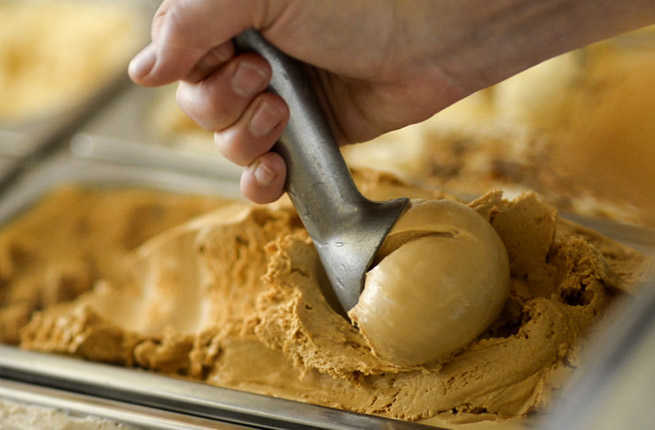 Paige Green
WHERE: San Francisco, CA
For ice cream with a conscience, look no further than Bi-Rite Creamery. The San Francisco scoop shop serves up unique flavors made with local, handmade ingredients, and was the first ice cream shop in the city to source its milk from an organic dairy. Visitors can devour sweet scoops of brown sugar with ginger caramel swirl, or try the honey lavender with Sonoma honey and organic dried lavender. Flavors are seasonal and depend on what's in stock, so look out for orange cardamom during the winter citrus harvests and balsamic strawberry during the summer strawberry crop.
PLAN YOUR TRIP: Visit Fodor's San Francisco Guide
Courtesy of Pumphouse Creamery
WHERE: Minneapolis, MN
When Barb Zapzalka opened Pumphouse Creamery in 2003, she envisioned a place that churned out ice cream with integrity. Now, the Minneapolis shop offers honest-to-goodness ice cream and cones made from natural and organic ingredients. A local milling company provides the grains and seeds for the store's waffle cones; brownies, graham crackers, and seven-layer bars in some of the shop's signature flavors are handmade by a local baker. In addition to 20 rotating flavors of ice cream, the shop also features seasonal fruit sorbets and non-dairy ice creams with a coconut milk base. For those who are craving a full-dairy sundae, shake, or scoop, the shop offers flavors like Door County cherry and sea salt caramel pecan.
PLAN YOUR TRIP: Visit Fodor's Minneapolis Guide
Hot Licks Homemade Ice Cream
WHERE: Fairbanks, AK
Alaska isn't usually associated with ice cream stores, but Fairbanks' Hot Licks Homemade Ice Cream defies expectation. The northerly shop makes all its flavors in individual batches, ensuring the ice cream remains fresh, homemade, and full of the best ingredients. Visitors can choose from more than 25 varieties, including Alaska blueberry and Kahlua. For those who want to up the sweetness factor, look for made-to-order ice cream sundaes and banana splits, or "Lime Rickeys" with tart lime juice and ice cream.
PLAN YOUR TRIP: Visit Fodor's Fairbanks Guide
(c) Lucy Schaeffer
WHERE: Brooklyn, NY
Few ice creameries boast 100%, made-from-scratch products, but Ample Hills Creamery offers just that. The old-fashioned Brooklyn ice cream parlor started as the brainchild of Brian Smith, a former sci-fi screenwriter who checked out of the entertainment industry to churn out ice cream. Flavors are just as eclectic as Smith's resume, and include Salted Crack Caramel made with "crack cookies"—Saltine crackers, sugar, butter, and chocolate—and Nonna D's Oatmeal Lace with pieces of oatmeal cookies. Visitors can choose from more than 20 unique varieties, or visit Smith's antique "dipping cabinet" to scope out more untraditional flavors. For the ultimate treat, try the Crossing Brooklyn Ferry Sundae with a warm, homemade fudge brownie.
PLAN YOUR TRIP: Visit Fodor's Brooklyn Guide
Joshua Cogan
WHERE: Washington, D.C.
Husband-and-wife team Robb Duncan and Violeta Edelman serve up authentic Argentinean gelato with a global twist at Dolcezza. The D.C. gelato shop grew out of an idea Duncan had while living in Buenos Aires, as he fell in love with the product and local gelatarias. The couple use specially imported gelato-making machines to churn out small batches and craft exotic flavor combinations based on seasonal produce. Customers can sample gold rush apples and quince varieties in the fall, or indulge in citrus or crooked-necked pumpkin flavors in the winter. Visitors can also take free tours of the shop's production facility, and sample freshly spun gelato and sorbetto.
PLAN YOUR TRIP: Visit Fodor's Washington, D.C. Guide
Courtesy of Moomers Homemade Ice Cream
Moomers Homemade Ice Cream
WHERE: Traverse City, MI
Located on a dairy farm in rural Michigan, Moomers draws long lines for its fresh, premium ice cream. The scoop shop processes its own milk at a small, on-site creamery, and makes more than 120 flavors. Visitors can devour scoops of black cherry ice cream with pieces of real Northern Michigan black sweet cherries, or dig into the "choc-o-holic," chocolate ice cream with chocolate swirl, brownies, and chocolate flakes. Try a specialty sundae like the Tinroof, with chocolate syrup and Spanish peanuts, or opt for a traditional banana split with pineapple, whipped cream, and cherry. For the ultimate ice cream indulgence, try the Wholey Cow—10 scoops of ice cream with every topping, plus an entire can of whipped cream.
PLAN YOUR TRIP: Visit Fodor's Traverse City Guide
WHERE: New Orleans, LA
Stepping into New Orleans' Creole Creamery feels a little like walking into a time machine. The 1950s-style ice cream parlor is paved with black-and-white tiles, and families sit at a soda counter with old-fashioned malts and sundaes. In addition to the flavor staples—vanilla, chocolate, strawberry and mint chip are always in supply—visitors can also sample varieties such as blueberry Danish, chocolate chai, and tangerine dreamsicle. For those who can't decide, the ice cream sampler is the best bet. The shop offers a sampler platter with four to six mini scoops of a customer's favorite flavors. But for the brave at heart, nothing beats the Tchoupitoulas Challenge. The specialty sundae is made with eight scoops of cream and your choice of eight toppings, and is served with whipped and cherries.
PLAN YOUR TRIP: Visit Fodor's New Orleans Guide
Leela Cyd Ross
WHERE: Portland, OR
It's a family affair at Portland's Salt & Straw. Owner Kim Malek started the business after giving up a career in corporate America, and enlisted the help of her cousin Tyler—a recent culinary graduate—to create the shop's signature flavors. Made from all-natural dairy products from local farms, the store's sweet scoops boast the finest sustainable and organic ingredients. Visitors can sample flavors ranging from pear with blue cheese, to sea salt ice cream with caramel ribbon. The shop also features a rotating menu of unique flavors, including a cocktail series which re-imagines classic cocktails in ice cream form. The chocolate chip mint julep with fresh mint, and rhubarb and saffron in champagne, are popular favorites.
PLAN YOUR TRIP: Visit Fodor's Portland Guide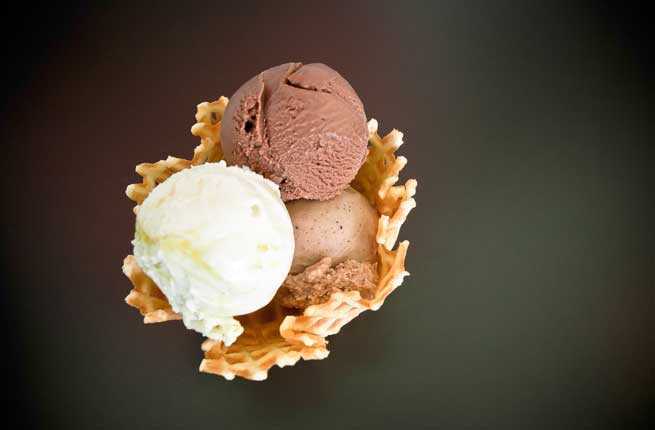 Dustin Meyer Photography http://austinfamilyphotos.com
WHERE: Austin, TX
The Texas state capital is home to one of its finest ice cream establishments, Lick Honest Ice Creams. The shop stays true to its name, offering seasonally inspired flavors made from fresh, local produce with no artificial sweeteners. Flavors are written on large index cards and hang off a ladder on one end of the shop, covered in bright, robin's egg blue paint. Top selling flavors include cilantro lime and a 100% vegan variety, coconut, peanut butter, and chocolate swirl.
PLAN YOUR TRIP: Visit Fodor's Austin Guide
WHERE: Chicago, IL
Tucked away in Chicago's Ukranian Village and Roscoe Village, Black Dog Gelato delights customers with its unique flavor combinations and rich, creamy frozen treats. Owner Jessica Oloroso started her career as a pastry chef, and uses her experience in the kitchen to whip up flavors like goat cheese cashew caramel and maple cayenne bacon. To go all out, order the "sundae station" package with 6-8 classic sundae toppings, custom additions like brandied cherries or candied bacon, fresh fruit, and homemade caramel.
PLAN YOUR TRIP: Visit Fodor's Chicago Guide
Jeni's Splendid Art & Design
Jeni's Splendid Ice Creams
WHERE: Columbus, OH (several Midwestern and East Coast locations)
Few ice cream establishments have made as big of a bang as Jeni's Splendid Ice Creams. The shop started in Columbus, when founder Jeni Britton Bauer began selling her sweet treats at a local market. The business has since expanded, but remains true to its artisan roots. Ice creams are made with milk from grass-grazed cows and homemade or all natural mix-ins. Bauer pays homage to the shop's Ohio roots, and includes a crunchy blend of salted peanut butter and tangy dark chocolate in her creations. Flavors vary by season, and visitors can sample everything from "Cherries Kickapoo" to hot toddy sorbet. Don't miss the ice cream sandwiches; popular sellers include the Orchid Vanilla, with two chewy, almond macaroon cookies and vanilla bean ice cream, and the salty caramel with chopped smoked almonds and golden macaroons.
PLAN YOUR TRIP: Visit Fodor's Columbus Guide
Debby Wolvos
WHERE: Scottsdale, Phoenix, AZ
Many ice cream lovers rarely venture from the standard vanilla or chocolate, but Scottsdale's Sweet Republic takes visitors on a global adventure. Co-owner Helen Yung draws upon her world travels for inspiration for her innovative flavors, which include chocolate orange Sichuan peppercorn and the Cheese Course Duo, an innovative combination of blue cheese and Arizona Medjool dates. The selection changes regularly, and the shop boasts more than 24 flavors of all-natural ice cream, sorbet, and yogurt. If you're feeling indulgent, splurge on one of the sweet sundaes, shakes, or floats. The toffee banofi sundae includes two scoops of Madagascar vanilla with almond toffee brittle, fresh bananas, whipped cream, and salted caramel sauce, all served in a homemade waffle bowl.
PLAN YOUR TRIP: Visit Fodor's Scottsdale Guide
Courtesy of Hank's Ice Cream
WHERE: Houston, TX
A Houston institution, Hank's Ice Cream has been serving up old-fashioned ice cream for more than 20 years. The ice cream parlor features 18 flavors daily, but boasts a long list of nearly 100 varieties. Visitors can enjoy cones at old-fashioned tables in the brightly colored storefront, or savor a scoop on the go. Popular flavors include rum raisin, blueberry cheesecake, and banana pudding, although the shop also offers a sinfully rich "just chocolate" flavor for ice cream purists.
PLAN YOUR TRIP: Visit Fodor's Houston Guide
Courtesy of Glacé Artisan Ice Cream
WHERE: Kansas City, MO
Sometimes it takes an expert to craft the best flavors of ice cream, and Kansas City's Glacé Artisan Ice Cream is proof. Founded by one of the city's top chocolate makers with a penchant for frozen dessert, the shop goes back to basics to craft its gourmet ice creams and treats. Visitors can sample intense flavors like spiced dark chocolate or fleur de sel caramel, or opt for a lighter variety like white peach sorbet or Madagascar vanilla. The shop features new flavors each week that draw on the season's freshest ingredients, and popular summer varieties include roasted strawberry and "Boulevard 6th Glass" made with Kansas City ale. For something a little different, try one of the store's salted pretzel root beer floats or hand-dipped ice cream bars.
PLAN YOUR TRIP: Visit Fodor's Kansas City Guide
Christopher Nelson
Molly Moon's Homemade Ice Cream
WHERE: Seattle, WA
The joy is almost palpable when walking into one of Molly Moon's Seattle-based ice cream shops. Visitors line up for scoops of the shop's premium product, which is made with the finest seasonal, local produce and organic, fair-trade ingredients. Flavors rotate by season, but classic varieties are always available, including balsamic strawberry, honey lavender, and melted chocolate that dissolves in your mouth. Vegans can also partake in the creamy, sugary goodness, as the shop offers a cherry chunk flavor made without dairy.
PLAN YOUR TRIP: Visit Fodor's Seattle Guide