Courtesy of Sesame Burgers & Beer
From In-N-Out and White Castle to menus from Jean-Georges Vongerichten and Daniel Boulud, no food spans the gap between high-end and budget dining like the classic American burger. Yet while there are many great burgers in bars and restaurants across the country, there's nothing quite like burger joints, where you're spoiled for choice when it comes to toppings, sides, and shakes. Whether you're in search of the birthplace of the American burger or a spot with a more modern twist, here are ten of America's best burger joints.
By Abbey Chase
Pableaux Johnson
The Company Burger
WHERE: New Orleans, Louisiana
It starts with the perfect combination of house-ground brisket and chuck, perfectly cooked on a flattop griddle to maintain a juicy center. For The Company Burger chef and owner Adam Biderman, the menu starts and ends with his expertly crafted burger, the hallmark of a true American joint. The namesake Company Burger combines two patties with American cheese, house-made butter pickles, and red onions, and a sprawling condiments bar, with five mayo options, helps you top off your burger. For even more indulgence, try the hand-cut fries or onion rings, or opt for the lower-cal lamb or turkey burgers.
PLAN YOUR TRIP: Visit Fodor's New Orleans Travel Guide
Paul Sobota
B Spot
WHERE: seven locations in Ohio and Michigan
Michael Symon has long been a known chef in the Cleveland area, but his transcendentally delicious burgers have made him famous on the national stage (in addition to his stint on Iron Chef). The award-winning Fat Doug brings the best deli offerings, featuring a beef patty with coleslaw, pastrami, mustard, and Swiss cheese. Endless options for customization, with unique offerings like salami and cilantro, let you tailor your burger exactly to your liking. Beer and bourbon lovers will find plenty to sip on at B Spot with a long list of craft beers and thirteen bourbons to choose from, not to mention the spiked milkshakes.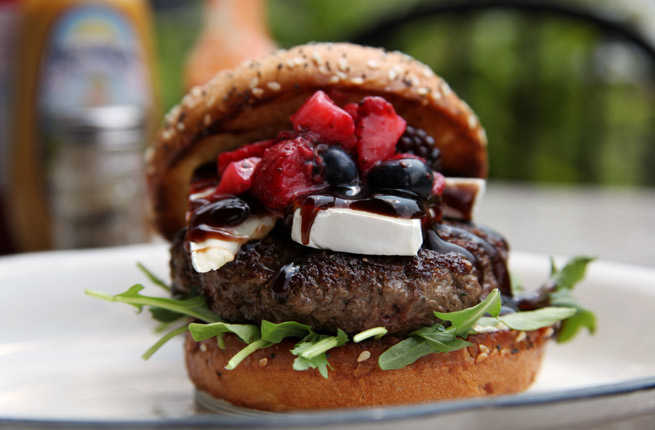 Angela Lee
Grange Hall Burger Bar
WHERE: Chicago, Illinois
At first glance, Grange Hall is the caricature of an upscale burger joint, with plaid-clad employees, Mason jar water glasses, and mismatched dishtowels for napkins, but the burgers deliver authentic, high-quality taste. Juicy beef burgers are perfectly sized and don't overwhelm the fluffy bun, house-made pickles, or crispy fresh vegetables, while chicken, turkey, and two kinds of veggie patties provide leaner options. Hearty but modest portions of fries and beer-battered onion rings make for an excellent accompaniment, and Grange Hall makes many of its own sauces, including a tangy, sweet homemade ketchup. Craft beers and a thoughtful cocktail lineup both offer tantalizing sips, but there is no topping the decadent bourbon caramel malt milkshake.
PLAN YOUR TRIP: Visit Fodor's Chicago Travel Guide
Courtesy of Sesame Burgers and Beer
Sesame Burgers and Beer
WHERE: three locations in the greater Charleston, South Carolina, area
Like all good burger joints, Sesame Burgers is a no-fuss affair, but it still has a detail-oriented menu sure to please even the most fastidious eater. Choose from a beef, black bean, chicken, or turkey burger and top with a selection of accompaniments from the restaurant's fifty-four offerings, including fourteen types of cheese and unconventional additions like banana slices and homemade peanut butter. The three Charleston locations locally source their hormone-free, pasture-raised beef and are housed in ecologically built restaurants made from sustainable materials.
PLAN YOUR TRIP: Visit Fodor's Charleston Travel Guide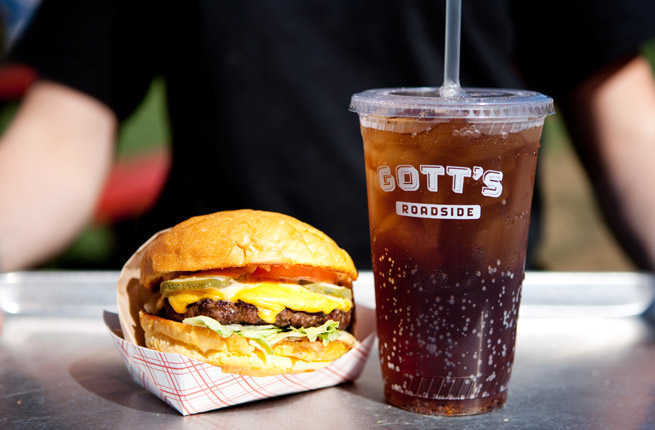 Robb McDonough
Gott's Roadside
WHERE: St. Helena, California
Originally named Taylor's Refresher, this burger joint opened on Main Street in St. Helena in 1949 and was rebranded Gott's Roadside in 2010 by the Gott brothers, who gave the California favorite a makeover while still maintaining its mid-century charm. After braving the undoubtedly long line, you'll be rewarded with a perfectly cooked, made-to-order burger. Opt for the classic bacon cheeseburger, served with all the usual toppings, or try the ahi tuna burger, a Gott's signature. Gott's also serves beer and wine, adding a sophisticated twist to the reimagined American drive-in. Though the atmosphere at the St. Helena location can't be beat, keep an eye out for other Gott's locations in San Francisco, Palo Alto, and Napa.
PLAN YOUR TRIP: Visit Fodor's St. Helena Travel Guide
Louis' Lunch
WHERE: New Haven, Connecticut
If you're looking for the authentic American burger experience, your search will begin and end at Louis' Lunch. The 120-year-old institution is often credited with creating the hamburger in 1900, when owner Louis Lassen served a ground beef sandwich to a customer in a hurry. Now run by Louis' great grandson, Louis' Lunch has changed little since then, still housed in its historic location on Crown Street, and the interior looks much as it did in 1895. The menu is simple enough—a $6 burger, potato salad, chips, pie, and various beverage options—but first-time visitors will find plenty to puzzle over while listening to regulars order in coded "Louis' Lingo."
PLAN YOUR TRIP: Visit Fodor's New Haven Travel Guide
Courtesy of Solly's Grille
Solly's Grille
WHERE: Milwaukee, Wisconsin
There is perhaps nothing more Midwestern than a butter burger, a self-explanatory culinary marvel only for the truly brave (and very hungry). A Milwaukee establishment since 1936, Solly's is widely credited with inventing this dauntingly mouthwatering take on the classic burger. Order the original Solly burger, and you'll find your sirloin burger topped with onions and a generous pat of Wisconsin butter that slowly melts as you eat. Despite its national reputation, Solly's maintains its homey atmosphere, and if you have room for dessert, try a slice of the house-made cherry pie.
PLAN YOUR TRIP: Visit Fodor's Milwaukee Travel Guide
Mr. Bartley's Gourmet Burgers
WHERE: Cambridge, Massachusetts
With burgers named after everyone from Barack Obama to Tom Brady, Mr. Bartley's couples its delicious burgers with a cheeky sense of humor. The Harvard Square joint has been serving Bostonians since 1960 in a dining room shabbily outfitted with posters and bumper stickers, making it feel more like a dorm room than a restaurant. Purists should opt for the traditional bacon cheeseburger—known here as The "Gronk"—while more adventuresome diners can dig into burgers topped with everything from macaroni to grilled pineapple.
PLAN YOUR TRIP: Visit Fodor's Boston Travel Guide
Burger Up
WHERE: Nashville, Tennessee
Located in Nashville's 12South neighborhood, Burger Up is about more than just delicious, locally sourced beef. Miranda Whitcomb Pontes opened Burger Up in 2010 hoping to build a "community-driven restaurant," and she has turned her business into a neighborhood mainstay, keeping people coming back to her comfort foods done right. The appetizer menu will give repeat visitors plenty to dig into, but the highlight is the burger lineup. The Woodstock burger puts a Tennessee twist on the classic bacon cheeseburger (made with Tennessee white cheddar and Jack Daniels maple ketchup), while lamb, bison, turkey, mushroom, salmon, and quinoa and black bean burgers round out the menu.
PLAN YOUR TRIP: Visit Fodor's Nashville Travel Guide
Courtesy of Burger Joint
Burger Joint
WHERE: New York, New York
The menu at Manhattan's Burger Joint is as no-nonsense as its name: Choose from a hamburger, a cheeseburger, or a double cheeseburger and wash it all down with a pitcher of beer. Tucked inside Midtown's swanky Le Parker Meridien hotel, Burger Joint has the true feel of a dive, with vinyl booths crammed into a tiny, windowless space and graffiti scrawled on the walls. The cash-only spot is not exactly one of Manhattan's best kept secrets, so expect a winding line through the impressive hotel lobby if you go during peak hours. Burger Joint now has another location in Greenwich Village on West 8th Street, offering more spacious environs and boozy milkshakes.
PLAN YOUR TRIP: Visit Fodor's New York City Travel Guide