Andrea Behrends
In America's cities from coast to coast, brunch has become a way of life. Whether recovering from a big night out or just looking to start the day day in style, both city dwellers and travelers find that a delicious brunch is the ultimate incentive to head out on a weekend morning. At these detour-worthy eateries, fans of classics like omelets and French toast have plenty to dig into, while more adventurous diners will find an array of innovative dishes. For your next round of Sunday morning mimosas, head to one of our favorite brunch spots in the country.
By Abbey Chase
Courtesy of La Condesa
WHERE: Austin
For brunch with a south-of-the-border twist, this James Beard Foundation nominee is the perfect stop. Austin-favorite La Condesa dishes out creative Mexican fare, perfect for diners looking for something unusual, in its minimalist, brightly lit dining room. Poached shrimp, wild boar chorizo, duck fat-braised potatoes, and quinoa croquettes pair with fresh vegetables and various salsas, while a white mountain yogurt parfait and a Spanish variation of French toast will satisfy any sweet tooth.
PLAN YOUR TRIP: Visit Fodor's Austin Travel Guide
David L. Reamer
WHERE: Portland
The recently remodeled Tasty n Sons is the quintessence of a casual neighborhood brunch place with a no-frills dining room and modern menu. Executive chef John Gorham uses his traveling experience to mesh global cuisine with American favorites, resulting in a tantalizing brunch line-up. You'll find everything from a traditional English breakfast, to Burmese red pork stew, to Moroccan chicken hash on Gorham's menu, also packed with reimagined favorites like a chocolate potato doughnut and sweet huckleberry biscuits. Six different Bloody Marys and a host of other breakfast cocktails round out the morning offerings.
PLAN YOUR TRIP: Visit Fodor's Portland Travel Guide
Courtesy of Cliff's Edge
WHERE: Los Angeles
Don't let the unassuming exterior fool you; Cliff's Edge is as much about the atmosphere as the food. Brunch is served every weekend al fresco on the restaurant's lush, tiki-esque patio, designed by an illustrious local interior designer and urban developer. Chef Vartan Abgaryan's "modern Californian" menu combines brunch staples with West Coast-inspired flavors. Lemon and ricotta pancakes and brioche "bread pudding" French toast are two of the more decadent options, while diners looking for something more savory can tuck into pork belly hash with feta and Brussels sprouts, or a breakfast rendition of pasta carbonara.
PLAN YOUR TRIP: Visit Fodor's Los Angeles Travel Guide
Courtesy of Kingsbury Street Cafe
WHERE: Chicago
If you're lucky enough to be in the Windy City on a sunny, warm day, there's no better place to enjoy the pleasant weather while you eat than Kingsbury Street Cafe. Try a custom-made omelet or the always-decadent rotating French toast next to floor-to-ceiling windows, or opt for the more unusual breakfast quinoa or miso tofu scramble, and grab a seat on the patio along Kingsbury Street in the Near North neighborhood. Line too long? Grab one of the homemade pastries to go.
PLAN YOUR TRIP: Visit Fodor's Chicago Travel Guide
Colin Lacy
WHERE: New Orleans
Jazz music and brunch go hand-in-hand in the Big Easy, and Atchafalaya hits all the right notes with an indulgent New Orleans-style menu. Executive chef Chris Lynch whips up shrimp and grits, duck hash, and a variety of egg dishes plated alongside local favorites such as popcorn crawfish and alligator sausage. While a line at Atchafalaya is likely, a teeming Bloody Mary bar and a lively, bustling atmosphere will keep things interesting during the wait for this authentic NOLA brunch.
PLAN YOUR TRIP: Visit Fodor's New Orleans Travel Guide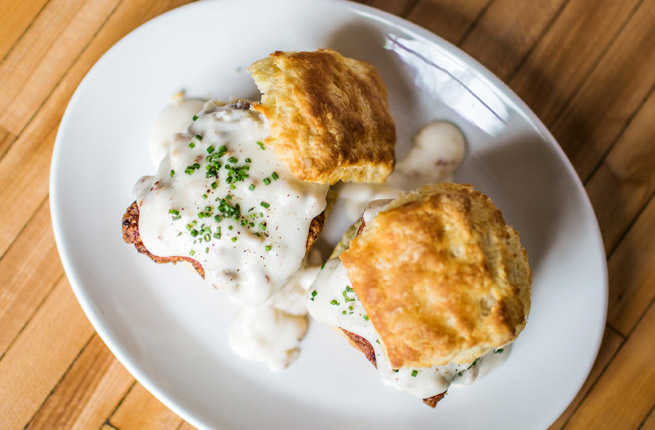 Andrea Behrends
WHERE: Nashville
With a bowling alley, bocce ball court, and outdoor pool, Nashville's Pinewood Social begins to look more like a rec center than a restaurant, but the ultra-hip "social gathering place" is the ideal spot to start your day in Music City. Luckily, the slightly nutty concept has in no way hindered the menu, stocked with Southern-inspired favorites like fried green tomatoes, chicken and biscuits, and a smoked trout omelet. Diners should opt for the indulgent Crema Cuban, espresso mixed with sweetened condensed milk, to complement their brunch.
PLAN YOUR TRIP: Visit Fodor's Nashville Travel Guide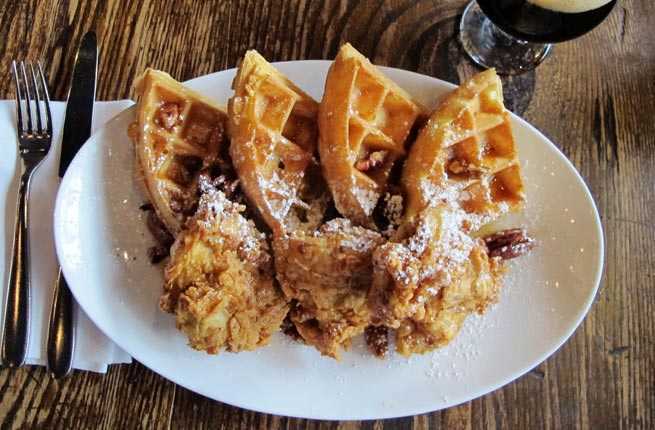 Courtesy of Birch & Barley
WHERE: Washington, D.C.
Carbs and cocktails dominate at this Logan Circle spot, where the $30 boozy brunch special gets you two cocktails, freshly fried donut holes, bottomless coffee, and any entrée. Choices range from fried chicken and waffles, to a fig and prosciutto flatbread, in addition to the usual brunch offerings. Enjoy the best of pastry chef Tiffany MacIsaac's offerings in Birch & Barley's wood-accented dining room lit by twinkling exposed light bulbs. Grab a coffee at the upstairs Churchkey bar while you wait for your table.
PLAN YOUR TRIP: Visit Fodor's Washington, D.C. Travel Guide
Charlie Villyard
WHERE: San Francisco
Expect to make a dramatic entrance when you brunch at Foreign Cinema, whose entryway leads visitors down a red carpet into a sweeping indoor-outdoor dining room. The menu, prepared by San Francisco veteran chefs Gayle Pirie and John Clark, is equally impressive. Look for organic fuji apple "pop tarts," lavender warmed goat cheese served with toast, duck leg confit, and any of the fresh seafood offerings. Foreign Cinema is one of the elusive brunch restaurants that takes reservations, so plan ahead to avoid a long wait.
PLAN YOUR TRIP: Visit Fodor's San Francisco Travel Guide
Anthony Leslie
WHERE: New York City
Picking one brunch spot in any city is tough, let alone in one as brunch-inclined as New York, but Buttermilk Channel is one of the best with a simply delicious, uncomplicated menu. Named after the nearby strait that runs between Brooklyn and Governors Island, the Carroll Gardens restaurant dishes out brunch every weekend to a crowd of tourists and locals alike in a refurbished Red Hook warehouse. Chef Ryan Angulo's comfort food menu finds originality in its details: scrambled eggs come with house-cured lox, Bloody Marys are garnished with homemade pickles, and French toast is served "pecan pie" style with bourbon and molasses.
PLAN YOUR TRIP: Visit Fodor's New York City Travel Guide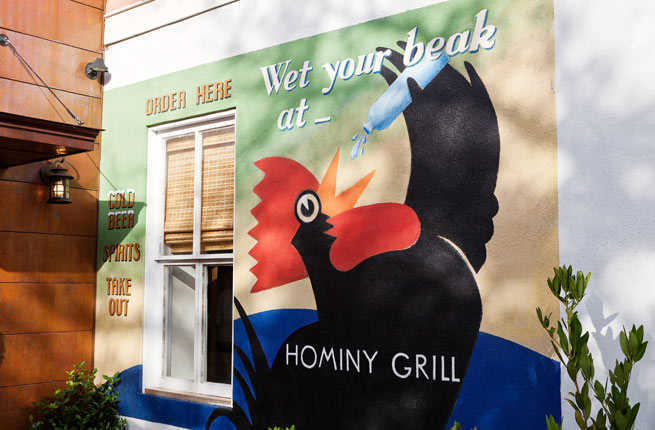 Squire Fox
WHERE: Charleston
Helmed by James Beard Award-winning chef Robert Stehling, Hominy Grill delivers authentic, Low Country breakfast favorites served in a quaint, repurposed barbershop. Homemade sausage and locally sourced grits make Stehling's menu stand out with impressively fresh flavors. While you'll be spoiled for choice at Hominy Grill, with reimagined Southern favorites like salmon potato cakes and a fried green tomato B.L.T., the Charleston Nasty Biscuit—a flaky, buttery biscuit served with fried chicken breast, cheddar cheese, and sausage gravy—is a must-try.
PLAN YOUR TRIP: Visit Fodor's Charleston Travel Guide