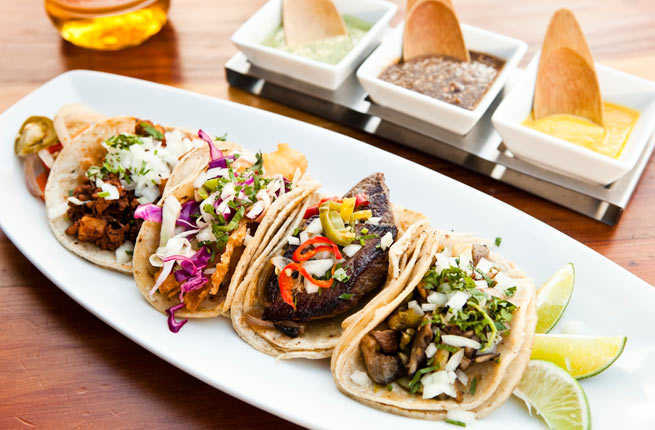 Erin Kunkel
With expertly homemade tortillas, succulent meats, and intensely flavorful salsas, the perfect taco packs a lot of flavor into every single bite. As the latest street food to receive a highbrow makeover, tacos lend themselves well to innovative chefs looking to put a personal spin on a classic. While a few of the restaurants featured here have menus with a unique twist, most stick to basics and serve up simply delicious, traditionally prepared street tacos. Here are ten of our favorite taco joints across the country, serving up the perfect food for warm weather.
By Abbey Chase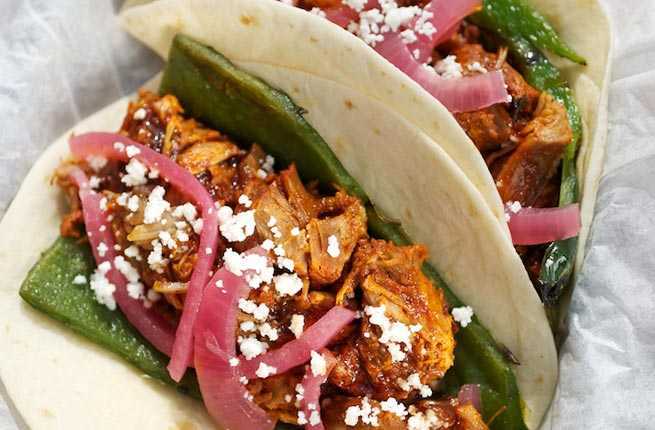 Jody Horton
Tacodeli
WHERE: Austin, Texas
In a town packed with authentic Mexican food, there are countless great taco joints to choose from, but Tacodeli has become an Austin institution. Mexico City native Roberto Espinosa started the chain in 1999 as an homage to his home and has continued to turn out some of the best housemade sauces and locally sourced ingredients in Austin for the last sixteen years. With twenty-seven tacos to choose from (not including the ten breakfast tacos), you'll have to visit one of the five locations more than once to try them all. Start with the signature El Conquistador, made with slow-roasted pork shoulder, chile pasilla sauce, avocado, cilantro, and onion, or the portobello-based Space Cowboy vegetarian option.
PLAN YOUR TRIP: Visit Fodor's Austin Travel Guide
Courtesy of Pinches Tacos
Pinche Tacos
WHERE: Denver, Colorado
"Tacos. Tequila. Whiskey." The sign outside Pinche Tacos is intentionally coy because of the disputed political correctness of its name, but otherwise, owner Kevin Morrison doesn't beat around the bush and serves up classic tacos that don't go overboard with unusual ingredients. What started as a food truck moved to a brick-and-mortar location in the Mile High City in 2010 and has since expanded to two locations, both decked out in cheeky, Mexican décor and providing a comprehensive tequila list to browse during your wait (the Highlands location also has a patio, perfect for spring dining). The pork belly and pollo a la crema tacos and several tempting vegetarian options are some of the menu's standouts.
PLAN YOUR TRIP: Visit Fodor's Denver Travel Guide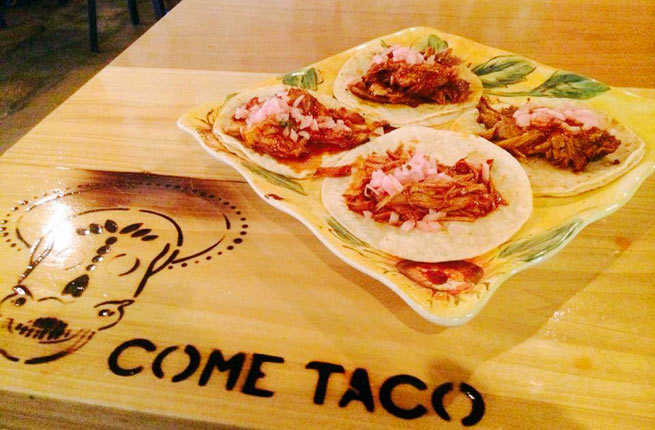 Courtesy of El Come Taco
El Come Taco
WHERE: Dallas, Texas
You'll find everything you would expect at a shabby-chic taqueria at El Come Taco (2513 N Fitzhugh Avenue; 214-821-3738): brightly colored walls, a cartoony calavera logo, blonde wood accents, and a laidback vibe. While Luis Villalva delivers on the relaxed atmosphere, his menu is anything but predictable. You'll find traditional, street-style tacos in familiar flavors like al pastor and brisket, but he serves exquisitely prepared beef cheek and tongue as well. Try one of the tacos de la casa, which come with potatoes and nopales, a kind of cactus. Whether you're feeling adventurous or looking to stick to the classics, all of Villalva's tacos are served with a recommended, housemade salsa to perfectly complement every flavor.
PLAN YOUR TRIP: Visit Fodor's Dallas Travel Guide
Courtesy of Tortilleria Nixtamal
Tortilleria Nixtamal
WHERE: Corona, New York
This Queens standout dispels the myth that the best tacos can be found only in the West. Fernando Ruiz lures diners from all over with his signature, tantalizingly fresh masa tortillas that serve as the perfect taco base, all created by machinery he imported from Mexico. Simply garnished with cilantro, onions, and a few choice ingredients, the tacos rely on their succulent meat and flavorful tortillas for the heavy lifting. The sweet and spicy al pastor is a favorite at Tortilleria Nixtamal, but don't miss the skirt steak either. You can also try Ruiz's tortillas at several popular Mexican restaurants in Brooklyn and Manhattan.
PLAN YOUR TRIP: Visit Fodor's New York City Travel Guide
Beef Bureau
Antique Taco
WHERE: Chicago, Illinois
Despite its location in the heartland, Chicago has a surprisingly long list of great taco joints, but skip the dizzying lines at Big Star and head to nearby Antique Taco for a more laidback, delicious experience. The quaint, cozy corner restaurant in Wicker Park features a menu with subtle Asian and Mediterranean influences, including flavors like tamarind, Sriracha tartar sauce, and pumpkin seeds. The sweet and spicy chicken taco, served with cucumber, honey yogurt, and purple onions, is not to be missed, and be sure to order Antique Taco's signature rosemary margarita to wash it all down. Enjoy the homemade Mexican chocolate pop tart and grab a seat on the patio to take in the fleeting few days of Chicago spring.
PLAN YOUR TRIP: Visit Fodor's Chicago Travel Guide
Courtesy of La Puerta
La Puerta
WHERE: San Diego, California
La Puerta keeps it simple: great tacos and freshly squeezed margaritas. Set on "improving people's lives one tequila shot at a time," the Gaslamp Quarter restaurant features happy hour from 3-7 p.m. every day, in addition to $2 tacos on Tuesdays. Tequila lovers will find plenty to sip on with more than 125 tequilas to choose from, ranging from smooth blancos to smoky mezcals. On busy nights, take advantage of La Puerta's call ahead seating to cut your wait time.
PLAN YOUR TRIP: Visit Fodor's San Diego Travel Guide
Courtesy of Guerilla Tacos
Guerilla Tacos
WHERE: Los Angeles, California
Asking Angelenos to agree on the best taco is like getting New Yorkers to pick the best bagel, and while the City of Angels is full of some of the best Mexican food north of the border, Guerrilla Tacos stands out. Chef Wes Avila trained under Alain Ducasse in Paris before his culinary career led him to a taco cart in the Arts District of L.A. Now housed in a truck, Guerilla Tacos serves up inventive, wallet-friendly street tacos with a hint of Avila's fine-dining history. Wild boar, braised oxtail, and lamb kidney make appearances on the menu. The truck parks in three locations around Los Angeles depending on the day, so be sure to check its website for locations and daily menus before stopping by.
PLAN YOUR TRIP: Visit Fodor's Los Angeles Travel Guide
Courtesy of Restaurant Atoyac
Restaurant Atoyac
WHERE: Phoenix, Arizona
Phoenix favorite Tacos Atoyac shocked fans when it suddenly closed its doors last spring, but owner Pablo Lopez has reopened under a new name offering the same, ever-popular Oaxacan-style tacos and street food. Restaurant Atoyac is a dive in every sense of the word, with stark surroundings and highly affordable fare, but the incredible tacos will more than make up for the less than atmospheric setting. Don't leave without trying the fish taco, made with perfectly battered catfish and topped with onions, shredded cabbage, and jalapeno vinegar. If you have room, sample the tlayuda, an Oaxacan take on pizza with a particularly crispy crust.
PLAN YOUR TRIP: Visit Fodor's Phoenix, Scottsdale, and Tempe Travel Guide
Erin Kunkel
Tacolicious
WHERE: San Francisco, California
The whimsically named Tacolicious has evolved from a taco stand at the Ferry Plaza Farmer's Market to one of the best taco spots in the city. Four locations in the Bay Area boast an extensive tequila lineup and dish out innovatively modified flavors. You'll find shot-and-a-beer braised chicken alongside more traditional carnitas and beef short ribs. The twenty plus cocktails will spoil you when it comes to picking your poison, and the appetizer menu will give you plenty to dip into while you wait for the main event (the marina girl salad is a favorite).
PLAN YOUR TRIP: Visit Fodor's San Francisco Travel Guide
Courtesy of Mas Tacos Por Favor
Mas Tacos Por Favor
WHERE: Nashville, Tennessee
The ever-changing menu at this East Nashville joint means there's always something new to try, but you'll be sure to find its most popular taco any day: quinoa and sweet potato with roasted tomatillo salsa, red cabbage, sour cream, cilantro, and lime. Mas Tacos Por Favor (732 Mcferrin Avenue; 615-543-6271) started in a 1974 Winnebago in 2008 before setting up its own shop. Though Mas Tacos does not serve liquor (it is BYOB), the homemade aguas frescas make for the perfect compliment to your meal. If you have room, try the outstanding tortilla soup.
PLAN YOUR TRIP: Visit Fodor's Nashville Travel Guide