Courtesy of Grand Lisboa Hotel, Macau
Big jackpots, glitzy shows, and massive nightclubs are all reasons to visit casinos, but if you're skipping the upscale restaurants, then you're truly missing out. Thankfully, experiencing fine dining in a casino is no longer a long shot, as many gambling spots have attracted the culinary talents of some of the world's most respected chefs. From the historic glamour of Monte Carlo to the modern glitz of Las Vegas, here are the best restaurants for pulling out the stops to celebrate a big win.
by Kathleen Squires
A serial traveler who often lets a country's cuisine dictate her itineraries, New York City-based writer Kathleen Squires has visited all 7 continents and over 60 countries, with stints living in London, Tokyo, and Buenos Aires. Her work also appears in The Wall Street Journal, Saveur, Cooking Light and National Geographic Traveler.
Courtesy of Caesars
WHERE: Caesars Palace, Las Vegas
Take your winnings and go to the City of Light…sort of. This recreation of Savoy's Paris flagship happens to overlook Vegas's Eiffel Tower replica, and it's the only spot outside of Paris where diners can enjoy the chef's signatures like artichoke and black truffle soup. Two Michelin stars and a lounge devoted to pricey Cognacs make it a good spot to feel like a high roller.
PLAN YOUR TRIP: Visit Fodor's Las Vegas Guide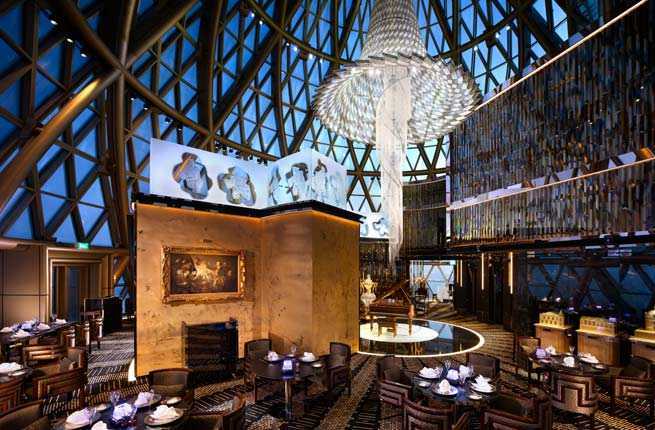 Courtesy of Grand Lisboa Hotel, Macau
WHERE: Grand Lisboa, Macau
When Macau surpassed Las Vegas as the world's largest gambling market, chef Joel Robuchon upgraded his in-house restaurant at the Grand Lisboa, moving from a perch above the lobby to the 43rd floor. Now housed under a glassy dome, Grand Lisboa lives up to its three Michelin stars, from the view to the massive crystal chandelier to exquisite dishes, such as the caramelized quail stuffed with foie gras and black truffle mashed potatoes.
PLAN YOUR TRIP: Visit Fodor's Macau Guide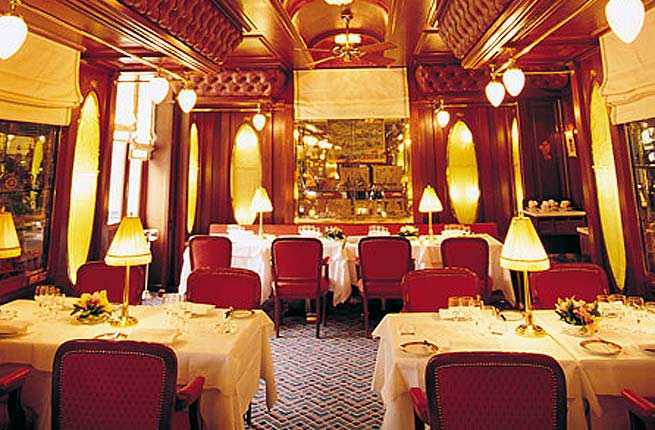 Courtesy of Monte-Carlo SBM
WHERE: Place du Casino, Monaco
Just out the front door of Monte Carlo's famous 19th-century gaming palace, the Belle Epoque décor at this gastronomic gem matches the casino's timeless elegance. Despite the restaurant's French name, the fare is haute Italian, with elegantly prepared versions of classics such as veal saltimbocca and eggplant risotto with buffalo mozzarella and tomatoes. Don't be surprised if you spot tuxedoed James Bond types fresh from the roulette tables.
PLAN YOUR TRIP: Visit Fodor's Monaco Guide
Courtesy of BobbyFlay.com
WHERE: The Borgata, Atlantic City
Consistency and longevity are what winning gamblers strive for, and this eatery delivers on both fronts. Opened in 2006, Bobby Flay Steak is one of the Boardwalk Empire's most enduring restaurants, and it's not just your ordinary steakhouse. Diners can expect Flay's signature bells and whistles in dishes such as spice-rubbed Southwest ribeye and a "lobster bar" with various shellfish plates. It's a good idea to double down on the creamy green chile rice.
PLAN YOUR TRIP: Visit Fodor's Atlantic City Guide
Courtesy of Marina Bay Sands
WHERE: Marina Bay Sands, Singapore
This restaurant is located in the world's most expensive building—valued at $4.7 billion—so such a high-stakes investment calls for a whale of a chef. The big fish here is chef Tetsuya Wakuda, and with only 25 seats, this Euro-Japanese restaurant is a truly a privileged experience, with a personal chef presiding over each of the four seating areas and serving wow-worthy bites such as filet of Tasmanian grass-fed beef with wasabi mustard.
PLAN YOUR TRIP: Visit Fodor's Singapore Guide
Courtesy of Atlantis, Paradise Island
WHERE: Atlantis, Bahamas
Though there are myriad dining options at this sprawling, Paradise Island resort, why try your luck? Head to Jean-Georges Vongerichten's restaurant with its can't-lose combination of French flavors coupled with local tropical bounty. Classic escargot with garlic butter is served alongside dishes like cracked conch with avocado and citrus chili mayonnaise.
PLAN YOUR TRIP: Visit Fodor's Bahamas Guide
Courtesy of Pikayo, at The Condado Plaza Hilton
WHERE: Condado Plaza Hilton, San Juan
Puerto Rico's most active player, chef Wilo Benet, has been redefining and modernizing Puerto Rican cuisine for nearly 25 years. He moved his popular restaurant to this beachfront casino hotel in 2009, where the hot streak continues. His interpretation of island traditions—such as salmorejo, a local crab stew, and alcapurrias, meat fritters with garlic aioli—is truly unique.
PLAN YOUR TRIP: Visit Fodor's Puerto Rico Guide
Courtesy of Rockpool Bar & Grill Melbourne
WHERE: Crown Casino, Melbourne
Set in the largest casino in the southern hemisphere, and an offshoot of Neil Perry's lauded Sydney original, this elegant facsimile features a sprawling open kitchen, adding more drama to the proceedings. In-house dry-aged beef may be the main attraction, but diners would be foolish to overlook seafood offerings such as king prawns with goat cheese tortellini served with burnt butter, raisins, and pine nuts. Don't leave without sampling some of the excellent desserts.
PLAN YOUR TRIP: Visit Fodor's Melbourne Guide
Courtesy of Besh Restaurant Group
WHERE: Harrah's, New Orleans
The best reason to opt for dry-land gambling over the Mississippi riverboats is this steakhouse from James Beard Award-winning chef John Besh. Decked out with blue dog paintings by George Rodrigue, this restaurant feels just as jazzy and colorful as the casino on the other side of the threshold. As the name hints, the menu is a meaty affair, showcasing a 38-ounce "cowboy steak." Big Easy specialties are represented in dishes such as shrimp and grits and crawfish bisque.
PLAN YOUR TRIP: Visit Fodor's New Orleans Guide
Courtesy of Casino de Madrid
WHERE: Casino de Madrid, Madrid
It's a jackpot for foodies who still mourn the celebrated elBulli: a Ferran Adrià-curated restaurant, set in a palatial 19th-century building. Here, Paco Roncero, Adria's Michelin-starred disciple, flawlessly executes everything from liquid fritters to rose petal tempura. If you're a high roller, you may be lucky enough to score an invitation to Roncero's eight-seat "secret" workshop, a culinary lab encompassing temperature, color, aroma, acoustics, and every aspect of ambiance in the meal.
PLAN YOUR TRIP: Visit Fodor's Madrid Guide