Choo-choo-choose to embrace a winter wonderland.
Don't let the dark, cold days of winter get you down. Instead, go "all aboard" one of these trains for one of the most picturesque travel experiences you can imagine.
This train ride through the stunning scenery of Denali National Park could include glimpses of grizzlies, amazing views of Mount Denali, and of course the winter aurora (aka northern lights). The route goes from Fairbanks to Anchorage with several stops along the way. You can even book one of the popular rail-fly packages so you can experience planes, trains, and automobiles all in one trip. The train is available on all weekends during the winter, and you can also check the schedule for limited mid-week availability.
If going to the Iditarod is on your bucket list, plan your trip for the end of February. Get more details on this classic Alaskan event here.
Mid-Continent Railway Snow Train
Save the date because this winter train experience is only for a weekend—February 10 and 11 to be exact. The charming small town of North Freedom, Wisconsin is home to the Snow Train. It operates out of the Mid-Continent Railway Museum, filled with hometown pride. You're pretty much guaranteed gorgeous (and likely snowy) views on the ride through the north woods of Wisconsin. If you're looking for an additional experience, consider upgrading your ticket to first class or book the trip with dinner service.
Continue Reading Article After Our Video
Recommended Fodor's Video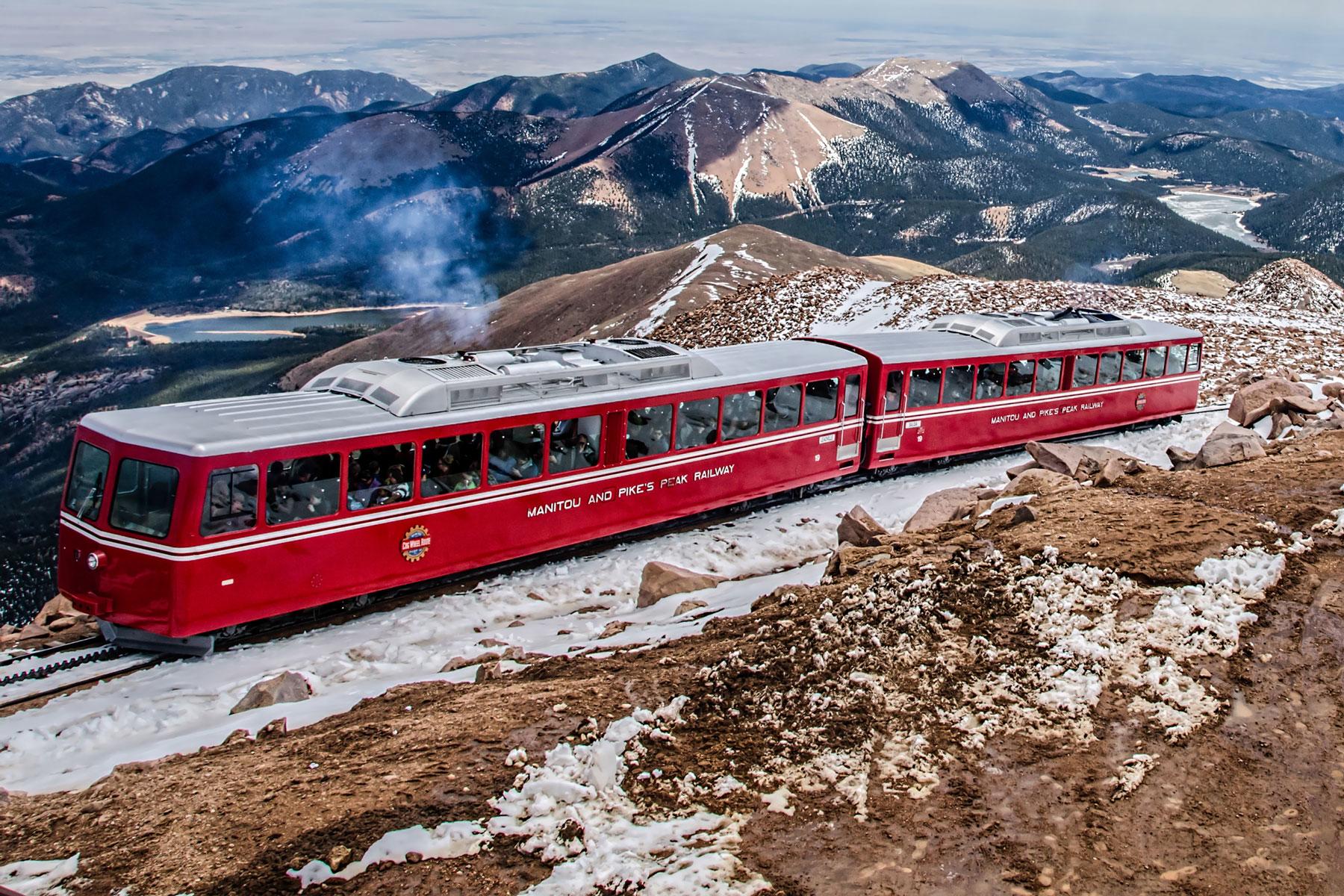 PHOTO:
Mckown | Dreamstime.com
This train ride is one of the most famous in North America because it's the world's highest cog train —and it's been in operation for more than 100 years. (Cog trains have special cogwheels and go on a unique toothed track.) While on it, you'll climb more than 14,000 feet to Pikes Peak. The ride to the top is just over three hours, starting in Manitou Springs, Colorado. Up top, you'll have incredible views of the Continental Divide and some of Colorado's highest peaks. Check the winter schedule if you plan on going because even though this train operates year-round, it doesn't make the full summit to Pikes Peak in January and February.
The Santa Train at Cog Railway runs in December. It doesn't go all the way to Pikes Peak, but it's a great holiday experience.
Ethan Allen Express Train
This Amtrak route goes from New York's Penn Station, making stops along the way in Yonkers, Albany, Sarasota Springs, and finally, Rutland, Vermont. See upstate New York or use this as an excuse to go play in the snow in Vermont as you chug along these scenic routes. While this is a commuter train for many during the week, it offers an amazing weekend getaway opportunity from the city. Take a closer look at the route here.
Great Smoky Mountains Railroad
The Great Smokey Mountains Railroad has plenty of winter train trips to choose from. Their Polar Express trip is popular among families and runs from early November through the end of December. The Tuckasee River Excursion is a four-hour trip that includes great views all along the way. If you're a movie buff, you can even get a look at the movie set of The Fugitive with this route. Finally, check out the Caroline Shine Moonshine Experience (adults only) if you approve the idea of mixing your train rides with a little bit of booze. You'll get to try apple pie, strawberry, and blueberry moonshine. There's a steam locomotive available for some trips, so check the schedule if you'd prefer this historical experience.
Blackstone Valley's Christmas Train
This Polar Express ride is a perfect activity for little ones. While there are plenty of Polar Express trips across the U.S., this one is definitely worth mentioning because this town has really thought of every detail—it's the most picture-perfect, small-town Christmas setting. Located in Pawtucket, Rhode Island, this train ride it is truly a special three-hour experience. The trip includes cookies, stories from the cast, a visit from Santa, and lots more activities both during and after the train ride. All the train cars have been named by Santa's reindeer, but don't worry about which one you get because any of them will make for a memorable trip.
Coast Starlight West Coast Train Adventure
Winter is a great time to hit the West Coast. If you like trains and you like the west, then this route is probably already on your bucket list. Stops include Seattle, Portland, Sacramento, San Francisco, and Los Angeles. This means you'll see a wide range of scenery, including mountains, ocean, and so much more. If you stay for the whole time, you're looking at about a 35-hour ride. However, most people take the opportunity to stop at some of the destinations along the way to stay for a night or two. Get a better idea of the route, or learn about accommodations available onboard.
Also on the list for the World's 15 Most Scenic Train Rides, the Grand Canyon Railway is even more scenic in winter. Plus, you won't have to worry about the crowds of summer tourists. As both a railway and hotel, this experience offers a comfortable way to see the Grand Canyon, and if you're looking for a place to stay, you can book that along the way, too.
New Orleans Holiday Express
Need to get away from the snow and cold? Vacations by Rail has put together a trip from Chicago to New Orleans, available from November through February. It includes only one overnight on the train before passengers disembark in New Orleans to spend a few days exploring the city, and the package available includes three nights at a hotel. With winter temperatures in New Orleans averaging in the 60s, it's no wonder this one is popular among winter Midwesterners escaping the snow and freezing temperatures.
Durango & Silverton Narrow Gauge Railroad
Cascade Canyon is a popular hiking trail through Grand Teton National Park, and from November through May, you can see this beautiful area by train instead. On this two hour trip, you'll go through the San Juan National Forest, getting a unique look at Colorado's spectacular scenery. This train also has special performances opportunities from time to time, including the San Juan Holiday Narration. You can also check their events page for other specials.
PHOTO:
Sheila2002 | Dreamstime.com
This wine train is a great way to travel through wine country year-round. It's known for the wonderful cuisine (and of course wine) available on board. They have several dining trips available, including a murder mystery one and a romance package. They also have several wine tour options to choose from. During the winter, they have a Santa train, which includes cocoa and cookies. Whether you choose this family-friendly event or opt for a more adult excursion, winter is the perfect season to explore.
INSIDER TIP
Do the research and spend a little extra money on one of the rail/tour combos that has an amazing cuisine to match. The Castle Winery Tour is a good option.
PHOTO:
Blue Ridge Scenic Railway
Blue Ridge Scenic Railway
The Blue Ridge railway, located near the Chattahoochee National Forest, runs a regular route along the Toccoa River. Along the way, passengers can stop off in charming towns to enjoy the local scenery. If you're into antiquing at all, you'll definitely want to do a little exploring, because this area is known for its many shops and great selection. You can find several options for their winter trip and also the Santa Express.
PHOTO:
Arinahabich08 | Dreamstime.com
This new Amtrak route started in 2017 and takes travelers from Denver's Union Station to the base of Winter Park Resort. For skiers and winter lovers, this is a huge addition, making travel to the ski resort much easier and more enjoyable. Once you're in Winter Park, there's no need to rent a car—you can take all your equipment with you and you'll end up exactly where you need to go skiing. The views of the mountains and ski hill along the way make it worth checking out, whether you're a skier or not. Catch this limited winter trip from early January through the end of March.
The train ride out of New York City proves how beautiful it can be just a hop, skip, and jump outside of the busy city. It's one of the most gorgeous adventures you can have year-round, and it definitely doesn't disappoint in winter. One of the highlights along the trip is the Lake Champlain area, but those who love winter will want to continue on to the final destination in Montreal, where they really know how to make the most of fun in the snow.