PHOTO:
Lick Honest Ice Creams
Ice cream is not just for your sweet tooth anymore.
This summer, ice cream gets savory—with flavors from Bloody Mary to Ants on a Log. Get your fix at these ice cream shops and restaurants across the country.
PHOTO:
Lick Honest Ice Creams
Olive Oil Gelato with Brussel Sprouts
PHOTO:
Victoria Kent
Crispy Brussels sprout leaves might seem like an odd ice cream topping, but they are a fitting crunchy complement to the smooth and savory extra virgin olive oil gelato at MAD Social.
Continue Reading Article After Our Video
Recommended Fodor's Video
WHERE:
Indianapolis, Indiana
First you'll taste the funky bite of gorgonzola cheese, followed by a sweet crunch from candied pecans in this popular flavor at Lick Ice Cream. There's a little heat on the finish too, from a splash of cayenne pepper.
Basil ice cream on top and our Raspberry sorbet
PHOTO:
Emily Gilbert
This summer, Lu Lu Ice Cream is exploring spicy combinations like lemon wasabi and chocolate jalapeño. Basil, made with herbs from a local greenhouse, and Slumdog Millionaire, featuring Vermont Peanut Butter and West Indian curry, are two savory perennial favorites.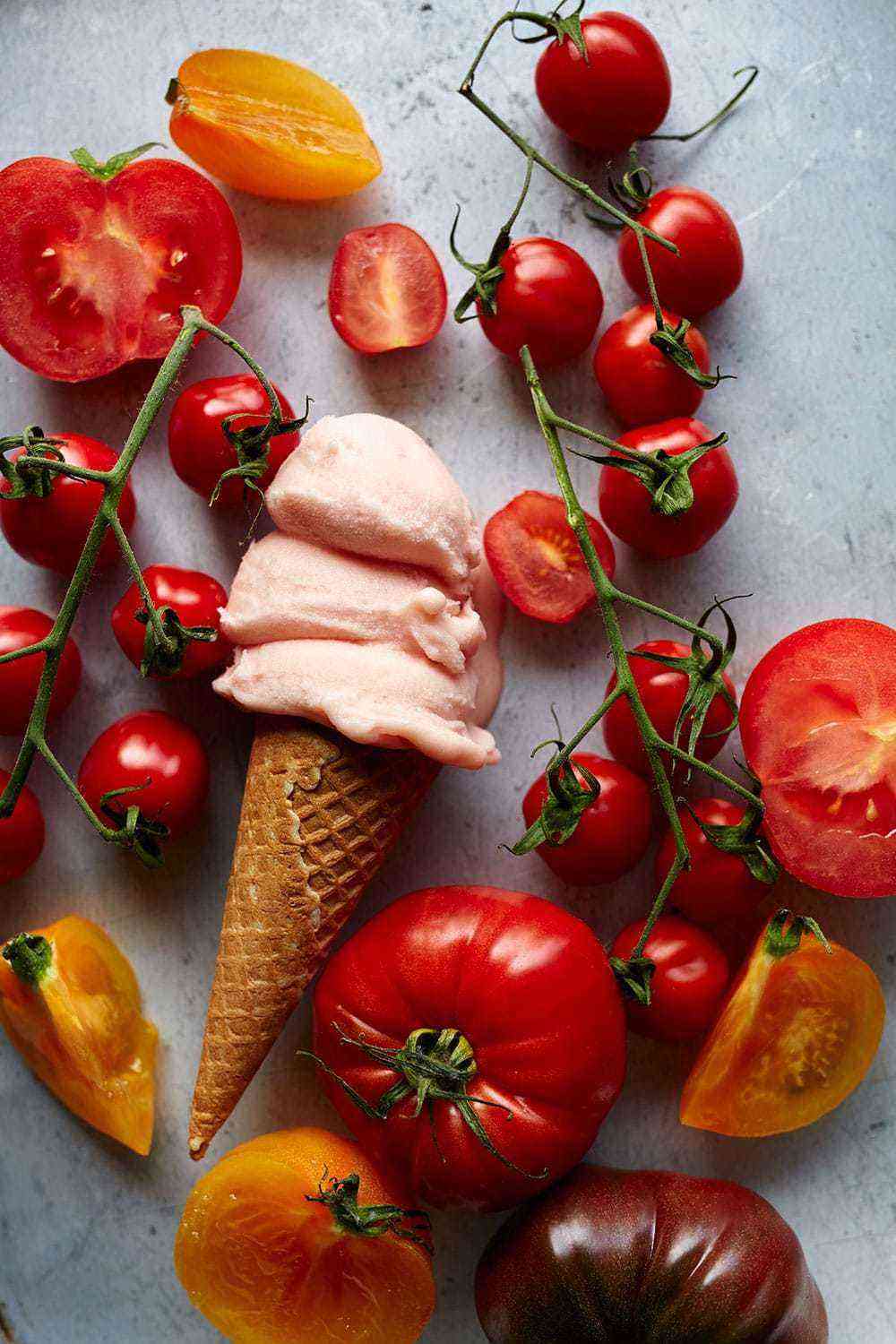 PHOTO:
Courtesy of Salt and Straw
Salt & Straw creates distinctive limited-edition ice cream flavors from "rescued food," drawing attention to how 40% of our food supply in the United States goes into the trash. Try the spent brewer's malts and candied bacon s'mores made with the grains that beer brewers usually throw away. This chunky ice cream has crunchy dark chocolate studded with candied bacon bits and spent grain praline throughout.
WHERE:
New York City, New York
At Oddfellows, celery sorbet is swirled with a ribbon of smooth peanut butter and studded with rehydrated burnt cinnamon black raisins to mimic a favorite childhood snack – Ants on a Log.
WHERE:
San Francisco, California
Earthy toasted sesame soft serve ice cream at China Live is topped with rice powder, mango shave ice, and yogurt-flavored boba for a fun and not-too-sweet treat. Look for other Asian flavors including taro shaved ice, miso soft serve, and adzuki bean soft serve.
PHOTO:
Brianna Pratt and Lucia Barnes
Ultimate Ice Cream Company
WHERE:
Asheville, North Carolina
Sweet corn and tomatoes are the backbone behind bold summer flavors at Ultimate Ice Cream Company. Bloody Mary sorbet is made with smoked tomatoes from local Imladris Farm and fresh cracked pepper and candied bacon add a salty accent to sweet corn ice cream. Blue cheese swirled with housemade caramel is another year-round savory favorite.
Flavors change daily at Mason's Creamery, where everything is made in microbatches, but you'll always find a savory option or two like waffle batter ice cream with fried chicken skins, caramelized onion, or even Spam. Vegetarians can try vanilla swirled with sriracha sauce.