Marc Turcan/Shutterstock
In desert valleys, grassland prairies, and alpine meadows, wildflowers are the color-saturated harbingers of spring—nature's guarantee that the days are getting longer and, eventually, warmer. And like a modern-day rite of spring, we celebrate wildflower festivals in small towns and national parks across the US. Here are 10 recommendations for seeing wildflowers in all their glory, in all their different habitats. Just remember to look and not touch—picking flowers from national parks is illegal, after all. —Deb Hopewell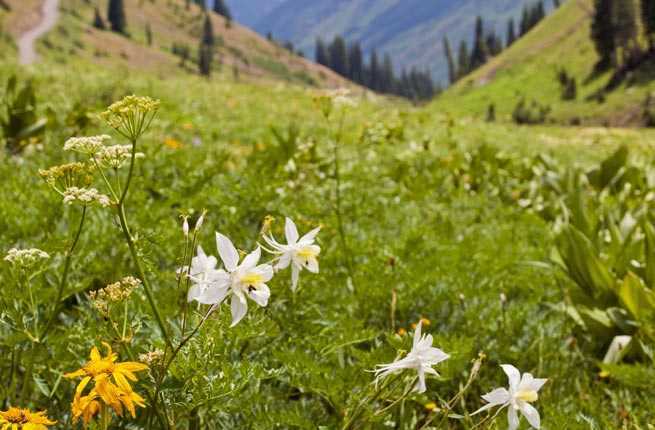 urbanlight/Shutterstock
WHERE: Colorado
The mountains and valleys around Crested Butte, officially honored as the "Wildflower Capital of Colorado," are a jumble of color in late spring and summer as the blooms progress: blue columbines, red Indian paintbrushes, yellow sunflowers, purple delphiniums, and dark-blue lupines, among many others. Almost any trail in the nearby National Forest land will lead to magnificent wildflower views, including the route leading from Crested Butte to Gothic, eight miles north. And in early July, Crested Butte hosts a weeklong wildflower festival.
Insider Tip: Stop at the Crested Butte Chamber of Commerce to get the latest info on the best hikes to see wildflowers at any given time.
PLAN YOUR TRIP: Visit Fodor's Crested Butte Guide
Betty Shelton/Shutterstock
Great Smoky Mountains National Park
WHERE: North Carolina, Tennessee
Great Smoky Mountains National Park is home to more than 1,500 varieties of flowering plants, more than any other national park in North America—earning it the nickname "Wildflower National Park." At lower elevations, spring flowers (usually mid- to late-April) include lady slipper orchids, crested dwarf irises, bleeding hearts, and violets. Summer brings cardinal flowers, black-eyed Susans, bee-balms, Turk's cap lilies, and many more. The five-day Spring Wildflower Pilgrimage in mid-April includes guided walks, lectures, and demonstrations.
Insider Tip: The Great Smoky Mountains Association updates its website regularly, spring through fall, with very specific details on which wildflowers can be found on various trails throughout the park.
PLAN YOUR TRIP: Visit Fodor's Great Smoky Mountains National Park Guide
(c) Mccls1030 | Dreamstime.com
WHERE: Texas
Tiny Brenham, about halfway between Houston and Austin, is nestled in one of the best Central Texas areas for bluebonnets—the Lone Star State flower. In addition, Indian paintbrushes and evening primroses are plentiful, mixing up colors in the wildflower palette. During bluebonnet season (around mid-March through mid-April) you'll see cars parked all along the farm-to-market roads, with people flashing their cameras. But beware: The field of flowers you're about to climb into is almost certainly private property, and you'll be trespassing. Nearby Chappell Hill, about 10 miles east of Brenham, is home to the state's Bluebonnet Festival in mid-April.
PLAN YOUR TRIP: Visit Fodor's The Hill Country Guide
Jon Bilous/Shutterstock
WHERE: Virginia
Set amid the Blue Ridge Mountains and surrounded by farms and development, Shenandoah National Park is a safe haven for more than 850 species of wildflowers. In late March look for pastel-colored liverwort and white bloodroot, then purple trillium, yellow and purple violets, wild geraniums, and pink lady slippers. As summer heats up you'll find columbines, ox-eye daisies, and orange touch-me-nots.
Insider Tip: Most visitors tend to stick to Skyline Drive as they pass through the park, which affords good wildflower viewing later in the summer. But in spring, take time to get out of the car to hike and look for blooms in lower-lying areas, including those along Rose River, South River, and Mill Prong.
PLAN YOUR TRIP: Visit Fodor's Shenandoah National Park Guide
Marc Turcan/Shutterstock
Antelope Valley Poppy Reserve
WHERE: The Mojave Desert, California
The California poppy is found the length and breadth of the Golden State, but one of the best places to catch them in abundance is the 1,780-acre Antelope Valley Poppy Reserve, in northern Los Angeles County. During prime viewing time (typically in April), set out on eight miles of trails that wind through the reserve to see swaths of orange blanketing the rolling hillsides. Each April, the nearby town of Lancaster hosts the California Poppy Festival, with four stages of music and performances, and kids' activities that include camel rides.
Insider Tip: A number of factors—rain, drought, freezes, etc.—will affect the timing and duration of wildflower blooms. The reserve's website posts a "bloom status" from mid-February through mid-May, so visitors can plan their trips accordingly.
PLAN YOUR TRIP: Visit Fodor's Antelope Valley Poppy Reserve Guide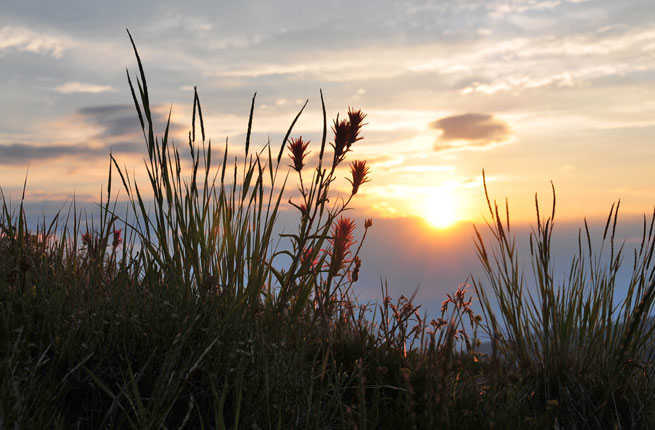 Courtesy of NPS
Cedar Breaks National Monument
WHERE: Utah
Because Cedar Breaks National Monument—a massive natural amphitheater nearly three miles wide—sits at 10,000-foot elevation, spring comes late and the wildflower season is short. But come June, the rim of the canyon comes alive with lupine, pink spring beauty, pale-purple phlox, and aspen bluebells. Mid-July is peak season, as a host of other wildflowers appear: scarlet paintbrushes, Colorado columbines, little sunflowers, and blue flax. The two-week-long Wildflower Festival begins in early July, featuring guided hikes and photography classes.
Insider Tip: The monument's elevation makes it prone to dramatic swings in weather conditions. Thunderstorms are common, and snow in July is not unheard of. Pack a warm jacket along with your sunscreen and sunglasses when you visit.
PLAN YOUR TRIP: Visit Fodor's Guide to Utah
Stephanie Stevens/Shutterstock
Fort Pierre National Grassland
WHERE: South Dakota
The Fort Pierre National Grassland is a 116,000-acre mixed-grass prairie in central South Dakota that in summertime teems with wildflowers native to the Great Plains prairies—the same flowers Lewis and Clark would have seen on their travels there: blue daisy fleabane, purple prairie clover, purple coneflower, bluebell, silver bladderpod, blue flax, bellflower, and Eastern red columbine.
Insider Tip: All auto travel within the grassland is limited to designated roads. Stop by the Fort Pierre Ranger District to pick up a free map.
PLAN YOUR TRIP: Visit Fodor's South Dakota Guide
tusharkoley/Shutterstock
North Cascades National Park
WHERE: Washington
With more than a half-million acres, North Cascades National Park experiences significant differences in elevation, rainfall, and exposure—factors that ensure a broad window of bloom time and flower varieties. At lower elevations, look for blooms as early as early March; farther up, August and September are prime times. Some standout species include the pink mountain heather, tiger lily, evergreen violet, fairyslipper, fireweed, common camas, alpine aster, and pipers bellflower.
Insider Tip: It's a huge park with very few amenities, including groceries, so come prepared and bring what you need. There are no ATMs or cell reception.
PLAN YOUR TRIP: Visit Fodor's North Cascades National Park Guide
© Peter Guttman
Anza-Borrego Desert State Park
WHERE: California
The desert wildflowers in Anza-Borrego Desert State Park would seem to have the odds stacked against them. It takes an almost perfect confluence of conditions for them to bloom: rain, but not too much; heat, but not too much; and if the desert winds blow, they can easily dry out. But cruise the 500 miles of dirt roads, or walk any of the 110 miles of trails anytime from February through April, and you are bound to be rewarded with colorful patches of white prickly poppies, yellow hair suncaps, purple arrow weed, heart-leaved primrose, redstem filaree, and climbing milkweed, among many more.
Insider Tip: To get the latest information on what's blooming in the park, and weather conditions that could affect them, call the park's Wildflower Hotline, which is updated regularly: 706/767-4684.
PLAN YOUR TRIP: Visit Fodor's Anza-Borrego Desert State Park
SNEHIT/Shutterstock
WHERE: Montana
One of the first heralds of spring at Glacier National Park is the diminutive yellow glacier lily, poking through the icy snow. Covering more than a million acres straddling the Continental Divide, Glacier is home to nearly a thousand species of wildflowers that peak in July and August. Monkeyflower, sticky geranium, paintbrush, wandering daisies, and lupine all put on showy displays, but probably the most beloved of all are the lacy, bulb-shaped white flowers of beargrass—not a grass, but a type of lily.
Insider Tip: A few of the best bets for seeing wildflowers are Logan Pass, Highline Trail, Hidden Lake, Iceberg Lake, Firebrand Pass, Forest and Nature Hike, and Grinnell Glacier Trail.
PLAN YOUR TRIP: Visit Fodor's Glacier National Park Guide