Nickolay Stanev/Shutterstock
Expansive views, towering trees, and dramatic geology are just some of the astounding features of America's most beautiful hiking trails. From routes beside glaciers in Alaska, to pathways balancing on rocky ledges overlooking the rugged coast of Maine, these trails practically demand that hikers carry a camera. And while there will never be universal agreement on the 10 most beautiful hikes in the U.S., our list makes for a good conversation starter, and an even better vacation primer.
by Jayme Moye
Thomas Barrat/Shutterstock
10 miles, point-to-point
WHERE: Colorado
In a state packed with beautiful hikes throughout the Rocky Mountains, one rises above the rest. This 10-mile jaunt follows a lush glacial valley before heading up and over the breathtaking 12,480-foot Maroon Pass, linking the dreamscapes known as Aspen and Crested Butte. Hike West Maroon Creek Trail in July, the height of Colorado's wildflower season, when waist-high blooms in hues of red, purple, white, and yellow line the trail.
Insider Tip: West Maroon Creek Trail is challenging due to both terrain and altitude. Aspen's Limelight Hotel makes it decidedly cushier by providing guests with a lift to the trailhead, post-hike accommodations at a partner property in Crested Butte, and a ride back to Aspen the next morning (by shuttle or helicopter, depending on your budget).
PLAN YOUR TRIP: Visit Fodor's Aspen Guide
puttsk/Shutterstock
Harding Icefield Trail, Kenai Fjords National Park
8 miles, round-trip
WHERE: Alaska
Step back into the ice age with this spectacular day hike located near Seward in Kenai Fjords National Park. The four-mile trail climbs steeply from the valley floor, through forest and meadow, before rising above tree line and ending at a jaw-dropping lookout over the Harding Icefield—an enormous sheet of snow and ice that stretches for over 300 square miles and spawns 40 glaciers in all directions. There are many scenic vistas en route with stellar views of Exit Glacier and the Resurrection River.
Insider Tip: Black bears are spotted nearly every day near the Harding Icefield Trail. Understand bear safety before you go.
PLAN YOUR TRIP: Visit Fodor's Alaska Guide
(c) Tsmarkley | Dreamstime.com
Precipice Trail, Acadia National Park
1.6 miles, round-trip
WHERE: Maine
Views of the ocean from the mountains of the Northeast are special, and experienced hikers will say that it's something you need to experience yourself. We've chosen the Precipice Trail in Acadia National Park for said experience. The steep trail climbs 1,000 feet up narrow ledges on the east face of Champlain Mountain in .8 miles, providing a dramatic (and dizzying) view of the rugged coast.
Insider Tip: Don't be fooled by the short distance (1.6 miles round-trip); this hike is strenuous, steep, and not recommended for those with a fear of heights.
PLAN YOUR TRIP: Visit Fodor's Acadia National Park Guide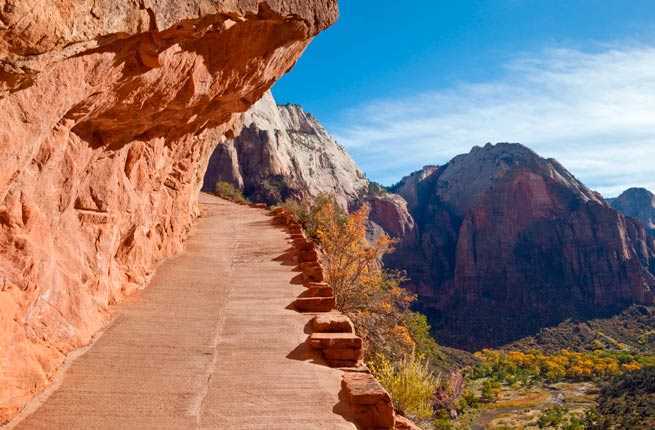 Nickolay Stanev/Shutterstock
Angel's Landing, Zion National Park
4.8 miles, round-trip
WHERE: Utah
An eye-popping hike in Zion's main red rock canyon, this 2.4-mile trail ends at the top of Angel's Landing, an impressive 1,488-foot rock formation with one of the most stunning 360-degree views in the West. The popular Angel's Landing trail roughly follows the Virgin River before gradually ascending to "Walter's Wiggles," a series of 21 steep switchbacks. The path narrows in the final half-mile, enough that the National Park Service installed chains to grip for added safety. It's a long way down, part of what makes this beautiful trail so thrilling.
Insider Tip: Angel's Landing is "only" 1,488 feet tall, but remember, you're already at high altitude from the start, and the summit puts you at nearly 6,000 feet in elevation. Bring extra water to dodge dehydration.
PLAN YOUR TRIP: Visit Fodor's Zion National Park Guide
Paul Langereis/Shutterstock
11 miles, point-to-point
WHERE: Hawaii
Hugging the jagged Napali Coast on the island of Kauai, the 11-mile Kalalau Trail leads to a secret beach from where it takes its name. Offering the only land access to this part of the island, the trail is mind-blowing in its own right, crossing five valleys for an unforgettable fusion of tropical forests, sea pali, or cliffs, and secluded beaches. But Kalalau itself is what makes this trail so extraordinary—a private paradise at the end of the path perfect for camping.
Insider Tip: From Kalalau Beach, follow the dirt path pointing inland. It leads to old agricultural terraces now overgrown with guava, mango, and java plum trees. The ripe fruits are yours for the taking.
PLAN YOUR TRIP: Visit Fodor's Kauai Guide
Juancat/Shutterstock
Mooney Falls, Grand Canyon National Park
6 miles, round-trip
WHERE: Arizona
The three-mile trail to Mooney Falls is as adventurous as it is beautiful. Starting from the village of Supai in the Hualapai Indian Reservation, located in a remote corner of the Grand Canyon, the trail descends through two travertine tunnels, down iron ladders, and along chains anchored into the rock face. Views of the breathtaking 200-foot falls peak through the entire route, and the reward at the bottom is the plunge pool—an aquamarine gem shimmering against red rock canyon walls—and a garden of wild grape vines surrounding the creek.
Insider Tip: There are guest lodges in Supai and a campground at about the two-mile point. Set up a basecamp and spend several days exploring Hualapai Canyon and its waterfalls: Navajo Falls (1.5 miles from Supai), Havasu Falls (2 miles), Mooney Falls (3 miles), and Beaver Falls (5.5 miles).
PLAN YOUR TRIP: Visit Fodor's Arizona Guide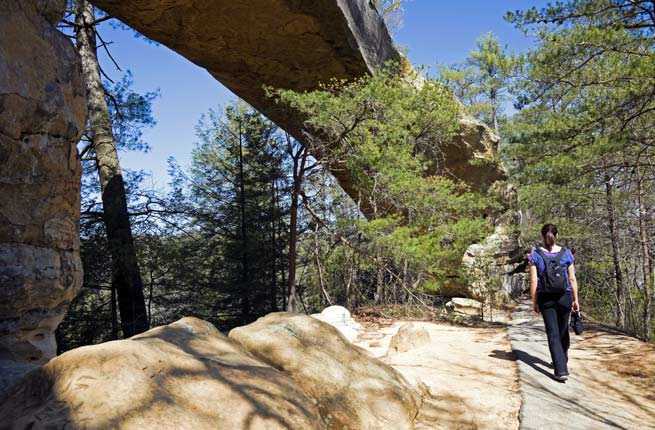 Henryk Sadura/Shutterstock
500-mile trail system
WHERE: Kentucky
A canyon system on the Red River, the Gorge is perhaps best known as a world-class rock climbing destination. Unique geological features such as natural stone arches, hidden caves, exposed rock faces, and giant sandstone cliffs ensure that every hike in the Red River Gorge's forested trail network is beautiful, or as some like to say, a Jurassic wilderness experience.
Insider Tip: For the best day hike, take the Bison Way Trail to the Sheltowee Trace National Recreation Trail, the backbone of the forest's trail system. Then, go up the aptly named "Indian Staircase" offering a panoramic view of the gorge, and continue to the Cloud Splitter Arch, which requires squeezing through a narrow split to reach the scenic landmark.
PLAN YOUR TRIP: Visit Fodor's Kentucky Guide
(c) Jerryway | Dreamstime.com
The Highline Trail (Logan Pass to Granite Park Chalet)
7.6 miles, point-to-point
WHERE: Montana
A beautiful high-country trail inside Glacier National Park, the Highline serves up spectacular scenery at every step. The hike follows the Continental Divide, but is mostly flat, leaving plenty of energy to admire the rugged peaks, glacial meadows, and Lake McDonald thousands of feet below. While this is grizzly territory, you're more likely to encounter a bighorn sheep or a mountain goat on the trail.
Insider Tip: Make sure the trail is open before you go (it typically opens sometime in July). Park at the small lot known as "the Loop," located at a hairpin turn on the Going to the Sun Road, about 13 miles east of the McDonald Lodge. Take the shuttle up to Logan Pass to start the hike. You'll end at the Loop where you parked.
PLAN YOUR TRIP: Visit Fodor's Glacier National Park Guide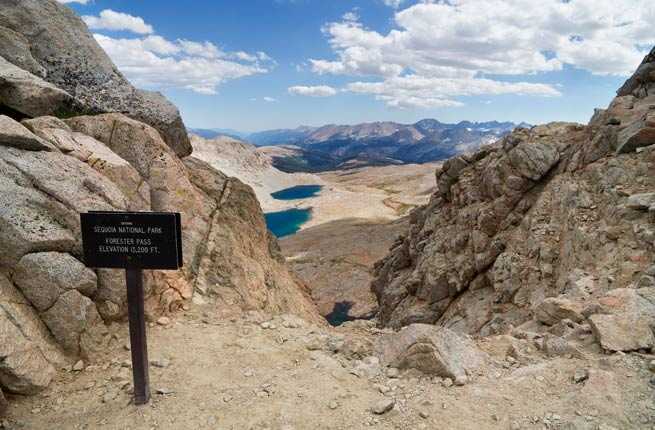 Tom Grundy/Shutterstock
211 miles
WHERE: California
You don't have to trek all 211 miles of the John Muir trail to experience the rare beauty of this path through the High Sierra backcountry, known as the finest mountain scenery in the U.S. The trail begins in the Yosemite Valley, passing through the Ansel Adams Wildernesses, Devil's Postpile National Monument, and Kings Canyon and Sequoia National Parks before ending at Mount Whitney, the highest peak in the contiguous United States at 14,497 feet. Pick a park you've always wanted to see and plan for a day hike.
Insider Tip: Rarely does the John Muir Trail dip below 8,000 feet. If you're a flatlander, determine the time you think it will take you to cover your chosen distance and add 25 percent. You're slower at high elevation.
PLAN YOUR TRIP: Visit Fodor's California Guide
Michael J Thompson/Shutterstock
Greenstone Ridge Trail, Isle Royale National Park
40 miles, point-to-point
WHERE: Michigan
Isle Royale, the largest island on Lake Superior, is one big national park. The Greenstone Ridge Trail is a high ridge in the center that runs from one end of the island to the other. Gaze out over the rocky shoreline to the cobalt blue lake and the 400 smaller surrounding islands. As one of the least well-known national parks, you'll likely have the trails of Isle Royale to yourself.
Insider Tip: Backpackers can spend days exploring the Greenstone Ridge Trail thanks to 36 designated wilderness campgrounds. Trek the entire 40-mile trail in four or five days (with a boat shuttle pick-up at the other end), or longer by linking up some of the other 165 total miles of trail.
PLAN YOUR TRIP: Visit Fodor's Michigan Guide