Courtesy of Atlanta Botanical Garden
For nature lovers in search of a quick winter fix, these 10 nationwide botanical gardens boast wonderful winter transformations. Exhibits such as world-class miniature trains, colossal gingerbread houses, and million-plus LED light installations are just some of the ways these establishments layer on holiday festivities to their seasonal fauna displays. Bundle up and prepare to stroll through dazzling gardens that come to life in unexpected ways each winter.
By Zachary Laks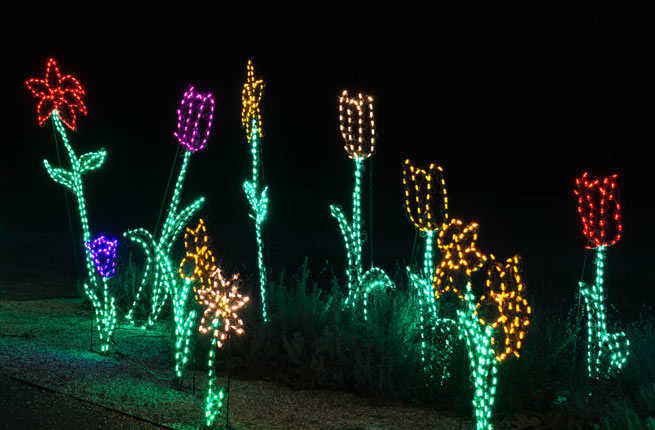 Tom Stovall
Meadowlark Botanical Gardens
WHERE: Vienna, VA
Just 15 miles west of D.C., Meadowlark Botanical Gardens plays host to the Winter Walk of Lights, where more than 500,000 LED lights shine a pathway through an enchanted forest of trees and illuminated structures. It's a wonder to gaze at the lighting effects that playfully jump through the woods here, affording a sense of serenity as they engulf the surroundings. Added events throughout the season include food truck and face-painting nights to stimulate your mind and stomach as you return from your festive stroll.
PLAN YOUR TRIP: Visit Fodor's Washington, D.C., Travel Guide
Courtesy of Chicago Botanic Gardens
WHERE: Glencoe, IL
Located in Glencoe, a suburb about 20 minutes north of downtown Chicago, Chicago Botanic Gardens is celebrating its ninth annual Wonderland Express exhibit this year. Upon entrance to the gardens, all eyes shift focus to the 40-foot tree that towers over the proceedings of this winter activity hub. (Interesting fact: The tree is so big that it was delivered via helicopter.) Then, head straight to the Joutras Gallery for the main attraction: The Wonderland Express. This incredible landscape model of flora, fauna, and a fully functioning miniature railroad is a wonder to behold. Marvel at the 80 custom-built miniature Chicago landmarks as up to 400 train cars zip around the labyrinth of tracks. Several holiday events are also scheduled throughout the month such as a Hanukkah concert and breakfast with Santa; both are best accompanied with a hot chocolate in hand.
PLAN YOUR TRIP: Visit Fodor's Chicago Travel Guide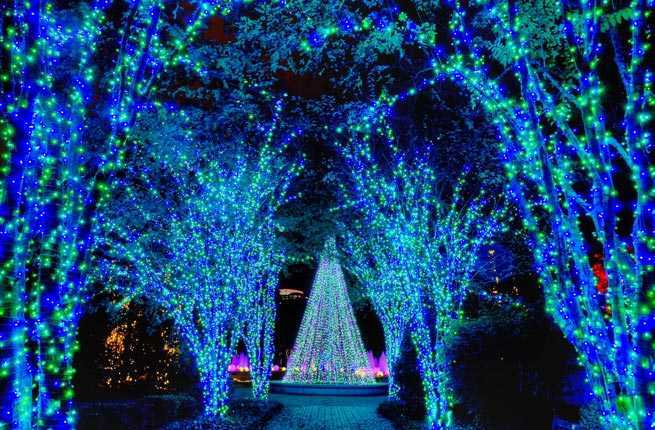 Courtesy of Atlanta Botanical Garden
WHERE: Atlanta
Imaginative light installations, seasonal food, and a model train exhibit mark the winter season at the Atlanta Botanical Garden. With more than 1.5 million lights, designers push their creative limits with the Garden Lights show, where trees, fountains, orbs, and specially crafted giant butterflies and unicorns are brought to life through light. The topiary light show choreographed to holiday music is a favorite, as is the Canopy Walkway, an elevated forest pathway that brings you in arms-length of the treetops. Plan ahead to bring your favorite ingredients (or purchase them on-site) to create s'mores at the fire pits.
PLAN YOUR TRIP: Visit Fodor's Atlanta Travel Guide
Courtesy of Missouri Botanical Garden
Missouri Botanical Garden
WHERE: St. Louis, MO
Returning for the second season, the Garden Glow festival extends the winter operations of the Missouri Botanical Garden beyond their traditional Gardenland Express Holiday Flower and Train Show. Garden Glow features transporting covered walkways completely covered in softly beaming LED lights, a garden labyrinth, and a gigantic snow globe creation. Step back into the 19th century with the Garden's Victorian Christmas at Tower Grove House, a self-guided exhibit through a perfectly decorated country house, all bedecked for Christmas. The Gardenland Express model train exhibit is a long-standing family tradition at the Garden, where you can also find a diverse range of flowers, plants, and, of course, poinsettias.
PLAN YOUR TRIP: Visit Fodor's St. Louis Travel Guide
Courtesy of Cleveland Botanical Garden
Cleveland Botanical Garden
WHERE: Cleveland, OH
The glow of lights and the smell of apple cider bring out the kid in everyone at Cleveland Botanical Garden's Glow festival. The garden hosts a large portion of the festival indoors, allowing visitors to shed their coats and take in a winter wonderland in more temperate conditions. A tradition in Cleveland, the gingerbread house competition brings out the best of local "edible architects" who are challenged to build the most unique structures. Candy canes and graham crackers take on new life with these edible replicas of monuments such as the Eiffel Tower and Cleveland's West Side Market.
PLAN YOUR TRIP: Visit Fodor's Cleveland Travel Guide
Nathanael Miller
WHERE: Norfolk, VA
Enjoy the festive illumination at the Norfolk Botanical Garden's Dominion Garden of Lights from the comfort of your own car. Tune in to your favorite holiday radio channel as you cruise through two miles of illuminated winter gardens, featuring playful touches of animation. The glow of the LED lights along the roadway guides drivers to take in favorites at their own pace, such as a section lit completely in purple hues or an "under the sea" adventure, where a canopy of fish light the way.
PLAN YOUR TRIP: Visit Fodor's Norfolk Travel Guide
Courtesy of the United States Botanic Garden
United States Botanic Garden
WHERE: Washington, D.C.
Just steps away from the U.S. Capitol building and right off the National Mall, the United States Botanic Garden is a year-round must for any visitor to D.C. An annual tradition, the Season's Greetings exhibit here takes over the indoor conservatory with a seasonal array of miniature landscapes. Plus, over 800 feet of railway track is laid for model trains and other tiny motorized cars to traverse. Take special note of the mind-boggling Capitol dome replica made of dried plants, as well as the miniature homes of Presidents Adams, Jefferson, and Clinton.
PLAN YOUR TRIP: Visit Fodor's Washington, D.C., Travel Guide
Courtesy Denver Botanic Gardens, Scott Dressel-Martin
WHERE: Denver, CO
The Denver Botanic Gardens presents the perfect opportunity to enjoy the wintery outdoors under the moonlight. Its annual Blossoms of Light festival warms the crisp air with vibrant lighting displays that accent the natural beauty of the downtown park. Displaying North America's largest collection of plants sourced from cold temperate climates around the world, the exotic species seemingly take on new forms with the lights and shadows cast upon them. Roasted chestnuts and hot cocoa are staples for the stroll, as you bask in the illuminated bliss.
PLAN YOUR TRIP: Visit Fodor's Denver Travel Guide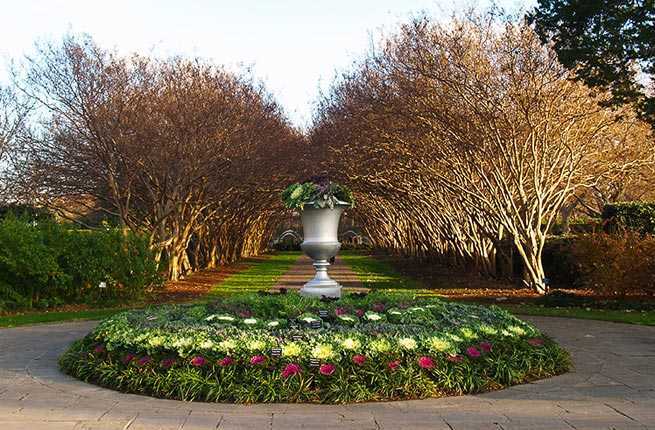 Courtesy of Dallas Arboretum and Botanical Garden
Dallas Arboretum and Botanical Garden
WHERE: Dallas, TX
Known for its extravagant garden transformations (as seen in Fodor's America's Best Pumpkin Festivals), the Dallas Arboretum and Botanical Garden's 12 Days of Christmas winter exhibit continues to up the ante this year. Look for 25-foot-high Victorian-style gazebos, themed to the verses of "The 12 Days of Christmas"—visitors can marvel at the automated action of the five golden rings, two turtle doves, and of course, the partridge in a pear tree.
PLAN YOUR TRIP: Visit Fodor's Dallas Travel Guide
Carl Shortt Jr
WHERE: Oklahoma City, OK
Come late November, the Myriad Botanical Gardens in downtown Oklahoma City becomes a center for wintertime activity. Its landmark Crystal Bridge cylindrical greenhouse takes on new dimensions as colored LED lights accentuate its enormous opaque facade. Inside, the tropical air offers a respite from the winter breeze, while you admire the large snowflake chandeliers. The Winter Shoppes are pop-up stalls that sell fun and unique local crafts and goods, perfect for that holiday gift list. Once you've strolled through the garden, go ahead and glide onto the ice at Myriad's Devon Ice Rink.
PLAN YOUR TRIP: Visit Fodor's Oklahoma City Travel Guide