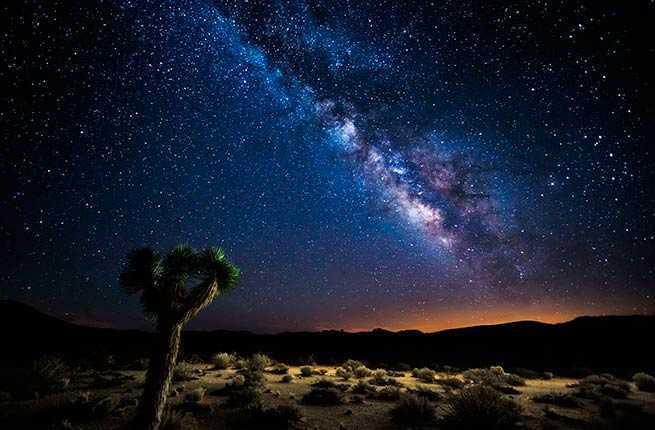 beboy / Shutterstock
Experiencing the full brilliance of a starry night sky is no longer a given when you step outside. Even on the clearest nights, artificial light from cities obscures the natural darkness, making nighttime skies look a lot less majestic than they should. Across the country, however, there are still vast swathes of wilderness that retain the natural lightscape. In these ten destinations, you're sure to be awestruck as you gaze up at the jaw-droppingly beautiful skies above.
by Jayme Moye
By Kevin Wigell [CC-BY-SA-3.0 (http://creativecommons.org/licenses/by-sa/3.0)], via Wikimedia Commons
Cherry Springs State Park
WHERE: Pennsylvania
One of the darkest spots east of the Mississippi, Cherry Springs State Park became a Gold-Certified International Dark Sky Park, one of only a handful in the U.S., in 2008. Despite its proximity to urban areas, the 82-acre park is set atop a hill surrounded by the 262,000-acre Susquehannock State Forest and offers a 360-degree view of the night ski free from light pollution. In the summer, Cherry Springs serves up a robust schedule of sky tours on Friday and Saturday nights.
Insider Tip: Cherry Springs State Park's Night Sky Viewing area, located north of Route 44 (opposite the gated Astronomy Observation Field), is always open. Here you'll find public parking and information kiosks. Follow the walkway to the viewing area, which is shielded from passing vehicle lights.
PLAN YOUR TRIP: Visit Fodor's Pennsylvania Guide
beboy / Shutterstock
Death Valley National Park
WHERE: California
For those hoping to see meteor showers or lunar eclipses, there is no better vantage point than Death Valley National Park. The park produces very little artificial light within its 3.4 million acres, 91 percent of which are designated as wilderness with no development. But what really makes this Gold-Certified International Dark Sky Park so special is the combination of dry climate, clean air, and an expansive horizon that seems to start at your feet.
Insider Tip: Steer clear of Death Valley in the summer, when temperatures soar well above 100 degrees Fahrenheit. Instead, plan your visit from November to April, when temperatures are in the 70s and park rangers lead night sky programs.
PLAN YOUR TRIP: Visit Fodor's Death Valley National Park Guide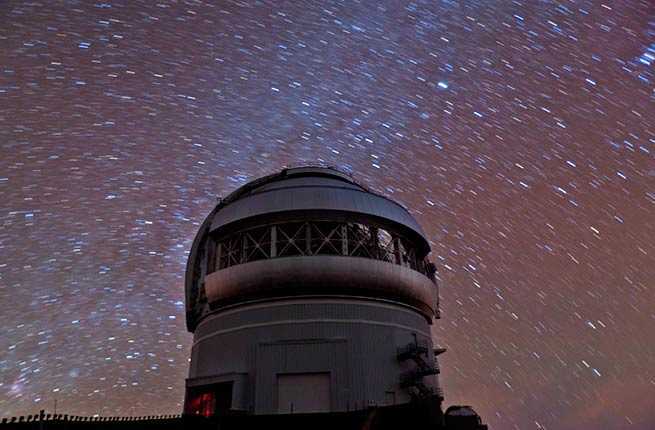 Andreas Koeberl / Shutterstock
WHERE: Hawaii
Located on the Big Island, Mauna Kea is a 13,803-foot dormant volcano and the highest point in Hawaii. It's also the site of the world's largest and most advanced astronomical observatory. Astronomers consider the stargazing atop Mauna Kea to be the best on the planet, with virtually zero light pollution due to Hawaii's location in the middle of the Pacific, and a strong island-wide lighting ordinance. But what really sets Mauna Kea apart is a tropical inversion cloud layer that isolates the summit from the moist maritime air below and ensures pure, dry skies free from atmospheric pollutants.
Insider Tip: Start at the Onizuka Center for International Astronomy Visitor Information Station at 9,200 feet, where free nightly stargazing programs are held every evening starting at 6 pm.
PLAN YOUR TRIP: Visit Fodor's Mauna Kea Guide
Courtesy of Gary A. Becker, www.astronomy.org
Chaco Culture National Historical Park
WHERE: New Mexico
With more than 4,000 prehistoric archeological sites, Chaco Culture National Historic Park is a fitting place to gaze at a night sky as pure and dark as when our earliest ancestors did. A natural dark spot thanks to its protected location in the San Juan Basin in northwestern New Mexico, Chaco reconfirmed its commitment to the night sky in 2013 with an International Dark Sky Park Gold Certification. The Chaco Night Sky Initiative presents astronomy programs, solar viewing, and stargazing by telescope from April to October. Pick up a schedule at the Visitor Center.
Insider Tip: The remote park can only be accessed via dirt roads. Use the directions on the park's website, as the local roads recommended by some mapping applications can be unsafe for ordinary passenger cars.
PLAN YOUR TRIP: Visit Fodor's Chaco Culture National Historical Park Guide
John A Davis / Shutterstock
Kitt Peak National Observatory
WHERE: Arizona
The Kitt Peak National Observatory near Tucson houses the world's largest collection of optical telescopes, and the Visitor Center and Museum is open to the public. The clear dark skies of the Sonoran Desert are famous for stargazing, and the observatory's location atop a mountain (and the opportunity to use a 20-inch telescope) solidifies this site as one of the best night sky views in the U.S.
Insider Tip: To use the Observatory's telescopes, register for one of the Nightly Observing Programs for $49, plus a small fee for the shuttle from the Visitor Center to the peak. For a once-in-a-lifetime experience (with a price tag to match), try the Advanced Observing Program and spend the night at the Observatory with a staff astronomer.
PLAN YOUR TRIP: Visit Fodor's Tucson Guide
Courtesy of Robert de Jonge
WHERE: Michigan
Free from most city light pollution, the Headlands are located on the shores of the Straits of Mackinac, at the tip of Michigan's Lower Peninsula. A 550-acre park, the Headlands became a Silver-Certified International Dark Sky Park in 2011. While the stargazing can't quite compete with the remote sites in the Western U.S., the Headlands more than makes up for it with staff enthusiasm and extensive programming offered free of charge.
Insider Tip: Built in 2012, the Dark Sky Discovery Trail takes visitors from the Headlands entrance to the designated Dark Sky Viewing Area along a one-mile paved path.
PLAN YOUR TRIP: Visit Fodor's Michigan Guide
karrapavan / Shutterstock
Denali National Park and Preserve
WHERE: Alaska
No discussion on stargazing would be complete without mentioning the northern lights, also known as the aurora borealis. This jaw-dropping phenomenon of greens, reds, blues, and purples dancing across the night sky occurs as a result of a coronal mass ejection—a giant burst of solar wind and magnetic fields that interact with elements in the earth's atmosphere. The northern lights center on the magnetic poles, which makes Alaska the best place in the U.S. to spot them. And what better place than Denali National Park? Think six million acres of raw, wild landscape with just one road.
Insider Tip: In Alaska, there is too much natural sunlight in the summer to see the stars. PLAN YOUR TRIP for the fall, winter, or early spring, when long hours of darkness make for perfect night sky viewing. The northern lights are hard to predict, so consult the aurora forecast from the Geophysical Institute at the University of Alaska Fairbanks.
PLAN YOUR TRIP: Visit Fodor's Denali National Park and Preserve Guide
(c) Evantravels | Dreamstime.com
Bryce Canyon National Park
WHERE: Utah
The clean, dry air, high elevation, and lack of light pollution make Bryce Canyon National Park one of America's darkest places. The skies at Bryce are best during the week of the new moon or the week prior to the new moon, when the Milky Way appears like a giant silvery rainbow across the horizon, and 7,500 stars can be seen with the naked eye. The park's "Dark Rangers" lead 140+ astronomy programs every year, featuring viewings that start with a look through high-powered telescopes.
Insider Tip: Bryce's 16th Annual Astronomy Festival is scheduled for June 1–4, 2016. The park partners with the Salt Lake Astronomy Society to provide a rich program of presentations, science workshops, and sky tours.
PLAN YOUR TRIP: Visit Fodor's Bryce Canyon National Park Guide
(c) RIRFStock | Dreamstime.com
WHERE: Texas
An isolated area in southwest Texas along the Mexico border, Big Bend National Park claims its skies are "dark as coal." They are, courtesy of the remote location, very low humidity, and infrequent cloud cover. In case there was any doubt, the park underwent a drastic reduction in energy consumption and lighting in 2011 to achieve its gold certification as an International Dark Sky Park. On a clear night, expect to see 2,000 stars, plus planets and meteorites.
Insider Tip: Winter is the best time for stargazing at Big Bend National Park. Not only are the nights longer than the days, but the skies are the cleanest—northerly winter winds bring in much less debris from Mexico and other parts of the U.S. than the summer winds.
PLAN YOUR TRIP: Visit Fodor's Big Bend National Park Guide
(c) Tamifreed | Dreamstime.com
WHERE: Montana
With more than 700 miles of trails through one million acres of pristine wilderness, Glacier National Park is a backpacker's stargazing dream. There's very little light pollution in northernmost Montana because there's virtually no development—even the land across the border is a Canadian national park. The closest town—Whitefish, Montana—has its own Dark Sky Ordinance to keep light pollution at bay.
Insider Tip: For the ultimate Montana Big Sky experience, plan a multi-day backpacking trip and sleep under the stars. Start with Glacier's backcountry camping guide.
PLAN YOUR TRIP: Visit Fodor's Glacier National Park Guide