Jamala Wildlife Lodge
Is there any child (or grownup) who hasn't dreamed of staying overnight at the zoo? All right, maybe it's a bit fanciful to think the animals talk to each other after all the visitors have gone home or that the keepers open their cages so they can run around free, but at the very least there will be sights and sounds not encountered during the day. Night openings are a growing trend in the zoo world, with several going so far as to offer overnight accommodation ranging from the basic (sleeping bags in the visitor center) to high-end lodges with the standards of a luxury hotel.—Ellin Stein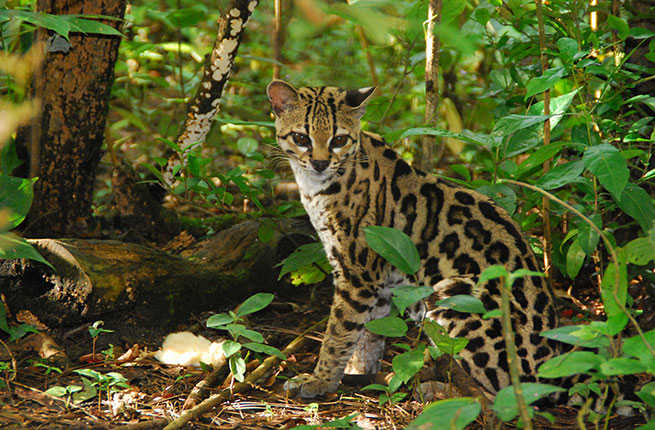 Belize Zoo
WHERE: Ladyville, Cayo District, Belize
Want to see a sleeping jaguar? Feed a tapir? Buddy up to a boa constrictor? These are just some of the experiences you might encounter during a nocturnal tour of the Belize Zoo guided by one of the notably friendly staff. There are no indoor exhibits—all of the 45 species are native to Belize and the zoo's jungle environment. You'll stay at the education center across the road in a small wood cabin with comfortable beds, electricity, and a screened-in porch. There's also a larger A-frame cabin available where you can see a large pond, and its croc residents, from your porch hammock. An authentic Belizean dinner and breakfast are included.
Details: Open daily. Pond house from $70, cabana from $60. Zoo tour $25 per person.
PLAN YOUR TRIP: Visit Fodor's Belize Guide
WHERE: Adelaide, Australia
Children over 6 (with a parent) can camp in tents pitched in a rooftop garden overlooking this compact zoo. After a BBQ dinner, you'll go on a safari guided by a keeper, which offers a rare chance to see creatures that are more active at night, from big cats to smaller servals. In the morning you'll be able to feed the meerkats their breakfast and have access to the zoo for the rest of the day. Adelaide is notable for the range and variety of its primates, including orangutans, Tamarin monkeys, and lemurs.
Insider Tip: Be sure to see the pandas first thing in the morning when they're at their most active.
Details: Fridays and Saturdays, Jan.–Feb. and April. $360 per two-person tent.
PLAN YOUR TRIP: Visit Fodor's South Australia Guide
Jamala Wildlife Lodge
WHERE: Canberra, Australia
With wood-paneled floors and ceilings, marble bathrooms, and leather couches, a stay at the luxurious Jamala Wildlife Lodge on the grounds of Australia's National Zoo and Aquarium is not exactly roughing it. Five bungalows have glass walls that provide a view of the neighbors, who may be lions, tigers, cheetahs, brown bears, or Malaysian sun bears, while the seven lodge rooms include one that looks out onto a 4-meter-deep ocean aquarium, another onto a lemur enclosure, and one, not for the nervous, with a terrace over the shark tank. The package includes dinner and a tour of the zoo. The Lodge is located 10 minutes from central Canberra, on the banks of the Molonglo River.
Details: Open daily. From $200.
PLAN YOUR TRIP: Visit Fodor's Australia Guide
WHERE: Bardu Municipality, Norway
The world's northernmost wildlife park is devoted to animals native to Norway, including bears, lynx, musk ox, Arctic foxes, reindeer, and elk. Its huge enclosures (only 12 on 114 acres) require patience for sightings, although the inhabitants will usually approach around feeding time (in winter, animals may be less visible and the bears are hibernating). The highlight is the park's seven gray wolves. Stay over in the comfortable, Scandi-style six-bedroom Wolf Lodge located within their enclosure (and accessed via a tunnel from the fence) and you'll be able to see the pack from picture windows on three sides. There's also a skylight for views of the Northern Lights.
Details: Open daily. From $1,300 for two (includes wolf encounter, park tour, dinner and lunch).
PLAN YOUR TRIP: Visit Fodor's Norway Guide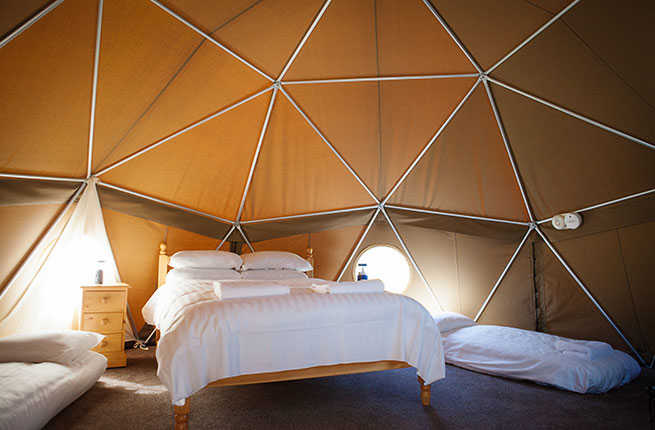 Natalie Mayer
WHERE: Jersey, Channel Islands
Originally the Jersey Zoo, this park-like zoo with an emphasis on rare and endangered species was founded by Jersey's famous son Gerald Durrell, the noted naturalist and author best known for his memoir My Family and Other Animals. Standout exhibits include one devoted to animals of the Andean cloud forest such as Andean bears, ring-tailed coatis, and various exotic birds; the Madagascar-inspired dry forest with its lemurs and mongoose (and giant rat); and a reptile and amphibian center. Overnight glamping accommodation is provided in geodesic dome-like "pods" with beds, wood-burning stoves, showers, and kitchenettes, plus unrestricted access to the wildlife park during opening hours.
Details: Open daily. 4-person pod from $760 for three nights (three-night minimum during high season. Shorter stays available during low season).
Gir Lion Lodge
WHERE: London, United Kingdom
London Zoo has gone to great lengths to make sure its small pride of four endangered Asiatic lions feel at home by recreating the environment of India's Gir Forest, a national park where the breed's only remaining wild population lives. Since humans and lions coexist there in close proximity, the enclosure has been conceptualized as an Indian village, complete with a "grocery store" taken over by Hanuman Langur monkeys and a "post office" inhabited by a dwarf mongoose, while "temple ruins" offer an overview of the lions' wooded home. Accommodation is in cozy wood cottages abutting the enclosure, all with beds, sofas, and full bathrooms. Both family and adults-only nights are available, and packages include dinner, an after-hours guided tour of the zoo, dinner, breakfast penguin-watching, and next-day admission.
Details: Mon., Wed.–Sun., Feb.–Dec., from $600 per couple, $50 per child.
PLAN YOUR TRIP: Visit Fodor's London Guide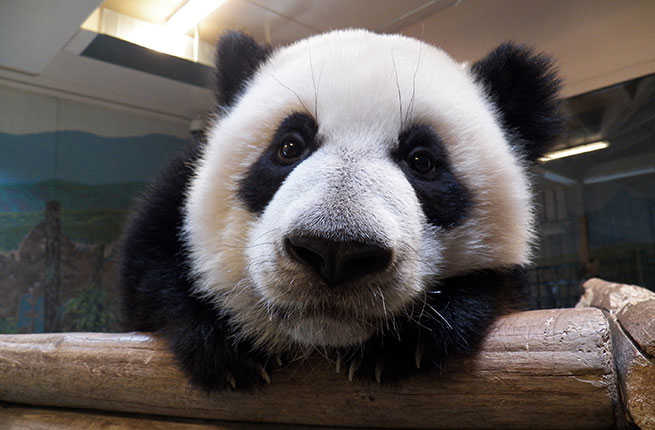 Toronto Zoo
WHERE: Toronto, Canada
Toronto is some distance from Africa's famous Serengeti plains, but nevertheless the zoo does its best to recreate a safari on the savanna during its Serengeti Bush Camp nights. The heart of the experience is an interactive walking tour of the zoo's African Savanna and Rainforest Pavilion, followed by dinner at the Safari Lodge restaurant overlooking the white rhino enclosure, s'mores around the campfire for younger (and young-at-heart) guests, and accommodation in 13 authentic canvas tents (cots provided, but sleeping bags are BYO). There's also the opportunity to visit parts of the zoo usually closed to the public for a behind-the-scenes look. Family and adults-only nights are available.
Details: July–Aug. (except Weds.). From $109 per person.
PLAN YOUR TRIP: Visit Fodor's Toronto Guide
Lloyd Merrick
WHERE: Bristol, United Kingdom
Set in 12 acres of botanical gardens on the southwest coast of England, the Bristol Zoo, the fifth-oldest in the world, has gone all out to make their zoo overnights a luxury experience (with the price to match). The package includes a keeper-led evening tour with behind-the-scenes access, an animal feeding experience, a four-course meal cooked by a personal chef served on your private terrace overlooking the animal enclosures, and breakfast in a glass room in the gorilla enclosure. Visitors spend the night in a former keeper's house that has been transformed into a luxury two-bedroom apartment similar to a boutique hotel suite (sleeps four adults and two children), although one within earshot of roaring lions and chattering gibbons.
Details: Open daily. Lodge apartment from $1,200.
PLAN YOUR TRIP: Visit Fodor's Bristol Guide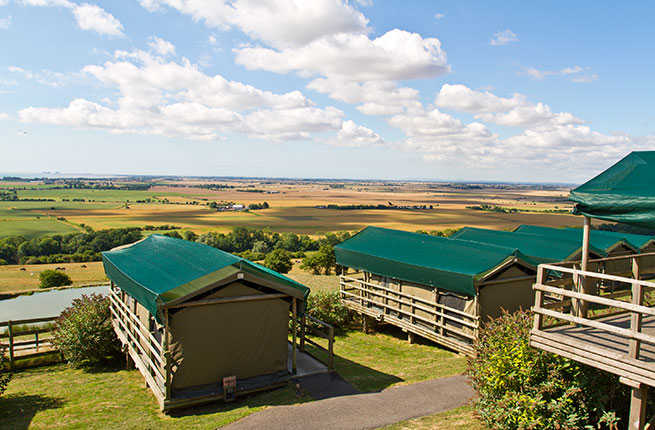 Port Lympne Reserve
WHERE: Ashford, Kent, United Kingdom
The late John Aspinal's private zoos were among the first to pioneer keeping visitors enclosed (in vehicles) while the animals roam free. At this 600-acre park near Dover, visitors travel in open-sided vehicles and on foot to see more than 88 species, including lions, gorillas and other primates, giraffes, and rhinos. After a "dusk safari" and four-course dinner cooked on an open fire, stay over in a luxury heated tent with four-poster bed and private bathroom in a pine grove near the reserve's Amur tigers and wolves. If you want more creature comforts, a treehouse hotel has suites with Wi-Fi and TV.
Details: April­–Oct., Wed–Sun. Lodge tents and Treeline suites from $475, hotel rooms from $426, Pods from $80 (all per night).
PLAN YOUR TRIP: Visit Fodor's England Guide
Philadelphia Zoo
WHERE: Philadelpphia, PA, United States
This long-running family-oriented "roars and snores" package for children 5 to 12 (chaperoned by an adult) offers the chance to spend the night at America's first zoo. Accommodations include an indoor "treehouse" playground (complete with hollow logs and giant honeycombs for kids to crawl into), a chat with a keeper to see the zoo from an insider's perspective, and a late-night hike to visit some of the zoo's 1,300 animal residents, as well as next-day admission to the zoo. Special themed nights focusing on endangered, nocturnal, or rainforest-dwelling creatures are available. Unaccompanied grown-ups can enjoy the zoo's occasional adults-only slumber parties.
Details: Fridays and Saturdays, Jan.–June and Oct–mid-Dec., $55 per person.
PLAN YOUR TRIP: Visit Fodor's Philadelphia Guide