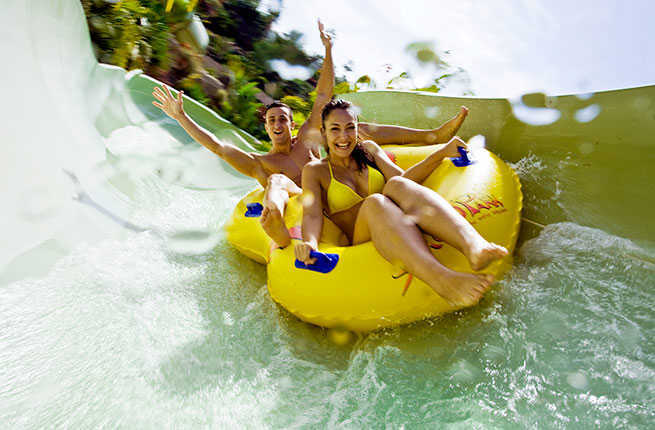 Adrenaline knows no language barriers at the world's best water parks. The limits of physics and gravity are tested on a global scale as water parks around the world race to build the tallest, fastest, and most thrilling attractions. From the world's tallest slide that propels riders at speeds of up to 70 miles per hour to an extreme human cannonball water rocket, the world's best water parks pull out all the stops in hopes of making a splash.—Zachary Laks
Courtesy of Beach Park
WHERE: Aquiraz, Brazil
The palm trees and cool breeze beach themes come naturally at Beach Park, a premier Brazilian resort set on the Atlantic coast. The park has made a name for itself with its impressive slides and well-maintained beachfront grounds. You'll have plenty of time to enjoy the view as your make your way up to the monstrous Insano, the park's iconic drop slide that held the title as the world's tallest water slide for more than 10 years. The slide is an engineering wonder as its 134-foot free-fall uses no rafts or floats, requiring riders to descend on their backs for the dramatic drop that reaches speeds of 65 miles per hour.
PLAN YOUR TRIP: Visit Fodor's Brazil Guide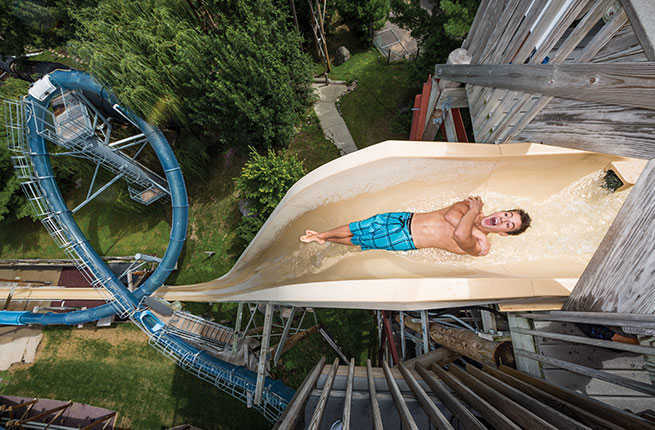 Wisconsin Dells Visitor & Convention Bureau
WHERE: Wisconsin Dells, Wisconsin
With 51 water slides on 70 acres of prime Wisconsin Dells property, Noah's Ark Water Park is officially the largest water park in the United States. For those looking to get the most out of the park, one day is not enough to experience its wide array of water-centric thrills. Start with the park's most popular slide, Scorpion's Tail, a wondrous feat of physics that drops riders through a trapdoor capsule into a nearly inverted loop. Newer additions include the chance to race three friends on the Quadzilla mat slide and the Surfing Safari surf simulator.
PLAN YOUR TRIP: Visit Fodor's Wisconsin Guide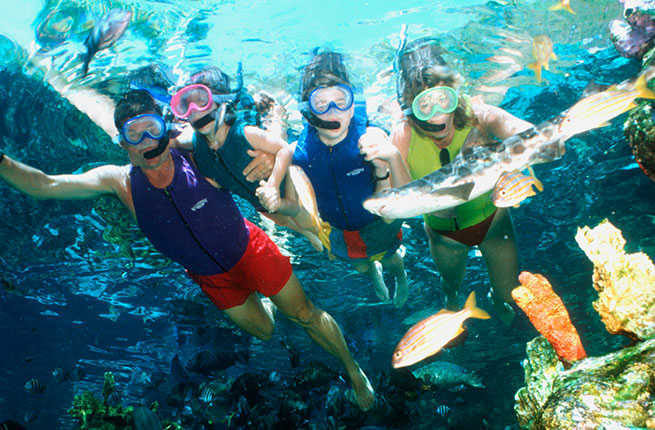 Courtesy of Disney
DISNEY'S TYPHOON LAGOON WATER PARK
WHERE: Orlando, Florida
Holding its ground as one of the world's most-visited water parks—hot on the heels of the number-one Chimelong Waterpark in Guangzhou, China—Typhoon Lagoon at Disney World attracts more than 2.2 million visitors annually. One of two water parks at Disney World Resort—its sister park, Blizzard Beach, sits about 10 minutes away on the resort property—Typhoon Lagoon is a destination water park in its own right. Styled and staged as a disheveled beach town that has just resurfaced from the wrath of a fictional typhoon, all of the fixtures are outfitted in deluxe Disney fashion. Park standouts include one of the world's biggest wave pools and the Crush 'n' Gusher water coaster that rockets riders on rafts through tight curves and bunny-hill drops.
PLAN YOUR TRIP: Visit Fodor's Orlando Guide
Courtesy of Waterbom
WHERE: Kuta, Indonesia
Trade a day on the beach for a wet and wild adventure at Waterbom Bali water park. When it comes to slides, Waterbom Bali delivers top-level thrills, but it's the Climax slide that steals the spotlight. The most exhilarating ride in the park, Climax is a vertical looping fall-out slide that propels riders along at over 40 miles per hour and 2.5 G-forces. The park is a family favorite, with plenty of activities for kids, including their Funtastic water playground with smaller slides, water cannons, jets, and an impressively adorned tropical lazy river that snakes throughout the park.
PLAN YOUR TRIP: Visit Fodor's Bali Guide
Atlantis, The Palm
WHERE: Dubai, United Arab Emirates
A desert oasis set on the shore of the Persian Gulf, Dubai's Aquaventure Waterpark is a standout amusement in a city known for its opulence. Attached to the plush Atlantis Resort on the man-made Palm Jumeira island, Aquaventure offers a wealth of thrilling slides, but none more elaborate than the Leap of Faith—a nine-story near-vertical drop slide that sends riders in an enclosed tube through shark-infested waters. Park tickets also include same-day access to the resort's private beach, offering a prized spot to catch your breath after a day of adventure.
PLAN YOUR TRIP: Visit Fodor's Dubai Guide
Courtesy of Tropical Islands
WHERE: Krausnick, Germany
The king of all indoor water parks has taken up residence in the world's largest free-standing hall and it's a match made for the record books. Converting a former aircraft hangar into Tropical Islands, the world's largest indoor water park, was no small feat. Estimated costs topped $80 million in 2004 to complete the park's four distinct areas, themed to recreate a rainforest and the exotic coasts of Bali. The park sits about an hour south of Berlin and is well worth a visit to marvel at the incredible size and scope of the facility, no matter what time of year.
PLAN YOUR TRIP: Visit Fodor's Berlin Guide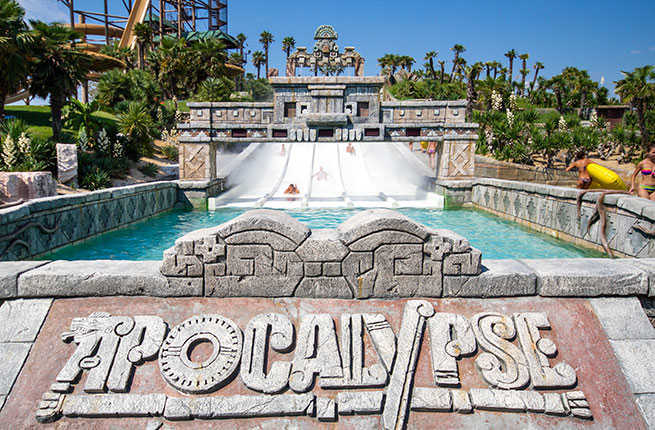 Aqualandia
WHERE: Jesolo, Italy
If you're thinking of swimming in the canals of Venice, consider trekking about 45 minutes east instead to Aqualandia, Italy's top water park. More than 25 attractions fill the park's eight areas themed to replicate the Caribbean seaside. Arrive early for easiest access to Spacemaker, one of the tallest slides in the world, measuring nearly 138 feet high and reaching speeds of 74 miles per hour on the descent. Rafts of three or four passengers take on the ride's menacing 60-degree drop before finishing with a celebratory splash in a wading pool.
PLAN YOUR TRIP: Visit Fodor's Italy Guide
Courtesy of Siam Park
WHERE: Adeje, Spain
On Tenerife Island in the Canary Islands, the lush grounds of Siam Park overflow with charm and character. Ornately adorned attractions with a Thai theme are the water park's signature draw for a predominantly European market. Completed in 2008, Siam Park holds a few world records with its innovative engineering, including the world's largest man-made wave (11 feet!) in its expansive wave pool, the world's largest dragon statue, and the largest collection of Thai-themed buildings outside Thailand (currently 25 custom-built structures). When it comes to the water slides, park engineers have made the most of their mountainous setting, embedding slides atop the hilly terrain.
PLAN YOUR TRIP: Visit Fodor's Canary Islands Guide
Courtesy of World Waterpark
WHERE: Alberta, Canada
Rain or shine, World Waterpark, set inside the West Edmonton Mall in Edmonton, Alberta, Canada, delivers top water thrills 365 days a year. The world's second-largest indoor water park (after Germany's Tropical Islands Resort), World Waterpark wows guests with 17 slides and three plus-sized pools, including the world's largest indoor wave pool. Water park aficionados seek out the park for the harrowing and perilous Cyclone, a slide that lives up to its extreme reputation as a disappearing floor drops riders into a vertical plunge before a gravity-defying loop sends them momentarily airborne. You're going to want to hold onto your hat for this one—or better yet, leave the hat in the locker.
PLAN YOUR TRIP: Visit Fodor's Alberta Guide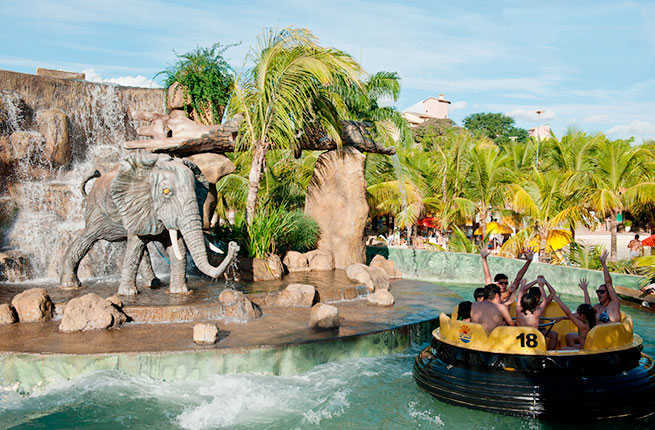 Courtesy of Thermas dos Leranjais
WHERE: Olimpia, Brazil
The fifth most-attended water park in the world in 2015, Brazil's Thermas dos Laranjais leads the pack in Latin America with an exciting mix of water thrills for all ages. The park touts a few unique attractions, namely the perilous Tomboágua, a free-for-all wide-bodied slide that allows riders to stand and glide down the descent. Hidro Balanço is another unique ride in the park that harnesses the power of rider-operated fire hoses to swing each car back and forth on a pendulum.
PLAN YOUR TRIP: Visit Fodor's Brazil Guide
Courtesy of Area 47
WHERE: Ötztal-Bahnhof, Austria
A change of speed from the standard tube slides and wave pools, Area 47 is magnet for adventurists. Billed as Europe's largest outdoor adventure park, the water-based thrills push the limits of physics. Most impressive of the lot, Cannonball transforms guests into human cannonballs, blasting pressurized water onto riders' backs and propelling them into the air before the lake waters break their fall. The park's five slides are custom-built steel wonders, featuring surprising twists and gut-wrenching drops that meet the needs of most adrenaline junkies.
PLAN YOUR TRIP: Visit Fodor's Austria Guide
Courtesy of The Waterpark
WHERE: Faliraki, Greece
Don't let the generic name fool you—WaterPark is a bustling hub of amusement for all ages. Billed as the largest water park in Europe, it delivers some intense rides at an immense scale. Most notably, the Stingray Slide is a towering half-pipe where riders on rafts scale the walls to thrilling effect. Air time hits a max limit on the Kamikaze Slide as riders begin with a near-vertical plunge before leveling and approaching the second drop and completely separating from the slide for a few harrowing moments.
PLAN YOUR TRIP: Visit Fodor's Greece Guide
Courtesy of Hot Park
WHERE: Rio Quente, Brazil
Located about 40 minutes west of Caldas Novas, Hot Park makes our list for its impressive range of water attractions and activities for the family. Start the day with a climb into the piranha's mouth on the Xpirado slide, where a dark spiral leads into a giant drop, clocking speeds of more than 50 miles per hour. For something a little lower key, Hot Park's Giant Slide offers a slip-and-slide water run for an experience that hearkens to classic downhill snow tubing.
PLAN YOUR TRIP: Visit Fodor's Brazil Guide
SeaWorld Parks & Entertainment
WHERE: Orlando, Florida
Sister park to Discovery Cove, Aquatica is a top draw for families in Orlando with its combined water park and interactive marine park. Completed in 2008, Aquatica is home to a few standout attractions, namely the Dolphin Plunge, where two side-by-side tube slides race underwater through a black-and-white Commerson's dolphin habitat. Once you've raced alongside a dolphin, head over to the Taumata Racer to clock your speed against seven other racers on a mat slide that takes some speedy dips down the main dragway.
PLAN YOUR TRIP: Visit Fodor's Orlando Guide
Bragust | Dreamstime.com
WHERE: Hurghada, Egypt
Set in Hurghada on the Red Sea coast of Egypt, Jungle Aqua Park is a desert oasis of family water park fun. Prized for its expansive collection of 35 water slides and 33 outdoor swimming pools, Jungle Aqua Park attracts a predominantly European crowd to its pristine grounds. Overcrowding is rarely an issue, with plenty of plush sun beds available throughout the park and fast-moving lines even at top attractions.
PLAN YOUR TRIP: Visit Fodor's Egypt Guide
Courtesy of Water Country USA
WHERE: Williamsburg, Virginia
Thrills for the whole family await at Williamsburg's Water Country USA, the Mid-Atlantic's largest water park, with more than 40 water slides. The park's signature thrill ride is Colossal Curl, a behemoth blue and yellow slide featuring a cloverleaf-shaped raft. The four-person raft charges into a 24-foot tornado whirlpool before descending into the TornadoWave, where a riders scale a giant curved wall. Water Country USA is a 10-minute drive from its sister theme park, Busch Gardens Williamsburg, offering a dependable long weekend of summer thrills at both parks.
PLAN YOUR TRIP: Visit Fodor's Williamsburg and Hampton Roads Guide
Chrisstanley | Dreamstime.com
WHERE: Abu Dhabi, United Arab Emirates
A newcomer to the mega water park scene that was completed in 2013, Yas Waterworld pulled out all the stops in creating an all-encompassing thrill destination. The park features a bold lineup of 43 rides, slides, and attractions that demonstrate the cutting edge of water park engineering. Highlights include the Rush Rider surf simulator and Dawwama, a mega-slide that features a six-person raft that scales the walls of a 65-foot-high funnel. If you like surprises, check out Slither's Slides, where six unique slides take riders on tubes through wet and wild thrills, all finishing out the mouth of terrifying serpents.
PLAN YOUR TRIP: Visit Fodor's United Arab Emirates Guide