Courtesy of Coast Hotels
February 14th: a day designed to put unnecessary pressure on existing relationships and make single people acutely aware of their loneliness. Whether you're after a kitschy motel, a truly romantic getaway, or a scenic solo escape to clear your mind, this list is for you.—Rachael Roth
Courtesy of Hotel Raphael
Hotel Raphael
Hotel Raphael from Hotel Chevalier
Paris, France
The precursor to Wes Anderson's Darjeeling Limited, this tragic/romantic short starring Natalie Portman and Jason Schwartzman takes place entirely in the Anderson-esque Hotel Raphael in Paris. This luxurious hotel has rooms starting at $300, with suites closer to the $1,000 range. Right in the Arc de Triomphe neighborhood, Hotel Raphael is also close to the Eiffel Tower and Champs Elysees, so get ready to fall in love. Hopefully, unlike for the characters in this film, it won't be unrequited.
Voyata via Shutterstock
Park Hyatt Tokyo
Park Hyatt Tokyo from Lost in Translation
Tokyo, Japan
The shot of Scarlett Johansson sitting in the window and looking out over the Tokyo skyline is enough to make us want to go to there. Maybe you'll meet a nice stranger at the "New York Bar," located on the 52nd floor of this five-star hotel.
Courtesy of Coast Hotels
Safari Inn
Safari Inn from True Romance
Los Angeles, California
Spend Valentine's Day weekend by the pool or tanning on the sun deck with the one you love at this revamped '50s motel right near Warner Bros. Studio. Just don't get caught up in any drama à la Clarence and Alabama and your stay should be smooth sailing. Most importantly, make sure whoever you bring along likes to get a slice of pie after a good movie.
Patryk Kosmider via iStock
Parknasilla Resort & Spa
Parknasilla Resort & Spa from The Lobster
Sneem, Ireland
Scenic any time of year, this remote resort in Kerry overlooking the Kenmare Bay is surrounded by subtropical plants and vegetation. Stay in a suite and watch the sunset over the water from your balcony, or opt for a self-catering Woodland villa, a short walk from the estate, and take a bucolic stroll nestled between the Kerry mountains. Fingers crossed, you'll find someone to pair up with during your stay. If not, try and locate the property's Transformation Room.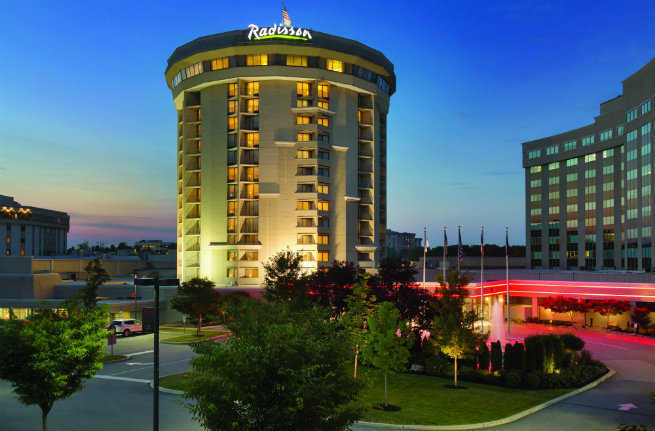 Radisson
The Star Gazer
The Star Gazer or Other Fantasy Suites at Radisson Valley Forge Hotel, from Blue Valentine
King of Prussia, Pennsylvania
We're not even sure you should take our advice on this one. After all, Michelle Williams and Ryan Gosling had a pretty miserable time when they sprung for a weekend getaway to this retro-futuristic room to rekindle love lost. But wouldn't it be worth it, just for jokes? The website describes the room as follows: "Buckle up for the ride of a lifetime in this spaceship-themed suite," and that sounds pretty damn fun to us. If that doesn't suit your fancy, the other fantasy suites include "The Cave," and "Leather and Lace." Curiosity = piqued.