Gone are the days of sneaking your dog into your hotel room in the dead of night. With over half of U.S. households claiming a furry family member, the hospitality industry is rolling out the red carpet for dogs, with a wide range of amenities and services from plush beds to canine room service and even spa treatments. These seven upscale brands are the leaders of the packwith the most pet-friendly accommodations. Tip: Pet fees and weight limits vary, so be sure to call ahead and always bring current vaccination records.—Ginger Warder
Courtesy Mandarin Oriental Hotels
The exclusive Mandarin Oriental group, known for the ultimate in Asian-inspired luxury and stellar service, extends their welcome to your whole furry family, although fees and weight limits vary at each hotel's discretion. Your pet will be welcomed with a gilded, fan-shaped MO tag,, gourmet treats and toys, and a plush loaner bed and bowls in your room or suite, as well as a welcome letter from the manager and room service menus for both you and your pooch. Don't be surprised that every staffer in the hotel will greet both you and your pet by name when you walk by.
Details: Fee and weight limit at each hotel's discretion (expect to pay $100 or more per stay, many are 25 pounds or less), contact each hotel directly for their pet policy.
Courtesy Loews Hotels
"Loews Loves Pets" and that's why pet owners love Loews Hotels. In addition to the welcome package that includes a pet bowl, dog tag, and treats, many properties offer special services like dog walking, pet sitting, and doggie spa treatments, as well as detailed information on local pet services and loaner beds, leashes, and pet videos. Loews has also partnered with Banfield Pet Hospital to offer furry guests a complimentary examination and a 15% discount on services during their stay. Some special packages like the "Woofie Weekend" include room service and waive the modest pet fee.
Details: $25 fee per stay, no weight limit
Courtesy Starwood Hotels and Resorts
All W Hotels in North America welcome four-legged guests with a custom W pet bed and food bowls with mat in their guestroom, as well as a welcome amenity package that includes a W pet tag, treats, and waste disposal bags. Furry visitors get a treat at turndown as well, and a welcome letter with information about local pet services.
Details: $25 per day fee plus a non-refundable $100 cleaning fee, 40 pound weight limit and one pet per room.
Courtesy Ritz-Carlton Hotels
Ritz-Carlton pampers pets with services ranging from a loaner Burberry raincoat to certified canine massage therapists. While not all Ritz-Carlton Hotels are pet friendly, those who accept pets offer welcome amenities including treats and toys, loaner beds and bowls, and special services ranging from canine room service to spa treatments for pooches between 10 and 30 pounds. The usual charge is between $125 and $250 non refundable pet fee. Pets are usually restricted to certain areas of the hotel. Several locations offer special pet packages including pet hikes, beds, treats and toys.
Details: Fee and weight limit varies by property (expect to pay $125-250 as a nonrefundable cleaning fee, generally between 10 and 25 pounds), call hotel for details.
Courtesy Hilton Hotels
Included in Fido's room are two dog bowls and a placemat, and at check-in your furry friend will get his or her own travel tote with organic treats, bio-degradable waste bags, and a travel-sized bottle of deodorizing disinfectant.
Details: $75 non-refundable fee per stay; must reserve in advance, 75 pound weight limit and two pets per room max.
Courtesy IHG (InterContinental Hotels Group)
For a stylish stay on a modest budget, Hotel Indigo is a great choice for four-legged travelers. All of the hotels are pet friendly, and while fees and weight limits vary (some do not charge a pet fee and weight limits are set by each individual hotel), expect some amenities like dog treats and water bowls. The Atlanta and San Diego hotels even host a periodic Canine Cocktails "Yappy Hour", and have canine ambassadors in residence.
Details: Fee varies by property (no fee at Atlanta Midtown or San Diego), weight Limit varies by property.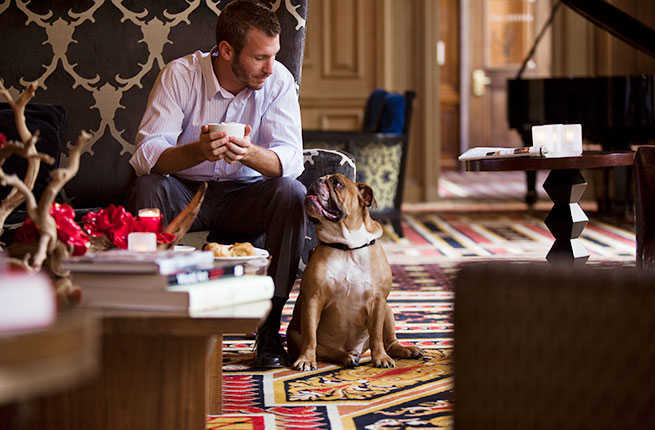 The Kimpton Group was the first to offer HosPETality and 12 of their properties even have a Director of Pet Relations, a canine ambassador who gives you a wagging welcome. With no fees and no weight limits, all of these elegant hotels offer welcome amenities that include beds, bowls, and treats, in addition to special options like gourmet room service or a human and dog yoga session, known as doga.
Details: No fees or restrictions on number of pets, no weight limit