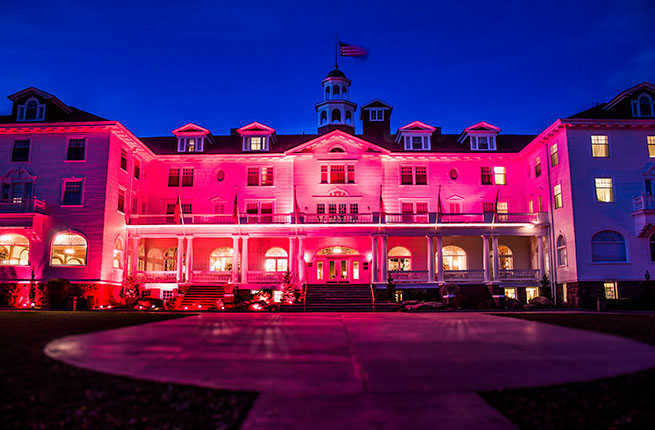 Courtesy of the Stanley Hotel/Anil Singh
If your hotel also keeps a ghost log in addition to a guest log, you know you're in for a scary night. Halloween is just around the corner, and in truefreak-ourselves-out style, we've found the spookiest hotels in all corners of the country. For extra haunted happenings, be sure to ask the about local ghost tours. We won't judge you for sleeping with the lights on.
Insider tip: Some properties' policies don't allow public advertising of any reported hauntings or paranormal activity, but that doesn't mean they don't have spooky stories to tell. A discreet inquiry to the concierge or a longtime employee just may get you a behind-the-scenes tour to a property's hidden haunted hot spots.—Blane Bachelor & Lola Akinmade
Courtesy of the Jekyll Island Club Hotel
WHERE: Jekyll Island, Georgia
Once touted as "the richest, the most exclusive, the most inaccessible club in the world," the now moderately-priced yet still impressive 1886 hotel has an elegant Victorian clubhouse with towers, turrets, and wraparound verandas. On occasion, you just might see the ghost of General Lloyd Aspinwall, the club's first president, strolling along those porches. If planning a honeymoon at the hotel, beware the "bellman" spirit dressed in a 1920s-style uniform notoriously known for knocking on doors of newlyweds to offer laundry services.
PLAN YOUR TRIP: Visit Fodor's Jekyll Island Guide
Courtesy of the Omni Shoreham
WHERE: Washington, DC
Opened in 1930, this DC landmark remains a popular location for inaugural balls and has hosted celebrities such as the Beatles and various heads of states. Suite 870 is home to just one of its many resident ghosts. Two unexplained deaths are said to have occurred in the presidential suite, and guests sometimes witness lights and other electronics mysteriously turning on and hear other hair-raising noises in that suite and surrounding rooms.
PLAN YOUR TRIP: Visit Fodor's Washington, D.C. Guide
Courtesy of the Queen Mary
WHERE: Long Beach, California
Now docked at Long Beach in California, the art deco ocean liner Queen Mary has a long history of supernatural hotspots. From its First Class swimming pool to various salons and suites, you may very well be rubbing shoulders with skippers and captains who've been dead for decades.
PLAN YOUR TRIP: Visit Fodor's Orange County Guide
Tim Trunnell
WHERE: St. Louis, Missouri
This St. Louis hotel was once the mansion and company headquarters of the city's most powerful beer barons, the Lemp family. Their tragic history spans the mysterious death of a young son, loss of a fortune once valued at $7 million, and three suicides that took place on property, which is now a unique, six-suite hotel. The property's popular supernatural investigations, which come with refreshments and use of an infrared camera to document the ghostly happenings, are a spine-tingling option for brave guests.
PLAN YOUR TRIP: Visit Fodor's St. Louis Guide
Courtesy of the Hawthorne Hotel
WHERE: Salem, Massachusetts
Built in the 1920s, this historic Salem hotel named after the town's famous writer, Nathaniel Hawthorne, once used to have shared bathrooms. While each room now has its own in-suite bath, you just might find yourself involuntarily sharing that space with a previous guest from decades past.
PLAN YOUR TRIP: Visit Fodor's Salem Guide
DkEgy via Wikimedia Commons, [public domain]
Lizzie Borden Bed & Breakfast
WHERE: Fall River, Massachusetts
Lizzie, the youngest Borden family member, was accused of brutally killing her parents in their Victorian home in 1892. Today this popular bed and breakfast is part museum, part lodging and is rumored to be haunted by the victims of the grim murders that happened within its walls.
PLAN YOUR TRIP: Visit Fodor's Massachusetts Guide
WHERE: San Antonio, Texas
The extravagant Menger Hotel, which is just next to the Alamo and is the oldest continuously running hotel west of the Mississippi, doesn't explicitly advertise its haunted history, but ask any employee or regular guest and chances are high you'll hear plenty of spooky stories about sightings of apparitions on property. One of the most popular is that of Sallie White, a hotel chambermaid in the 1870s, who died at the hands of her husband following an argument and is said to still roam the halls of the Victorian wing carrying towels for guests. Several local groups, including the highly regarded Sisters Grimm, conduct ghost tours with stops at the hotel.
PLAN YOUR TRIP: Visit Fodor's San Antonio Guide
Courtesy of the Stanley Hotel/Anil Singh
WHERE: Estes Park, Colorado
This16,000-square-foot grand dame has one of the most famous haunted histories—it inspired Stephen King's The Shining, after the horror novelist stayed in room 217—and isn't afraid to boast about its paranormal presence. The 138-room hotel, nestled in the mountains outside of Denver, has a resident psychic named Madame Vera. One frighteningly fantastic souvenir for any Shining fans: a creepy-cool black-and-red coffee mug that reads: REDRUM.
PLAN YOUR TRIP: Visit Fodor's Estes Park Guide
Marine 69-71 via Wikimedia Commons, [CC BY-SA 4.0]
WHERE: Bisbee, Arizona
Every Thursday, the quaintCopper Queen Hotel, which opened in 1902 and counts luminaries such as John Wayne and Teddy Roosevelt among its guests, hosts a ghost hunt led by a local paranormal expert. Ghost hunting equipment like EMF meters and dousing rods are provided for guests' use during a guided tour. Stay tuned for signs of the property's three resident ghosts: a cigar-smoking gentleman, the spirit of a "lady of the evening" named Julia who took her own life in the hotel, and that of a young boy who likes to move items around in guest rooms. The staff encourages guests to report any odd experiences in the "Ghost Journal" by the front door.
PLAN YOUR TRIP: Visit Fodor's Bisbee Guide
Ub34m78 via Wikimedia Commons, [CC BY-SA 3.0]
WHERE: Gettysburg, Pennsylvania
This entire town is steeped in a bloody Civil War history. Touted as one of the most haunted lodgings in the country, the inn doesn't disappoint when it comes to its paranormal history. Spirits of dead soldiers who lost their lives during the Gettysburg battle are said to wander around the property, including its cellar.
PLAN YOUR TRIP: Visit Fodor's Gettysburg Guide
Dmadeo via Wikimedia Commons, [CC BY-SA 3.0]
WHERE: Anchorage, Alaska
Various spirits are said to inhabit Alaska's oldest hotel, including one of a young girl who roams the second floor. The ghost of Anchorage's first Police Chief John J. "Black Jack" Sturgus returns every year since 1921 on February 20 at 9:15 pm, the exact date and time of his death. Be sure to sign the ghost log with any sightings.
PLAN YOUR TRIP: Visit Fodor's Anchorage Guide
Fettlemap via Wikimedia Commons, [CC BY-SA 3.0]
WHERE: Ventura, California
Built in 1910 by Josephine Pierpont-Ginn, this inn on a hill overlooking Ventura Beach was created to host guests who were traveling along the Pacific Coast Highway via automobile. At almost 100 years old, the historic Pierpont Inn has seen its fair share of residents – both living and dead – including former inn managers who refuse to leave.
PLAN YOUR TRIP: Visit Fodor's Ventura Guide
WHERE: Eureka Springs, Arkansas
Perched on the crest of the Ozark Mountains, the 126-year-oldCrescent Hotel doesn't hide its haunted history—it flaunts it. The property, which was once used as a cancer hospital, has been featured in several popular paranormal shows, and guests can get in on the apparition action with a nightly ghost hunt. Staff and guests alike tell stories about strange happenings that have occurred over the years, from an Irish stonemason who fell to his death during construction and is said to inhabit Room 218 to a ghostly nurse pushing a gurney on the third floor—which once housed the morgue.
PLAN YOUR TRIP: Visit Fodor's Arkansas Guide
Jason Pero via Wikimedia Commons, [CC BY-SA 2.0]
Hilton Cincinnati Netherland Plaza
WHERE: Cincinnati, Ohio
Opened in 1931, this ornate art deco hotel in downtown Cincinnati may have a haunting dating from when it was being built. A construction worker is said to have been killed and his body was never recovered. Rumor has it that a lady wearing green, his grieving widow, usually roams the Mezzanine level.
PLAN YOUR TRIP: Visit Fodor's Cincinnati Guide
Bourbon Orleans of the New Orleans Hotel Collection
WHERE: New Orleans, Louisiana
Known for haunted happenings, the Bourbon Orleans is in the heart of New Orleans' historic French Quarter. Portions of the hotel served as an orphanage and convent back in 1881, and guests have reported hearing the ghostly sounds of kids playing on the sixth floor.
PLAN YOUR TRIP: Visit Fodor's New Orleans Guide