Courtesy of Cap Maison
Choosing the right hotel is an important part of any successful vacation, but there's something about the Caribbean, more than other parts of the world, that makes you want to find the perfect property. More than 7,000 islands are found in the Caribbean, 13 of which are independent islands. That means there's no shortage of hotels to consider booking when you're planning a trip to the region. To help you out, we've selected 15 of our favorite Caribbean properties, all of which appear on our 2014 Fodor's 100 list. Read on to see 15 jaw-dropping properties where your island fantasy can become a reality.
Courtesy of Viceroy Anguilla
WHERE: Anguilla
Luxury seekers, look no further than the Viceroy Anguilla for all your posh needs. Overlooking the sands of stunning Meads Bay, this fashionable property features five restaurants, a full spa, gym, yoga center, tons of activities, and a camp-like program for kids. All lodging options here are "wow"-inducing, but none more so than the private villas, which come equipped with private infinity pools and hot tubs, indoor-outdoor showers, tons of electronics, a professional kitchen that's fully stocked, and even a house manager to run the show.
PLAN YOUR TRIP: Visit Fodor's Anguilla Travel Guide
Courtesy of Jade Mountain
WHERE: St. Lucia
Want to wake up to stunning views of the Pitons and the Caribbean Sea? Then book a stay at Jade Mountain, where the rooms are so luxurious that they're called "sanctuaries," each of which features an infinity plunge pool in the sitting area. With a minimum of 1,400 square feet of open-concept living space in each sanctuary, including an entire wall that's open to the sea, there's hardly any reason to leave your private abode. If you do, however, the adults-only property is home to a bar, restaurant, spa, fitness center, and sky-top terrace. For all these reasons and more, Jade Mountain no doubt earns "trip of a lifetime" status.
PLAN YOUR TRIP: Visit Fodor's St. Lucia Travel Guide
Courtesy of Curtain Bluff
WHERE: Antigua
With a loyal following of guests who return year after year, Curtain Bluff stands out for its dramatic beachfront setting, fine dining (there's a 25,000-bottle wine cellar), waterfront spa, and superb activities like free scuba-diving and deep-sea fishing. Unlike some other properties in the Caribbean, this all-inclusive resort doesn't shy away from families; in fact, multigenerational groups are quite common here. One thing to note: Curtain Bluff closes in late July and doesn't reopen until October.
PLAN YOUR TRIP: Visit Fodor's Antigua and Barbuda Travel Guide
Courtesy of Eden Roc at Cap Cana
WHERE: Dominican Republic
It may be located in the Caribbean, but Eden Roc at Cap Cana's look is all French Riviera. A member of the elite Relais & Chateaux portfolio, it features 34 suites that come equipped with glamorous interiors and private pools. You'll also find LCD TVs, iPads that control everything in the room, luxurious beds, and indoor and outdoor showers. The in-demand one-bedroom suites are perfect for honeymooners, but there are only eight of them, so book far in advance if you're interested. One fun perk here: You get your own golf cart to drive between your suite and reception.
PLAN YOUR TRIP: Visit Fodor's Dominican Republic Travel Guide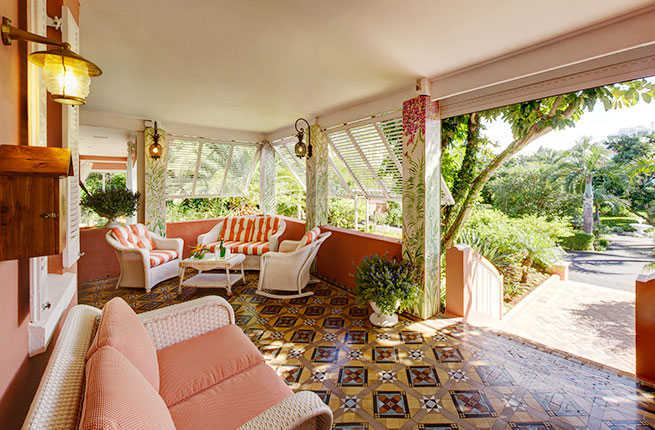 Courtesy of Look Bermuda
WHERE: Bermuda
Named after two on-site specimens that tower over the property, The Royal Palms offers a classic Bermudian experience with its colonial architecture and coral-colored walls. With only 32 rooms housed in two 19th-century manor houses, each guest receives a lot of attention, and the service here is known for being top-notch. Days spent here begin in the sunny, all-grass breakfast room, where you dine at 90-year-old Bermudian cedar tables. The property also features lush gardens that are home to a variety of local fruit trees and an herb garden that supplies Ascots Restaurant.
PLAN YOUR TRIP: Visit Fodor's Bermuda Travel Guide
Courtesy of Hotel Guanahani & Spa
WHERE: St. Barthélemy
The largest full-service resort on St. Barts, Hotel Guanahani and Spa appeals to those looking to stay active—with tennis courts, a beachside fitness pavilion, and a large roster of water sports—or chill out—in the Frédéric Fekkai hair salon or at the serene Clarins Spa—on this landscaped beach peninsula. In addition to impeccable personalized service, Hotel Guanahani offers one of the island's only children's programs. The most luxurious suites here come with butler service and other creature comforts, but there are a variety of rooms and rates to choose from.
PLAN YOUR TRIP: Visit Fodor's St. Barthélemy Travel Guide
Courtesy of the Meridian Club
WHERE: Turks and Caicos Islands
Do you need to de-stress in a timeless environment? Look no further than the Meridien Club, which hasn't changed much since opening in the 1970s—in a good way. That helps explain why the resort sees so many repeat visitors, who are drawn by staying on the prettiest beach in Turks and Caicos as well as the lack of phones and TVs here. Off the property there's a 2.5-mile-long deserted stretch of beach to enjoy, in addition to nature trails that can be explored by bike or on foot. When you're at The Meridien Club, you'll find a communal vibe, as well as some of the finest meals on the islands (which are covered by the room rates).
PLAN YOUR TRIP: Visit Fodor's Turks and Caicos Islands Travel Guide
Courtesy of Cap Maison
WHERE: St. Lucia
Top-tier service is what you get at Cap Maison, where you can have a doting staffer unpack your bags or ring your personal butler for anything you need. Perched on a seaside cliff, this resort (which offers all-inclusive packages) is made up of 22 villas featuring Spanish Caribbean architecture, large private balconies, and huge rooftop terraces, nine of which have a private plunge pool. For pampering, there's a full service spa and a Zen garden plus the beach, but note the latter requires going down (and then back up) 92 stairs to get to.
PLAN YOUR TRIP: Visit Fodor's St. Lucia Travel Guide
Courtesy of Jamaica Inn
WHERE: Jamaica
A throwback to a bygone era of elegance and luxury, the Jamaica Inn, which once welcomed the likes of Marilyn Monroe and Winston Churchill, still reigns supreme as the island's grand dame hotel. Located in Ocho Rios on one of Jamaica's premier private beaches, the hotel features 52 suites and cottages, each with a view of the Caribbean Sea. All-inclusive packages are available here, as are waterfront treatments at the Ocean Spa. You won't find a TV in your room, but that's the point: You're supposed to spend your evenings have dinner al fresco on the gorgeous terrace before dancing to music provided by a live band.
PLAN YOUR TRIP: Visit Fodor's Jamaica Travel Guide
Perry Joseph
WHERE: Harbour Island
Undoubtedly the most luxurious boutique hotel on Harbour Island, the Rock House attracts a discriminating international clientele. With a clubby atmosphere, this adults-only property features just seven rooms and three suites that blend a well-curated mix of island and contemporary furnishings. The Rock House isn't on the beach, but you can spend your days splashing around in the courtyard pool or lounging in the private cabanas that line its perimeter.
PLAN YOUR TRIP: Visit Fodor's Eleuthera and Harbour Island Travel Guide
Courtesy of Le Petit Hotel
WHERE: St. Martin
If you think smaller is better, consider a stay at accurately named Le Petit Hotel, which has just nine rooms plus a one-bedroom suite. There's no pool here, but the beach is great and you're also within walking distance to all that Grand Case has to offer, including some of the finest restaurants in the Caribbean. In the mornings, you can take the basket in your room to go stock up on croissants, coffee, and juice at the breakfast buffet, then bring them back to your private terrace.
PLAN YOUR TRIP: Visit Fodor's St. Martin Travel Guide
Courtesy of Nisbet Plantation
Nisbet Plantation Beach Club
WHERE: Nevis
With a magnificent view of a palm-tree-studded lawn that sweeps toward a gorgeous beach, Nisbet Plantation Beach Club offers a picturesque setting in unspoiled Nevis. Its 36 rooms all feature vaulted ceilings, graceful patios, gleaming tile floors, granite accents, and such whimsical touches as trompe l'oeil jungle murals. You'll need to rent a car if you want to explore the rest of the island, but you could happily spend your days here at the spa and the deck bar for sundowners.
PLAN YOUR TRIP: Visit Fodor's St. Kitts and Nevis Travel Guide
Courtesy of The Cove Resort & Spa
WHERE: Eleuthera Island
Newly renovated in 2013, The Cove Eleuthera is set on 40 secluded acres that face two coves where guests can go snorkeling. The chic, minimalist beach cottages offer great scenery and a wide variety of room and suite types to choose from. Breakfast and cocktails are great on the poolside patio, but one of the property's nicest features is the Sunset Bar, which is built directly into the rock separating the two coves and offers great views.
PLAN YOUR TRIP: Visit Fodor's Eleuthera and Harbour Island Travel Guide
Courtesy of Beaches Resorts
WHERE: Turks and Caicos Islands
The largest resort in Turks and Caicos, Beaches Turks & Caicos Resort Villages & Spa is one of the Caribbean's best options for families traveling on vacation. For the younger set, there's a kids' park, a water park, a swim-up soda bar, and a teen disco; for adults, there's the extensive spa plus the pretty beach and scuba diving. The resort is also home to some gorgeous pools as well as dining options that include a 1950s-style diner and a Japanese restaurant.
PLAN YOUR TRIP: Visit Fodor's Turks and Caicos Islands Travel Guide
Courtesy of Coral Reef Club
WHERE: Barbados
Upscale yet informal, the Coral Reef Club offers beautiful suites, an inviting atmosphere, and a chance to unplug (most rooms don't have TVs). Families are of course welcome, but kids aren't allowed in the dining room after 7:30 pm, and property stays completely child-free between mid-January and late February, making this an ideal option for travelers seeking an adults-only experience. All rooms and suites feature a patio or balcony, but the Coral Reef Club is also home to 12½ acres of flower-filled gardens, a beach, and a pool for you to enjoy during your stay.
PLAN YOUR TRIP: Visit Fodor's Barbados Travel Guide