Waldorf Astoria Hotels & Resorts
Based on a child's opinion of what makes an excellent summer family vacation, it's all about the pool. Luckily, bunk beds and water slides can pair nicely with more refined luxe touches parents seek in a destination resort. From a new age of day care featuring exciting DIY cooking and craft projects to a hotel that doles out chocolate bars upon arrival, we've tallied up the country's best family-friendly resorts for the summer, brimming with amenities that aim to please kids of all ages. —Zachary Laks
Disney Enterprises, Inc.
AULANI, A DISNEY RESORT & SPA
WHERE: Oahu, Hawaii
Bringing the Disney experience to the islands, vacationers can expect to see the familiar faces of Mickey and his pals roaming the halls of Aulani, a Disney Resort & Spa. Remote from the hubbub of Waikiki, the 359-room resort goes the extra mile for the younger set, with inspired touches of Disney Imagineering throughout the property, like the Menehune Bridge water, the Shake-A-Shaka Pool Party dance-off, and a never-ending hunt to find the hidden mouse silhouettes. Family entertainment fills every night with activities like Starlit Hui, a variety show that features plenty of grass-skirt hula dancing and ukuleles. Those looking for something more familiar can head to the screenings of Disney movie classics under the stars.
PLAN YOUR TRIP: Visit Fodor's Honolulu and Oahu Travel Guide
Club Med
WHERE: Port St. Lucie, Florida
A half hour north of West Palm Beach, set on the St. Lucie River in Florida's Treasure Coast, Club Med Sandpiper offers a premium family retreat with an all-inclusive rate that takes the guesswork out of budgeting for meals and activities. Top-rated children's programs occupy kids for the day with activities that include flying trapeze lessons, sailing, hikes, and picnics, with nighttime activities that include beachfront movies and beach parties. Favorite amenities for the adults include premium open bar day and night, a L'OCCITANE spa, and a fitness program that includes Zumba classes, Pilates, and yoga.
PLAN YOUR TRIP: Visit Fodor's Florida Travel Guide
Dollywood
DOLLYWOOD'S DREAMMORE RESORT
WHERE: Pigeon Forge, Tennessee
Graced with the country charm and hospitality of living legend Dolly Parton, Dollywood's DreamMore Resort offers easy access to one of the country's best theme parks, Dollywood. However, the 307-room resort stands on its own as a family destination, featuring an excellent pool complex adorned with waterfalls, the daily Camp DW for ages 4 to 10 with nature-focused programming, and a nightly storytelling program for families in partnership with the International Storytelling Center. The value adds up quickly with a stay at the DreamMore, as all guests are granted a special TimeSaver Pass for decreasing wait times on select attractions in Dollywood, early access to the park on Saturday mornings, and free shuttles to and from the parks.
PLAN YOUR TRIP: Visit Fodor's Tennessee Travel Guide
Waldorf Astoria Hotels & Resorts
GRAND WAILEA, A WALDORF ASTORIA RESORT
WHERE: Kihei, Hawaii
The pristine oceanfront of Wailea Beach is just one of nine options for a refreshing splash at the palatial Grand Wailea Resort Hotel in Kihei, Hawaii, a mega-resort that features nine pools. From the 2,000-foot-long Wailea Canyon Activity Pool complete with water slides, waterfalls, and caves, to the adults-only scene at the Hibiscus Pool, the grounds have been scaled to provide guests of its 780-room complex with a relaxed and uncrowded getaway. For the best family thrill on site, head to the resort's Fishpipe, a rotating barrel ride that simulates a mile-long waterslide. Test your limits on this zany ride and see what speeds you can handle on your 90-second spin.
PLAN YOUR TRIP: Visit Fodor's Maui Travel Guide
Ocean Properties, Ltd.
WHERE: Bar Harbor, Maine
With a prime spot on Bar Harbor's scenic coastline, The Harborside Hotel furthers its appeal to families looking for a refined summer getaway with its new Kid's Suites, which feature a "room within a room" layout, providing younger guests with a bunk bed and their own entertainment haven, complete with a TV, DVD player, and PlayStation. Once the thrill of the TV set wears off, the resort's Bar Harbor Kids Club is happy to entertain with adventures through the harbor for ages 5 through 12.
PLAN YOUR TRIP: Visit Fodor's Bar Harbor Travel Guide
Hershey Entertainment & Resorts
WHERE: Hershey, Pennsylvania
The front desk greeting, "Do you prefer milk or dark chocolate?" sets the tone for a sweet stay at the iconic Hotel Hershey, a highlight of any family vacation to Hershey, Pennsylvania. In a town dedicated to its founding father of chocolate, Milton Hershey, the hotel opened in 1933 and has since undergone multiple expansions and renovations to its 276 guest rooms and suites. Among the family-forward amenities offered at the resort, there's great value in the hotel's exclusive access to Hersheypark an hour before the gates open, foregoing long lines and allowing for multiple rides on park favorites. The resort's Cocoa Clubhouse offers an immersive day of summer fun for kids 5 and up, with activities that include visits to the property's butterfly house, swimming, and ice cream making.
PLAN YOUR TRIP: Visit Fodor's Hershey Travel Guide
Courtesy of Kingsmill Resort
WHERE: Williamsburg, Virginia
A resort built with families in mind, Kingsmill Resort sits just miles away from two of the county's most popular theme parks (Busch Gardens Williamsburg and Water Country USA) and the Historic Triangle of colonial Virginia—Jamestown, Colonial Williamsburg, and Yorktown. Location aside, the resort knows its guests well and offers a relaxing alternative from the hubbub of the parks with an expansive river pool complex that features a waterslide, sandy beach, and plenty of chaise lounges for soaking in the sun. If you're looking for a little alone time to explore the resort's sprawling 2,900 acres, the "Kidsmill" program welcomes kids age 5 to 12 for daylong programming that includes sports, water games, and activities on the marina beach.
PLAN YOUR TRIP: Visit Fodor's Colonial Williamsburg Travel Guide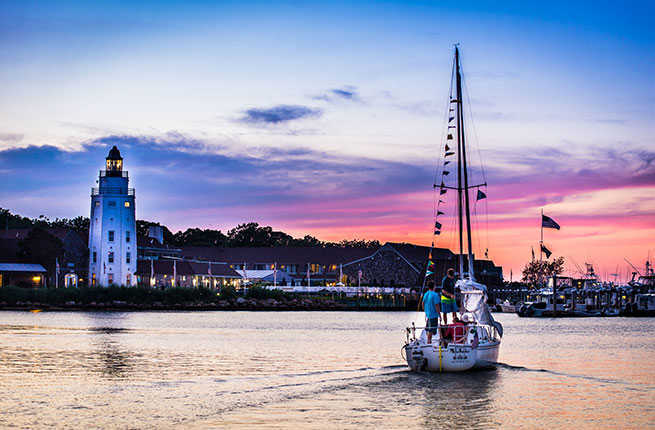 Stephanie Jensen 2013
WHERE: Montauk, New York
A standout of luxury and service in the Hamptons, Montauk Yacht Club recently completed a multimillion-dollar renovation, unveiling updated rooms, renewed restaurants, and chic lounges. A haven for families, the resort's long list of amenities includes a private beach, three pools (one indoor and two outdoor), Har-Tru lit tennis courts, and a children's playground. For more active youth, the Kid's Surf Academy and Junior Tennis Camps offer pro-taught lessons and clinics, while more casual games are struck up often on the volleyball and bocce ball courts. The resort is the ideal base for the exploring Montauk's scenic coast with complimentary paddleboats and bikes available.
PLAN YOUR TRIP: Visit Fodor's Long Island Travel Guide
The Osthoff Resort
WHERE: Elkhart Lake, Wisconsin
Set on the banks of Elkhart Lake about an hour north of Milwaukee, The Osthoff Resort has been a top year-round retreat for families since its unveiling in 1995. The 245-room complex has two on-site restaurants (one casual, one a bit more upscale), the renowned Aspira Spa, and L'ecole de la Maison Cooking School, which offers cooking classes on treats ranging from sourdough bread to French macarons. Summer at the resort is all about the lake, as a private 500-foot sandy beach is ideal for perfecting your tan before setting out on one of the resort's canoes, kayaks, or more challenging hydro-bikes—for an additional fee.
PLAN YOUR TRIP: Visit Fodor's Wisconsin Travel Guide
Sunriver Resort
WHERE: Sunriver, Oregon
In picturesque central Oregon, where mountains loom in the distance and fresh air is plentiful, Sunriver Resort is a family-friendly luxury destination that connects with its natural surroundings. Accommodations range from hotel rooms and suites to private cabins and vacation homes, outfitted in woodsy-chic décor with accents of Native American design. Adirondack chairs dot a property that includes many standout amenities, namely the resort's horse stable, four golf courses, multiple eateries, and a new pool complex featuring private cabanas, a water slide, and a zero-entry pool for the youngest of the bunch.
PLAN YOUR TRIP: Visit Fodor's Oregon Travel Guide
Jad Davenport
WHERE: Clark, Colorado
An all-inclusive luxury ranch set in the depths of northern Colorado's Routt National Forest, Vista Verde is a family favorite for its unfettered access to nature. With a capacity limited to 48 guests per night, overcrowding is never an issue at the resort's daily activities that range from fly fishing to whitewater rafting. The daily kids program makes the most of the ranch, with horseback riding lessons, ropes course challenges, scavenger hunts, a visit to the resort's foals, and even the occasional trip on an antique fire truck for ice cream. In ranch tradition, all meals are enjoyed with the whole family, and formal dinners require anything but formal attire.
PLAN YOUR TRIP: Visit Fodor's Steamboat Springs and Northwest Colorado Travel Guide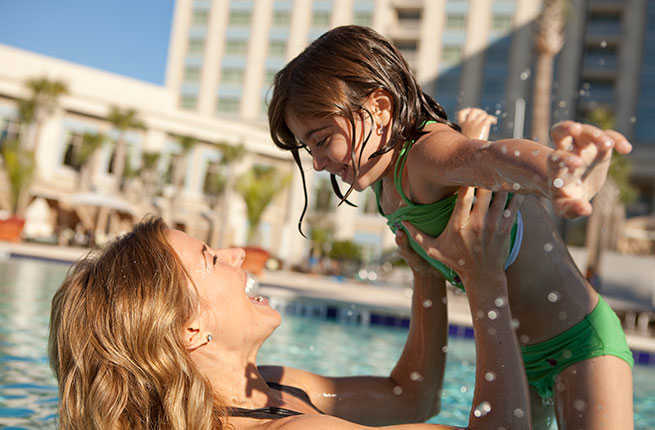 Waldorf Astoria Orlando
WHERE: Orlando, Florida
A luxury standout among Orlando's many hotels that serve as a landing pad after a day spent in the parks, Waldorf Astoria Orlando is a destination unto itself. Closer to Disney than some of the park's own hotel properties, the Waldorf Astoria exudes a classic elegance despite being built only seven years ago. Designed with families in mind, the resort's WA Kids Club hosts kids from ages 5 to 12 for daily activities in and around the pool, and an evening bonfire with s'mores. The resort excels at programming for the family, including lawn games, a Weird Science ice cream social, and culinary experiences for the family.
PLAN YOUR TRIP: Visit Fodor's Orlando Travel Guide
Wequassett Resort & Golf Club
Wequassett Resort & Golf Club
WHERE: Harwich, Massachusetts
A Cape Cod mainstay off Pleasant Bay, portions of the Wequassett Resort and Golf Club date back to 1907. Spanning 27 acres, the resort has spared no expense in outfitting its grounds for the most active families with two pools, a waterfront with boats and water sports, two beaches, four Har-Tru tennis courts, and a golf course. A newly reconceived children's center includes an impressive pirate ship playground, a cutting-edge 135-inch HD screen, and the latest gaming consoles including Xbox and PlayStation. Daily programs for kids ages 2 to 12 include sailing lessons, swimming lessons, and dive-in movies. Be on the lookout for the resort's old-fashioned ice cream truck, serving Good Humor treats that help beat the heat every afternoon.
PLAN YOUR TRIP: Visit Fodor's Cape Cod Travel Guide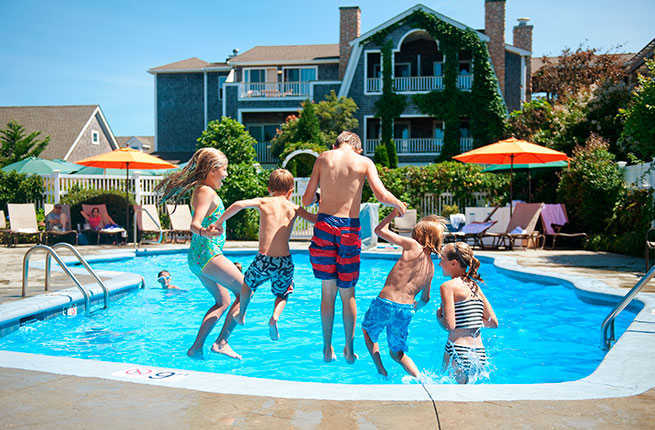 Winnetu Oceanside Resort
WHERE: Edgartown, Massachusetts
Among one of the largest properties on Martha's Vineyard, Winnetu Oceanside Resort offers a premium family experience with excellent child-friendly programming and unparalleled ocean views. Understated cottage-style accommodations range from one- to four-bedroom hotel suites to three- to five-bedroom private homes, all with amenities for cooking and dining in—a major plus for families. Along with the resort's complimentary day programs for kids and teens, the resort thrills with its antique fire truck rides, lawn games, face painting, and nightly s'more bonfire.
PLAN YOUR TRIP: Visit Fodor's Martha's Vineyard Travel Guide
Stewart Cohen Pictures
WHERE: The Woodlands, Texas
At The Woodlands Resort & Conference Center, an expansive retreat 30 miles north of Houston, the guests-only Forest Oasis Waterscape is the main family attraction.The day goes quickly as the park's double-helix racing slides, waterfalls, and lazy river keep kids active while hot tubs and plenty of deck chairs are on offer for adults. Programming in and around the pool also includes water basketball and volleyball matches, underwater treasure hunts, and dive-in movies that pair well with the on-site s'mores. A destination for families that like to keep active, the resort is home to an impressive 21 tennis courts, 200 miles of jogging and biking trails, and two championship golf courses.
PLAN YOUR TRIP: Visit Fodor's Houston and Galveston Travel Guide