Taj Safaris Team
If you think staying in a jungle lodge involves battling with mosquitoes and showering under a trickle of tepid water, think again. Even in the most remote locations, it is often possible to see nature up close without foregoing creature comforts or damaging the environment—the lodges on our list are all recognized for their role in preserving fragile ecosystems. While not every lodge on our list offers five-star luxury, each offers something truly special, whether it's a priceless view, incredible food, or the chance to see magnificent animals in their natural habitat. So if you want to know where you can follow gorilla trails through the rainforest by day and relax in a hot tub overlooking the canopy by night, read on.—Lucy Bryson
Courtesy of Cristalino Lodge
WHERE: Brazilian Amazon
Frequently cited as one of the best jungle lodges in the world, this 18-room eco-lodge offers truly high-end lodgings in the midst of wild nature. Set within a private nature reserve on the densely forested banks of the Cristalino River, a tributary of the mighty Amazon, the lodge offers rooms and bungalows with every imaginable creature comfort. Sitting by the bar, with its burning log fire and floating deck, guests can sip a perfectly crafted caipirinha as they admire the stars and listen to the eerie calls of nocturnal animals. Two 50-meter observation towers within the reserve offer views at every level of the forest canopy and the chance to see birds such as macaws, parakeets, and parrots, as well as endemic species such as the white-nosed saki monkey. Knowledgeable guides lead land and river nature excursions and photography trips, and it's even possible to take cooking classes if you wish to learn the culinary tricks used to create the delicious dishes served in the screened-in dining room.
PLAN YOUR TRIP: Visit Fodor's Brazilian Amazon Guide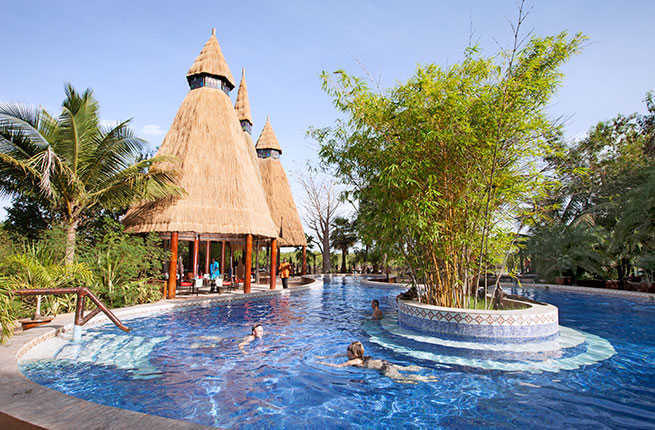 Courtesy of Mandina
WHERE: Gambia, Africa
These plush lodgings deep in the African bush have set the gold standard for eco-friendly luxury. The magic happens in an eco-resort on the River Mandina, a mangrove-lined, mosquito-free tributary of the River Gambia. The stylish accommodations come in three forms: jungle lodges with private roof terraces are set back from the river; river lodges that either float or on stilts; and the Mangrove Lodge, with a large, canopied terrace, is hidden on a small inlet among the mangroves. Pools with glorious jungle views, daily land and river excursions, room service, and delicious meals add to the deluxe feel, but it's all admirably eco-friendly, right down to the composting toilets. Further luxury comes from swapping the bleep of electronic devices for the chatter of monkeys and trill of birds—there's no Wi-Fi or television here.
PLAN YOUR TRIP: Visit Fodor's Gambia Travel Guide
Andy Chia
WHERE: Borneo, Malaysia
This gorgeous eco-lodge perched on the banks of one of Asia's most important waterways, the Kinabatangan River, is located in a wildlife sanctuary known for its exceptional biodiversity.
River cruises on locally crafted wooden boats provide an opportunity to see seven species of primate, including proboscis monkeys and orangutans. Elephants, rhinos, sun bears, and leopards also roam here. Along with comfortable and stylish rooms on the riverfront, added creature comforts such as sundecks, Wi-Fi, afternoon tea, an expansive boardwalk, and even foot spa treatments are thrown in for good measure.
PLAN YOUR TRIP: Visit Fodor's Malaysia Travel Guide
Couresty of Araras Pantanal EcoLodge
WHERE: Brazilian Pantanal
Providing unexpected levels of luxury in the middle of the world's largest tropical wetland, the rustic-chic Araras Lodge is set in a 3,000-hectare environmental reserve. The lodge offers comfortable and stylish rooms with spacious verandas, as well as a pool with gorgeous views and a highly rated restaurant where guests can enjoy homemade cheeses and the produce from the lodge's own organic fruit and vegetable garden. Trails through the immaculately preserved grounds lead to treetop lookout towers from which guests can spot the magnificent hyacinth macaw fly past. It's one of the best places in the world for photographing birds, and photo safaris are among an extensive list of activities available here.
PLAN YOUR TRIP: Visit Fodor's Pantanal Guide
Courtesy of Sanctuary Retreats
WHERE: Bwindi Impenetrable Forest, Uganda
If you're looking for truly experiential travel, a stay at Sanctuary Gorilla Lodge should fit the bill. It's the only luxury lodge within Uganda's imposing-sounding Bwindi Impenetrable Forest, a UNESCO World Heritage Site known for its volcanoes, jagged mountains, and famous primate inhabitants perched on a flat ridge high in the jungle. Relaxing in your tented suite after a day on the gorilla trail, you can sink into a deep candlelit bathtub overlooking the forest canopy, or you can enjoy a meal and a drink in the bar and dining cottage before sinking into the super-comfortable queen-sized beds. Spa treatments add to the luxury feel and if you can't bring yourself to stir from your tent, food and drinks can be ordered by walkie-talkie.
PLAN YOUR TRIP: Visit Fodor's Uganda Guide
Taj Safaris Team
WHERE: Kanha National Park, India
Forget any worries about tatty tents and mosquito bites—this jungle camp in the middle of prime tiger territory is pure luxury. The 18 plush "tents" are semi-permanent suites made with compressed bamboo walls and floors and feature deep bathtubs, silk drapes, and hand-crafted furniture, on a prime riverbank spot in one of India's largest national reserves.
Kanha National Park was set up in 1973 as part of Project Tiger—a successful drive to protect the native animals—and the big cats are easily seen on the daily safaris. Located in the misty hills of the southeastern state of Madhya Pradesh, the park is also home to animals such as leopards, striped hyena, porcupines, and ant-eating pangolin, as well as some 200 bird varieties flitting amid the 70 species of trees. A swimming pool offers stunning jungle views as well as respite from the heat, while food is made fresh with ingredients from the lodge's own garden.
PLAN YOUR TRIP: Visit Fodor's India Guide
Courtesy of Daintree
WHERE: Queensland, Australia
Amid the towering trees and 20-foot ferns of the world's oldest living rainforest, this collection of 15 stylish bayan cabins and treehouses offers luxuries such as massages and facials, a fine-dining restaurant with al fresco deck, and balcony Jacuzzis along with modern conveniences such as iPod docks, in-house movies, and satellite TV. Guests are invited to interact with local aboriginal communities, take part in jungle treks, and enjoy pre-dinner sunset river cruises. It's not truly remote—it's just a short hop to civilization by car—but the lodge feels like a real retreat from the stresses of modern living.
PLAN YOUR TRIP: Visit Fodor's Queensland Travel Guide
Couresty of Pousada Uacari
WHERE: Brazilian Amazon
This floating eco-lodge is set on a bend of the Solimoes River within the ecologically rich Mamirauá Reserve, where fish bump and splash beneath the floating, solar-powered bungalows. Accommodations are about as plush as things get in such a remote spot—think private verandas with hammocks overlooking the river and delicious meals of river-fresh fish served after a hard day's exploring. Big cats (including rare black jaguars) and colorful birds abound here, and if you're lucky you might spot the reserve's most famous inhabitant, the Uakari monkey, whose red face is said to resemble that of an Englishman after too much time in the sun.
PLAN YOUR TRIP: Visit Fodor's Brazilian Amazon Guide
Inkaterra Reserva Amazónica
WHERE: Amazon Basin, Peru
Guests at this eco-lodge in the remote regions of the Peruvian Amazon Basin can bed down among the birdlife in a surprisingly comfortable canopy treehouse, follow an "anaconda trail" across flooded swamplands, and get a monkey's-eye view of the forest from a walkway suspended through the treetops. And the credentials are impeccable, too: for 20 years the pousada has been funding research into the area's ecosystem, and has discovered several new species of tropical amphibian.
PLAN YOUR TRIP: Visit Fodor's Peru-Amazon Basin Guide