Courtesy of Hotel Principe di Savoia
We may celebrate Presidents' Day every February, but hotels around the world are home to so-called presidential suites that are ready to host heads of state 365 days a year. While actual presidents tend to stay in slightly humbler accommodations, these jaw-dropping suites take luxury to the next level, with lavish amenities including private fitness centers and secluded rooftop pools. You might never book a stay in one of these awe-inspiring abodes, but dream big as we take you though 10 of the most incredible presidential suites in the world. — Annie Bruce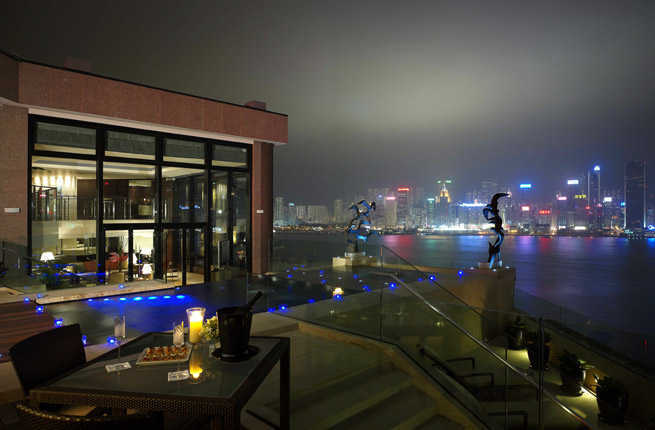 Courtesy of InterContinental Hong Kong
InterContinental Hong Kong
WHERE: Hong Kong, China
Dubbed Asia's most spectacular presidential suite, InterContinental Hong Kong's luxury five-bedroom space spans 7,000 square feet and offers personal butler service, a gym, a private study, and a dining room. Guests can step into a rain forest shower or rejuvenate in the private sauna and steam room, all located in the suite's bathroom. Not impressed yet? The rooftop terrace has an infinity pool and Jacuzzi, allowing you to admire the Hong Kong skyline while relaxing in style.
PLAN YOUR TRIP: Visit Fodor's Hong Kong Travel Guide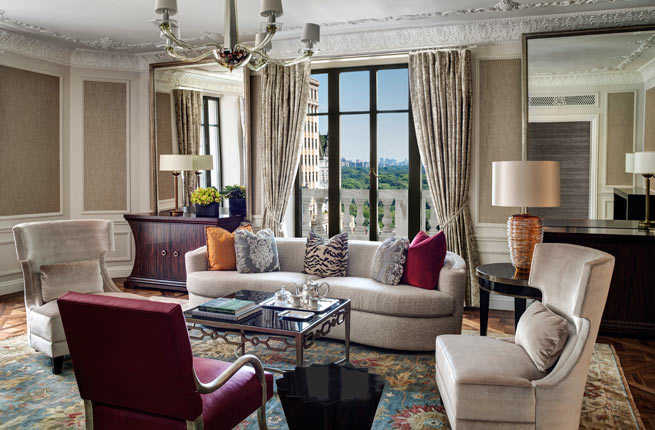 Courtesy of The St. Regis New York
WHERE: New York City, New York
While there are many presidential suites in the New York City area, the St. Regis offers guests a truly standout experience and fresh new design. In addition to its three bedrooms and four bathrooms, the suite features a wood-paneled library, full kitchen, dining room, and stunning floor-to-ceiling windows that offer views of Central Park, 55th Street, and Fifth Avenue. Recent renovations led to the addition of a 300-square-foot spa–inspired bathroom with a Jacuzzi tub. In addition to the suite itself, perks with your stay include a complimentary bottle of Champagne and in-room movies.
PLAN YOUR TRIP: Visit Fodor's New York City Travel Guide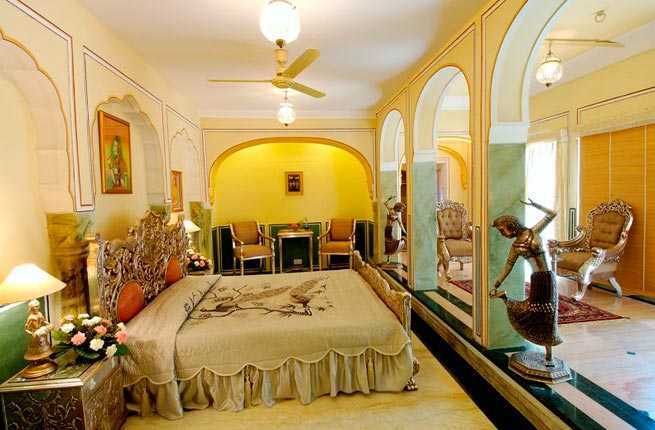 Courtesy of The Raj Palace
WHERE: Jaipur, India
The Raj Palace offers guests a choice of two presidential suites: the Shahi Mahal and Maharaja's Pavilion, the latter of which is a four-story apartment. With its own private entrance, guests will hardly feel like they've entered a hotel. The 16,000-square-foot suite includes a private lounge and bar on the first floor, museum on the second floor, a library and dining room on the third floor, and private spa and rooftop terrace with a Jacuzzi at the top. Decorated with gold and silver furniture and lavish chandeliers, the suite includes private butler service and an elevator to take guests to all four floors.
PLAN YOUR TRIP: Visit Fodor's Jaipur and Environs Travel Guide
Courtesy of Mandarin Oriental Tokyo
WHERE: Tokyo, Japan
You're guaranteed to have a good night's sleep on the goose-down bedding and Egyptian cotton linens that top the bed in the Mandarin Oriental Tokyo's suite. The bathroom boasts a walk-in shower and heated floors, along with a Jacuzzi positioned to let you admire the Tokyo skyline. The fine views continue with the suite's floor-to-ceiling windows in the living room, which also contains several commissioned pieces of art. Other amenities include an eight-seat dining room, interactive entertainment system, and walk-in closet.
PLAN YOUR TRIP: Visit Fodor's Tokyo Travel Guide
Don Riddle
Four Seasons Resort Hualalai
WHERE: Kailua-Kona, Hawaii
The Four Seasons Hualalai ups the ante with its Presidential Villa, where guests can easily walk right from the comfort of their four-bed bungalow to the beach. The master bedroom has an outdoor lava-rock shower, along with glass-door access to the lanai, which has its own hot tub. View the Pacific Ocean from the many floor-to-ceiling windows throughout the one-story hideaway, which has an open-air living room.
PLAN YOUR TRIP: Visit Fodor's Big Island Travel Guide
Courtesy of Belmond Grand Hotel Europe
Belmond Grand Hotel Europe
WHERE: St. Petersburg, Russia
At the end of 2014, the Belmond Grand Hotel Europe introduced guests to the largest presidential suite in St. Petersburg. With its gold-leaf ceiling design and gorgeous views, the suite itself is a work of art. But it's the additional perks that really set the lavish rooms apart from other suites. With a private fitness center (including a treadmill and cycling machine), sauna, game room, study and library (with a hidden bookcase that doubles as an entrance to one of the bedrooms), grand piano, and catered meals in the eight-seat dining room, guests receive the luxury treatment at the Grand.
PLAN YOUR TRIP: Visit Fodor's St. Petersburg Travel Guide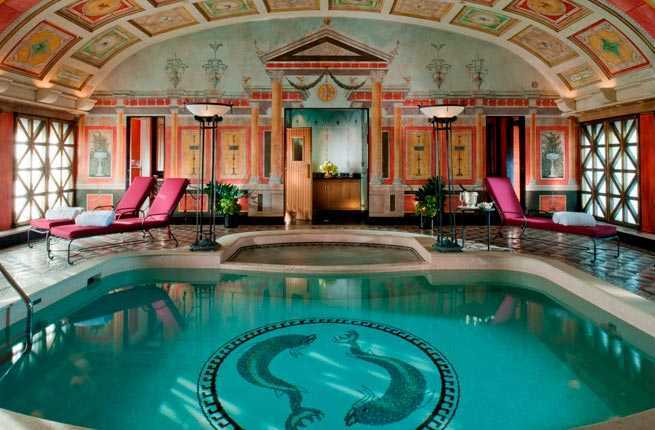 Courtesy of Hotel Principe di Savoia
WHERE: Milan, Italy
Accesible via private elevator, the Presidential Suite sits at the top of Hotel Principe di Savoia. With antique furniture, French crystal furnishings, and Venetian XIX century mirrors, the suite is the height of luxury. Relaxation is key here, as guests can lounge in the Jacuzzi, bath whirlpool, and private Pompeian-inspired spa. The 5,400-square-foot suite has three bedrooms, a formal dining room, and a bar.
PLAN YOUR TRIP: Visit Fodor's Milan, Lombardy, and the Lakes Travel Guide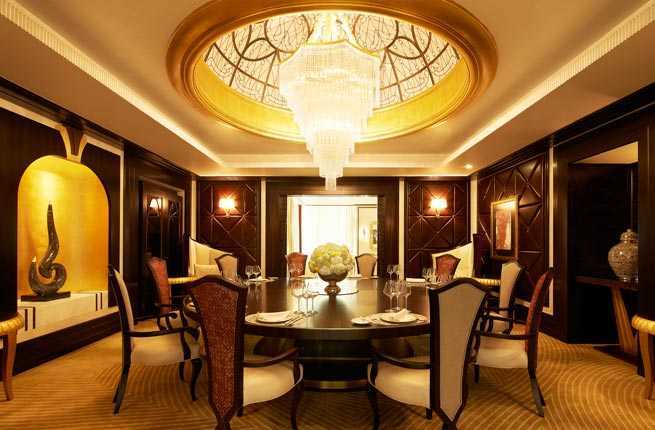 Courtesy of St. Regis Hotels & Resorts
WHERE: Abu Dhabi, United Arab Emirates
For a truly unique travel experience, stay in the highest suspended hotel suite in the world, located at the St. Regis Abu Dhabi. Its lavish suite connects the Nations Towers of the hotel at 656 feet above the ground. As a result, you can enjoy stunning 360-degree views of the Arabian Gulf and Abu Dhabi skyline. Inside the height-defying, two-story suite, guests can exercise in the gym and then relax in the private spa. Admire the crystal chandelier and 24-carat gold accents in the Grand Drawing Room, and then climb the grand staircase to reach the Master Suite on the second floor. The décor is stunning a mix of contemporary decoration with Arabic influences.
PLAN YOUR TRIP: Visit Fodor's United Arab Emirates Travel Guide
Courtesy of Four Seasons Hotel George V Paris
Four Seasons Hotel George V Paris
WHERE: Paris, France
The Four Seasons Paris has three suites to choose from, each with its own special touch. Choose which bonus amenities appeal to you, from a private fitness room, extra-large living room, or spacious office space. All of the suites offer giant marble bathrooms with a steam room, sauna, and bidet. The rooms are tastefully designed with walls decorated with gorgeous fabrics, crystal chandeliers, beautiful paintings, and fresh bouquets of flowers. Guests can admire the Marble Courtyard and Avenue George V from the windows during their stay in the extravagant suites.
PLAN YOUR TRIP: Visit Fodor's Paris Travel Guide
Courtesy of The Hazelton Hotel
WHERE: Toronto, Canada
Furnished by Brian Gluckstein, this 4,200-square-foot suite pulls out all the stops with its expansive terrace, grand foyer, and wine cellar. The Hazelton Hotel suite's three-bedroom, four-bathroom space has a private elevator and steam shower. With both an indoor and outdoor kitchen, guests can serve a fancy meal in their dining room or hire executive chef Mark McEwan to cook directly in the suite. Unwind by watching TV on one of the eight flat-screen HDTVs, or make a reservation to have a private screening in the hotel's Silver Screening Room.
PLAN YOUR TRIP: Visit Fodor's Toronto Travel Guide