Courtesy of Chiva-Som Wellness Destination
Traveling alone can be one of the more rewarding ways to see some of the world's best sights, but with so many tour companies and hotels designed for couples and groups, finding the perfect place to stay when you strike out on your own can be tricky. With solo travel becoming more and more popular, hotels and resorts have begun to modify their offerings and optimize their experiences for guests who have hit the road on their own. Whether you're looking to simply enjoy your solo vacation free from the honeymoon and family crowd or hoping to meet fellow single travelers, these ten hotels and resorts reward and cater to a party of one.
By Abbey Chase
Jeremy T. Pelley
Ace Hotel
WHERE: properties in Los Angeles, London, Panama, Palm Springs, New York, Seattle, and Portland
On a mission to "reinvent the hotel," Ace Hotels have popped up in a range of popular and unexpected places with a style all their own. The London property, located in the trendy, artsy Shoreditch neighborhood, features a spacious lobby designed with the single traveler in mind, with partially partitioned spaces that allow you to relax "while still staying a healthy part of the hive." In the U.S., six on-site eateries and a two-minute walk to Powell's City of Books make Ace Hotel Portland another intriguing option for those traveling through the City of Roses. The London, New York, Seattle, and Portland properties offer a range of small rooms perfect for the solo traveler, but all Ace Hotels, smartly appointed with vintage furniture with a focus on public spaces, make for a smart choice for those looking to meet new people on the road.
Justin Andre
Iguana Lodge & Spa Beach Resort
WHERE: Costa Rica
The Osa Peninsula is one of the most ecologically rich areas in Costa Rica, home to half the country's animal species in the nearly untouched Corcovado National Park, and for travelers looking to completely unplug, there's no better place than the Iguana Lodge. Proudly boasting no televisions, no air conditioning, and no hairdryers, the property sits on the edge of the rainforest with sweeping ocean views and expansive, uncrowded beaches for resort guests. While many travelers at the Iguana Lodge come in groups, the resort is still very singles-friendly. Dinner is served nightly at a large communal table in the main building, and with beach activities, volleyball, bike rentals, day and night hikes, yoga classes, horseback riding, and dance lessons (don't miss the Friday night dance party) all offered on-site, you'll have plenty of opportunities to get to know your fellow lodgers.
PLAN YOUR TRIP: Visit Fodor's Costa Rica Travel Guide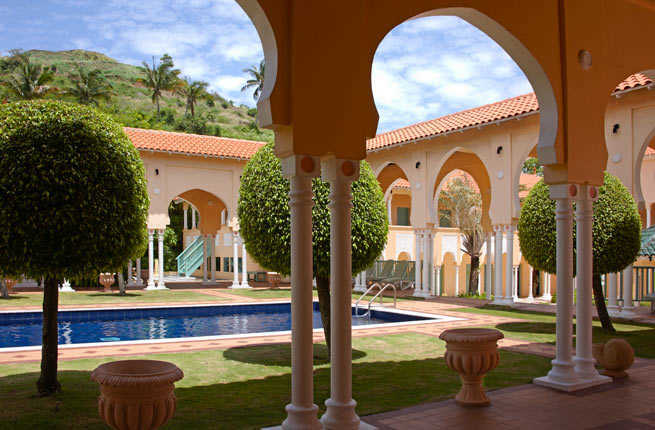 Courtesy of The BodyHoliday
The BodyHoliday
WHERE: St. Lucia
As the name suggests, The BodyHoliday is the ultimate resort for relaxation and rejuvenation. You can easily while away the day on the picturesque beaches of the Cariblue crescent or take advantage of the resort's tennis, golf, fencing, scuba diving, Tai Chi, and other exercise offerings. The reason to come to The BodyHoliday, however, is the world-class spa. Daily treatments are included in the price of your stay, with the option to choose from various massages, facials, Ayurvedic treatments, wraps, and scrubs. The Garden Rooms are specifically designed with solo travelers in mind, and as The BodyHoliday is an adults-only resort, the tranquil setting makes it easy to socialize or enjoy your solo vacation in peace.
PLAN YOUR TRIP: Visit Fodor's St. Lucia Travel Guide
Courtesy of The Cullen
The Cullen
WHERE: Melbourne, Australia
Drawing its name and inspiration from Australian contemporary artist Adam Cullen, The Cullen takes visitors out of downtown Melbourne with its location in the funky, upscale suburb of Prahran. The roomy studio suite features original artwork from Cullen and the Art Series Signature bed. Smart Cars, electric scooters, and Lekker bikes for hire make getting into the city center easy, while The Cullen's location across from Prahran Market, a foodie paradise, positions you perfectly for exploring on foot. Grab a bite at the on-site, New York-inspired Gramercy Bistro (162 Commercial Road, +61 3 9098 1155) before heading out to sightsee in the city.
PLAN YOUR TRIP: Visit Fodor's Melbourne Travel Guide
Courtesy of Chiva-Som Wellness Destination
Chiva-Som International Health Resort
WHERE: Hua Hin, Thailand
Consistently voted one of the best spas in the world, Chiva-Som enjoys a location in the small city of Hua Hin, a surprisingly cosmopolitan beach town that maintains a laidback vibe. Modernly appointed ocean view rooms are perfect for the solo traveler, and the Talkers Table, a communal dining table specifically designed to foster conversation among single guests, will make you feel right at home. Upon arrival, you'll receive a complimentary health consultation to help you maximize your time at Chiva-Som, which offers everything from extensive signature spa treatments to a variety of exercise, yoga, and Pilates classes.
PLAN YOUR TRIP: Visit Fodor's Thailand Travel Guide
Courtesy of citizenM
citizenM
WHERE: properties in Amsterdam, Glasgow, London, New York, Paris, and Rotterdam
The high-concept, big-city hotel is the optimal place for single travelers looking to socialize without leaving the premises. One-minute check-in/out times, free Wi-Fi, and 24-hour food and drink service are hallmarks of the citizenM chain, tailor-made for the fast-paced traveler. While every hotel has its own personality—the New York Times Square location features a rooftop bar—the fundamentals stay the same. The 170-square-foot rooms make the most of their compact space with XL king-sized beds, wall-to-wall windows, under-bed storage, and an enormous shower. Because the rooms are so small, communal spaces at citizenM hotels are the primary focus, rather than an afterthought, and the perfect places to meet fellow travelers.
Courtesy of Hotel Canal Grande
Hotel Canal Grande
WHERE: Venice
Despite its reputation for being a lovers' paradise, Venice makes for the perfect solo destination, its winding canals and world-class museums sometimes best explored alone. Hotel Canal Grande, conveniently located in the Santa Croce sestieri, embraces the city's opulence in rooms decked out in rich gold and blue damasks, with Murano glass mirrors and wood Rezzonico style floors. The amazingly friendly staff is the perfect welcome for a solo traveler, and the terrace along the canal is the ultimate place to unwind after a day of sightseeing. While the smallest room offered at the Hotel Canal Grande is a double, the cozy space is still comfortable for one, and the outstanding location and included breakfast more than justify the price tag.
PLAN YOUR TRIP: Visit Fodor's Venice Travel Guide
Courtesy of Hotel Aviva
Hotel Aviva
WHERE: Austria
No property on our list is as well designed for solo travelers as Hotel Aviva, nestled in the Alps and specifically designed for singles. Perfect for the extroverted lone traveler who doesn't want to be alone, Hotel Aviva makes a point to foster interaction among guests. Outdoor group activities will keep you occupied for most of the day, after which you can unwind with a trip to the spa and a night at the bar or dance club. The website (much of it is in German) can be tricky to navigate, but for an active vacation where you're sure to meet new people, Hotel Aviva is the place to be.
PLAN YOUR TRIP: Visit Fodor's Austria Travel Guide
Courtesy of CLASKA
Hotel CLASKA
WHERE: Tokyo
Tradition meets stylish innovation at the sleek Japanese Hotel CLASKA. Five different room types, ranging from the cozy Modern rooms to the ultra minimalist Tatami rooms, all feature monochromatic color palettes and airy, naturally lit space. The D.I.Y. rooms, one of which offers discounted rates for single travelers, are one-of-a-kind, high-concept rooms designed by Japanese architects for an authentic experience. Kiokuh, a French-Italian-Japanese fusion restaurant, serves up contemporary Japanese cuisine, and the in-house gift shop is a must (look for the other CLASKA shops around Tokyo).
PLAN YOUR TRIP: Visit Fodor's Tokyo Travel Guide
Courtesy of Travaasa Experiential Resorts
Travaasa Austin
WHERE: Austin
A self-declared "experiential resort," Travaasa Austin offers a seemingly endless lineup of activities, including hikes, archery, dirt track biking, horseback riding, an Outward Bound designed obstacle, cooking classes, wine tasting, music and dance classes, ecology lectures, and extensive spa and fitness offerings with a Texas twist (try the Mechanical Bull Workout). Nestled in the Balcones Canyonlands Preserve, the resort works to incorporate the natural surroundings into their ethos and an on-site, 3-acre farm provides organic produce for the restaurant. Travaasa Austin offers the perfect rural escape with the option to enjoy sightseeing in Austin, a notoriously singles-friendly city a 30-minute drive from the property. Travaasa also has a resort in Maui, perfectly located along the Hana Highway.
PLAN YOUR TRIP: Visit Fodor's Austin Travel Guide