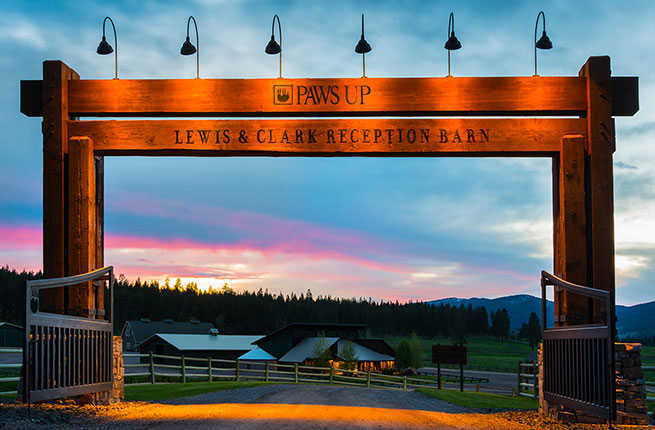 The Resort at Paws Up
For some travelers, cold weather means an escape to hot beaches; for others, it's a chance to take part in winter sports like skiing and snowboarding. But what about travelers looking for something a little different? It may not seem intuitive to visit places like Long Island or Chicago in the wintertime, but aside from great prices, there are fascinating activities and packages to take advantage of during the off-season. We've combed through hundreds of special offers and activities across the U.S. to find the most unique, exciting, and luxurious ones so you can make the most of winter this year.
By Devorah Lev-Tov
Tim Street-Porter
WHERE: Bridgehampton, NY
A boutique hotel that appeared on our 2013 Fodor's 100 List, Topping Rose House is home to a Tom Colicchio restaurant and a spa, jacuzzi, and heated pool that more than make up for the fact that you can't swim in the nearby Atlantic. This winter, the hotel will host a monthly farmers' market featuring local vendors and cooking classes with chef de cuisine Kyle Koenig and pastry chef Cassandra Shupp.And every Friday evening, the hotel will have a roast featuring a local brewery or winery and a menu of seasonal, family-style dishes. Did we mention every room is stocked with complimentary local snacks?
PLAN YOUR TRIP: Visit Fodor's Long Island Travel Guide
Four Seasons Hotel Chicago
Four Seasons Hotel Chicago
WHERE: Chicago
Occupying floors 30 through 46 of a modern skyscraper, each of the 345 rooms at the Four Season Hotel Chicago have either a view of the skyline or Lake Michigan. The hotel is perfect for families—there are child-sized robes, and kids can visit the Toy Chest upon arrival. The hotel's spa features a Roman-inspired pool and offers teen spa treatments. The Let's Get Away package includes your choice of a visit from the hotel's Ice Cream Man, pizza-making with a chef in the hotel kitchen, or a visit from the Martini Man; choice of either a $50 spa credit or overnight valet parking; and luxurious accommodations in an Executive Suite.
PLAN YOUR TRIP: Visit Fodor's Chicago Travel Guide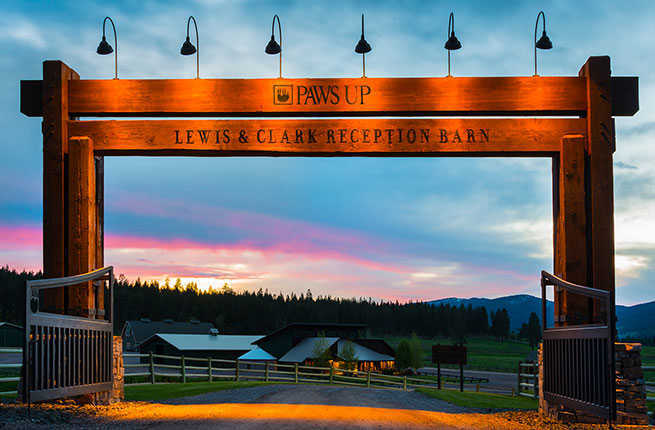 Courtesy of The Resort at Paws Up
WHERE: Greenough, MT
The activity-focused Resort at Paw's Up is open this season December 21–January 22, when it turns into a winter wonderland, complete with sleigh rides, cross-country skiing, tubing, dogsledding, and snowmobiling. Guests stay in luxurious cabins with beautifully decorated Christmas trees and private hot tubs and dine on world-class, seasonal food. The five-day Christmas Package includes a personal Santa for your family. There's also free pick-up from Missoula Airport and a car provided for getting around the large property. Keep your eyes peeled for deer and black bears.
PLAN YOUR TRIP: Visit Fodor's Missoula, Kalispell, and Northwest Montana Travel Guide
beall + thomas photography
WHERE: Walland, TN
While a farm-stay in the winter may not sound appealing, Blackberry Farm has so much to do that you won't even notice the cooler temps. It's fox hunting season, there's a yoga retreat in December, and musicians like Little Big Town and Kacey Musgraves have concerts here. Of course, the farm is a food destination, and winter brings root vegetables and heartier proteins like duck, squab, and pork. There are also aged cheeses, dry-cured hams, pickled products, and jam, as well as seasonal foraged ingredients like black walnuts—a staple of Appalachian cuisine—and Tennessee black truffles.
PLAN YOUR TRIP: Visit Fodor's Great Smoky Mountains Travel Guide
Courtesy of Weekapaug Inn
WHERE: Westerly, RI
Although this Relais & Chateau Inn is near the ocean, it has enough enchantment to amuse you even in the winter months. Each of the 27 rooms and 4 suites at Weekapaug Inn are equipped with a handmade quilt and binoculars for birdwatching, and the bathrooms have heated marble floors and clawfoot tubs alongside modern showers. Plus, there are special winter activities like holiday centerpiece and cooking workshops in addition to the usual fun of star gazing, indulging in s'mores at the firepit, and embarking on naturalist tours.
PLAN YOUR TRIP: Visit Fodor's South County Rhode Island Travel Guide
Courtesy of York Harbor Inn
WHERE: York, ME
Located on the Maine coast, this property is actually comprised of six separate lodges, the newest being Chapman Cottage, which has seven luxurious rooms with amenities like private decks, gas fireplaces, and oversized jetted tubs. It's also home to the Tavern restaurant, one of three at the resort. York Harbor Inn is hosting a Lobster Lovers weekend on November 14­–15 and a Winter Wine Tasting Dinner in January. There's also a Shopping Weekend package with over $500 of coupons to the Kittery Outlets.
PLAN YOUR TRIP: Visit Fodor's Fodor's Southern Coast of Maine Travel Guide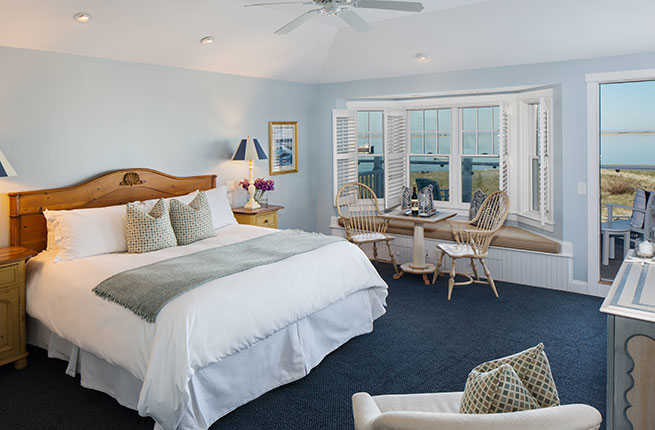 Courtesy of Chatham Bars Inn
WHERE: Chatham, MA
This historic beachfront inn has a heated pool surrounded by private cabanas, four restaurants, and a 24-hour fitness center. The New England design-decorated Chatham Bars Inn boasts 217 rooms, including those in the Main Inn, cottages, and 12 luxe, adults-only spa suites that have jetted tubs, saunas, steam showers, and fireplaces. The hotel has several special activities throughout the winter, including a Murder Mystery weekend November 21–23 and gingerbread workshops on December weekends leading up to Christmas. There's also a "snow BBQ" on the beach the day after Christmas.
PLAN YOUR TRIP: Visit Fodor's Cape Cod Travel Guide
Courtesy of Mirbeau Inn & Spa
WHERE: Skaneateles, NY
Transport yourself to France at this 34-room spa resort. Situated on 12 acres, Mirbeau Inn & Spa combines the amenities of a French country inn, a world-class spa, and acclaimed fine dining. All rooms feature fireplaces, deep soaking tubs, and plush signature Mirbeau beds, and there's a fitness center with classes including spin, yoga, pilates, and barre. Plus, on December 11 and 12 you can have dinner with Dickens—watch literature come to life as Charles Dickens and company perform a live rendition of A Christmas Carol while you enjoy a traditional dinner.
PLAN YOUR TRIP: Visit Fodor's Finger Lakes Travel Guide
Courtesy of The Sanderling Resort
The Sanderling Resort and Spa
WHERE: Duck, NC
With an indoor pool and steam room, a spa, yoga classes, and three restaurants, you won't miss the ocean too much at this beachfront Outer Banks property. The Sanderling Resort & Spa has a Choose Your Own Experience package, which gives you the option of a spa treatment, dinner for two in the Lifesaving Station, or lunch followed by a wild horse tour for two. Other winter activities include a four-wheel drive on the beach and a nightly fire pit.
PLAN YOUR TRIP: Visit Fodor's North Carolina Coast Travel Guide
Courtesy of The Allison Inn & Spa
WHERE: Newberg, OR
The 85 luxuriously appointed rooms at the Allison Inn & Spa have bespoke tables crafted from Oregon wood, gas fireplaces, and complimentary snack baskets. With over 500 artworks on display throughout the property, it's like staying in a gallery. Enjoy the indoor pool and spa, or have the concierge arrange an exclusive winery visit for you. The hotel celebrates pinot noir with its extensive wine list, a Pinotini cocktail, and a Pinot Burger and a chocolate Pinot Noir cake at JORY restaurant. The spa even offers a pinotherapy treatment. This season, guests can indulge in the Wellness in Wine Country package, which includes spa treatments, a fitness session, breakfast at JORY, two glasses of Oregon Pinot Noir, and a gift bag.
PLAN YOUR TRIP: Visit Fodor's Willamette Valley and Wine Country Travel Guide