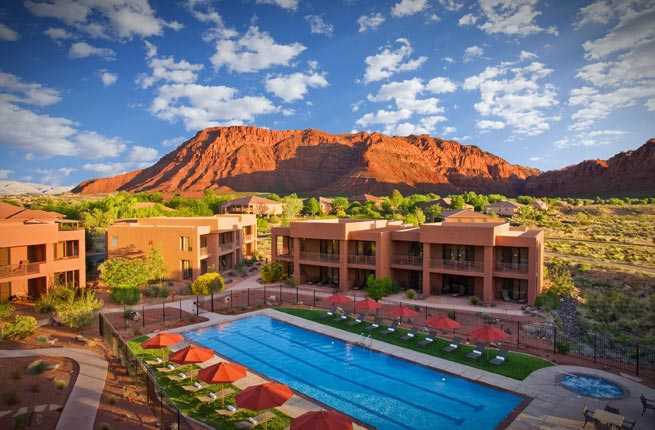 Courtesy of Red Mountain Resort
Has planning a vacation ever felt like more work than it's worth? Sometimes it's best to leave the planning to someone else, and focus your efforts on relaxation. The country's best all-inclusive resorts take care of everything for you, meaning the only choice you'll have to make is whether you want the steak or the fish. With rooms designed by former First Ladies, an on-site cheese-maker, s'more-making bonfires, and other unique features, these top properties will make you feel like you're in good hands.
By Zachary Laks
Courtesy of Canyon Ranch
WHERE: Tucson, Arizona
Canyon Ranch sets a high standard for all-inclusive wellness retreats. From the moment you arrive on the former-cattle ranch grounds, everything is taken care of—fine meals, dozens of activities, fitness classes, and more. You'll shed pounds without even trying because the fine cuisine is focused on healthy, clean eating, and included activities such as bird walks and the high ropes course deliver fun, calorie-burning options. Many guests seek out the resort's Life Management program for workshops on maintaining mental balance. The program offers a long list of specialty services that provide therapy and healing for a host of stress-related concerns.
PLAN YOUR TRIP: Visit Fodor's Tucson Travel Guide
Courtesy of Twin Farms
WHERE: Barnard, Vermont
Spend a weekend immersed in complete country luxury in Vermont's premier all-inclusive resort, Twin Farms. With 20 accommodations set in and around the former estate of Nobel-prize winning novelist Sinclair Lewis, Twin Farms goes beyond expectations. The staff will be familiar with your name, dietary preferences, and interests prior to your arrival, and your day on the farm is open to activities ranging from yoga to fly fishing to picnicking. Should your sweet tooth suddenly kick in, call up the concierge and arrange for a spur-of-the-moment bonfire s'mores kit, which also makes for the perfect nightcap (all accommodations have a wood-burning fireplace). Twin Farms brings its signature level of service and quality to its cuisine of farm-fresh meats, cheeses, and fruits sourced from the very best of Vermont.
PLAN YOUR TRIP: Visit Fodor's Vermont Travel Guide
Courtesy of Grand Hotel
WHERE: Mackinac Island, Michigan
As you ferry your way through the Straits of Mackinac toward a weekend getaway of classic, stately charm, Grand Hotel appears on the horizon in pristine glory. The 390-room resort stands as the centerpiece of Mackinac Island, a car-free island off the coast of Michigan that is rich with a local artist culture and happening food scene. Grand Hotel is recognized for its 660-foot-long front porch, the world's largest, and its six suites designed by the former First Ladies they are named after (the Jacqueline Kennedy Suite is the most popular). All-inclusive packages can vary, but all include full breakfasts and five-course dinners where eveningwear is required.
PLAN YOUR TRIP: Visit Fodor's Michigan Travel Guide
Courtesy of Winvian Farm
WHERE: Litchfield Hills, Connecticut
Opened to the public in 2007, Winvian had been restored into upscale lodgings with a Connecticut or rustic, New England theme under the guise of lead architect, David Sellers. Now eighteen innovative and distinctly unique cottages, ranging in size from 950- to 1,250-square-feet, all feature Jacuzzi tubs, rainfall steam showers, and fireplaces. Highlights among the cottages include the Treehouse, a two-story architectural marvel that stands 35 feet above the forest floor, and the Helicopter, where the 890-square-foot property is compromised by the central placement of a restored 1968 Sikorsky Sea King Pelican HH3F helicopter, retrofitted with a flat screen TV and a wet bar.
PLAN YOUR TRIP: Visit Fodor's Connecticut Travel Guide
Courtesy of The Resort at Paws Up
WHERE: Greenough, Montana
On a sprawling 37,000 acres in Montana, Paws Up is a working ranch where the fields swell with hundreds of Black Angus cows, elk, and horses. A getaway to the luxury homes and tents at The Resort at Paws Up is an escape into nature, as the daily activities of horseback riding, fly fishing, ATV tours, and much more take advantage of the resort's pristine countryside. The all-inclusive rate includes breakfast, lunch, and dinner each day (including beer and wine) with farm-fresh steaks and straight-off-the-vine vegetables.
PLAN YOUR TRIP: Visit Fodor's Montana Travel Guide
beall + thomas photography
WHERE: Walland, Tennessee
In the backcountry of Tennessee, just off the hills of the Smoky Mountains, Blackberry Farm, anchored by its 63-room resort, expands over 9,200 acres. With accommodations that sell out a year in advance, the resort prides itself on its private setting, allowing guests to unwind in peace. The property goes the extra mile in delivering a luxe countryside experience with a large staff that includes a butcher, a beekeeper, and a cheesemaker. Tough choices come at dinner when the wine list of 166,000 bottles includes rare and fine wines from around the world, though diners are lucky to have sommelier Andy Chabot (recent James Beard Award winner for Outstanding Wine Program) on hand to pair the perfect vintage.
PLAN YOUR TRIP: Visit Fodor's Tennessee Travel Guide
The Ranch at Live Oak Malibu
The Ranch at Live Oak Malibu
WHERE: Malibu, California
Just an hour west of Los Angeles, in the heart of the Santa Monica Mountains, The Ranch at Live Oak Malibu is a weeklong luxury boot camp resort focused on wellness and weight loss. Say goodbye to caffeine, alcohol, and processed sugars, as the resort serves a heart-healthy and clean vegetarian cuisine three meals a day. While the physical activities vary, expect less strenuous activity at the resort, with four to five hours of hikes, ab workouts, weight training, and yoga, complemented by a private afternoon massage on weekdays.
PLAN YOUR TRIP: Visit Fodor's California Travel Guide
Courtesy of Travaasa Experiential Resorts
WHERE: Austin, Texas
A quick 19-mile trip from downtown Austin, Travaasa Austin is a resort dedicated to outdoor adventure and exquisite culinary experiences. Horseback riding, a dirt bike stunt track, and archery can fill up the morning prior to an afternoon of wine tasting classes, cooking demonstrations, and harmonica lessons. The modern and sleek interior of the Spa at Travaasa features organic treatments and comfortable indoor/outdoor lounges to catch up on a book or pick up a magazine. The spa sits right next to the resort's stunning saline infinity pool, with breathtaking views of the backcountry landscape.
PLAN YOUR TRIP: Visit Fodor's Austin Travel Guide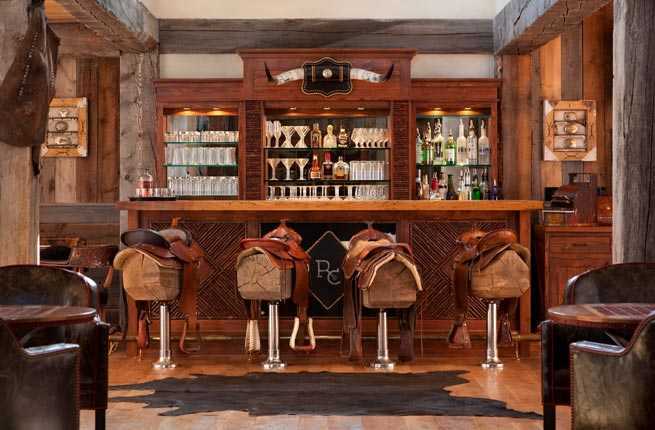 Courtesy of The Ranch at Rock Creek
WHERE: Philipsburg, Montana
Covering ten square-miles of mountainous backwoods, The Ranch at Rock Creek is the uncommon dude ranch that specializes in luxury accommodations in an all-inclusive experience. Premium beer, wine, and spirits flow freely, and the dining options shift nightly from traditional Dutch-oven meals of braised pork shoulder on Sundays to a chef's tasting menu on Mondays and Fridays, where diners are treated to four to eight courses of Montana's finest meats and produce. Accommodations at the luxe resort range from nine custom-designed rooms in the Granite Lodge to luxury homes to "glamping" in four outfitted canvas cabins that bring guests closest to nature.
PLAN YOUR TRIP: Visit Fodor's Montana Travel Guide
Courtesy of Red Mountain Resort
WHERE: Ivins, Utah
The awe-inspiring red cliffs and canyons of southern Utah line the horizon at Red Mountain Resort, an all-inclusive retreat that has excelled at incorporating its natural surroundings into every guest's visit. Hiking, biking, kayaking, and rock climbing are among the most popular activities to explore the rugged splendor of the mountains. When it comes to wellness, Red Mountain offers three intensive packages that range from individualized programs accompanied by fitness and health professionals to more set programs, such as the Rejuvenate & LiVe Well package, a five-day, four-night comprehensive retreat exploring all aspects of fitness and wellness.
PLAN YOUR TRIP: Visit Fodor's Utah Travel Guide