Courtesy of Dallas Arboretum
For some, the start of fall means that it's officially pumpkin spice latte season, but there are other ways to enjoy everyone's favorite gourd. This time of the year, you can find pumpkins for sale everywhere from city markets to roadside stands, but why not make a day of it? Across the country, farms are celebrating the season with family-friendly festivals where you'll find all the pumpkins, freshly baked desserts, and hayrides you could ever wish for. Get ready to layer up, lace up your boots, and make a trip to one of Americas' best pumpkin festivals.—Zachary Laks
Mickey Pullen
New Hampshire Pumpkin Festival
WHERE: Laconia, New Hampshire
The New Hampshire Pumpkin Festival is a festival known for its epic proportions, having broken the world record nine times since 1992 for the most lit jack-o'lanterns in one place at one time (30,581 in 2013). The festival is an homage to all things pumpkin with popular events such as the annual 5k and 10k race, where orange gourds line the street course. Stroll through the festival's food and craft fair for lots of homemade, pumpkin-inspired treats and crafts, as well as pumpkin-carving inspirations for your own projects.
PLAN YOUR TRIP: Visit Fodor's New Hampshire Lakes Region Travel Guide
Katy Toth
The Great Pumpkin Farm Fall Festival
WHERE: Clarence, New York
About 30 minutes outside of Buffalo, the Great Pumpkin Farm in Clarence hosts an extraordinary daily festival­. Anything and everything pumpkin-related goes on these family-friendly farm grounds. Contests from pie eating (with separate heats for adults and children), pumpkin decorating, as well as scarecrow making add to the festive fall spirit. The well-themed "FSI: Farm Scene Investigation" corn maze experience has its own interactive app, adding a new digital layer to the disorienting fun. Other highlights include magic shows four times daily, a petting zoo, and pig races.
Insider Tip: For more flora appreciation, head to the seasonal gardens of the Buffalo and Erie County Botanical Gardens, where a vast array of plant life is on display.
PLAN YOUR TRIP: Visit Fodor's Buffalo Travel Guide
Courtesy of Siegel's Cottonwood Farm
Siegel's Cottonwood Farm Pumpkin Festival
WHERE: Illinois
This fall, explore the 40 acres of Siegel's Cottonwood Farm, located about an hour outside of Chicago in Cresthill, IL. Take aim and fire at the one of the farm's most popular attractions, the Sniper Zombie Paintball Ride, in which paintball guns are attached to a military-grade carrier, which cruises along a half-mile course of zombies and targets. The festival runs daily, but be sure to purchase your tickets for the Sniper Zombie Paintball Ride ahead of time, as it will sell out. For a more relaxing ride, take the hayrack trip to the pumpkin patch, where you can pick thousands of pumpkins right from the vine.
Insider Tip: On weekends only, Siegel's offers their home-brewed sodas that rank high among the favorites of the festival. Try their cherry wine and sarsaparilla flavors.
PLAN YOUR TRIP: Visit Fodor's Chicago Travel Guide
Courtesy of Underwood Family Farms
Underwood Family Farms Fall Harvest Festival
WHERE: California
Just 45 minutes north of the Hollywood Walk of Fame, pumpkins, squash, and gourds are the main attraction at Underwood Family Farms. Featuring over a dozen varieties of pumpkins, the Fall Harvest Festival ­will lure you in with live music and the smell of chargrilled burgers permeating the air. Aimed at families, the festival features a unique combine slide where children can climb up through a retired John Deere harvester and slide down. For a laugh, stop by Farmer Craig's Chicken Show, where animatronic chickens cluck along to your favorite songs. Complete with a dizzying corn labyrinth, hay pyramid, and tractor-drawn wagon ride, the harvest celebration at Underwood Farms is as extensive as they come.
Insider Tip: America's Teaching Zoo at Moorpark College gives visitors close-up interactions with the 150 animals on-site, along with students who are eager to help and inform.
PLAN YOUR TRIP: Visit Fodor's Los Angeles Travel Guide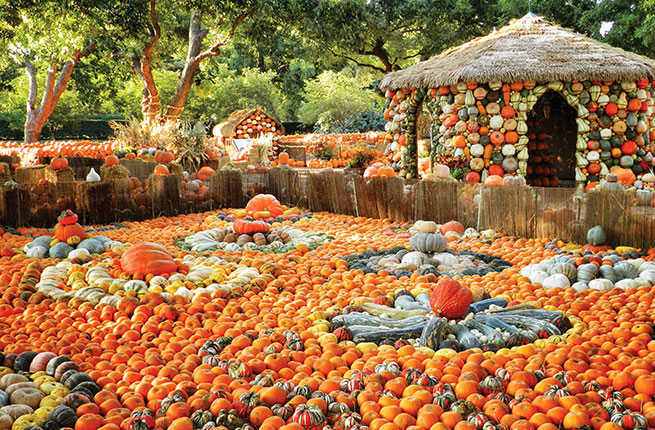 Courtesy of Dallas Arboretum
WHERE: Texas
Step into the colorful world of Pumpkin Village, where over 75,000 pumpkins, gourds, and squash make up this unique spectacle amidst the fall foliage. The Dallas Arboretum's annual Autumn at the Arboretum features a wonderland of pumpkin-lined pathways, pumpkin-adorned huts, and gardens. Cinderella's Carriage, a popular centerpiece, is built of steel and resembles a giant white pumpkin. Picnics in the garden are encouraged, so bring a warm beverage to enjoy in the crisp fall air.
Insider Tip: Be sure to purchase tickets to the Children's Garden ahead of time, as entry times are reserved and often sell out.
PLAN YOUR TRIP: Visit Fodor's Dallas Travel Guide
Courtesy of Hiram House Camp
Hiram House Pumpkin Festival
WHERE: Ohio
The Hiram House Pumpkin Festival brings the best of fall harvest culture to the Cleveland area on 172 acres of the Chagrin Valley. Baked apples and spicy nachos are highlights, in addition to burgers, pizza, and funnel cakes. Kids can make their own gooey slime, create their own candles, and try their arms at the archery range. Compete in the carnival duck races, where competitors pump water down a chute to push their plastic duck to the finish line, or head over to the petting zoo, where you can find ducks of the real variety. Pony rides and carnival games complete the experience of the festival as you leave with a hefty pumpkin ready to be decorated.
Insider Tip: For the best deal, get the $20 all-day wristband; it'll get you access to the best activities of the festival and make the most of your visit.
PLAN YOUR TRIP: Visit Fodor's Cleveland Travel Guide
Rusty Dodson / Shutterstock
WHERE: Kansas
Walters' Pumpkinfest, just outside of Wichita, is home to some of the most unique and playful autumn activities for outdoor enthusiasts. Start with the powerful PumpGun Cannon, a vintage-themed pick-up truck outfitted with a blaster cannon that gleefully sends pumpkins hundreds of feet in to the air. Feel like you're moving but going nowhere? You've probably wandered on to the Human Gerbil Wheel, where you get to run in place like the little guys. Slingshot your pumpkin into oblivion with the Punkin Chunkin, or fly across the farm yourself on the Zipline. Unique pumpkin salsas, pumpkin chili, and pumpkin soup are only some of the Walters' farm-fresh goods you'll find in the gift shop.
Insider Tip: Stay past sunset on Friday and Saturday nights for a thrilling adventure through the corn maze, with only a flashlight to guide you.
PLAN YOUR TRIP: Visit Fodor's Kansas Travel Guide
Courtesy Shady Brook Farm
Shady Brook Farm's PumpkinFest
WHERE: Pennsylvania
Near the New Jersey state line in Yardley, PA, Shady Brook Farm has been in operation for over 100 years, making it one of the oldest working farms in the area. Shady Brook's annual PumpkinFest brings out the best of the farm during its traditional apple and pumpkin harvest. Hop on the wagon to visit the enormous pumpkin patch where the pumpkins come in all sizes. The on-site store has freshly baked pies, cookies, and locally made ice cream. Come nighttime, the farm turns in to a small horror village where four hair-raising thrill attractions await.
Insider Tip: While in Yardley, stop for dinner at the Yardley Inn on the Delaware River for a chicken Waldorf sandwich and pad thai mussels.
PLAN YOUR TRIP: Visit Fodor's Pennsylvania Travel Guide
Sandee Acevedo
Craven Farm's Fall Festival
WHERE: Washington
Craven Farm, located in Snohomish, WA, goes all out for its fall festival each year. Kids' demand has brought back the meet-and-greet experience with the princesses from Frozen. After having worked up an appetite from the sing-a-long, Craven Farm's freshly made apple cider donuts and kettle corn will more than suffice. For kids, the best of the fest continues at the 3-D adventure, where the walls of the barn come alive through the magic of 3-D glasses. The Pumpkin Slinger lets kids send pumpkins flying towards targets; those with precise aim win a Craven Farm temporary tattoo.
Insider Tip: See the majestic Washington landscapes from a hot air balloon, popular in Snohomish. Over The Rainbow hot air balloon rides are perfect for sunrises and sunsets, with Seattle appearing in the far distance.
PLAN YOUR TRIP: Visit Fodor's Seattle Travel Guide
Earl D. Walker / Shutterstock
South Jersey Pumpkin Show
WHERE: New Jersey
The motto at the South Jersey Pumpkin Show is "the bigger, the better." As the highlight of the weekend-long festival in Woodstown, competitors in the Big Pumpkin Weigh-Off compete for $4,000 in prize money. (The largest pumpkins can weigh up to nearly a thousand pounds!) Marvel at New Jersey's largest pumpkin pie before heading over to the dessert contest, where visitors can sample pumpkin and apple desserts once the judges have had their taste. Seek out the fabled Headless Horseman and hear his tragic story in a live reading of Washington Irving's classic tale each night of the festival in the haunted graveyard.
Insider Tip: The following weekend, the Southwind Vineyard hosts its annual Wine & Art Weekend with grape stomping, wine glass painting, and much more.
PLAN YOUR TRIP: Visit Fodor's New Jersey Travel Guide