G. Widman for Visit Philadelphia
Flashes of red, white, and blue fill the skies every July, when cities from coast to coast pull out all the stops to celebrate our nation's independence with dazzling fireworks displays. Though it might seem like a modern development, the origin of fireworks on the 4th of July actually dates back to 1777, when Philadelphia commemorated the one-year anniversary of the signing of the Declaration of Independence with a parade, live music, and, you guessed it, fireworks. More than 200 years later, the Independence Day tradition is alive and well, with pyrotechnic shows that get bigger and better every year thanks to awe-inspiring technological advances. From Seattle to Miami, we're showing you where to see America's most epic fireworks this year.—Zachary Laks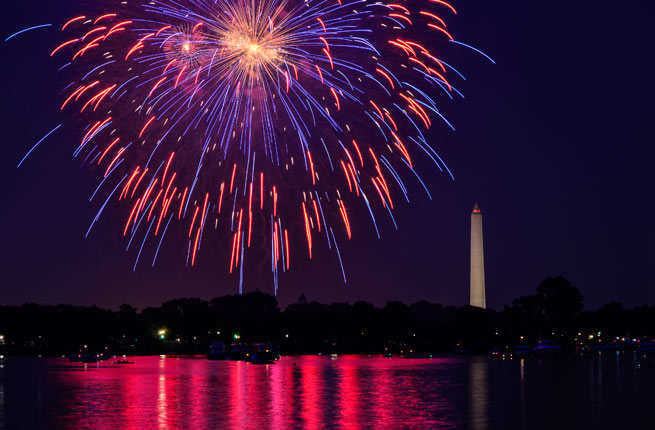 Mkopka | Dreamstime.com
National Mall Independence Day Celebration
WHERE: Washington, D.C.
Ushering in America's birthday from the nation's capital, the National Mall Fourth of July Celebration stands as one of the country's largest fireworks displays. Hundreds of thousands of people descend on the capital each year, filling the National Mall to maximum capacity, where the fireworks blast off from the Reflecting Pool. The 17.5-minute firework show lights up the D.C. skyline, illuminating the Capitol, the White House, and the Washington Monument. Barry Manilow headlines the festivities this year, along with the National Symphony Orchestra. Both the concert and fireworks are broadcast throughout the country on PBS for those who would rather avoid the crowds.
PLAN YOUR TRIP: Visit Fodor's Washington, D.C. Travel Guide
Courtesy of Macy's
39th Annual Macy's 4th of July Fireworks
WHERE: New York City, New York
Nothing can top the show on the East River during the Macy's 4th of July Fireworks, the country's largest display of Independence Day fireworks. Expanding to two locations on the East River, four barges will be stationed near Midtown and one double-barge will be positioned south of the Brooklyn Bridge, providing viewers in Manhattan, Queens, and Brooklyn with pyrotechnic entertainment. Expect a dazzling 40,000 shells to be fired off during the 25-minute show, with an evening celebration featuring musical performances from the biggest stars. For the best views of fireworks in both locations, tune into NBC's two-hour national broadcast.
PLAN YOUR TRIP: Visit Fodor's New York City Travel Guide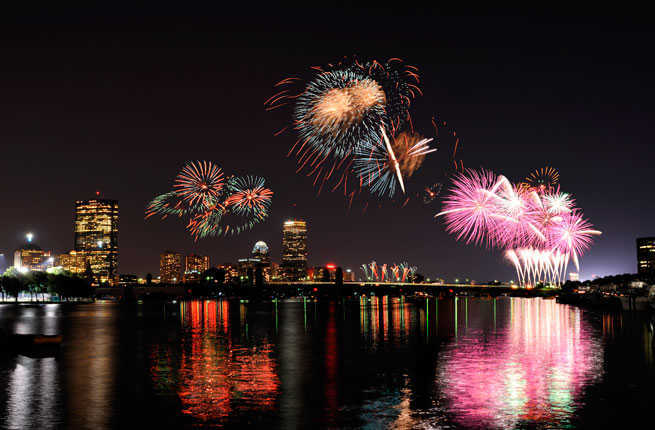 Jorgeantonio | Dreamstime.com
Boston Pops Fireworks Spectacular
WHERE: Boston, Massachusetts
Join Bostonian legend Keith Lockhart as he strikes up the band in celebration of the Fourth of July with the Boston Pops Fireworks Spectacular, a Boston tradition for more than 40 years. Performances from the orchestra begin at 8:30 p.m. at the Hatch Shell, on the Charles River Esplanade, and continue through the 10:30 p.m. firework display, which lasts 30 minutes. Fans look forward to the rousing grand finale, when the Boston Pops perform Tchaikovsky's magnificent "1812 Overture," complete with real cannon fire and church bells that ring citywide. The fireworks are shot off from barges in the Charles River, so any spot along the river or on Harvard Bridge provides incredible views.
PLAN YOUR TRIP: Visit Fodor's Boston Travel Guide
Scott Slocum / ADDISON, TEXAS
Kaboom Town!
WHERE: Addison, Texas
Just twenty minutes north of Dallas, the tiny town of Addison, Texas, (population 19,000) swells each July 3rd as crowds of upward of a half-million people arrive to party at Kaboom Town!, the city's thirty-year-old independence festival. Addison Circle Park is home to the events, which include the daytime Addison Airport Air Show. At night, the 30-minute fireworks display launches 1,500 pounds of shells into the sky, which can be seen from many of Addison's 170-plus restaurants.
PLAN YOUR TRIP: Visit Fodor's Dallas-Fort Worth Travel Guide
Rusty Kennedy / Do Atlantic City
DO A.C. 4th of July Fireworks Atlantic City
WHERE: Atlantic City, New Jersey
There's more than one reason to head to the shores of Atlantic City this July, as fireworks light up the waterfront sky on two nights, July 3rd and 4th, as part of the DO A.C. 4th of July Fireworks. Starting July 3rd on Atlantic City's classic boardwalk, two ocean barges will fire off a 15-minute showcase choreographed to music. The festivities continue the following night a few miles north in the Marina District, where hotels such as the Borgata and Harrah's serve as the backdrop for the second night of a 15-minute fireworks show.
PLAN YOUR TRIP: Visit Fodor's Atlantic City Travel Guide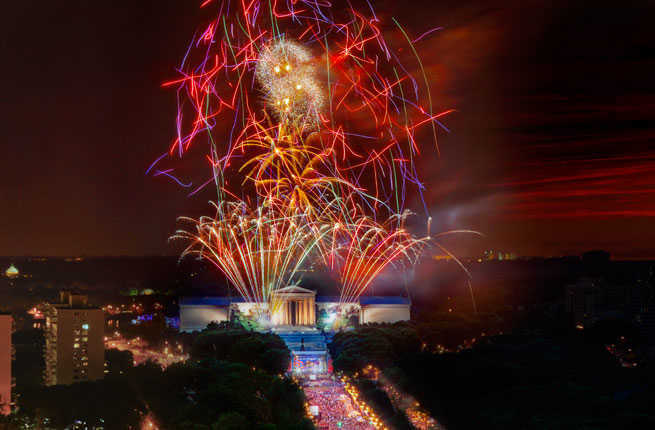 G. Widman for Visit Philadelphia
Wawa Welcome America!
WHERE: Philadelphia, Pennsylvania
Where better to celebrate the country's birthday than the birthplace of America? Philly takes great pride in its annual Wawa Welcome America! event, rolling out the red, white, and blue carpet for more than a week of citywide celebrations, culminating in the grand finale fireworks that burst high over the Philadelphia Museum of Art. First-time visitors to Philly will want to get their triumphant Rocky climb photo-op at the Museum of Art steps before claiming a spot on the Benjamin Franklin Parkway in what claims to be the largest free concert in America.
PLAN YOUR TRIP: Visit Fodor's Philadelphia Travel Guide
Roger Popwell
Fair St. Louis
WHERE: St. Louis, Missouri
Three nights of fireworks top off three full days (July 2–4) of top-drawer music and entertainment at the annual Fair St. Louis in Forest Park, St. Louis. Expect performances that range from musical acts to daring stunts. Approximately 250,000 people join in on the fun throughout the extended weekend, filling the park in anticipation of the fireworks set off from the Grand Basin in the park.
PLAN YOUR TRIP: Visit Fodor's St. Louis Travel Guide
ANN RICHARDSON / Nashville Convention & Visitors Corp.
Let Freedom Sing!
WHERE: Nashville, Tennessee
A two-day-long, citywide party, Let Freedom Sing! (July 3–4) delivers music, food, and one of the country's largest fireworks shows. Launched across the Cumberland River, this year's display is choreographed to the live sounds of the Nashville Symphony. Be sure to bring along the whole family, as the free McDonalds's Family Fun Zone features inflatable rides, games, and family-friendly music.
PLAN YOUR TRIP: Visit Fodor's Nashville Travel Guide
Lights on the Lake
WHERE: Lake Tahoe, California
With three barges positioned just off the shores of the majestic Lake Tahoe, upward of 100,000 people gather in Tahoe South on land and boat to take in the 25-minute Lights on the Lake show. Here, you can ogle the colorful bursts as they reflect off the still waters of the largest alpine lake in North America, measuring 22 miles long and 12 miles wide. For the best view of the fireworks, book a night on one of the lake's popular cruises operated by Tahoe Cruises or Lake Tahoe Cruises.
PLAN YOUR TRIP: Visit Fodor's Lake Tahoe Travel Guide
Courtesy of PIER 39
4th of July Celebration at the Pier
WHERE: San Francisco, California
San Francisco's bustling Pier 39 celebrates the holiday this year with live music, food, and plenty of shopping at the city's 4th of July Celebration at The Pier. It's sponsored by the Discovery Channel's Shark Week, so expect plenty of family-friendly shark fun including a photo booth, a "shark selfie scavenger hunt," and shark talks at the Aquarium of the Bay. The fireworks light up the bay at 9:30 p.m. during a 20-minute show best viewed from Pier 39, Aquatic Park, and Fisherman's Wharf.
PLAN YOUR TRIP: Visit Fodor's San Francisco Travel Guide
Clayton Hauck
Aon Summer Fireworks at Navy Pier
WHERE: Chicago, Illinois
Dotting the Chicago skyline with its 150-foot-tall Ferris wheel, Navy Pier is the destination for Chicagoans on Independence Day for the Aon Summer Fireworks at Navy Pier. The vast waters of Lake Michigan serve as a launching point and reflecting canvas for the fireworks, which attract hundreds of thousands of spectators along the lakefront, spanning two miles of Grant Park down to the Adler Planetarium. Navy Pier is also home to regular Wednesday and Saturday night fireworks throughout the summer, but the Independence Day show draws the biggest crowd.
PLAN YOUR TRIP: Visit Fodor's Chicago Travel Guide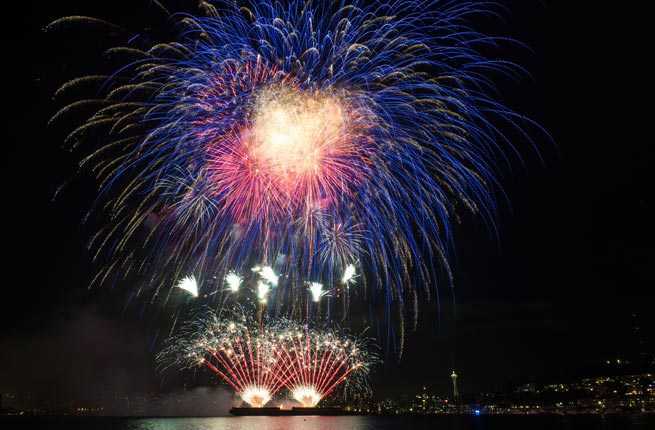 ROD MAR
Seafair Summer Fourth at Lake Union
WHERE: Seattle, Washington
Seafair, Seattle's month-long summer festival, hosts an impressive display of fireworks on the 4th at two lakefront parks, as part of Seafair Summer Fourth at Lake Union. Head to Gas Works Park for a more family-focused day that begins at noon with a kids' zone, plenty of quality food trucks, and all-American games including potato-sack races, tug of war, and a pie-eating contest. You'll find a more subdued atmosphere at South Lake Union Park, with live music, food booths, and a beverage garden. Both parks have open and reserved seating options, giving attendees the best access to the grand fireworks display.
PLAN YOUR TRIP: Visit Fodor's Seattle Travel Guide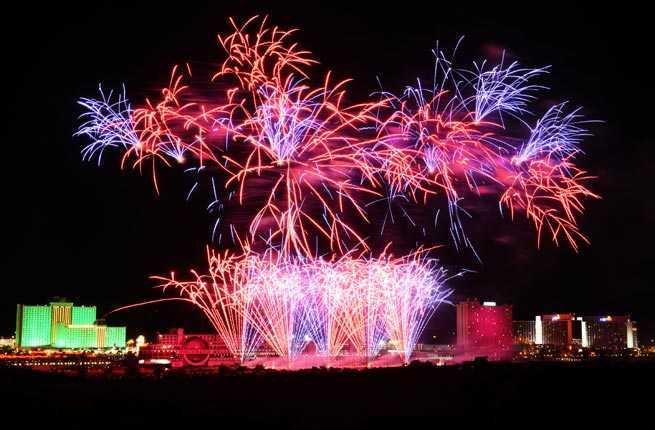 Las Vegas News Bureau
Rockets Over the River
WHERE: Laughlin, Nevada
An hour and a half south of Las Vegas, Laughlin puts on one of the best fireworks shows in the West. Rockets Over the River takes place on the Colorado River, which straddles the border of Nevada and Arizona. Expect a better-than-ever, 20-minute display of shimmering pyrotechnics with picture-perfect views from the Laughlin River Walk. The show begins shortly after 9 p.m., but dedicated patrons arrive hours before the patriotic music begins to play so they can reserve prime viewing spots.
PLAN YOUR TRIP: Visit Fodor's Southeast Nevada Travel Guide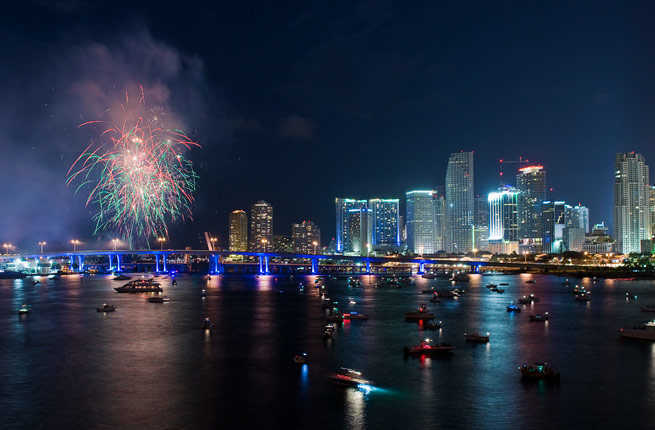 Dlrz4114 | Dreamstime.com
Key Biscayne 4th of July Parade
WHERE: Miami, Florida
Just a fifteen-minute drive from downtown Miami, Key Biscayne, an island town with a few more than 12,000 inhabitants, steals the spotlight in Miami with the Key Biscayne 4th of July Parade. A jet flyover salute begins the daylong festivities of homemade floats, live music from local artists and marching bands, and plenty of food options prior to the nighttime fireworks show over the Atlantic Ocean.
PLAN YOUR TRIP: Visit Fodor's Miami Travel Guide
Courtesy of Greater Houston Convention and Visitors Bureau
2015 Southwest Airlines Freedom Over Texas
WHERE: Houston, Texas
All of Houston will flock to the Buffalo Bayou for Freedom Over Texas, a daylong party ($8 per person; kids five years or younger are free) that fills the mile-long Eleanor Tinsley Park. Settle in for a night of music and fun, kicking back to the country music of headliners Clint Black and Josh Turner. The celebration expands throughout the park to include the Walmart All-American Kids Zone (face painting, henna tattoos, magicians, and jugglers) while the adults head to the Bud Light Lime-A-Rita Beach Bash, a tropical-themed beer garden.
PLAN YOUR TRIP: Visit Fodor's Houston Travel Guide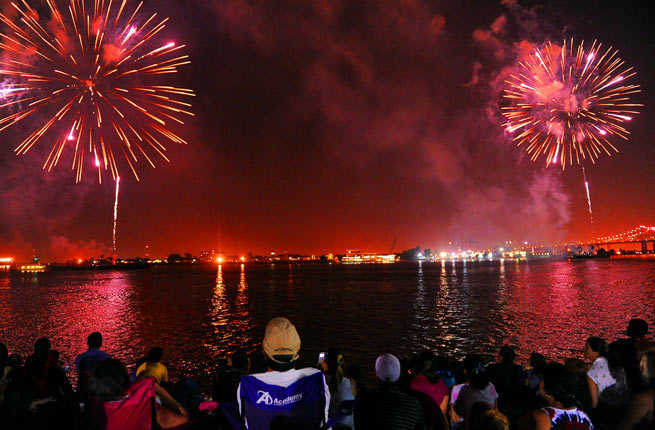 Cheryl Gerber
Go 4th on the River
WHERE: New Orleans, Louisiana
Celebrating New Orleans' rapturous Independence Day celebrations, expect an unforgettable night of fun and fireworks at this year's Go 4th on the River. Dueling barges of fireworks light up the Mississippi River, and the blasts of color can be seen throughout the city. This year brings new pastel-color fireworks, special pattern shells such as butterflies and smiley faces, and popular nautical floating shells that create fountains of glittering sparks and color on the water.
PLAN YOUR TRIP: Visit Fodor's New Orleans Travel Guide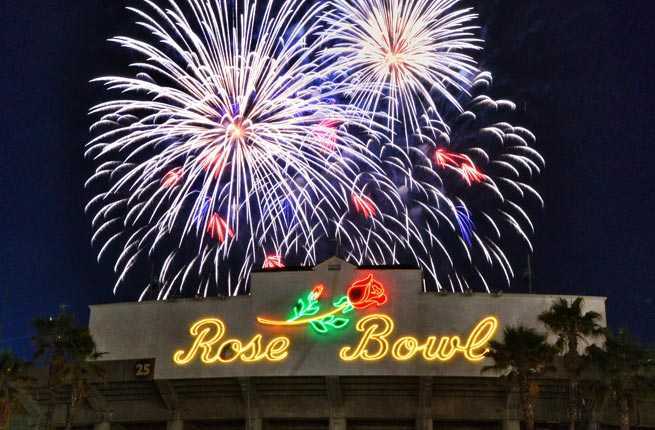 Courtesy of Rose Bowl Stadium
4th of July AmericaFest at the Rose Bowl
WHERE: Pasadena, California
Touting Southern California's largest fireworks show, 4th of July AmericaFest at the Rose Bowl delivers a night of stirring sights and sounds. The evening kicks off with opening ceremonies that include a Presentation of Colors and the National Anthem, followed by a motorcycle stunt show, a performance by the Ultimate Beatles Experience, and an Elvis tribute prior to the main attraction, as more than a ton of explosives rocket over the iconic Rose Bowl. Tickets start at $13 for general admission with reserved seating available for $25 per person.
PLAN YOUR TRIP: Visit Fodor's Pasadena and Environs Travel Guide